AFC South:

2013 Week 7 Upon Further Review
October, 21, 2013
10/21/13
3:15
PM ET
A review of four hot issues from the
Tennessee Titans
'
31-17 loss
to the
San Francisco 49ers
on Sunday:
[+] Enlarge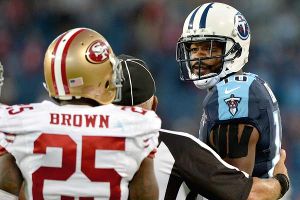 Don McPeak/USA TODAY SportsTitans wide receiver Kenny Britt and 49ers cornerback Tarell Brown exchange words during the second half of their Week 7 game on Sunday.
The biggest cause for hope:
It's not as much in the Titans' locker room as it is on their schedule. They just lost to teams with the fifth-, second- and eighth-ranked defenses. There is no debating how tough a stretch it was, and they faced the first two with their backup quarterback. Their next three games come against teams currently ranked 21st, 27th and 17th. The Titans have to show us it's been about their opponents, and not their insufficiencies, by moving the ball far more effectively when they return to action.
Woe is them:
Maybe officials blew the unnecessary roughness call against
Akeem Ayers
that undid a
Bernard Pollard
interception and set up an early 49ers touchdown. But the Titans can't point to it as the root of their undoing; I don't believe they were going to win that game even without that call. Later, when he was involved in a scrap, Pollard said the play was blown dead, after which someone was tackling him. "If we were to do that, we wonder what it would have been like," he said. The men in black and white aren't targeting the Titans. What would their incentive be to do so?
What to do with Kenny Britt:
The struggling receiver played 19 snaps, 32 percent of the team's offensive plays. He let cornerback
Tarell Brown
get in his head late in the game, shoving him after drawing a pass interference call then committing an unnecessary roughness call when he tangled with Brown on the next play. Losing his cool that way does nothing to help him climb out of the deep hole he's in. Tight end
Delanie Walker
called
Britt out
on it.
Re-evaluation time:
I don't get the sense that there is anyone on defense whose heart isn't in it, and the only guy on the team currently who's got an issue about being in the way is Britt. But Pollard sent a message as the Titans head into their week off. "This is a week where guys need to re-evaluate themselves," Pollard said. "This is for anybody: If you don't want to help us, get out of our way. Talk to Ruston [Webster]. Go talk to the head coach. Get out of our way." What's in the way is the production on offense, and the inability to establish and maintain a run game. If they can't solve that, their troubles will continue.
October, 21, 2013
10/21/13
3:00
PM ET
INDIANAPOLIS -- A review of five hot topics from the
Indianapolis Colts
' 39-33
victory
against the
Denver Broncos
.
[+] Enlarge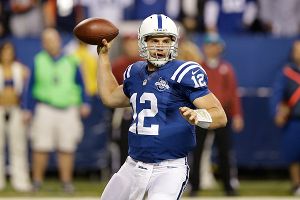 AP Photo/Michael ConroyStatistically, Colts quarterback Andrew Luck, 12, outplayed counterpart Peyton Manning.
No disrespect to Peyton:
Cornerback
Vontae Davis
has been hearing from a lot of people about his slip-up for accidentally referring to Denver quarterback
Peyton Manning
as New England's
Tom Brady
during a postgame interview. "I slipped up and caught myself, I meant Peyton," Davis said. "Shoot, they're both similar quarterbacks. They're great quarterbacks. It wasn't an insult. You have nightmares about both of those guys. I'm pretty sure they're going to get me with 'C'Mon Man' [on ESPN]."
Luck better than Manning:
The fine folks at ESPN Stats & info said
Andrew Luck
had a better quarterback rating than Manning on Sunday. The second-year quarterback had four total touchdowns -- three passing and one rushing. Manning was sacked four times, the most he's been taken down since Week 12 of the 2007 season. Luck's QBR was 65.4 compared to a season-low 57.9 for Manning.
Still perfect:
Luck has yet to lose back-to-back games as a Colt. They had a complete team effort, especially the defense, which sacked Manning four times and also intercepted him. Manning had been sacked only five times all season. "This team has been able to bounce back," Colts coach Chuck Pagano said. "They find a way to -- win or lose -- put the last one behind. It doesn't matter who is really coming into town." The Colts are 7-0 following a loss under Luck and Pagano.
Solid recoveries:
Tight end
Coby Fleener
and receiver
Darrius Heyward-Bey
had a difficult time catching the ball in the Colts' Week 6 loss to San Diego. Both players put that game behind them and gave a solid contribution against the Broncos. Heyward-Bey had four catches for 44 yards and a touchdown, and Fleener contributed five catches for 38 yards and a touchdown, and he even tried to leap over a defender on a catch-and-run play.
Strong team running attack:
The Colts didn't have anybody stand out individually in the rushing department.
Trent Richardson
led them with 37 yards. But Indianapolis rushed for 121 yards on 31 carries. The Colts are now 10-0 since 2012 when they have at least 30 rushing attempts. Five players, including a 30-yard run on a reverse by Heyward-Bey, had at least one attempt. Luck's 10-yard touchdown run in the fourth quarter is the eighth since 2012, which is second only behind
Cam Newton
's 10 for Carolina. The Colts are eighth in the league in rushing at 129.3 yards a game.
October, 21, 2013
10/21/13
2:00
PM ET
A review of four hot issues from the
Houston Texans
' 17-16
loss
to the
Kansas City Chiefs
.
Defensive effort:
For the previous six games, the Texans' defense had limited its yards allowed, but failed to force more turnovers than the Texans' offense gave up. On Sunday the Texans won their turnover battle for the first time all season, but the defense also gave up more than 300 yards for the first time all season. The defense was better late than early. Houston allowed two touchdown drives in the first half, but only a field goal in the second. And it was finally in the second half that they got to Chiefs quarterback
Alex Smith
.
[+] Enlarge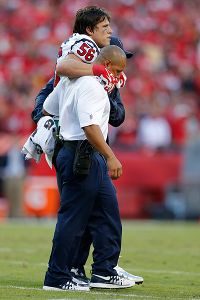 AP Photo/Ed ZurgaBrian Cushing hasn't lost his fierce attitude following his latest season-ending injury.
More on Brian Cushing:
After suffering a season-ending injury, Cushing tweeted this: "It's not how many times you fall down but how many times you get back up. Life is tough but I'm the toughest SOB it's ever seen. Ill be back"
There are times when back-to-back knee injuries can turn a team off, but this isn't likely to be one of them. First, it's an injury to a different part of the knee, not the anterior cruciate ligament that Cushing tore last year. Cushing is the kind of player to whom you give the benefit of the doubt because of his work ethic, ability and stature on the team. The Texans have no financial reason to part ways with Cushing, either. They've guaranteed his contract -- the six-year extension he signed in September -- for injury through the 2014 and 2015 seasons.
Not every low hit is dirty:
Worth noting, there was no bad blood after the game between Cushing and Chiefs running back
Jamaal Charles
, whose helmet to Cushing's knee caused the injury. Conversely, Cushing and his teammates were furious last season when
Matt Slauson
's illegal peel-back block caused Cushing's torn ACL. Not every low hit is dirty, but sometimes players forget that when caught in the emotion of losing a teammate. That wasn't the case this time.
The fake to nobody:
It was a head-scratching play. Smith turned to hand the ball off, but he turned in a spot where nobody appeared as the Texans' defense watched. Then Smith tucked the ball and ran 5 yards for a touchdown. Randy Covitz of the Kansas City Star
talked with Charles
, who admitted he goofed on the play. He simply forgot which way he was supposed to go. Here's Smith on what he was thinking as the play unfolded: "Getting the defensive end to pause and then hitting the hole."
October, 21, 2013
10/21/13
12:30
PM ET
A review of four hot issues from the
Jacksonville Jaguars
' 24-6 loss to the
San Diego Chargers
:
[+] Enlarge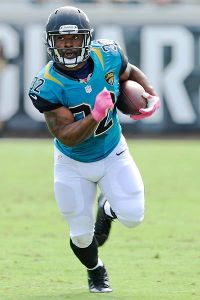 Stephen Morton/AP PhotoWhile the Jacksonville Jaguars' running game averaged 4.6 yards per carry against San Diego, Maurice Jones-Drew only touched the ball 11 times.
Effort problem:
For the first time all season, coach Gus Bradley said he saw a lack of effort from his players. That's disconcerting because that's usually the first sign of a team that has tuned on its head coach or given up. We won't know until Sunday's game against San Francisco in London if that's the case, but initial thoughts based on what was said in the locker room are that Bradley hasn't lost his players. Rather, it was likely the players were lulled into a sense of:
We've improved each of the past two weeks and we're naturally going to continue that progression.
What happens is players forget just how hard they worked or the amount of preparation that went into the improvements. That appears to be what Bradley believes, as well. "The three most dangerous words in the NFL are, 'I've got it,' and I think we felt like, 'We're making strides. We've got this. We've just got to go out there and do this,' and that's not how it works," Bradley said.
Pass rush MIA:
San Diego lost a pair of left tackles in the first quarter when starter
King Dunlap
left the game with a concussion and backup
Mike Remmers
left the game with an ankle injury four plays later. The Chargers, who had only seven active offensive linemen, had to shuffle the lineup, and that should have been the jackpot for the Jaguars' pass rush. Nope. The Jaguars' lone sack came on the play in which Dunlap was injured and they didn't get to
Philip Rivers
again and only hit him twice more. The lack of pressure was the main reason Rivers completed 22 of 26 passes for 285 yards.
Running game disappears:
Offensive coordinator Jedd Fisch earlier last week said he wanted to get
Maurice Jones-Drew
20 or more touches every game. He had just 11 against the Chargers: nine rushes for 37 yards and two catches for 19. Jones-Drew averaged 4.1 yards per carry, tying his season high (he had 70 yards on 17 carries against St. Louis), and the running game overall averaged 4.6 yards per carry, which was by far the best mark of the season. There really wasn't a reason to abandon the run, either. The Jaguars were down by 11 points late in the second quarter and never trailed by more than 14 in the third quarter, but Jones-Drew had just three touches in the second half (three carries, one reception). The Jaguars ran the ball a season-low 17 times, including two designed runs for quarterback
Chad Henne
.
Fighting through:
Receivers
Justin Blackmon
(groin/hamstring) and
Cecil Shorts
(sprained SC joint near his shoulder) fought through injuries and combined to catch 14 passes for 138 yards. Shorts, however, dropped two potential touchdown passes, but he didn't blame his injury. "Nothing to do with my shoulder," he said.