AFC South:

2014 NFL Round 2 Rapid Reaction
May, 9, 2014
May 9
10:08
PM ET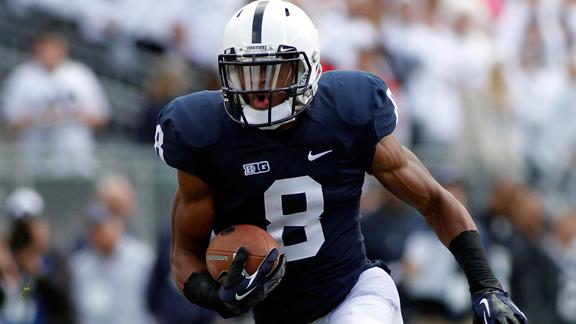 JACKSONVILLE, Fla. --
The pick:
Allen Robinson
, WR, Penn State
My take:
The Jaguars traded their third-round pick (70th overall) and a fifth-round pick (150th overall) to San Francisco for the 61st overall selection and took Robinson. The Jaguars got the big, physical receiver they needed in the 6-foot-2, 220-pound Robinson, who caught 177 passes for 2,479 yards and 17 touchdowns in three seasons at Penn State. That including a junior season in which he caught 97 balls for 1,432 yards and six touchdowns despite playing with a freshman quarterback. The Jaguars will pair him with
Marqise Lee
, whom they took with the 39th pick, to give them a young tandem that can hopefully grow along with rookie quarterback
Blake Bortles
.
Goodbye, Justin?
: If there was any doubt that the Jaguars have pretty much given up on receiver
Justin Blackmon
, Robinson's selection should all but cement it. GM David Caldwell said the team has already planned on not having him in 2014 and coach Gus Bradley said Friday night that he had hoped things would have gone better than they have. The Jaguars have had little contact with Blackmon and he still must apply for reinstatement and likely will have to serve an additional suspension before being cleared.
What's next:
The Jaguars have seven picks in Rounds 4-7 Saturday and are expected to address offensive line, running back and pass-rusher.
May, 9, 2014
May 9
10:02
PM ET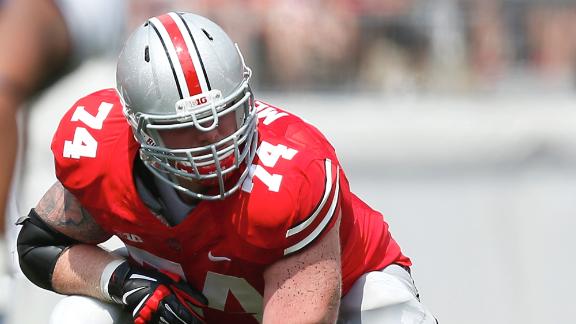 INDIANAPOLIS --
The pick:
Jack Mewhort
, offensive lineman, Ohio State
My take:
Mewhort is kind of a surprise pick when you consider the need for a safety and that there were still some quality receivers available at No. 59.
Mewhort would be considered a utility player if he played baseball. He's played every position along the offensive line. He was an All-American center, and Rivals.com had him as the second player at that position coming out of high school in Toledo, Ohio, in 2009. He played guard during the 2011 season at Ohio State, then switched to left tackle for his final two seasons with the Buckeyes. Mewhort started the final 39 games he played at Ohio State.
Mewhort's best chance to play with the Colts is likely at guard because they're set at tackle with
Anthony Castonzo
and
Gosder Cherilus
, who both had impressive 2013 seasons. Playing time at guard is up in the air.
Hugh Thornton
struggled during his rookie season, and
Donald Thomas
is coming back off a torn tendon in his quad and a torn biceps.
The ultimate goal is to protect quarterback
Andrew Luck
better. Luck has been sacked 73 times in his first two seasons.
Add one more to the résumé:
Tackle, guard and center aren't the only positions Mewhort can play. He's also capable of handling long-snapping duties. The Colts are set there, though, with
Matt Overton
. Overton made the Pro Bowl team last season. But Mewhort is capable of being the emergency long snapper.
What's next:
The Colts have the No. 90 overall pick. They'll have three picks in the final four rounds Saturday.
May, 9, 2014
May 9
9:56
PM ET
NASHVILLE, Tenn. --
The pick:
Bishop Sankey
, RB, Washington
My take:
An instinctive and quick back, Sankey should fit in nicely with
Shonn Greene
and
Dexter McCluster
in the Titans' backfield and could easily wind up with the highest number of carries in his rookie season. The Titans view him as a versatile three-down back who can run inside and out, catch passes and be reliable in pass protection. He said he has been compared to
Giovani Bernard
,
LeSean McCoy
and even
Emmitt Smith
. Titans area scout Marv Sunderland said Sankey runs like
Tiki Barber
did, without the fumbling issue. That's a heck of a group to be compared to. The Titans triggered a run on running backs by tabbing the first one in the draft with the 54th overall pick.
Unfortunate:
Sankey will be at the team's upcoming rookie minicamp. But after that, because the school year won't be over for the University of Washington, he can't be with the team for its 10 organized team activity days. Ken Whisenhunt is confident the smart Sankey will do well to keep up with things via his iPad playbook that will get updated with current practice video.
What's next:
The Titans will sit out the third round. They gave their pick to San Francisco last year when they moved up for
Justin Hunter
. They aren't slated to pick again until No. 112 in the fourth round Saturday, but the trade back in the second round with Philadelphia means they also have the 122nd pick.
May, 9, 2014
May 9
7:51
PM ET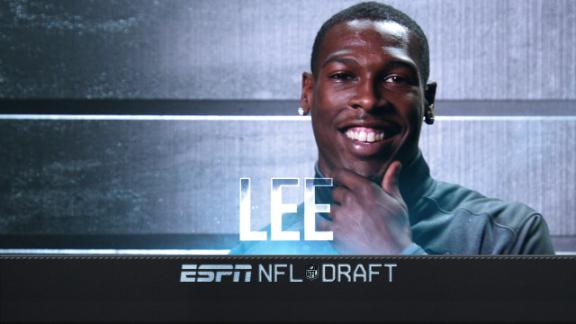 JACKSONVILLE, Fla. --
The pick:
The Jaguars got their first-round pick some help by taking USC receiver
Marqise Lee
with the seventh pick of the second round (39th).
My take
: Lee was considered a first-round talent but slid into the second round because teams are concerned with the sprained left MCL that he suffered last season, according to multiple reports. Even so, this is a fantastic pick because it addresses the team's biggest need on offense after quarterback. He fits the qualities the Jaguars were searching for in a receiver: size and play-making ability. Lee (6 feet, 195 pounds) had a monster sophomore season (118 catches, 1,721 yards, 14 TDs) but he was hurt by his knee injury and poor QB play last season (57 catches, 791 yards). Lee also has experience as a kickoff returner.
The Blackmon factor:
The Jaguars needed to make receiver a priority because of the uncertainty surrounding
Justin Blackmon
, the team's first-round pick in 2012. Blackmon is serving an indefinite suspension because of his third violation of the league's substance-abuse policy and general manager David Caldwell said last week that the team was not planning on having Blackmon in 2014.
What's next:
The Jaguars should continue to address needs on offense in the third round, likely taking an offensive lineman in the third round with the 70th overall selection.
May, 9, 2014
May 9
7:49
PM ET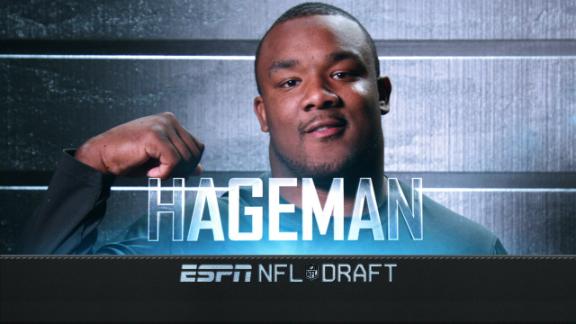 FLOWERY BRANCH, Ga. --
The pick:
Ra'Shede Hageman
, defensive end, Minnesota
My take:
Although Hageman had some baggage in his past and is somewhat of a project, he's an exceptional athlete who brings more nastiness up front. He could play either nose or defensive end in a 3-4 setup. New Falcons defensive line coach Bryan Cox pushed Hageman hard at the Senior Bowl, which told me how much they truly liked him. Something tells me Cox will get the best out of Hageman, with some questioning his motivation.
Success story?
Hageman grew up in foster homes, as his mom reportedly succumbed to alcohol and drug abuse. A family took him in and gave him a new outlook on life. If Hageman can continue to grow and mature, the scars from his past will go away. He entered the draft with first-round potential and could be a true difference-maker up front as a run-stuffer and player capable of bringing pressure as well.
What's next:
Although the Falcons didn't secure their desired pass-rushers (
Dee Ford
and
Demarcus Lawrence
), they still could use another big body, if available. Running back and tight end are also positions that could be address. The Falcons would be fortunate if LSU running back
Jeremy Hill
fell to the third round.
May, 9, 2014
May 9
7:20
PM ET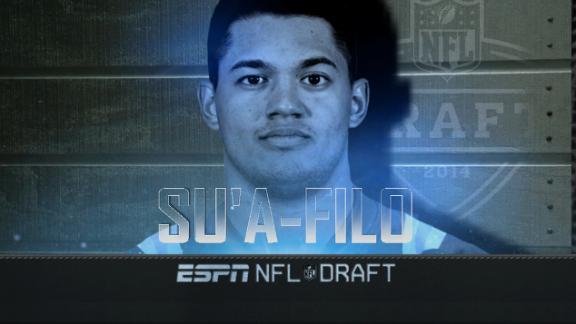 HOUSTON --
The pick:
Xavier Su'a-Filo
, OG, UCLA
My take
: The Texans selected Su'a-Filo 33rd overall after taking
Jadeveon Clowney
first overall. Houston's need at quarterback is clear, but they needed a guard as well after declining to re-sign
Wade Smith
. Smith was the Texans' starting left guard for several seasons before leaving. The Texans' offensive line is going through a transition phase at certain positions, while left tackle (
Duane Brown
), center (
Chris Myers
) and right guard (
Brandon Brooks
) are set.
Good value
: Su'a-Filo is big and athletic, and some thought he would go in the first round. The Texans got the highest-rated guard in the draft and one who can play tackle in a pinch, having played both guard and tackle in college.
What's next:
The Texans still need a quarterback. Coach Bill O'Brien said earlier Friday he was comfortable getting one at any point in the draft. They have four to six remaining on their board.