January, 15, 2014
Jan 15
3:00
PM ET
There are two prevailing thoughts about the
Jacksonville Jaguars
when it comes to the No. 3 overall selection in the upcoming draft: take a quarterback and grab a pass-rusher in the second round or take a pass-rusher and then draft a quarterback in the second round.

Mel Kiper Jr. believes the Jaguars will take the second approach, which is why he predicted in
his first mock draft

they will select South Carolina defensive end
Jadeveon Clowney
in the first round.
That's a prediction that would have had Jaguars fan euphoric in July, but it doesn't evoke the same degree of reaction now. Pass-rusher is certainly one of the team's top two needs, and Clowney is undoubtedly the most gifted defensive player in the draft, but the Jaguars desperately need to find a franchise quarterback.
Yet in Kiper's mock, they pass on the most NFL-ready quarterback in the draft to take Clowney. Kiper predicts that Houston will take
Johnny Manziel
with the first pick and St. Louis will take offensive tackle
Jake Matthews
with the No. 2 pick. That means
Teddy Bridgewater
is available, but instead the Jaguars opt for defense.
It's hard to imagine the Jaguars not taking Bridgewater, or any quarterback, with their top pick, but it's starting to become more and more of a reasonable approach for two reasons: The depth of this quarterback class and the shortage of truly elite pass-rushers.
This quarterback class doesn't have the surefire star like Andrew Luck, so any of the first-round quarterbacks -- Kiper has Manziel, Bridgewater and
Blake Bortles
being selected -- is a bit of a gamble. But there are plenty of other options that will be available in the second round or later, like
AJ McCarron
,
Aaron Murray
,
Zach Mettenberger
,
Tajh Boyd
,
Derek Carr
and
Stephen Morris
.
Are they as highly rated as Bridgewater, Bortles or Manziel? No, but that doesn't mean they won't be better players. Just look at the quarterbacks playing in Sunday's conference championship games. Colin Kaepernick was a second-round pick. Russell Wilson was a third-round pick. Tom Brady didn't go until the sixth round. Peyton Manning is the lone exception.
Elite pass-rushers, however, won't last until the second round. In addition to Clowney, Kiper predicts that
Anthony Barr
,
Khalil Mack
,
Stephon Tuitt
and
Scott Crichton
also will be first-round picks. That means the Jaguars wouldn't be able to land one of those elite rushers if they take a quarterback in the first round -- unless they were to somehow trade up into the latter part of the first round.
GM David Caldwell, however, has said he's committed to building through the draft and you don't do that by giving away picks.
Taking Clowney, whom many believed would have been the No. 1 overall pick in the 2013 draft as a sophomore, instead of a quarterback in the first round may not be the correct decision, but it is the safer pick.
January, 14, 2014
Jan 14
5:00
PM ET
JACKSONVILLE, Fla. --
A.J. McCarron
's decision to skip playing in the Jan. 25 Reese's Senior Bowl is puzzling, and it certainly has people -- possibly even Jaguars GM David Caldwell and coach Gus Bradley -- wondering about his competitiveness.
There is no better chance for a college player to measure himself against some of the best players in the country than at the Senior Bowl. It's a chance to improve draft status by playing well in practices throughout the week, shining in meetings with an NFL coaching staff, and performing well on game day. It's a week that can turn a mid-round draft pick into potentially a late first-rounder.
[+] Enlarge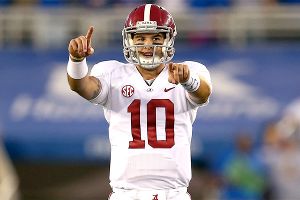 Andy Lyons/Getty ImagesAJ McCarron's decision to not participate in the Senior Bowl could impact his draft position.
Which is why McCarron's decision is perplexing. McCarron is viewed as a late first- or early second-round draft pick by some analysts. Some have him even lower. He could change that with a good week in Mobile, Ala. Though his reason for skipping the Senior Bowl sounds valid -- he told AL.com's Rany Kennedy he wants to
prepare for the NFL combine, Alabama's pro day, and the rest of the evaluation process
-- it's potentially doing him more damage than good.
The Jaguars are coaching the South team, on which McCarron would have presumably been placed. It's no secret the Jaguars need a quarterback, but the decision Caldwell has to make is whether to draft a quarterback with the No. 3 overall selection or take a pass-rusher with that pick and wait until the second round or even later to draft a quarterback. If Caldwell went with the second option, McCarron was one of the quarterbacks that most likely would be available in the second round.
Being able to work with McCarron for a week would have been invaluable for Jaguars quarterbacks coach Frank Scelfo and offensive coordinator Jedd Fisch. McCarron's decision to skip brings into question one of the key traits that the Jaguars want in all their players: a competitive fire. It's an even more important trait in a quarterback, and McCarron's decision brings that into question.
"We want to build a competitive mindset," Bradley said in his season wrap-up news conference. "... Compete, compete, compete. I don't care about the scoreboard. We have to drive that mindset into our players. We have a standard and we're competing with that standard, and we're continuing to raise that bar."
There also are questions about whether McCarron was the beneficiary of a supremely talented supporting cast, or if he is talented enough on his own to carry a team. That could have been answered next week as well. It's not something that can be determined at the combine or during Alabama's pro day.
If the Jaguars are indeed interested in McCarron, they will investigate him completely, but there are some things you can only find out in game situations against elite competition. It's a curious decision that could end up hurting McCarron in May -- and possibly knocking him out of the Jaguars' plans.
December, 19, 2013
12/19/13
4:45
PM ET