January, 14, 2010
1/14/10
4:06
PM ET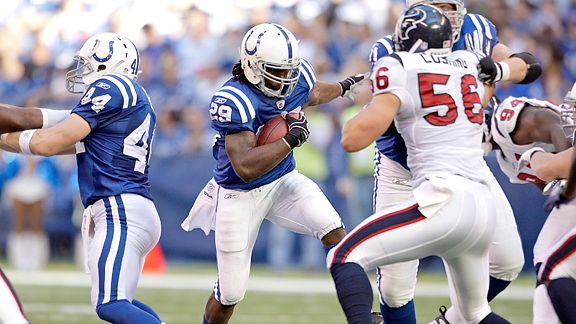 Andy Lyons/Getty ImagesThe Colts have run the ball efficiently this season, but can they lean on the run game if they need to protect a fourth-quarter lead?
INDIANAPOLIS -- By conventional standards, the Colts
don't run well
. They and the
San Diego Chargers
, in fact, are the two worst running teams in the league.
But as Indy prepares for Saturday night's divisional playoff game against Baltimore, the team looks at running the ball in a different way.
It's not so much about yardage totals, which is the measure for those rusher ratings. It's about efficiency. And if you look at the Colts
based on efficiency
, as Football Outsiders does, they rank 22nd, not 32nd.
Their 14-2 record and No. 1 seed in the AFC playoffs suggest that has been good enough when paired with a passing offense that is second in the league's rankings and sixth in Football Outsiders'.
The Eagles (22nd in the NFL rankings), Cardinals (28th), Chargers (31st) and Colts (32nd) all came into the playoffs with less-than-premier running games.
If a third of the postseason field doesn't run the ball well, what does it say about the long-held tenant that an effective ground game is a must to get to the playoffs and to succeed there?
We won't know for sure until the Lombardi Trophy is passed out. But this weekend's two AFC divisional playoff games may do a lot to give us a sense. Can the run-based Jets and Ravens score upsets over the Chargers and Colts?
Whatever unfolds, Aaron Schatz of Football Outsiders isn't seeing the trend we might expect.
"I don't think these teams indicate a shift in the traditional thinking about having to run well to win in crunch time," he said. "I think they indicate a shift in the traditional thinking about having to run well
early
in games. These teams understand that you pass to get the lead. Passing is more important than running."
Colts GM Bill Polian has banged home the point about running efficiency this season.
And the Colts don't often employ personnel groupings we typically see premier run teams using.
"Evolution has created many more open sets, which of course give receivers more opportunities," he said. "It's a little more difficult to run out of three-wides, one-back than it is to run out of a two-back set with a fullback and a tight end. In that sense, people who employ that kind of offense are going to put up pretty good yardage totals."
With
Joseph Addai
leading the way, the Colts have run effectively in the context of what they do, which is certainly centered around
Peyton Manning
and the pass attack.
September, 9, 2009
9/09/09
12:51
PM ET

Posted by ESPN.com's Paul Kuharsky
Good running teams get stopped for a loss less often than bad running teams.
I knew it wouldn't stand to figure so simply when I decided to look at whether runs for losses indicated anything last season. After talking with Jeff Fisher about it, I changed the number I looked at to the percentage of runs for losses.
Still, I found the results surprising. (Thanks to ESPN Stats and Information for putting this chart together.)
The league's worst rushing team, Arizona, got hit for a loss on 9.88 percent of its runs. The league's top rushing team, the Giants, got hit for a loss on 9.92 percent of its runs.
And the two teams that absorbed losses the highest percent of the time, the Colts and Titans were far different run teams: The Titans ranked seventh and were regarded as one of the best, the Colts ranked 31st and were better than only Detroit.
Aaron Schatz of Football Outsiders said he wasn't surprised to see how this chart looked and hit on the two points you'd expect.
"It generally tells us two things: the style of the running back, and the quality of the offensive line," he said. "In general, better offensive lines will allow fewer negative rushes. We know that the Colts had massive run-blocking problems last year, especially when
Jeff Saturday
was injured, and it isn't a surprise to see them so high.
"In addition, shiftier running backs tend to have more negative rushes than straight-ahead downhill backs (the
Barry Sanders
effect). I'm guessing that's the reason why Carolina, which was excellent run-blocking last year, is higher up in negative rushes than you might expect. Same with Tennessee, where
Chris Johnson
is a pretty shifty-style guy."
So what do teams think about runs for negative yards? Is it something that has to be accepted when you are determined to run?
"If you're going to be a good run team, you're going to have to hand the ball off, you're going to have to have numbers," Fisher said. "And so the more numbers, the more attempts you have the more likelihood you have for runs for loss."
But even after accounting for the runs for losses as a share of the total runs, the Titans rank high. By Schatz's thinking, a good offensive line can be offset by a shifty runner like Johnson, who may swing and miss sometimes but is also more likely to get extra base hits.
"They're going to happen, Fisher said of tackles in the backfield. "You have to be able to overcome them. You can't allow them to affect your play calling. You have to stick with it, that's just how it is. When you're a good running team, people are going to stack the line of scrimmage, they are going to penetrate and you're going to have some issues."
In Houston, offensive coordinator Kyle Shanahan said he and the offensive staff think bad runs should be, at worst, good for no gain.
"Even when you are not getting five yards a carry you have to stick with it in order to get one safety defenses," Shanahan said. "You don't want to throw against cover 2 every play and have the defensive line tee off on you or that's a pick or a sack waiting to happen...
"Our thing is even when it's a bad run, we don't want to lose any yards. If it's a run and we don't block for any, that back needs to get zero to one yard. At least get us in second-and-nine. As soon as you get us into second-and-12, the odds are you're going to punt."
March, 26, 2009
3/26/09
5:30
PM ET
| | |
| --- | --- |
| | |
| | Getty Images |
| | Indianapolis Colts wide receiver Reggie Wayne and Jacksonville Jaguars wide receiver Reggie Williams: the Reggie that worked and the Reggie that didn't. |
Posted by ESPN.com's Paul Kuharsky
The Colts have an all-time great at quarterback. The Jaguars and Titans do not.
No. of WRs Drafted Since 1997, By Team
Team
No. of WRs drafted
Avg. overall draft choice
Green Bay
19
144.5
Tennessee
17
121.1
Atlanta
16
143.6
Denver
16
127.6
Chicago
15
121.5
Cincinnati
15
125.0
Pittsburgh
15
111.4
Baltimore
14
123.9
Buffalo
14
141.3
N.Y. Giants
14
118.7
Kansas City
13
120.9
New Orleans
13
151.9
Tampa Bay
13
140.8
Minnesota
12
137.5
Oakland
12
166.6
Philadelphia
12
106.5
San Francisco
12
142.9
Seattle
12
153.7
St. Louis
12
119.7
Arizona
12
116.3
Cleveland
11
102.0
Jacksonville
11
137.9
Detroit
10
102.2
N.Y. Jets
10
135.6
Washington
10
113.7
Carolina
9
116.6
Dallas
9
153.3
Miami
9
109.1
New England
9
133.4
San Diego
8
107.1
Indianapolis
7
98.4
Houston
6
114.2
Source: Keith Hawkins of ESPN Research
The Colts drafted a Hall of Fame receiver in 1996. The Jaguars and Titans did not.
Look at the history of those three teams in the AFC South at wide receiver over the last dozen years, and Peyton Manning and Marvin Harrison have done a lot to skew the comparison.
Even so, just over a month before the 2009 draft, it's hard not to try to sort through the different approaches at receiver by the division's three receiver-needy teams.
Harrison was in Indy before Manning, but the Colts have made it a priority to provide weapons for their quarterback. The Jaguars and Titans, meanwhile, are run-based teams that have failed to find the downfield threats that would open things up.
Jacksonville and Tennessee have missed in different ways.
The Jaguars swung and missed three times when they spent first-round picks on receivers -- R. Jay Soward, Reggie Williams and Matt Jones all busted -- while the Titans spent high picks on other positions while managing to develop only one Pro Bowler, Derrick Mason, out of 17 drafted wideouts.
We're leaving the Texans mostly out of this conversation for two reasons -- they don't have as much of a draft history to examine and receiver doesn't rank as one of their big needs heading into this draft.
But Houston is included in these capsules, in order of the number of receivers drafted since 1997, for context:
Tennessee:
Receivers drafted
: 17 (Second in NFL)
Average overall pick
: 121.1 (15th)
Average round
: 4.06
Average draft value pick
: 86th
First-rounders
: 1
Passing offense since 1997
: 17th
Philosophical summation
: The Titans haven't spent a first-rounder on a receiver since they passed on
Randy Moss
for
Kevin Dyson
in 1998. They've thrown a lot of mid- and late-round picks at the position and hope to make things work with willing blockers in a run-first offense that has not consistently stretched the field on the outside under Jeff Fisher. They won't usually play kids who don't know the entire offense early on and like to talk about how they
don't need
an All-Pro caliber No. 1 guy to succeed.
Jacksonville:
Receivers drafted: 11 (Tied for 21st)
Average overall pick: 137.9 (23rd)
Average round: 4.55
Average draft value pick: 62nd
First-rounders: 3
Passing offense since 1997: 14th
Philosophical summation: They've not been afraid to spend first-round picks on receivers and haven't found a star in three stabs with R. Jay Soward, Reggie Williams and Matt Jones. Indications are, however, they aren't afraid to swing again. They want a big-time weapon for David Garrard to be the quarterback they envision and may well grab Michael Crabtree or Jeremy Maclin at No. 8 in the first round if one of them is available. Veteran Torry Holt, a free agent, is visiting the team Thursday.
Indianapolis:
Receivers drafted: 7 (28th in the league)
Average overall pick: 98.4 (First)
Average round: 3.29
Average draft value pick: 60th
First rounders: 2
Passing offense since 1997: First
Philosophical summation: Surrounding Manning with weapons is always a priority. The Colts got an all-time great in 1996 with Marvin Harrison, and rather than thinking they could supplement him with bit players, they spent more resources to surround him -- with Reggie Wayne in round one of the 2001 draft, with free agent Brandon Stokley in 2003 and by drafting Anthony Gonzalez in round one in 2007. They could well grab another at No. 27 in this draft.
Houston:*
Receivers drafted
: 6 (32nd)
Average overall pick
: 114.2 (Ninth)
Average round
: 4.00
Average draft value pick
: 39th
First rounders
: 1
Passing offense since 2002
: 28th
Philosophical summation
: They hit a home run with
Andre Johnson
in the first round in 2003 and have worked to build an offense around an unassuming, hard-working talent. The Texans have done r
easonably well developing Johnson's supporting cast with free agent additions
Kevin Walter
and
Andre Davis
and 2006 seventh-rounder
David Anderson
. With an improved line and run game, if quarterback
Matt Schaub
stays healthy, Johnson will remain one of the league's most feared weapons.
*--Since 2002
In the graphic below, Aaron Schatz from footballoutsiders.com suggested I look at the differences in approach at wide receiver by using a "draft value chart." A general average of draft position assumes the difference between each draft spot is the same, while the sort of value chart teams use for trading picks takes into account just how different the value is between a first-rounder and a sixth-rounder.
Average Value of WRs Drafted Since 1997 By AFC South Teams
Team
WRs drafted
Total points value
AVG
Draft value of AVG
Houston
6
3079.65
513.3
39th pick
Indianapolis
7
2101.7
300.2
60th pick
Jacksonville
11
3095
281.4
62nd pick
Tennessee
17
2701.5
158.9
86th pick
Two assessments of what this all means:
Schatz of footballoutsiders.com:
"It's a different issue with each team. The Colts have hit on their first-round receivers, the Jaguars have not. Marvin Harrison, Reggie Wayne, Anthony Gonzalez. Honestly, what else have the Colts had to do to find receivers? Those three play so well that everything else they look for is slot guys and depth.

"On the other hand, the Jags have blown first-rounders on Reggie Williams, R. Jay Soward, and Matt Jones. Williams is sort of a good second guy, Soward sucked, and Jones is a mess who was totally overdrafted."

"I don't think the Titans have spent a first on a receiver since Kevin Dyson. They did a great job of drafting Derrick Mason, and have been stumbling along otherwise with lower picks that didn't work out and free agents. That's different from the Colts, though -- the Colts didn't have a chance to have lower picks not work out because their first-rounders are so good. And the starter before Wayne was drafted was [Jerome] Pathon, who was a second-rounder who had a career that was about equal to what you would expect from a guy taken with an early pick in the second round."
ESPN analyst Herm Edwards former coach of the Jets and Chiefs:
"It depends on what your philosophy is on offense, it has a lot to do with what you are trying to do. Receivers, it's always a tough deal when you draft those guys, especially high. Because the expectations on them are so enormous. It sometimes takes those guys two or three years to really get going into the system.

"If you look at Indy, they've got a system with a quarterback where all they have to do it fit the pieces they want, like the kid Gonzalez they drafted from Ohio State. You look at him now, they used him a lot in the slot, so they kind of brought him along. I think now with Marvin being gone Gonzalez will probably replace Marvin outside. When they moved him to the slot, they really took away Dallas Clark, because Clark is really their slot guy in three wideouts, they put him in the slot a lot. Now they've got a speed guy in Gonzalez, they can move him back outside and now what they'll probably do is look for another guy. They are always a year or two ahead of what they want to do.

"Tennessee, in my opinion, is more of a team that's going to try to run the ball and play physical on defense, do it that way. So their receivers are a little bit different than the guys in Indianapolis. Those guys have got to be able to block. If you look at Tennessee's receivers, they're pretty big. Jacksonville has the same kind of guys. They're more of a play-action team, they're going to try to hit the home runs. Those teams are going to pound you with their running games, try to get eight guys in the box, get one on one outside, and then from there try to hit you with the home run.

"Jacksonville, they've had some guy but none of them have really turned out. But that's a lot of teams, though. They are so hard to figure out. This year in this class is kind of unique. Five or six of the top guys are juniors. That's what makes the class so good... Now you're talking about bringing a young guy in that's going to take a little time to develop.

"The Colts, if they miss on a guy it's almost not on the radar screen, because when you think about it, he ain't going to play anyway, he's not pressed to play right now. It's been the same starters every year. Now they need one."
August, 27, 2008
8/27/08
2:30
PM ET
Posted by ESPN.com's Paul Kuharsky
Texans fans, if you aren't familiar with Aaron Schatz, I suspect you're going to want to be.
I chatted recently with Schatz on a variety of subjects. But the most interesting AFC South nugget he gave me is this: He thinks the Texans are going 10-6 and making the playoffs.
Schatz and his staff at footballoutsiders.com -- which is part of the ESPN.com family and author of the annual Pro Football Prospectus -- work hard to take football statistics outside the box and find trends and indicators that do better than conventional numbers to interpret context.
As he looked to identify an "it" team this year, he said he looks for franchises with a lot of high draft picks who are heading into their second and third years. Football Outsiders, he said, identified Dallas as such a team last year and had predicted good things for the 2005 Bears.
The factors he points to that will trigger a big year for Houston: A healthy Andre Johnson, some continuity on the offensive line even with a rookie left tackle and an easier schedule.
Schatz strays from the book's 8.9 mean projection of wins for the Texans, noting that those projections take into account all possible scenarios and automatically slant hard to toward 8-8.
The book has the Colts with a 2008 mean projection of 9.9 wins, Jacksonville at 9.2, Houston at 8.9 and Tennessee at 6.7.
Schatz is down on the Titans, because he said defenses are less consistent year to year and they were the beneficiaries of an easy schedule in 2007.