October, 9, 2010
10/09/10
11:09
AM ET
Tony from Greensburg, Ind., writes:
I loved
the interview with Polian
. I thought you asked some very good questions that many fans wanted answers to. But I would have liked to have seen some tough questions about
Bob Sanders
. I know he is a major concern with many fans. The guy has missed more games than he has played. What is the strategy to keeping him on the active roster? He is taking up valuable roster space. What are your thoughts?
Paul Kuharsky:
I don't see how the roster spot is hurting them right now. They have to deactivate eight guys a game. As long as they don't have a ninth injured guy who can't play, they can deactivate Sanders each week and miss nothing. If they feel that's a fair trade-off for missing a body during the practice week, well, they can judge that far better than we can, no? With
Donald Brown
and
Mike Hart
hurt, they still had the roster flexibility to add a player they need -- they just brought in running back
Javarris James
.
I understand people are angry at Sanders for getting hurt repeatedly and at Polian for not cutting him. I don't understand what there was to grill Polian about on the topic or why you'd prefer a rash decision that would leave them with no chance of having someone like Sanders late in the season or in the playoffs, which remains a possibility now.
---
Ted in San Francisco, Calif., writes:
Texans worked out
Aaron Schobel
, which makes me conclude he would have been willing to come out of retirement. Texans later signed
Mark Anderson
, showing they had need at DE. Anderson has such a worse track record than Schobel that I think it's fair to conclude that the Texans balked at paying Schobel. He may have been overweight, but they should hire him for what he can do in January. The Chronicle media are shy of this angle. Am I wrong in calling out the Texans for not spending?
Paul Kuharsky:
We don't know what happened and what didn't happen. I can't recall anything that's made me think the Texans are cheap. Bob McNair is first class. If Gary Kubiak and Rick Smith told him "this guy can be the difference for us," I think they would have signed him. I don't believe they felt that way.
I wish he decided he wanted to keep playing when it ended in Buffalo and that they signed him then. But you can't foresee the injury to
Connor Barwin
and I can, philosophically, understand not wanting to stunt his development.
---
Cody Russell in Hendersonville, Tenn., writes:
So the 2010 Best of Nashville Readers poll came out, and they polled for best Titan player. Here are the rankings 1.
Chris Johnson
; 2.
Vince Young
; 3.
Cortland Finnegan
. I was curious to know how you would have voted?
Paul Kuharsky:
I'd say Johnson No. 1, Finnegan No. 2 and third would be between
Michael Griffin
and
Jason Jones
.
Michael Roos
would round out my five.
---
Stephen in Jacksonville, Fla., writes:
Who's blocking is usually more critical to the success of the running game: the tight end or the fullback?
Paul Kuharsky:
Well it depends on what personnel you are deploying and the design of the plays. An inside play, it's probably the fullback; outside it can be the tight end.
It's not an easy A or B answer to me.
---
Jerome in Jacksonville, Fla., writes:
Do you happen to have Ditka's address? I'd like to mail him a pic of the pretty full stadium on Sunday versus Colts. Instructions included: [
Not appropriate for print
.] If you haven't heard, Ditka made an either A) Misinformed comment or B) Horribly delivered and unoriginal joke. "There will be only 25,000 fans" (paraphrasing)
Paul Kuharsky:
I heard, live. I know people in North Florida are upset with him. I don't have a pipeline. I did what I could by
writing this
.
---
Matt Barron in Indianapolis writes:
Paul, longtime reader, first time writer. As a Colts fan and an avid reader of all things AFC South, I've always enjoyed the fact you have a vote in ESPN's Power Rankings. My question this week is your comment listed with the Colts. A drop for them was both expected and deserved. But I was a little surprised you chose to mention the red zone turnovers in particular. Granted, losing the ball in that situation is something you never want to happen and isn't really the best way to win football games, but personally I think given the current climate the Colts' offense is doing great… On the other side of the coin is the defense, and to me that's where the real problems of that game were. The energy they used to show seemed non-existent, no pressure on Garrard, no pressure on receivers, no pressure on
Maurice Jones-Drew
. That seems like a far more alarming issue than a couple unlucky turnovers, especially with the mounting injuries.
Paul Kuharsky:
Good to hear from you.
Seems unreasonable to hit me on one sentence. I could write about absolutely anything there. Odds that I write a line about the one thing you think I should have written about are pretty slim, don't you think?
Certainly the defense is the big issue right now. But don't turn it over those two times and they would have bailed the defense out. And I didn't find them unlucky --
Gerald Alexander
delivered a giant hit to
Brody Eldridge
and
Reggie Wayne
seemed to be a little greedy stretching for extra when he fumbled.
---
Jordy in Boston writes:
What's the ratio of "Your rankings are spot on. I agree with your opinions." to "You're a moron who should be fired and are totally biased against my team." emails you get weekly? I'm guessing 0:837,892.
Paul Kuharsky:
That's about right.
September, 29, 2010
9/29/10
11:17
AM ET
Reading the coverage…
Houston Texans
Kareem Jackson is
still transitioning
, but his best is surely yet to come, says Jeffrey Martin.
Aaron Schobel met with the Texans and they
didn't sign him
, says Mark Berman.
A Schobel
deal was doable
if both parties wanted it, says Jerome Solomon.
The Raiders game could bring
a sigh of relief
, says John McClain.
The Texans
signed veteran cornerback
Karl Paymah, says McClain.
David Anderson
won't dwell
on Dallas.
Indianapolis Colts
Jeff Linkenbach
filled in nicely
for Charlie Johnson, says Curt Cavin.
Bob Kravitz has come to rank Peyton Manning ahead of John Elway. (
Video
.)
Kavell Conner had foot surgery and
is out
.
On
the receiving end
, it seems the Colts are always good to go, says Pat Kirwin.
Jacksonville Jaguars
The Jaguars
gained another option
by claiming Trent Edwards, says Tania Ganguli.
Jack Del Rio talked about David Garrard and Edwards in a
radio appearance
, says Ganguli.
Gerald Alexander is
embracing a second chance
with the Jags, says Ganguli.
Details on the Jaguars failure at
stopping big plays
, from Ganguli.
Gene Smith believes the fans have
a right to know
, says Vic Ketchman.
Derek Cox
should play
, says Alfie Crow.
Tennessee Titans
Five things
The Tennessean knows about the Titans.
A breakdown of
personnel by down
for the offense against the Giants from Terry McCormick.
September, 12, 2010
9/12/10
1:57
PM ET
HOUSTON -- Defensive end
Connor Barwin
suffered what looked to be a terrible left lower leg and/or knee injury when he got bent very awkwardly in a collision with
Antonio Smith
.
Barwin was carted off the field.
Without him, the Texans will either leave Smith at end on pass-rushing downs, or use
Tim Jamison
or
Jesse Nading
at end. If Smith stays outside, then we'll see more of
Earl Mitchell
.
I expect more Mitchell.
And I wonder if the Texans will be calling
Aaron Schobel
tomorrow.
Also on the injury front,
Bob Sanders
has an elbow injury and his return is questionable.
August, 27, 2010
8/27/10
1:31
PM ET
By
Scouts Inc.'s Matt Williamson
| ESPN.com
Do the Houston Texans have legitimate pass-rushing options to help balance things out for Mario Williams?
Looking at this situation through the eyes of the Texans, the key to their success is being able to defeat and supplant the
Indianapolis Colts
in the AFC South. That task is easier said than done, of course. But a huge key is creating consistent and threatening pressure on
Peyton Manning
.
[+] Enlarge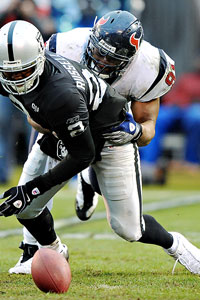 Kirby Lee/US PresswireThe Texans need Amobi Okoye, who has eight career sacks, to get more pressure on opposing QBs.
I have no complaints at all with Williams. He is a superstar who probably is only getting better, which is frightening. He is an even better player than his statistics and highlights would suggest. Every pass protection scheme that Houston faces is designed to eliminate the damage that Williams can do. But he isn't what we need to discuss here.
What the Texans need is to create a push despite all the attention that Williams receives. On passing downs, if Houston moves
Antonio Smith
inside next to
Amobi Okoye
, that might present a formidable enough interior presence to make a passer like Manning move off his spot.
Okoye remains very young and is in a position to really take a step forward this season. It is important that he does so. He needs to show more. Although he was the Texans' first-round pick in 2007, amazingly, Okoye is only 23 years old. He has a ton of ability.
Smith is a solid base end opposite Williams on early downs, but he isn't the ideal pass-rusher to thrive in one-on-one situations off the edge. But, as an inside player on passing downs, Smith is more than adequate. Still, Smith is a pretty solid all-around player and quite valuable.
With Smith on the inside,
Connor Barwin
will line up opposite Williams. Like Okoye (and many Texans), Barwin is young and extremely talented. He will turn 24 in October. A step forward seems likely for this ultra-athletic player who spent a portion of his University of Cincinnati career playing tight end. He is an extreme work-in-progress, but his ceiling as a pass-rusher is very high.
In conclusion, we don't know for sure that Houston has enough pass rush. But the potential is certainly there. Still, maybe coaxing a guy like
Aaron Schobel
out of retirement for spot duty wouldn't be such a bad idea.
Scouts Inc. watches games, breaks down film and studies football from all angles for ESPN.com.
August, 9, 2010
8/09/10
10:54
AM ET
It's early to panic, for sure. But that
Mario Williams
is compelled to get a second opinion on the hip issue that's been holding him out of practice is certain a cause for concern.
John McClain
and
Mark Berman
are both reporting that Williams is not with the team Monday as he seeks a second medical opinion.
Hopefully it's again judged to be not serious. But a lingering issue for Williams from the start is certainly a bad thing for the Texans.
The possibility of him missing some action would be less of a big deal if the team adds
Aaron Schobel
, but indications seem to be it could be a while before the former Bills defensive end decides where to sign and strikes a deal.
UPDATE, 11:55:
@NickScurfield
of houstontexans.com tweeted this from Gary Kubiak on Williams: "All the reports are good. We expect him to get back here and get back on the field here shortly."
August, 9, 2010
8/09/10
10:25
AM ET
Reading the coverage ...
Rick Gosselin's weekly NFL
rankings
.
Three hundred-pounders
are the norm these days.
Houston Texans
The Texans relish the opportunity to open
against the Colts
, says Dale Robertson.
Kevin Bentley's spent a lot of time
starting
on the strong side, says Jordan Godwin.
Kevin Walter became an NFL success
the old-fashioned way
, earning his place in the league with hard work and perseverance, says Richard Justice.
Bob McNair's backing of Brian Cushing is another example of
why players like him
, says John McClain.
Matt Schaub returned
the most value
on the money he earned in 2009 among AFC South quarterbacks, says Ben Alamar.
New England and Seattle look to be Houston's
primary competition
for Aaron Schobel.
Indianapolis Colts
Tony Ugoh and Mike Pollak seem more comfortable and could be ready to
turn things around
, writes Philip B. Wilson.
A public intoxication charge against John Gill
has been dropped
, reports the Indianapolis Star.
Profiling
Austin Collie with Coltzilla.
Jacksonville Jaguars
As the Jaguars head to Atlanta for practices with the Falcons, Jack Del Rio reviews
some scrimmage developments
, from Vito Stellino.
The safety competitions are
wide open
, writes Tania Ganguli.
Derrick Harvey is
the best player
on the Jaguars' defense, declares Adam Sites.
Tennessee Titans
The NFL is more
concerned about concussions
than ever, writes John Glennon.
Jim Wyatt runs down the Titans' four veteran
free-agent additions
.
Is Kevin Mawae being
black-balled
? David Climer considers.
Take preseason games out of season-ticket packages and sell the seats
for cheap
, says David Boclair.
Does Craig Johnson
have it easy
coaching Chris Johnson? Climer's take.
August, 8, 2010
8/08/10
9:00
AM ET
By
ESPN.com staff
| ESPN.com
August, 7, 2010
8/07/10
2:45
PM ET
By
ESPN.com staff
| ESPN.com
August, 5, 2010
8/05/10
9:10
AM ET
Would adding
Aaron Schobel
be the right move for the Texans?
They are obviously determined to rush better, and he can certainly rush the passer.
But with
Mario Williams
,
Antonio Smith
and
Connor Barwin
they've got three ends they like, so where would Schobel fit? Would adding him force Smith, a costly free-agent addition a year ago, inside or off the field too often? Would adding him help stunt the growth of Barwin, a 2009 second-rounder, by taking some snaps from him?
You can never have enough of a pass rush. Schobel's from near Houston and has said the Texans are the team he'd most like to link up with.
He's connected
to defensive line coach Bill Kollar. I can't argue with the move if they make it.
But I'd prefer if he was a free safety.
UPDATE, 2:03 p.m.:
According a team transcript Kollar said this about Smith Wednesday afternoon:
"Antonio, just like last year, when he moves inside and we move him inside, you really start to see him produce and make more plays. He was more effective for us last year when we moved him inside and obviously, we'll be doing the same thing this year a bunch. He keeps getting better all the time at defensive end but he really played more inside when he was in Arizona and that's where he feels more comfortable. He's been doing a good job so far."
I don't know if Smith's every going to be a fulltime tackle, but if he's at his best there, a Williams-Schobel-Barwin trio at end could sure be promising against Peyton Manning.
November, 22, 2009
11/22/09
10:26
AM ET
Houston Texans
Andre Johnson
denies he will want out
if the Texans don't make the playoffs, says John McClain.
Steve Slaton
will start
Monday night, says McClain.
Eric Winston
vows to protect
teammates, say McClain and Dale Robertson.
Indianapolis Colts
The Ravens offer
an unusual challenge
for the Colts, says Mike Chappell.
It's
a home game
for Matt Stover, writes Chappell.
Gijon Robinson
didn't travel
to Baltimore, says John Oehser.
Ravens QB guru Cam Cameron has
ties to Terre Haute
, says Tom James.
Jacksonville Jaguars
Marcus Stroud
won't play
against his old team.
Key matchup:
Eugene Monroe vs. Aaron Schobel
.
Justin Durant
is doubtful
for the Buffalo game, says Michael C. Wright.
Terry O'Brien chimes in on several
Jaguars issues
.
Richard Collier
shares his story
, says Charlie Patton.
Tennessee Titans
Nick Harper will concentrate on
not getting too hyped
as he returns to the lineup, says Gary Estwick.
LenDale White wants to start, but is
happy for the wins
, says Estwick.
Cortland Finnegan and Keith Bulluck
drew big fines
for actions against Buffalo, writes Jim Wyatt.
The option package is
a nice changeup
, says Terry McCormick.
November, 17, 2009
11/17/09
6:52
PM ET
The suggestion from Hank Koebler via Facebook:
"I don't know if this qualifies for further review, but VY's scramble on 3rd-and-long in the red zone, right before CJ's 2nd TD of the day. I think that makes the difference between usual Fisher-ball (settling for field goals every time you get in the red zone) compared to something explosive that puts you in position to score."
The situation:
Third-and-10 from the Buffalo 13-yard line with 12:20 left in the fourth quarter and the score tied, 17-17.
The Titans line up with
Nate Washington
and
Bo Scaife
to the left,
Kenny Britt
and
Lavelle Hawkins
to the right and
Chris Johnson
to the left of
Vince Young
, who's in shotgun.
Buffalo matches up with its nickel package with
Ellis Lankster
,
Reggie Corner
,
George Wilson
,
Drayton Florence
and
Bryan Scott
on the field.
They rush with just their four down linemen.
What I saw unfold after the snap:
Johnson heads left and cuts toward the end zone with Scott picking him up.
Jake Scott
and
Kevin Mawae
double team
Marcus Stroud
and hold him up.
Eugene Amano
single blocks
John McCargo
, who uses a spin move and winds up tugging Amano's facemask.
Michael Roos
pushes
Aaron Schobel
wide and
David Stewart
does the same with
Chris Kelsay
. But the two defensive ends begin to squeeze the back end of the pocket, and Young senses it early and sees room.
Young peers downfield as he scoots up in the pocket, but passes on throwing to Britt, who's crossed from the right to the middle and is open but only two yards beyond the line of scrimmage.
Paul Posluszny
charges up the middle, but quickly loses any advantage in tracking Young as the quarterback slides to his right, gets to full speed and turns the corner to go up the right sideline for the pylon. He starts to lunge and reach for the pylon with the ball at about the 3-yard line with the defender on his left and diving for his legs. Field judge
Keith Washington
immediately signals that Young didn't make it into the end zone marking him just short.
Young gets up and signals touchdown. Jeff Fisher challenges, but only because he was calling a timeout anyway to adjust personnel. Referee John Parry upholds the call.
Result:
First-and-goal from 1. Johnson scored three plays later, bouncing off a hit behind the line of scrimmage by Scott and Posluszny and heading into the end zone standing from there and Tennessee moves to a 24-17 lead.
Ultimate outcome:
The Titans pour it on from there, turning a close game into a 41-17 blowout for their third win in a row.