AFC South:

Aaron Williams
April, 29, 2011
4/29/11
9:08
PM ET
In a 49-pick span, the
Houston Texans
look to have given their defense just the sort of talent influx it needed.
Wade Phillips is wielding his influence and the fans who fill Reliant Stadium have cause to feel pretty good.
The team has added a big, quick, play-making end at No. 11 in Wisconsin's
J.J. Watt
; a speedy pass-rushing strongside linebacker in Arizona's
Brooks Reed
at No. 42; and a well-rounded, if short, corner in Miami's
Brandon Harris
after trading up with New England to No. 60.
I like it. It's enough to help me get over missing out on
Aaron Williams
or
Rahim Moore
.
I still think they undervalue safety. But perhaps they'll chase
Eric Weddle
or
Melvin Bullitt
if there is a conventional free agency. Perhaps Harris will allow for
Glover Quin
to move to free safety.
Yes, they'll be mentioned as a potential suitor for
Nnamdi Asomugha
. I don't see the free agent purse opening wide enough to fit that stack of bills through. I don't think you can go wrong adding him, though at some point you have to draw a financial line.
Who would have thought after two rounds it might feel as if a move of that size might not be necessary for the Texans to get good enough on defense to win.
Some nuggets on Harris from KC Joyner of Scouts Inc. from
this piece

:
In an 11-game sample of his 2010 season, Harris gave up only nine completions in 36 attempts.
He gave up a 3.7 overall YPA, a 3.8 vertical YPA (on passes 11+ yards) and a 4.1 stretch vertical YPA (20+ yards).
April, 29, 2011
4/29/11
12:15
PM ET

Guys who could be available tonight when the
Houston Texans
go on the clock for No. 42 overall, the 10th pick of the second round:
Aaron Williams, CB, Texas -- The best free safety option in the draft is still available, but is unlikely to last to 42nd. Houston should trade up for him. If the Texans like him at cornerback, then they could move Glover Quin.

Rahim Moore, S, UCLA -- The best college safety in the draft. A notch below Williams, but a guy who would help upgrade the secondary.
Justin Houston, DE, Georgia -- He'd be an outside linebacker in the Texans' 3-4. Houston in Houston would reduce the chances of confusion.
April, 27, 2011
4/27/11
7:29
AM ET
The
Houston Texans
need safeties, and while there will be some when free agency arrives, there won't be a ton of opportunity Thursday, Friday and Saturday in the draft.
This draft is rated as exceptionally weak at safety. UCLA's
Rahim Moore
is rated the top player at the position, and I've had a couple insiders tell me they don't even think he can be an opening-day starter.
Texas cornerback
Aaron Williams
is rated by many as a player who could comfortably flip to safety, and he could be drafted by a safety-needy team with an eye on that switch.
But he's unlikely to last until 10th in the second round, 42nd overall which is Houston's second pick.
The Texans may move
Glover Quin
to free safety if they fare better at adding a quality corner than a quality safety.
"I keep hearing conversations on how football has changed now with so much passing and so many teams throwing the ball so much," Houston general manager Rick Smith said at Monday's pre-draft news conference. "You do need safeties that have cover ability, especially if you want to try to bring pressure [with blitzes] because you have to have guys that can cover those third wide receivers in the slot or the athletic tight ends that everybody has and employs.
"The transition from corner to safety, as long as you have a guy who is physical and who will tackle and has some football awareness, then you've got a chance. The guys that are out there that are just fast and can cover and really have tunnel vision, they don't make good safeties because obviously you have to have a guy that understands what you're asking everybody to do in the context of the whole defense. He has to be a smart guy and a guy who can tackle. If you've got that, then you have a good chance of getting a guy that can transition.
Beyond Williams, four other corners who
might be moved
to safety are
Marcus Gilchrist
of Clemson,
Jalil Brown
of Colorado,
Chris Culliver
of South Carolina and Chris Rucker of Michigan State.
Here is some
interesting stuff
on Williams and Moore from Doug Farrar.
April, 25, 2011
4/25/11
12:00
PM ET
We know you've been mocked and mocked. We all give you divisional takes on Todd McShay and Mel Kiper. We often link to other mocks. Maybe you're to your breaking point. Maybe you need one more.

We spent three days last week emailing back and forth and compiling a mock put together by eight divisional bloggers. John Clayton stood in for the NFC East.

Perhaps we add some different insight to the speculation. Perhaps we echoed prevailing wisdom. (I can raise my hand on that, as you will see.)

At any rate, we know we're mostly wrong, and we're eager to write names in draft slots in ink instead of pencil when things kick off Thursday evening. Here's hoping this helps tide you over.


March, 10, 2011
3/10/11
1:31
PM ET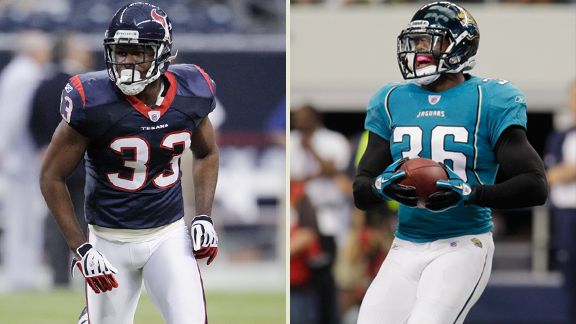 AP PhotosHouston's Troy Nolan, left, recorded three interceptions in 2010, while Courtney Greene picked off one pass and forced a fumble for Jacksonville.
If
Peyton Manning
dropped back and looked downfield against the secondaries of the Texans or Jaguars right now, he'd find a safety pool that averages 2.25 years of experience and has an average draft spot of No. 205.
Collectively,
Troy Nolan
and
Dominique Barber
of Houston and
Don Carey
and
Courtney Greene
of Jacksonville have five interceptions, three fumble recoveries and one forced fumble in 31 career starts.
They are nice guys with some promise, but it's hard to tab any one of the four as a star in the making.
As Houston and Jacksonville head toward a draft where the safeties are not highly regarded, it screams the question:
How can teams trying to catch Manning's Colts playing in an increasingly quarterback-driven league be so poorly stocked as such a critical position?
It's hard to figure.
At least the Jaguars have taken a big swing, missing badly on No. 21 overall pick
Reggie Nelson
in 2007, a feeble tackler who tended to take terrible angles. He was traded to Cincinnati before the 2010 season. Jacksonville was also the first team to have
Bob Sanders
in for a visit after he was cut by the Colts in February, but he ultimately lined up to go to San Diego.
Jacksonville coach Jack Del Rio talked of his desire to add "that guy," whether he came in the form of Sanders or not.
The Jaguars' last homegrown safety of influence before Nelson was
Gerald Sensabaugh
, a fifth-rounder in 2005 whom the team let walk to Dallas as a free agent after the 2008 season and who's scheduled to be a free agent again.
The team simply asked too much of young guys last season. Carey moved to safety from corner. He had never made calls before, but he was usually responsible for adjusting one half of the pass defense once it lined up, a tall task in games against the likes of Manning and
Matt Schaub
.
"Even when you crack down on your film study, when you get to a game it's still very frustrating because they kind of know what you're going to do in certain situations," Carey said. "You try hard to hide your coverages; it's a real chess match."
Carey said he can't worry about who's brought in, he just needs to work to get better. General manager Gene Smith still sees Carey as an "ascending" player. Del Rio said Carey needs "technique clean-up."
"Will he ascend to the starter we need him to be?" Del Rio asked. "I don't know that. I think the jury's still out."
For a team that wants to build through the draft, Houston has devoted virtually no resources to the safety position. Of the 76 draft selections the Texans have made since they got off the ground in 2002, they've spent eight on safeties, but only one as high as the fourth round.
They relied on veteran castoffs the past few years but released the ineffective
Eugene Wilson
and made it known the one-dimensional
Bernard Pollard
will not be re-signed.
One personnel man told me recently that the state of the positions in the league is average, that this draft is thin at the spot, that the options are better at free than strong and that teams may look more than ever to try to convert corners.
Rob Rang of NFLDraftScout.com thinks these five corners could wind up being NFL safeties:
Aaron Williams
of Texas (second round),
Marcus Gilchrist
of Clemson (third),
Jalil Brown
of Colorado (third or fourth),
Chris Culliver
of South Carolina (fourth) and Chris Rucker of Michigan State (fourth or fifth).
Many teams are increasingly blurring the lines between the roles and ideally like to have two players who can both run and cover and step up to play the run.
Teams like the Texans and Jaguars would surely be pleased, however, to have one player with a talent on each end of the safety spectrum who could serve as an upgrade and help reduce the stress on the cornerbacks.
Houston may move
Glover Quin
to free safety, but then it will be playing its best cornerback out of position.
How much could better play from the safeties help a group of young corners that really struggled in 2010?
"I think it's significant," Texans general manager Rick Smith said. "I mean you're looking at a former safety. So I value the position significantly."
Both Texans coach Gary Kubiak and the Jaguars' Smith have said they hope to add a veteran at the position as well as examining the draft options.
"You'd always like to have a veteran at the safety position," Gene Smith said. "Playing safety is like playing quarterback, and you'd always prefer to have a veteran at quarterback. You don't always have the luxury of being in that position, but that would be a good area to get a veteran player."
A guy like San Diego free safety
Eric Weddle
, who could buy a real secondary ownership stake by signing with Houston or Jacksonville, should be an attractive option if he reaches the market. And he or Indianapolis'
Melvin Bullitt
could help one of the incumbent kids or a rookie grow into a role quicker. Signing him could also help weaken the division's top team.
Their values, when free agency arrives, should be high no matter who's been drafted.
Even if the Colts re-sign Bullitt, they probably will be looking for safety depth. And while Tennessee maintains faith in free safety
Michael Griffin
, it should be looking for a player to challenge slipping veteran
Chris Hope
.
That's just four teams in need of six players at the position in a draft where ESPN draft analyst Todd McShay thinks
Rahim Moore
of UCLA may be the only guy in the draft capable of stepping in as an opening-day NFL starter.
"He's a really good player, great angles, ball skills," McShay said. "The thing that keeps him from being elite is he's not fluid in man-to-man coverage. But he has good range and is very instinctive.
"After that there is a big drop-off. Jaiquawn Garrett from Temple is a good player, but not elite.
Ahmad Black
from Florida is a great athlete, quick, and hits hard for a small guy, but he's really small.
DeAndre McDaniel
from Clemson is so overrated."
Those are hardly two paragraphs that will get Texans and Jaguars fans excited.
They may have an entirely different effect on Manning and the quarterbacks slated to throw against those teams if and when we get kickoffs this fall.
June, 23, 2010
6/23/10
5:30
PM ET
You need super-cool Insider status to see it all, but here are some highlights from Mel Kiper's look at the AFC South, where he conducts
a summer audit

:
Colts
Next April's pick, now: Aaron Williams, CB, Texas

A fluid talent out of Texas, expect to hear more about a guy who helped make Earl Thomas' job easier in that secondary.
My thoughts
: He's hardly alone in thinking cornerback is a concern, but if the Colts stay healthy, they are three deep with
Kelvin Hayden
,
Jerraud Powers
and
Jacob Lacey
. And a lot of teams would love to be three deep.
Jaguars
The question mark: I thought the Jags could have really used the addition of a guard through the draft or free agency, though that's an area that most good offensive coordinators or line coaches can capably mask. But the third-biggest need wasn't addressed at all.
My thoughts:
Guess he doesn't care for
Justin Smiley
, acquired by trade from Miami, or
Kynan Forney
, a reserve last year who is getting a serious look inside.
Texans
The question mark: …The Texans averaged just 92 yards a game on the ground, bad enough for 30th in the league. Some of that stemmed from poor guard play. The Texans drafted Shelley Smith in the sixth round, but they could still struggle to balance the offense in 2010 if their interior line play isn't better. The addition of Tate may help from a physical standpoint, however.
My thoughts:
They feel like they have sufficient interior options with free-agent addition
Wade Smith
,
Antoine Caldwell
going into year two and
Mike Brisiel
returning from injury.
Titans
Crucial influx: We knew Tennessee would likely go with a pass-rusher in the first round, particularly after the departure of Kyle Vanden Bosch. But in Derrick Morgan, you also have a guy with an immensely versatile game. Few players in college football last year -- maybe nobody -- proved as effective against the run while still maintaining an ability to consistently pressure the quarterback. I don't think Morgan has the ceiling of a player like Jason Pierre-Paul, but there [are] zero hints that he could be a bust.
My thoughts
: Titans faithful have to like to hear all that about Morgan, but they are hoping he won't be all dinged up as he has been in OTAs when he participated very little.
AFC SOUTH SCOREBOARD
Thursday, 12/5
Sunday, 12/8