September, 2, 2012
9/02/12
3:17
PM ET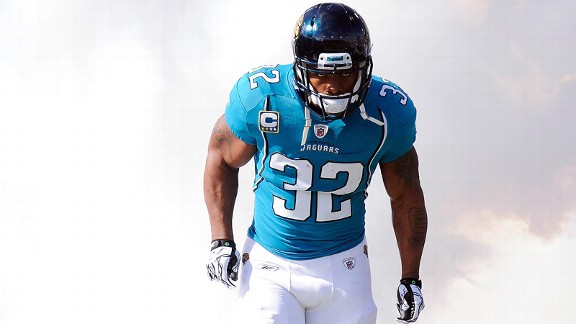 Jerome Miron/US PresswireMaurice Jones-Drew rejoined the Jaguars and ended his holdout after 38 days.
Well, that was easily the longest
run for no gain
of
Maurice Jones-Drew
's career.
The disgruntled
Jacksonville Jaguars
running back joined the team early Sunday after holding out for 38 days.
He wanted a new deal despite having two years left on his old one. And the absence created nothing, unless you count that we learned he and his agent, Adisa Bakari, had an incredible inability to gauge the market.
The Jaguars will hope Jones-Drew is far better at assessing holes than he was at assessing the market.
The Jaguars could have fined him up to $30,000 per day during his absence. But a lot of people are jumping to conclusions in totaling up that number. We don't know whether the team hit him with the maximum fine or with something less that won't create the same size dent.
He's due base salaries of $4.45 million this season and $4.95 million next season.
Had his holdout continued, he would have lost one-17th of his salary -- $261,765 -- for each week missed.
He missed camp last year as he rehabilitated a knee injury and still wound up leading the league in rushing. Reports from this afternoon's news conference indicated he used that as an example for why he wouldn't be rusty.
Coach Mike Mularkey said in recent days that
Rashad Jennings
, who worked as the No. 1 back while MJD was away, would start the opener against Minnesota in a week regardless of other developments.
Players generally don't begrudge a teammate for doing what he feels is necessary to maximize his earnings, though I wouldn't blame any Jaguar who feels a degree of betrayal over Jones-Drew's failure to buy in to the new regime with the rest of the guys. Hearing him claim to have no regrets as soon as he arrived wouldn't get me fired up over his stance.
He'd be smart to monitor such feelings and work to smooth them over. Also, how about some thicker skin? He said he expects more appreciation than owner Shad Khan's comments about the Jaguars train leaving the station and that Jones-Drew needed to run and get on board. How can a guy who can endure such a pounding on the field be so sensitive?
Mularkey and his staff certainly have the right to make Jones-Drew prove himself to them. Yes, he's been a productive star. But with a great season from him, the team was terrible a year ago. Without him, a lot of ground work and foundation building has been done. He needs to show he's part of it and not thinking he's some sort of savior walking through the door.
He's a proud guy, and he lost big time here. He emphasized he has no hard feelings, which is great, because his isn't the side that has a case for having any. Per John Oehser of the team's website, MJD said: "Not one person can say what I did was wrong."
I am quite certain he's incorrect there. Watch: Maurice, what you did was wrong.
He can spin it however he chooses, and I am sure he and Bakari have created some scenario in their heads that makes this situation something other than the giant defeat that it is.
For now, it won't matter if he gets back to what it's all ultimately about: Being a productive football player who helps the Jaguars win.
August, 26, 2012
8/26/12
11:21
AM ET
When he take a handoff,
Maurice Jones-Drew
is very good at going in one direction.
Jones-Drew
When it comes to reasoning out an argument, he runs in circles.
Any time he, or his representative, says anything that elicits some negative reaction, in short order he seems to cover the other side. It's out of context or we didn't understand or what he really meant was actually close to the opposite.
It's really tiresome. And it's no way to make new bosses miss him.
Jones-Drew wants to be all things to all people. He doesn't like any segment of fans being upset with him, so he tries to hit every side of an argument to make even one happy and make sure no one is upset with him.
When he was critical of
Jay Cutler
leaving the 2010 NFC Championship Game with an injury, he
retreated after backlash
.
Here's the thing -- don't cast yourself as an outspoken guy if you're not willing to take a stance and stick with it.
Now, after having his agent speak out about how he was hurt by Jaguars owner Shahid Khan saying the running back's absence didn't move the needle, Adisa Bakari said they were open to a trade. (
As if their openness
to a trade was the thing that would make it happen.)
It was only a matter of time, I knew, before he'd say he didn't really mean he wanted to play elsewhere.
And sure enough, within days, came this:
"I'd rather stay here with my team, my family," he said
at a recent appearance
in Jacksonville. "I talk to my teammates every day, my kids go to school here, I'm rooted here in Jacksonville with the NFL. I'd love to end my career here in Jacksonville, but part of the business is sometimes you can't do things you want."
Do you want to stay or do you want to go?
He's a step short of
Vince Young
when asked if he wanted the Heisman Trophy
Reggie Bush
had to give back. The first time he said yes. The second time he said no. And the third time he said he didn't know and it wasn't up to him.
Yep, that about covers all the bases. And amounts to saying nothing, but creates way more frustration.
Over a couple days Jones-Drew did what he does when he's in a jam created by stances and comments instead of pursuing defenders: He ran in a circle.
August, 21, 2012
8/21/12
9:06
PM ET
Maurice Jones-Drew
is now
willing to be traded
.
The
Jacksonville Jaguars
holdout running back would have you believe that making such a declaration amounts to a magnanimous gesture where he's giving something up.
That is not the case at all.
Maybe MJD is more willing to be traded today than he was yesterday. But the fact is, it doesn't matter. The Jaguars don't need his consent to trade him.
They need something much more difficult to get than that: A partner willing to trade for a disgruntled player demanding a lucrative new contract.
And I presume they aren't going to search for one, because trading him amounts to giving him what he wants, and they've made it clear they aren't giving a player who's under contract for two more years what he wants.
It's harsh to say but it is absolutely true: The play Jones-Drew and his agent, Adisa Bakari, are making here is laughable. They've butchered this situation and they don't seem to have a handle on the fact that they have no leverage.
So while they set all this in motion, they now say they are insulted by recent comments that the player's absence isn't "moving the needle." And the only way they can gain some leverage is if the holdout continues and the Jaguars fail without Jones-Drew.
Thus, he's set up to root against his teammates and hope they don't succeed.
What an excellent teammate! If I'm part of the Jaguars' locker room, under solid new leadership from Mike Mularkey and his staff, Jones-Drew is a guy I am really pulling for to get what he feels like he deserves -- a guy who wants me to fail.
Jones-Drew can be fined up to $30,000 a day during the holdout.
What's adding up more than the fine total is the damage MJD is doing to his reputation.