AFC South:

Adrian Clayborn
April, 25, 2011
4/25/11
3:23
PM ET
Do eight voices combining for a mock draft fare any better than those by one guy?
Who knows?
I think my blog network brethren would say the same thing I do: Most of my thinking in our combined mock draft came from an educated connecting of the dots that combines what I know about my teams' draft philosophies, what I know of teams' needs, who's available in this context, what I've been told, what my gut says and what I've been calling for.
So Kevin Seifert over at the NFC North isn't saying
Andy Dalton
is the 12th-best player in the draft. He's reiterating what he's been writing about how quarterbacks have to have
a higher value
and how Minnesota has to have one.
Three of my four picks for the AFC South line up with what I'd call the conventional thinking at this point. Maybe I outsmart myself with the Colts, but I'll explain myself in a second.
Here's a bit more than I was able to offer in my comments in the mock, which you'll find
here
.

Titans at No. 8 – Nick Fairley, DT, Auburn
I think the defensive rebuild has to go inside-out. I think the character concerns on Fairley are overblown or are something that line coach Tracy Rocker, who worked with him at Auburn, and defensive coordinator Jerry Gray can handle. I think that the Titans can find ways to turn him into a consistently productive player. But maybe this match is too easy. The alternatives would be a defensive end, though
Da'Quan Bowers
has dropped for them because of his knee, or quarterback if they choose to be bold.

Texans at No. 11 – Aldon Smith, DE-OLB, Missouri
Somehow, I sense that Smith has become unpopular with a good share of Texans fans. His name certainly lacks the juice of
Von Miller
or
Robert Quinn
. But plenty of teams would like to get their hands on Smith, who's an intriguing option as an outside linebacker in Houston's new 3-4 defensive front. He's got intriguing size at 6-foot-4, 263 pounds. The best defensive player in this scenario may be Wisconsin's
J.J. Watt
, but rushing the passer is not what he does best and that's what the Texans need most.

Jaguars at No. 16 – Ryan Kerrigan, DE, Purdue
Too easy a fit? Perhaps. But when GM Gene Smith said last week that there are a lot of guys who, like Kerrigan, fit into the formula he likes, there is no doubting that Kerrigan does. Still, who among us saw Smith taking
Tyson Alualu
at No. 10 last season? We could see another surprise. Smith loaded up on defensive linemen last year. If he takes Kerrigan or another end now, it should be the last defensive linemen for a while, and he should move on to secondary and receiver help.
Cameron Jordan
,
Adrian Clayborn
and
Cameron Heyward
are all heavier. But with a rugged interior, the Jaguars need speed more than size.

Colts at No. 22 – Corey Liuget, DT, Illinois
Everyone and everything says offensive line. And I could have taken
Nate Solder
,
Gabe Carimi
or
Derek Sherrod
here. I just think the odds of Bill Polian doing what we all expect are low. While there will be one and should be more than one offensive linemen for Indianapolis in this draft, Polian won't let the need steer him. Two years ago we all had the Colts liking
Peria Jerry
, but he went to Atlanta three spots before Indy took
Donald Brown
. I hear Liuget is a better fit that Jerry would have been. More interior push helps
Dwight Freeney
and
Robert Mathis
and Liuget would help the run defense.
April, 25, 2011
4/25/11
12:00
PM ET
We know you've been mocked and mocked. We all give you divisional takes on Todd McShay and Mel Kiper. We often link to other mocks. Maybe you're to your breaking point. Maybe you need one more.

We spent three days last week emailing back and forth and compiling a mock put together by eight divisional bloggers. John Clayton stood in for the NFC East.

Perhaps we add some different insight to the speculation. Perhaps we echoed prevailing wisdom. (I can raise my hand on that, as you will see.)

At any rate, we know we're mostly wrong, and we're eager to write names in draft slots in ink instead of pencil when things kick off Thursday evening. Here's hoping this helps tide you over.


April, 14, 2011
4/14/11
4:06
PM ET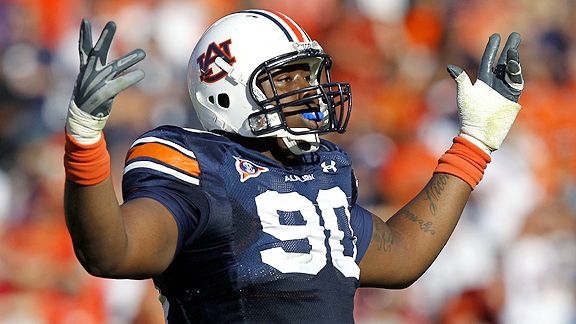 Mike Zarrilli/Getty ImagesNick Fairley had 12 sacks and 56 tackles in 2010 as the dominant force on Auburn's defensive line.
Albert Haynesworth
is surly.
Nick Fairley
is silly.
That's the gist of a review I got from an AFC scout when I took him the idea that Fairley, the defensive tackle from Auburn who could go to the Titans at No. 8 in the draft, is like Haynesworth, the defensive tackle from Tennessee who went to the Titans at No. 15 in 2002.
Haynesworth didn't always play hard, dealt with nagging injuries, stomped an opponent's face and was motivated by money. But at times he was an absolutely dominant force in the middle who had a positive bearing on every player on defense and helped the Titans contend for the playoffs.
Popular thinking on Fairley now suggests a big contract could lead a collegiate one-year wonder, who took plays off during a fantastic season, to become lazy or complacent.
My scout says it's an off-kilter comparison.
"Fairley is more happy-go-lucky, he's not Haynesworth," he said. "Albert played with a huge chip on his shoulder, like everybody was against him. This kid, when he hits the field, yeah, no question he's a competitive son of a gun. But he's not Albert …
"I think Fairley clearly has a chance to be a special player. You've got to remember, he's a Southern, Southern kid. He's a bayou-type kid. The [Titans] had a guy like [defensive end]
Antwan Odom
who was a bayou kid -- it can be misconstrued as not having a passion. But I don't think that's the case. I think this kid is a fun-loving type of kid who's silly."
"Yeah, he's going to make mistakes. Are they going to be glaring or things done on purpose? His mistakes are going to come out of, pardon the expression, ignorance, just not knowing. License registration and stuff like that -- 'Oh, I didn't even know I had to register my car.'"
Did I find one guy who doesn't see Fairley as a concern?
Well, two other scouts also chimed in. One said he doesn't worry that Fairley could turn lazy. The other expressed apprehension, but said it wouldn't stop him from taking Fairley at No. 8 if he was with the Titans.
I knew Haynesworth at his best, and actually thought he was a bit misunderstood.
It took too long for things to click for him, but he wasn't a bad guy in Tennessee. He wasn't always brooding. He could be light-hearted and funny. He liked to talk about work as a travel agent and to show off his newest gadget. He got good enough that he could speak his mind without fearing the consequences, and I think a locker room needs at least one star like that.
He played his best when a contract was at stake. I was a member of the camp that didn't care for that. I also didn't care for his tendency to need help off the field for injuries that proved less than serious. He responded very well to the
Andre Gurode
incident -- where he stepped on the Dallas Cowboys' center's head -- but it obviously shouldn't have happened in the first place. He has not handled himself nearly as well in Washington, but Mike Shanahan practically poked him with a stick. Haynesworth had or has issues with anger management and fast driving.
But everyone who played with him in Tennessee wanted him on the field, doing his thing.
[+] Enlarge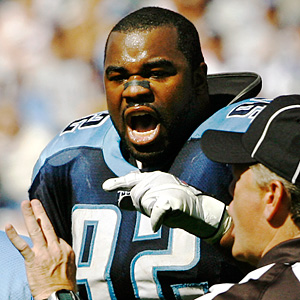 AP Photo/ John RussellSome scouts say Nick Fairley's personality is nothing like that of Albert Haynesworth.
If Fairley can give the Titans that type of play and carries less risk of the drama, he looks like an appealing addition to a defense that needs to be revamped. After these scout conversations, I'll offer no objection if he's the selection.
Still, plenty of analysts continue to voice concerns.
"A lot of early round defensive tackles end up being busts," said Matt Williamson of Scouts Inc. "They are just freak human beings and even the highest levels of the college game can be easy for them. If their work ethic isn't top-notch, they often bust. Fairley seems to take a lot of plays off. He turns it off and on. That is a huge warning sign for me, especially at defensive tackle."
Not all scouting eyes see plays off last season at Auburn, however. Charley Casserly told Jim Wyatt that
playing too high
and getting blocked on plays was mistaken for shutting down.
Draft analyst Mike Detillier of NFL Draft Report said he loves Fairley but has some fear of plays off. He thinks Tennessee's new defensive line coach, Tracy Rocker, knows how to find Fairley's on switch since he coached the tackle at Auburn last season. There is risk with him, though, and work ethic after a payday is one of the hardest things to predict, he said.
That reminds me of my absolute favorite scouting maxim, one I learned from late Oilers/Titans scout Glen Cumbee: Money makes a guy more of what he is.
So good guys become better guys; bad ones become worse.
I've only had one interaction with Fairley, far too little to judge him on. If the Titans can plug him into their old scout's equation and not have doubt, they may have their man.
One other question about Fairley that's come from readers is about his size. If the Titans are striving to get stouter, how does Fairley, at just under 6-foot-3 and between 290 and 300 pounds, do that when the Titans have
Tony Brown
(6-3, 305) and
Sen'Derrick Marks
(6-2, 295)?
Well, Brown's got chronic knee issues that could mean he's only a situational player now and Marks, another Auburn guy, has not yet proven worthy of a second-round pick in 2009.
Meanwhile, Fairley has hardly maxed out.
"He's a big, big, massive man," the scout said. "You've got to realize he hasn't even scratched the surface of what he's going to be physically. He's going to get bigger and he's going to get stronger, which is scary, and he's got great feet. He's a big basketball guy. He really thought he was going to the NBA as a kid."
If there are no big surprises who fall to No. 8, I suspect the Titans will go with Fairley. They may like Washington quarterback
Jake Locker
, but not that high. If they find a willing partner, they could move down and still stand a chance of landing Fairley a bit later with Minnesota (12th), the Giants (19th) and Indianapolis (22nd), the biggest possibilities to take him out of need.
If the Titans moved back and Fairley disappears, they could turn to a defensive end like
Adrian Clayborn
or
J.J. Watt
, or they could look to Locker.
But no one may be a better addition than Fairley.
"Does he fit Tennessee?" the scout said. "Yeah, if everything you're hearing is true and they want to get bigger and stronger and more physical, yeah he's all three. You can put a check next to bigger and stronger and more physical."
March, 31, 2011
3/31/11
1:30
PM ET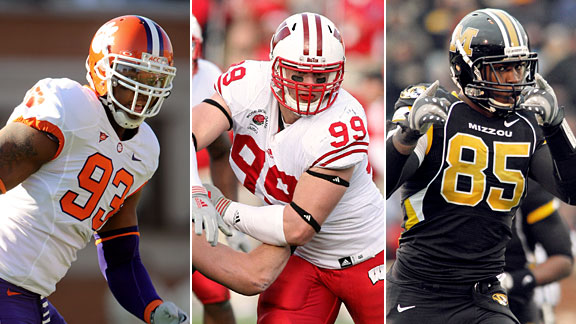 Icon, Icon, US PresswireDa'Quan Bowers, J.J. Watt and Aldon Smith are likely first-rounders who are under the microscope.
It's the right year to need a defensive lineman in the first round, and in the AFC South, it wouldn't be a huge surprise if all four teams spent their first pick in the draft on a tackle or an end.
Speaking briefly Tuesday night before a charity event, Titans general manager Mike Reinfeldt offered nothing substantive on his quarterback-needy team's feelings about the quarterback prospects.
But the guy running the team's draft is also in need of a couple of defensive linemen, and joined the chorus raving about the talent available.
"I think it's going to be very tempting because I think there will be 14 or 15 defensive linemen that go in the first round," he said. "So that'll make an interesting choice for a lot of people in the first round."
NFL Draft Scout rates seven ends and two tackles as clear first-rounders and another two ends and four tackles as possible first-rounders. Some of those ends could wind up as pass-rushing outside linebackers in a 3-4.
At the NFL scouting combine, many of the hot defensive linemen expressed pride in the strength of their position in this draft.
"I look at it like, if you go back in the history of watching football, before the game was started, it started up front," said
Marcell Dareus
, the Alabama tackle who's expected to be the first defensive lineman off the board. "Some people were scared and backed up off the ball. But the real bulls stayed up front and played the game."
The compelling group that could have guys coming to try to hit
Peyton Manning
and
Matt Schaub
and slow
Arian Foster
,
Maurice Jones-Drew
and
Chris Johnson
includes a guy who plays the guitar and the drums (Clemson end
Da'Quan Bowers
), another who had a brain tumor removed five years ago (North Carolina end
Robert Quinn
) and a third who started out not in football, but in rugby (Oregon State tackle
Stephen Paea
).
I asked one college scout from the AFC and Matt Williamson of Scouts Inc. to pair each AFC South team with a defensive lineman likely to be available at each team's slot. Here's what they said.
Tennessee (No. 8)
Scout:
Bowers
"Add him to a young
Derrick Morgan
and Titans would have bookend defensive ends with pass-rush ability for many years. Look at the Titans' current DEs:
Jacob Ford
(potential free agent) is a nickel pass-rusher;
Dave Ball
(free agent and injuries) is a rotational player only;
Jason Babin
(free agent) is a one-year wonder and honestly just a pass-rusher;
William Hayes
is a base/run-down end. So the need is there for sure. Players that can play the run and rush the passer usually never hit free agency, they aren't allowed to because they are so hard to find. If there wasn't a issue with the knee, Bowers wouldn't be there at eight."
Williamson:
Auburn tackle
Nick Fairley
or Quinn
"Value and upside. Both players are dripping with upside, but have some questions. The Titans' new line coach, Tracy Rocker, comes from Auburn and already has a relationship with Fairley. He is just too good of a prospect to pass up at that point of the draft. And Tennessee's line has enough guys already that they could sort of ease either player into his respective role."
Texans (No. 11)
Scout:
Wisconsin end
J.J. Watt
"A great choice for a 5-technique player. High motor, excellent size with potential to add to frame, great kid with a huge upside. I am ignoring obvious pass-rushers because they are outside linebackers in a 3-4 defense and you wanted a lineman. The [Texans] are in need of a pass-rusher more than a 5-technique end --
Mario Williams
,
Shaun Cody
and
Antonio Smith
all fit that position.
Amobi Okoye
is a quick nose tackle, but not a true nose. They will need to upgrade that spot as well, but there is not a value nose tackle for them with the 11th pick."
Williamson:
Watt or Cal end
Cameron Jordan
"For Houston, I think they would love to get a 5-technique like JJ Watt or Cameron Jordan. Nose tackle is the bigger need, but taking [Baylor's]
Phil Taylor
there is too early."
Jacksonville (No. 16)
Scout:
Missouri end
Aldon Smith
"An excellent pass-rusher. Young, inexperienced but has a huge upside. Should grow into his frame and maintain athletic ability. They lack true pass-rushers.
Larry Hart
is a situational rusher at best.
Austen Lane
is a run-down player… at best.
Derrick Harvey
hasn't worked out. And they are already solid in the middle. [Miami end]
Allen Bailey
, [Iowa end]
Adrian Clayborn
and Cameron Jordan are too close to what they have already. The only other option would be [Purdue end]
Ryan Kerrigan
, but he and
Aaron Kampman
are similar in skills and limitations. Aldon has true edge pass-rush ability."
Williamson:
Aldon Smith
"I like Smith a lot for Jacksonville. They are set at tackle, so they only would look for an end up front in my opinion. He is loaded with upside. And with all this defensive line talent in this draft, he could be a real value pick where they select."
Indianapolis (No. 22)
Scout:
Illinois tackle
Corey Liuget
"He would be a great choice for them. A very athletic defensive tackle with size, effort and upside. He can play the run as well, but helps with pressure on inside. He is a very good combo DT playing run/pass equally well. They are set at defensive end.
Jerry Hughes
will come around and they will have three solid players at the spot. Liuget adds to depleted interior group."
Williamson:
Taylor or Liuget
"Indy might pounce on Taylor to clog up the middle or if Corey Liuget is still there, he would be ideal. I would say it is unlikely, but Bill Polian doesn't care about what others think and he likes 'his type of players' ... so
Drake Nevis
from LSU could be someone he really likes."
March, 16, 2011
3/16/11
3:36
PM ET
Reflections on two new mock drafts that were unveiled Wednesday, by
Todd McShay
and Nolan
Nawrocki
.
No. 8 -- Tennessee Titans
McShay:
Nick Fairley
, Auburn defensive tackle.
Nawrocki:
Fairley.
My thoughts:
If he's there, he will be hard to resist. The Titans hired his defensive line coach from Auburn, Tracy Rocker, as their defensive line coach. They are a different defense when they've got a dominant guy in the middle and if Fairley lives up to his potential, he could have a bearing on 10 other guys.
No. 11 -- Houston Texans
McShay:
Robert Quinn
, North Carolina defensive end
Nawrocki:
Brandon Harris
, Miami cornerback
My thoughts:
Could the Texans take another cornerback? Yes. But it sure seems like a veteran leader would be a better add than another kid, no matter how ready and confident he appears. Quinn seems like a better match, as the Texans certainly need pieces for their revamped 3-4 front and there isn't a proven 3-4 outside linebacker on the team.
No. 16 -- Jacksonville Jaguars
McShay:
Aldon Smith
, Missouri defensive end
Nawrocki:
Adrian Clayborn
, Iowa defensive end
My thoughts:
It's a draft that certainly seems designed to give the Jaguars a final pass-rushing piece to the rebuilding of the defensive line. Clayborn is bigger, Smith is faster. Bigger seems to make sense opposite
Aaron Kampman
, but it's not like he's going to be around forever, so how much can that influence things?
No. 22 -- Indianapolis Colts
McShay:
Nate Solder
, Colorado offensive tackle
Nawrocki:
Anthony Castonzo
, Boston College offensive tackle
My thoughts:
Castonzo's long gone by the time the Colts are up in McShay's draft, 12th to Minnesota. Both tackles are giants who can fill out some. I'd love to see one of them land in Indianapolis, but the more everyone gives Indianapolis a tackle, the more inclined I am to suspect they go a different direction. I wish I knew where that was.
February, 28, 2011
2/28/11
12:03
PM ET
Getting an actual nugget about an actual change from a team at this stage, especially given the upcoming shutdown, is a big deal.

Jim Wyatt got one out of reserved Titans general manager Mike Reinfeldt
in this piece
, just the sort of wrinkle that would have fit nicely in
my piece
from a few days ago about how scouts in Tennessee and Houston have to adjust to the desires of new coaches.
Under new defensive coordinator Jerry Gray and new defensive line coach Tracy Rocker, the Titans will be looking for defensive ends who are a bit different.
Writes Wyatt out of his conversation with Reinfeldt:
In previous years, the Titans had their ends play a lot of 9-technique, lined up wide and told to collapse the pocket. Under Gray, the Titans could play more of a 7-technique, lined up across from the offensive tackles or tight ends, placement that requires stout, run-stopper ends.

"It is still a work in progress," [Reinfeldt said]. "I think our scouts are pretty good at evaluating talent and evaluating a young man's ability to play in the NFL. At the same time they need to have a really good idea of the scheme we are running, what traits we are looking for and I think that is where the combine is good for us. It's a chance for both those guys to be together and I think the pre-draft meetings will be critical for that also."
It appears this is a good draft to be looking for such an end. The Titans could conceivably even trade down from No. 8 and land a first-round defensive end like North Carolina's
Robert Quinn
, Cal's
Cameron Jordan
or Iowa's
Adrian Clayborn
.
All of them are bigger than
Jason Babin
,
Dave Ball
and
Jacob Ford
, smaller Titans ends who are not under contract for 2011. One of those prospects could look good working in combination with last year's No. 1,
Derrick Morgan
, and
William Hayes
, two ends on the roster who are sturdier types. Morgan went on IR on Oct. 5 of his rookie season after blowing out a knee.
A bit later in the draft there are more guys who could be attractive given a desire to have more physical ends. Wisconsin's
J.J. Watt
, Ohio State's
Cameron Heyward
, Miami's
Allen Bailey
and Mississippi State's
Pernell McPhee
all have nice size and would likely be better equipped to line up tighter to the line of scrimmage and do more against the run.
February, 10, 2011
2/10/11
5:27
PM ET
You may not be an Insider, but I am. So here's a sneak, AFC-South-centric peek at Todd McShay's
most recent mock draft

:
No. 8, Tennessee Titans
Prince Amukamara, CB, Nebraska
McShay says:
"Quarterback is obviously the biggest need, but the Titans can't afford to gamble on
Cam Newton
or
Jake Locker
here. Look for them to bring in a veteran signal-caller and use a Day 2 pick on a quarterback to develop such as Arkansas'
Ryan Mallett
or TCU's
Andy Dalton
. This franchise has had too many disappointing first-rounders over the years, and taking Amukamara -- the top athlete on the board and one of the hardest workers in the 2011 class -- would be a strong building block for new head coach Mike Munchak."
Kuharsky's thoughts:
From what we know of the quarterbacks so far, I like the idea of steering away from the position here. If they can get the top athlete on the board at eight, they should jump. In this scenario, maybe they can fake someone into thinking they want Newton and move down a slot or two.
No. 11, Houston Texans
Jimmy Smith, CB, Colorado
McShay says:
"
Kareem Jackson
should make big strides in his second season, and
Glover Quin
should improve in his third season. It would be nice to bring in a veteran cornerback to provide depth and stability, but if the Texans are unable to do so, Smith would be a good pick for them at No. 11. A big, smooth cornerback with the strength, confidence and balance to hold up in press-man coverage, Smith could emerge as one of the most underrated players from the 2011 class."
Kuharsky's thoughts:
I'm a bit skeptical about another kid at cornerback. But the right kid with the right confidence can still help transform a group, and I could be on board with Smith if they address safety with a veteran or veterans.
No. 16, Jacksonville Jaguars
Adrian Clayborn, DE, Iowa
McShay says:
"The Jaguars have more pressing needs at quarterback and in the secondary. They also could use a speedster at wide receiver. But drafting a good value at defensive end is never a bad idea, and Clayborn could learn a lot early in his career from Jags right defensive end
Aaron Kampman
, who will return from injury in 2011."
Kuharsky's thoughts:
They went defensive line with their first four picks last year. Still, if he's the best guy and they take him, the boost in pass rush helps offset other deficiencies and they could steer clear of a lineman again for some time. So long as they promise to go heavy at safety as soon as they can after this.
No. 21, Indianapolis Colts
Anthony Castonzo, OT, Boston College
McShay says: "The Colts rarely draft offensive linemen this high, but they have a major need when it comes to protecting
Peyton Manning
. Castonzo could add some bulk to his frame, but pass-blocking is his strength and his run-blocking should improve with time in the weight room. Indianapolis also could consider a defensive tackle with this pick."
Kuharsky's thoughts:
A pass-blocking offensive tackle may be too obvious, but if Castonzo fits what they do, I hope they won't over think it.
A.J. Green
and
Julio Jones
are long gone here, and so is the hope of a No. 1 receiver in this mock.
January, 19, 2011
1/19/11
12:45
PM ET
This just in: Mel Kiper's first mock draft.
It's an
Insider piece
, but I was granted special clearance to tell you his AFC South picks.

Titans, eighth: Von Miller, OLB, Texas A&M
Miller has the reputation of a big-time sack artist but his game is more diversified than he gets credit for. What Miller brings in Week 1 is a great third-down option. A gifted edge-rusher, he can get to the quarterback, but you can also mix it up and drop him into zone coverage, where he has speed and developing awareness at the position. A solid tackler, Miller will only get better in the 4-3 system as he adjusts to the NFL game.
Kuharsky on fit:
I'd have no issue with the Titans having three new starting linebackers in 2011. Will the top backer be better than the second quarterback or second defensive tackle?

Texans, 11th: Aldon Smith, OLB, Missouri
A late addition to the Big Board, Smith's declaration moved him up among draft-eligible pass-rushers. Smith is more athlete than refined pass-rusher at this stage, but he has a great wing-span and is a perfect size and speed combination to develop as an outside linebacker. We know Houston has to address the defensive side of the ball and Smith is the kind of high-upside player that will fly up the board as personnel people start seeing the tape. He'll improve a weak pass rush.
Kuharsky on fit:
The Texans need to stock up at linebacker with their move to a 3-4, so Smith could make sense. Especially if there is no super value defensive back here.

Jaguars, 16th: Adrian Clayborn, DE, Iowa
Jacksonville worked on its defensive line last offseason and via the draft, and Clayborn offers a final piece to solidify a good unit. A powerful edge-rusher, Clayborn batters opposing linemen with a relentlessness that makes him among the most difficult players to prepare for. Smart and disciplined enough to hold the edge, he's a perfect fit for the Jacksonville system.
Kuharsky on fit:
I like the sound of it. But the Jaguars need a quarterback, a linebacker, a corner and at least one safety. Would this amount to a luxury pick?

Colts, 22nd: Anthony Castonzo, OT, Boston College
The Colts need to strengthen their offensive line in order to reclaim the running game and keep heat off
Peyton Manning
, who will be 35 when the 2011 season kicks off. Castonzo offers stability as a versatile tackle who will never miss a snap. He could add some bulk, but that's not the most difficult area to address. With well-above-average smarts, awareness and work-rate, he'd fit well in Indy at a position the Colts need to fill.
Kuharsky on fit
: Sounds great. But a guy who sounds great isn't usually the way the Colts go. In this scenario, Castonzo is the third offensive lineman and second tackle off the board.