AFC South:

AFC Pro Bowl analysis
December, 19, 2013
Dec 19
10:00
AM ET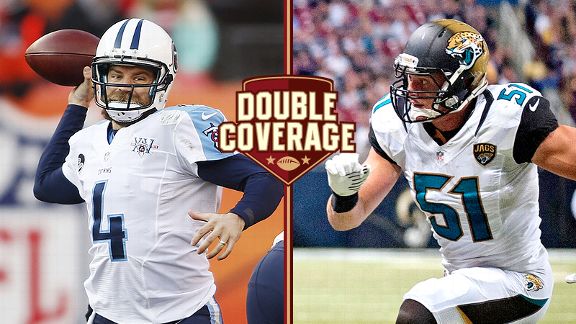 USA Today SportsPaul Posluszny and the Jags are aiming for a season sweep of Ryan Fitzpatrick and Tennessee.
JACKSONVILLE, Fla. -- Maybe
Delanie Walker
shouldn't feel so bad now.
The Titans tight end said he was embarrassed after the Jaguars won 29-27 in Nashville on Nov. 10 to pick up their first victory. Since then, the Jaguars are 3-2 with victories over Houston (twice) and Cleveland. The Titans are 1-4 with a victory over Oakland.
There seems to be much more stability in Jacksonville, too, because of the uncertain status surrounding Tennessee coach Mike Munchak.
Jaguars reporter Michael DiRocco and Titans reporter Paul Kuharsky break down Sunday's matchup at EverBank Field.
DiRocco
: Some Titans players were pretty vocal about being embarrassed due to becoming the first team to lose to the Jaguars. Is that something that still stings, and how have they rebounded from that loss?
Kuharsky
: It definitely left a mark. They are only 1-4 since then. It kind of set a bar for how bad they can be and re-established their propensity to lose to teams that are really struggling. The Jaguars are on an upswing since that game, and the Titans are on a downward spiral. If Tennessee losses to the Jaguars again, the Titans will be in line to finish in third place in an awful division, which is well short of their goals and expectations. The Titans are a better team than they were last year. But losing closer isn't a really big difference in the really big picture.
Let's turn that around. How has life changed for the Jaguars since that Nov. 10 breakthrough?
DiRocco
: I could go into a lot of stats that show how much better the Jaguars are playing, but that's not what's really important. The past six games have been more about the validation of the process, establishing the foundation of the franchise's rebuild, and confidence in the new regime. Coach Gus Bradley never wavered from the plan that he and general manager David Caldwell established. His message stayed the same throughout the eight-game losing streak to start the season: trust in the process, work hard, and focus on improving and not victories, and the victories will eventually come. Because that has happened, the players appear to have completely bought into what Bradley and Caldwell want to do, and there's a confidence in the locker room that the franchise is headed in the right direction.
We talked about
Jake Locker
the last time these teams met, but that was before he suffered a season-ending injury to his foot. How does that change the Titans' outlook on him and are they in the market for a quarterback in the offseason, too?
Kuharsky
: Locker is certain to be on the 2014 Titans. His fourth year isn't that costly and it's guaranteed. But they can't execute a spring option for his fifth year that would line him up for over $13 million. A lot of his fate depends on whether Munchak is back as the head coach. It's possible they go forward with Locker,
Ryan Fitzpatrick
and just-signed
Tyler Wilson
as their quarterbacks. It's also possible they'd draft a new guy, and depending on how high of a pick he could land in competition to start. I think it's less likely they chase a free agent like
Jay Cutler
if he comes free, but they have to assess all the possibilities. How can they completely commit to Locker based on his injury history?
One side effect of the Jaguars' surge is they aren't going to be in position to draft the first quarterback taken. What's your sense of what Bradley and Caldwell want in a quarterback and do you expect one to arrive in the first round?
DiRocco
: Offensive coordinator Jedd Fisch said something interesting last week. He said he wants his QB to scramble around, take off running to get yards and take some chances throwing the football. To me, that sounds like a pretty accurate description of Johnny Manziel. I'm not sure how that reconciles with the ideas of his bosses. Bradley comes from Seattle, which has the mobile
Russell Wilson
. Caldwell comes from Atlanta, which has the considerably less mobile
Matt Ryan
. My sense is that Bradley and Caldwell probably lean more toward the Wilson end of the spectrum. People think that eliminates Teddy Bridgewater, but that's not the case. He's not a runner but he can run if needed. If he's around, I'd expect them to take him. If not, then I would still expect them to go quarterback. It's their most glaring need.
You mentioned Munchak's job status. What's your take on whether he will be back next season -- and should he be?
Kuharsky
: He's shepherded improvement, but his team lacks an ability to finish. He's 0-4 in the worst division in football, 1-9 in the past two years. His teams have lost to the previously winless Jags in 2013 and the previously winless Colts in 2011. He's 4-18 against teams with winning records when the Titans played them and 2-19 against teams that finished the season with a winning record. To me, three years is a sufficient sample size to know what you've got and those numbers are the most telling thing on his resume. Keep him and they deal with all the limitations connected to a lame duck coach. I don't know what Tommy Smith, the head of the new ownership, will do. But the fan base overwhelmingly wants change, if that's worth anything. People still pay for tickets because they've got investments in personal seat licenses they do not want to throw away. But a lot of people are staying home on Sundays now.
Cecil Shorts
is done and
Maurice Jones-Drew
is uncertain. How can the Jaguars threaten on offense without their two best weapons?
DiRocco
: They were able to put up 20 points and post their second-highest yardage total of the season, including a season-high 159 rushing, in last Sunday's loss to Buffalo. Running back
Jordan Todman
stepped up big time and ran for 109 yards (Jones-Drew cracked 100 only once in the first 13 games) and tight end
Marcedes Lewis
was more involved in the passing game than in previous weeks (four catches for 54 yards and a touchdown). But I'm not sure that is sustainable. Teams will certainly concentrate on stopping Lewis and make quarterback
Chad Henne
move the ball with three receivers who have a combined 75 career catches. Todman doesn't scare anyone, either. The Jaguars will have to be creative on offense (they've run gadget plays the past three weeks) and capitalize on every opportunity they get.
December, 16, 2008
12/16/08
5:05
PM ET
Posted by ESPN.com's Paul Kuharsky
Here's a quick take on who's in and who missed out on the game everybody wants to be on the roster for, but few actually want to play in.
The starting lineup includes seven players from the division: Peyton Manning, Andre Johnson, Kevin Mawae, Albert Haynesworth, Mario Williams, Dwight Freeney and Cortland Finnegan.
Tennessee Titans (6 selections)
The Titans had the best record in the league when player and coach balloting was conducted, and they got three starters in the Pro Bowl in Mawae, Haynesworth and Finnegan. They will be joined by running back Chris Johnson, left tackle Michael Roos and strong safety Chris Hope.
Finnegan, Johnson, Roos and Hope are all Pro Bowl selections for the first time.
Though Haynesworth is going to miss the final two regular season games with a sprained MCL in his left knee, he would have met play/time incentives connected to wins anyway. But those contractual mechanisms are moot now. Getting named to the Pro Bowl means the Titans cannot put the franchise tag on him for a second year, and while they can start negotiating with him after the final regular season game, he is on track to become an unrestricted free agent.
While it's easy to complain about the process that selects the team, it worked the way it should instead of the way it usually does in the case of two Titans.
Finnegan played well and it got him enough attention to get the spot he deserved. He had five interceptions to help his case. Roos had no stats and only ranked fourth in fan voting, but players and coaches put him over the top. Typically a young tackle with a small market team might not get to the Pro Bowl until two years after he reached a Pro Bowl level. But Roos is hitting his peak and broke through.
Snub discussion: Outside linebacker Keith Bulluck has gotten used to getting bypassed -- he's only been to one Pro Bowl in nine seasons. Michael Griffin is probably playing Pro Bowl caliber ball but if there are only three spots for safeties, Troy Polamalu, Ed Reed and Hope sure seem like right ones. Fullback Ahmard Hall is a worthy candidate if you're looking for a blocker, but voters seem incapable of focusing on the primary piece of the job. They liked LeRon McClain, who's a fullback that gets a lot of carries -- he has 693 rushing yards and seven touchdowns. Kicker Rob Bironas has comparable numbers to Stephen Gostkowski.
Indianapolis Colts (4)
Quarterback Peyton Manning will be the starting quarterback in his ninth Pro Bowl. After he missed all of training camp and the preseason following two knee surgeries, he and the Colts started slow. But Manning and his team have restored the natural order. The competition is pretty weak, but Manning could be in line for his third MVP award. Among his receivers in Hawaii are Reggie Wayne, who will come off the bench with Wes Welker, and starters Andre Johnson and Brandon Marshall.
The Colts have two of the three Pro Bowlers at defensive end with Dwight Freeney starting and Robert Mathis earning the spot as a reserve. It's well deserved. Mathis was long cast as a situational player, but he's a well rounded end who terrorizes quarterbacks and strips them a ridiculously high percentage of the time he hits them.
Snub discussion: Tight end Dallas Clark has put together a great resume this season, but was trapped behind Tony Gonzalez and Antonio Gates. The Jets Nick Mangold, not Jeff Saturday, will play behind Kevin Mawae at center. Saturday missed four games and the Colts early struggles on the offensive line were a big story.
Houston Texans (2)
Johnson and Williams, selected for the first time, are cornerstone players for the Texans and have a chance to finish the season at 9-7 if they can win two more.
Snub discussion: Owen Daniels knows he can be productive and not earn a spot so long as Tony Gonzalez and Antonio Gates are around. Dallas Clark isn't going either, and he probably ranks ahead of Daniels in the eyes of the voters too. Take pride in being the fourth-best guy, Owen, there are a ton of teams that would love to have you.
Jacksonville Jaguars (0)
A 5-9 season produced no Pro Bowlers for Jacksonville. It's hard to make a case for anyone but running back Maurice Jones-Drew, the second leading scorer among non-kickers in the AFC. But he didn't deserve to go ahead of Thomas Jones, Ronnie Brown or Chris Johnson.
AFC Pro Bowlers

Offense

Position
Starter(s)
Reserves
Quarterback
Peyton Manning, Indianapolis
Brett Favre, New York Jets
Jay Cutler, Denver
Running back
Thomas Jones, New York Jets
Chris Johnson, Tennessee
Ronnie Brown, Miami
Fullback
Le'Ron McClain, Baltimore
Wide receiver
Andre Johnson, Houston
Brandon Marshall, Denver
Reggie Wayne, Indianapolis
Wes Welker, New England
Tight end
Tony Gonzalez, Kansas City
Antonio Gates, San Diego
Tackle
Joe Thomas, Cleveland
Jason Peters, Buffalo
Michael Roos, Tennessee
Guard
Alan Faneca, New York Jets
Kris Dielman, San Diego
Brian Waters, Kansas City
Center
Kevin Mawae, Tennessee
Nick Mangold, New York Jets

Defense

Defensive end
Mario Williams, Houston
Dwight Freeney, Indianapolis
Robert Mathis, Indianapolis
Defensive tackle
Albert Haynesworth, Tennessee
Kris Jenkins, New York Jets
Shaun Rogers, Cleveland
Outside linebacker
James Harrison, Pittsburgh
Joey Porter, Miami
Terrell Suggs, Baltimore
Inside linebacker
Ray Lewis, Baltimore
James Farrior, Pittsburgh

Cornerback
Nnamdi Asomugha, Oakland
Cortland Finnegan, Tennessee
Darrelle Revis, New York Jets
Free safety
Ed Reed, Baltimore
Strong safety
Troy Polamalu, Pittsburgh
Chris Hope, Tennessee

Special teams

Punter
Shane Lechler, Oakland
Place-kicker
Stephen Gostkowski, New England
Kick returner
Leon Washington, New York Jets
Special-teamer
Brendon Ayanbadejo, Baltimore