August, 18, 2012
8/18/12
1:55
AM ET
Brief thoughts on what we saw from the Titans in their
30-7 win
at Tampa Bay:
Quarterback play:
Jake Locker
hardly seized the starting job in a big chance as the starting quarterback. On an early third-and-long he slid right, stepped up, pump-faked and threw a bad ball back toward the middle. It was over
Kendall Wright
, an easy pick for
Ahmad Black
who nearly took it back to the end zone.
Damian Williams
was open on one side and
Chris Johnson
may have been open on the other when Locker looked for Wright.


Locker made another bad choice in the second quarter, throwing for Wright in the end zone from the Buccaneers' 14-yard line. Two defenders were in front of the rookie receiver, and the Titans were fortunate it wasn't picked.
Later, Black clobbered
Javon Ringer
near the left sideline and was flagged for a personal foul. Locker's ball for Ringer was uncatchable -- though perhaps Ringer wasn't where he should have been.
Jared Cook
had a drop and Cook and
Nate Washington
were on top of each other for a pass in their direction.
Playing all but the last series of the first half, Locker finished 4-of-11 for 21 yards, the pick and a passer rating of 7.0.
Matt Hasselbeck
didn't play long, but hit on 4 of 5 passes for 29 yards and a 90.8 rating.
But it wasn't a night that gave the Titans a lot of new information in sorting out what to do at quarterback.
Johnson:
The running back was more explosive, more decisive and more effective than a week ago in Seattle.
He carried 10 times for 46 yards and scored twice, showing more purpose. CJ got some yards inside and looked like his old self showing the necessary patience and then getting outside and around the corner.
It's the sort of stuff I needed to see in order to feel like he's in position to get back on track once the games count. The Titans didn't throw to him, so the level of his focus as part of the pass game remains unresolved.
Everybody who got carries produced for Tennessee. They amassed 216 yards, led by another nice night for
Darius Reynaud
(10 carries for 75 yards).
The defense:
The Titans showed a solid pass rush, and while there was some blitz mixed in, a good deal of the pressure came from the defensive line, including three of four sacks. That's encouraging.
Sen'Derrick Marks
knifed through for a quick sack that also forced a fumble.
Jurrell Casey
was disruptive inside as well. And it wasn't only the tackles. The ends were part of the action.
Linebacker
Akeem Ayers
did well to deflect a pass that was intercepted by
Alterraun Verner
for another turnover that set up points.
Tampa Bay was not at all threatening and doesn't look like much of an offensive team.
On this night, the Titans ensured Tampa Bay never found much life. The Bucs managed just six first downs, 81 net yards and a long drive of 33 yards -- on their last possession of the game.
March, 10, 2011
3/10/11
1:31
PM ET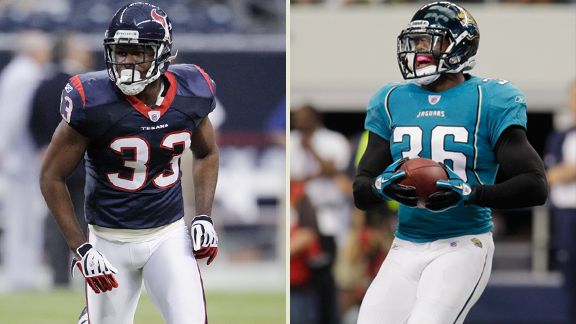 AP PhotosHouston's Troy Nolan, left, recorded three interceptions in 2010, while Courtney Greene picked off one pass and forced a fumble for Jacksonville.
If
Peyton Manning
dropped back and looked downfield against the secondaries of the Texans or Jaguars right now, he'd find a safety pool that averages 2.25 years of experience and has an average draft spot of No. 205.
Collectively,
Troy Nolan
and
Dominique Barber
of Houston and
Don Carey
and
Courtney Greene
of Jacksonville have five interceptions, three fumble recoveries and one forced fumble in 31 career starts.
They are nice guys with some promise, but it's hard to tab any one of the four as a star in the making.
As Houston and Jacksonville head toward a draft where the safeties are not highly regarded, it screams the question:
How can teams trying to catch Manning's Colts playing in an increasingly quarterback-driven league be so poorly stocked as such a critical position?
It's hard to figure.
At least the Jaguars have taken a big swing, missing badly on No. 21 overall pick
Reggie Nelson
in 2007, a feeble tackler who tended to take terrible angles. He was traded to Cincinnati before the 2010 season. Jacksonville was also the first team to have
Bob Sanders
in for a visit after he was cut by the Colts in February, but he ultimately lined up to go to San Diego.
Jacksonville coach Jack Del Rio talked of his desire to add "that guy," whether he came in the form of Sanders or not.
The Jaguars' last homegrown safety of influence before Nelson was
Gerald Sensabaugh
, a fifth-rounder in 2005 whom the team let walk to Dallas as a free agent after the 2008 season and who's scheduled to be a free agent again.
The team simply asked too much of young guys last season. Carey moved to safety from corner. He had never made calls before, but he was usually responsible for adjusting one half of the pass defense once it lined up, a tall task in games against the likes of Manning and
Matt Schaub
.
"Even when you crack down on your film study, when you get to a game it's still very frustrating because they kind of know what you're going to do in certain situations," Carey said. "You try hard to hide your coverages; it's a real chess match."
Carey said he can't worry about who's brought in, he just needs to work to get better. General manager Gene Smith still sees Carey as an "ascending" player. Del Rio said Carey needs "technique clean-up."
"Will he ascend to the starter we need him to be?" Del Rio asked. "I don't know that. I think the jury's still out."
For a team that wants to build through the draft, Houston has devoted virtually no resources to the safety position. Of the 76 draft selections the Texans have made since they got off the ground in 2002, they've spent eight on safeties, but only one as high as the fourth round.
They relied on veteran castoffs the past few years but released the ineffective
Eugene Wilson
and made it known the one-dimensional
Bernard Pollard
will not be re-signed.
One personnel man told me recently that the state of the positions in the league is average, that this draft is thin at the spot, that the options are better at free than strong and that teams may look more than ever to try to convert corners.
Rob Rang of NFLDraftScout.com thinks these five corners could wind up being NFL safeties:
Aaron Williams
of Texas (second round),
Marcus Gilchrist
of Clemson (third),
Jalil Brown
of Colorado (third or fourth),
Chris Culliver
of South Carolina (fourth) and Chris Rucker of Michigan State (fourth or fifth).
Many teams are increasingly blurring the lines between the roles and ideally like to have two players who can both run and cover and step up to play the run.
Teams like the Texans and Jaguars would surely be pleased, however, to have one player with a talent on each end of the safety spectrum who could serve as an upgrade and help reduce the stress on the cornerbacks.
Houston may move
Glover Quin
to free safety, but then it will be playing its best cornerback out of position.
How much could better play from the safeties help a group of young corners that really struggled in 2010?
"I think it's significant," Texans general manager Rick Smith said. "I mean you're looking at a former safety. So I value the position significantly."
Both Texans coach Gary Kubiak and the Jaguars' Smith have said they hope to add a veteran at the position as well as examining the draft options.
"You'd always like to have a veteran at the safety position," Gene Smith said. "Playing safety is like playing quarterback, and you'd always prefer to have a veteran at quarterback. You don't always have the luxury of being in that position, but that would be a good area to get a veteran player."
A guy like San Diego free safety
Eric Weddle
, who could buy a real secondary ownership stake by signing with Houston or Jacksonville, should be an attractive option if he reaches the market. And he or Indianapolis'
Melvin Bullitt
could help one of the incumbent kids or a rookie grow into a role quicker. Signing him could also help weaken the division's top team.
Their values, when free agency arrives, should be high no matter who's been drafted.
Even if the Colts re-sign Bullitt, they probably will be looking for safety depth. And while Tennessee maintains faith in free safety
Michael Griffin
, it should be looking for a player to challenge slipping veteran
Chris Hope
.
That's just four teams in need of six players at the position in a draft where ESPN draft analyst Todd McShay thinks
Rahim Moore
of UCLA may be the only guy in the draft capable of stepping in as an opening-day NFL starter.
"He's a really good player, great angles, ball skills," McShay said. "The thing that keeps him from being elite is he's not fluid in man-to-man coverage. But he has good range and is very instinctive.
"After that there is a big drop-off. Jaiquawn Garrett from Temple is a good player, but not elite.
Ahmad Black
from Florida is a great athlete, quick, and hits hard for a small guy, but he's really small.
DeAndre McDaniel
from Clemson is so overrated."
Those are hardly two paragraphs that will get Texans and Jaguars fans excited.
They may have an entirely different effect on Manning and the quarterbacks slated to throw against those teams if and when we get kickoffs this fall.

AFC SOUTH SCOREBOARD
Friday, 8/22
Saturday, 8/23