June, 21, 2012
6/21/12
12:34
PM ET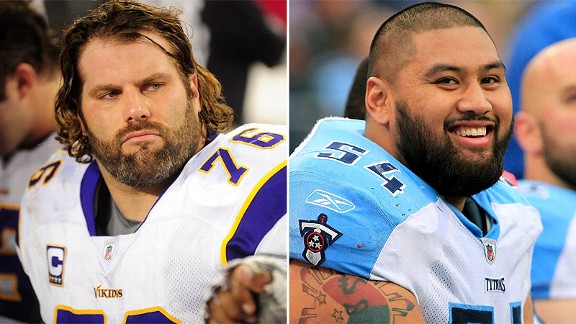 US PresswireThe Titans' Eugene Amano, right, should benefit greatly by working with Steve Hutchinson in 2012.
NASHVILLE, Tenn. -- Though he played poorly last year and the Titans brought a parade of potential veteran replacements through town during free agency,
Eugene Amano
remains in place as the Titans' center.
He had surgery on his right knee and left ankle, and said the knee hampered him all of last season. He recently returned to action, and better health should help him if he retains his spot.
But even more significant is the new guy who will line up to his left, veteran guard
Steve Hutchinson
.
"He's the glue of that offensive line right now," offensive coordinator Chris Palmer said. "He's a veteran that's played a lot of snaps, he knows how to play the game and I think he settles everyone down up front…
"I've been very, very pleased with the run game in OTAs and minicamp, we've done a good job there. It looks like we're in sync, all five guys are working well together and I'm anxious to get the pads on when we get back for camp."
While the Titans offered QB
Matt Hasselbeck
excellent protection last season, the run game crumbled. Chris Johnson's effort was ultimately questionable, but he wasn't finding any room consistently and the ground effort ranked 31st in the league.
Coach
Mike Munchak
talked about how it was a collective problem that couldn't be pinned on one or two people: Johnson didn't always make the right decisions, the offensive line had some communication issues, the fullback and tight ends had busted plays, too. There were different mistakes on different plays and far too few cleanly executed run snaps.
Still, the way the Titans addressed personnel suggested things they thought should be fixed. Fullback
Ahmard Hall
is gone -- the Titans will go with
Quinn Johnson
or
Collin Mooney
. Right guard
Jake Scott
hit free agency and they didn't discuss bringing him back.
Leroy Harris
is flipping to that side to accommodate Hutchinson, who's always been on the left.
And the Titans courted veteran centers
Scott Wells
,
Chris Myers
,
Jeff Saturday
and
Dan Koppen
but didn't land one of them and continue to back Amano. His competition is
Kevin Matthews
, an undrafted free agent from 2010, and
William Vlachos
, an undrafted rookie.
Hutchinson's arrival gives the Titans several things.
[+] Enlarge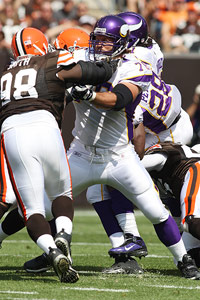 Icon SMINot only does Hutchinson push people around in the trenches, the Titans say the veteran has helped this offseason with his effort and communication skills.
In 12 seasons with Seattle and Minnesota, he's seen it all. He's a standard-setter at practices already. He's helped solve communication troubles. And the team hopes that he can help Amano the way
Kevin Mawae
did, back when Mawae was the veteran center and Amano played guard.
Working under two Hall of Fame offensive linemen, Munchak and line coach
Bruce Matthews
, Hutchinson will now work to spread their messages.
Munchak said he loves the way Hutchinson runs from drill to drill and practice period to practice period. The guard does not pace himself in the early practice offensive line period, but always goes full speed.
"Guys see that and realize that's the standard," Munchak said. "That happens automatically. They're going to be better players just because they see how a guy that's had success does it."
Said Amano: "It gives you motivation to keep up with the old guy."
Munchak talks disappointedly about the communication problems that were a piece of the run struggles last season. He coached the offensive line for 14 seasons before he became head coach last season.
"That's the first time in awhile we've had some of those issues," he said. "That's something when you have another veteran in there you're going to have guys that really get along well. The things they're doing, the adjustments they are making, the calls they are making -- it's so much ahead of where you think they'd be this time of year."
That's not only about line calls and adjustments that linemen need to analyze correctly and communicate clearly, Hutchison said, but about a degree of non-verbal communication and understanding the group has to have.
And the defenses the Titans face are increasingly unpredictable up front. In the AFC South, the Texans changed to a 3-4 last season and the Colts are making the switch this year. It used to be clear where guys like
Dwight Freeney
and
Robert Mathis
would be. Now there will be mystery to it as Indianapolis tries to create confusion.
In considering the Titans' run blocking, I wrote recently that they
don't necessarily
have to be a top-flight rushing offense in order to be a good team. A great pass-blocking unit that's middle of the pack as a run offense can be good enough overall to win.
Hutchinson and the Titans aren't going to co-sign that thinking.
They'll strive for balance and want to execute every play the way it's drawn up. But he did say there is only so much an offense can do.
"You'd like to be great at both, but there are only so many offensive yards you can get a game," he said. "If you're throwing the ball for 300-plus yards a game, you're not going to run the ball that much. If you have the ball for 45 minutes in a game and running for 200 yards on the ground, you're not going to throw the ball that much.
"You strive for a good balance of both, you want to be good at both. But you just want to get the yards, you want to win the game."
December, 12, 2009
12/12/09
11:17
AM ET
Rustin Laswell from Terre Haute, Indiana writes:
What do the Colts have to accomplish to gain the title of a dynasty by the media and their fellow competitors? They hold so many records and are a very high-class organization. The Colts are in a small market, I understand that, but give credit where credit is due. The media give very little time to small-market teams like the Colts unless they absolutely have to. We are not under the radar, we are held under the broadcasters desk. Hope you feel our pain in Indiana and I hope we see some attention in the future.
Paul Kuharsky:
You want to be called a dynasty for winning one title? Were the Braves a dynasty when they won 14 consecutive division crowns? No. Because the only won one World Series.
The idea the media holds the Colts down is ridiculous. Twenty teams in the league would kill for the attention the Colts get.
---
Henry Milton from Memphis writes
about the Titans being their best when they used two tight ends in their base offense with
Frank Wycheck
and
Jackie Harris
and wonders if I don't think they'd be wise to return to it as the best way to surround
Vince Young
.
Paul Kuharsky:
Well, it's a
Chris Johnson
offense, not a Vince Young offense.
And
Ahmard Hall
is a very good fullback.
Put the very good fullback on the field for the fantastic running back and allow the quarterback to throw to the available targets. They can go two tight ends sometimes. They've spent picks on
Craig Stevens
and
Jared Cook
as the next generations at the position, but I don't think they are heading your direction.
---
Kalvis Irbe from Indianapolis writes
and asks if I see
Reggie Wayne
saying he'd want to push for an undefeated season, the team looking at
J.P. Losman
, and Jim Caldwell showing himself to be more aggressive than Tony Dungy with Larry Coyer as defensive coordinator as signs that they will make a push for 16-0.
Paul Kuharsky:
Here's what I read into not signing Losman -- they didn't think he was better than Painter. Maybe they go back to him, we'll see.
I was glad to hear what Wayne said and I agree with him.
But Polian's philosophy trickles down and has not changed. Caldwell has clearly indicated, at least to insiders, that he will stay the Dungy course on this. I think you're reading into a lot to think they will go for undefeated.
---
Sam Myers in Charlottesville, VA writes:
I know it's long, but humor me. Thanks so much for your piece on Gene Smith of the Jags, I know it's your job, but as a fan I really appreciate getting in-depth coverage like this, and your column is pretty much the only place I find it. If you ever find the time, could you do a brief piece on our run defense, they've done a fantastic job this year, with the exception of the second Titans game, which was primarily the result of two big runs; there were several good stops over the course of the game. Consider that without those runs he carried 22 times for 87 yards. In all other games this year we are allowing only 3.5 yards per carry (286 for 1017). I know 220+ yards is embarrassing, but [Johnson] was the only back to have 100 yards rushing this season, and only five other teams went over 100 yards rushing as a team against us...those are impressive stats. Also, our punt coverage is second best in the league. Furthermore, [Justin] Durant just won AFC Defensive Player of the Week. Finally, Derek Harvey has been excellent against the run, he made plays against the Texans. I think he will develop nicely at end, remember he was playing out of position half the year, and he did come on at the end of his rookie season, especially against the Ravens.
Paul Kuharsky:
I will try to look into it, but thought using you in this mailbag would give it a little pub in the meantime. Glad you liked
the Smith piece
.
---
Richard Brushett from Wichita, KS writes:
Simple Question; If the colts do win this weekend and lock up home field advantage and they decided to rest
Peyton Manning
the final 3 games and the Saints don't rest
Drew Brees
how does that effect the MVP Award.
Paul Kuharsky:
I expect voters would factor that in, but yes, it could hurt Manning some.
---
Mark from Huntsville, AL writes:
Paul, I admit I don't get it. The Colts and the Saints have been virtually tied for weeks in the Power Rankings with the Saints always getting the nod or the so-called tie breaker. I can live with that. Both teams are very good. I've always seen them as pretty much 1a and 1b. However, last week the Saints barely escape against a dismal Redskins team, while the Colts pretty easily beat a surging Titans team. What in your mind makes the Saints a step above the Colts? I see in your personal rankings that the Colts are the best team in the best division. What gives?
Paul Kuharsky:
Here's what gives -- I don't really care about winning narrowly or winning big. I don't look a lot at style, I look a lot at results as they are entered into the win and loss columns. Rarely do I move a team because I didn't like the way it won. In fact, on a day the Saints appeared destined to lose, they fought and fought and still won. I found that impressive.
But I am on the record -- I think New Orleans is a touch better than Indy and I am highly unlikely to change that opinion as long as they both remain undefeated.
November, 11, 2009
11/11/09
9:25
AM ET
Posted by ESPN.com's Paul Kuharsky
The AFC South makes
a good showing
in Peter King's midseason All-Pro team and in his midseason awards.
The Colts and Peyton Manning and the Titans and Jeff Fisher make appearances in
Don Banks' midseason report
.
Houston Texans
Turnovers remain
a major issue
, and Matt Schaub and Steve Slaton are the two major culprits, says John McClain.
A review of
the season so far
, from Alan Burge.
Aaron Schatz explains why Brian Cushing is his
rookie of the year
.
Indianapolis Colts
John Oehser's midseason review:
Offense
;
defense and special teams
.
The story of Colts community spokesman
Josh Bleill
, who lost his legs in Iraq when serving as a Marine, from Phil Richards.
Jacksonville Jaguars
A first look at
Jaguars-Jets
, from Michael C. Wright.
A Q&A with
Brian Witherspoon
, from Wright.
No Jaguars
made Pro Football Weekly's Midseason All-Pro Team, says Wright.
Tennessee Titans
The Marines
did a lot for Ahmard Hall, writes Vince Casey.
Five things
Jim Wyatt knows about the Titans include an expectation that it's only a matter of time before Gerald McRath is in the lineup.
The Titans added linebacker
Eric Bakhtiari
to their practice squad, says Gary Estwick.
Jevon Kearse says his knee issues
date back to problems in Philly
, says Terry McCormick.
Steve McNair's widow's been cleared to
sell his Nashville restaurant
.
Jim Trotter's
predictions for the second half
include Vince Young quarterbacking the Titans beyond this year and Chris Johnson continuing to churn out highlights.