March, 24, 2014
Mar 24
8:00
AM ET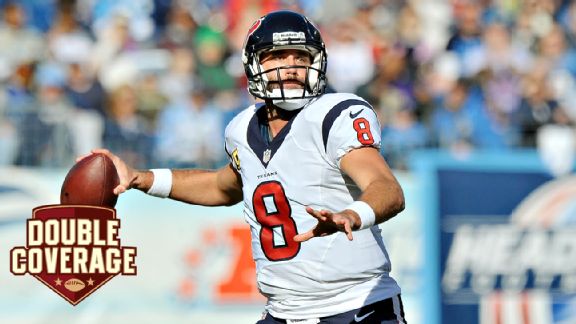 Jim Brown/USA TODAY SportsThe Oakland Raiders believe quarterback Matt Schaub can rebound this season.
The
Oakland Raiders
acquired two-time Pro Bowl quarterback
Matt Schaub
from the
Houston Texans
on Friday and Raiders coach Dennis Allen immediately anointed the 10-year veteran his starter, even as he already had
Trent Edwards
,
Matt McGloin
and
Terrelle Pryor
on his roster.
Schaub, though, is coming off a career-worst year in which he was often booed at home, threw a flurry of interceptions returned for touchdowns, lost his starting job and had a career-low total quarterback rating of 43.65. In fact, Raiders offensive coordinator Greg Olson saw his new quarterback's fall from grace as a blessing in disguise, saying, "Had he not had the season he had last year in Houston, he wouldn't be sitting here today."
ESPN.com Raiders reporter Paul Gutierrez and Texans reporter Tania Ganguli broke down Schaub and his leaving Houston for Oakland.
Paul Gutierrez:
It was obvious that Schaub bottomed out last year. The question is why -- was it more mental or physical?
Tania Ganguli:
There was certainly a physical aspect to it. His arm strength wasn't what it had been. But a bigger part of it was mental. You can't pin everything that went wrong with the Texans' offense on Schaub. But the pick-six is such a catastrophic play that the streak of four games with one thrown was mentally very taxing on both the team and the quarterback. I've heard a lot of people around him say that his pick-six to
Richard Sherman
(his third of last season) was the one that ultimately crushed his confidence.
Do you think Oakland is a place where he can regain his confidence?
Gutierrez:
So long as the offensive line holds up and gives him time. The Raiders have made a concerted effort to overhaul the offensive line since free agency began, picking up left tackle
Donald Penn
, right tackle
Austin Howard
and guard/center
Kevin Boothe
. The Raiders also got a veteran receiver in former Packers wideout
James Jones
, so general manager Reggie McKenzie has been building around the quarterback position, so to speak, to get a veteran signal-caller to serve as a bridge, of sorts. Schaub fits that description, no? Thing is, McKenzie and his scouts have failed thus far at identifying and settling on a franchise quarterback. They inherited
Carson Palmer
, but traded him away in favor of
Matt Flynn
, who bombed. Then they zeroed in on USC's
Matt Barkley
last spring in the draft before the
Philadelphia Eagles
swooped in and took him. They used a fourth-round draft pick on Arkansas'
Tyler Wilson
, who was cut a couple of times and ultimately picked off their practice squad by the
Tennessee Titans
. Finally, they seemed to botch the handling of Terrelle Pryor and undrafted rookie Matt McGloin. With the money owed Schaub, unless he restructures his contract, the Raiders believe he will regain his confidence.
And yet, after last season's debacle, is Schaub the kind of guy who would benefit from a mere change of scenery?
Ganguli:
ESPN Stats & Info passed along some stats that support your skepticism, but I think a change of scenery will be great for Schaub nonetheless. First their points: Schaub has declined over the past three seasons in stats like first down percentage, total QBR, yards per attempt and interception percentage. The dramatic drop in QBR (from 67 in 2011 to 64 in 2012 to 37 in 2013) and dramatic increase in interception percentage (2.1 to 2.2 to 3.9) indicate a statistical anomaly. Given what the Raiders are going to be spending on him, it's clear that's what they believe, too. What made 2013 so bizarre is Schaub had not been a turnover machine historically. If he's in a situation where things around him go well, he can recover. But things have to go well around him. The struggles the Texans had with their running game were a very underrated part of why their offense wasn't working. Schaub had done really well out of play-action in the past, but didn't last year. Is he going to a place where the running game will support his endeavors?
Gutierrez:
Which brings us to the $100,000 question (the amount of money guaranteed to running back
Darren McFadden
). It always comes back to the health of the perpetually injured McFadden. If McFadden is healthy -- he's never played more than 13 games in a season and has missed 19 of the Raiders' past 41 games, including six last season -- and used properly to his skill set, he's a quarterback's best friend. Look at how good and effective he made
Jason Campbell
look in 2011, before both were lost for the season with injuries. As noted above, the overhaul of the offensive line would suggest the Raiders are going to go all-in with a power running game and after McFadden, Oakland has the CFL's Grey Cup MVP in
Kory Sheets
, a virtual rookie in
Latavius Murray
, who missed all of last season with injury, and
Jeremy Stewart
. Obviously, there are more questions than answers when it comes to the Raiders' running game. No doubt, McKenzie & Co. are hoping Schaub brings some answers with him, without weighing him down with unrealistic expectations.
Schaub, you'll recall, is already in the Raiders' annals for his part in the "Divine Interception" play in 2011, when he was picked off in the end zone to seal an Oakland victory in Houston the day after Al Davis died and with the Raiders having only 10 players on the field. How cognizant is Schaub of NFL history in general, the Raiders and that play in particular, or is he simply a football player?
Ganguli:
Wow, I forgot all about that. And it figures, doesn't it? Run off on the heels of an uncharacteristically interception-laden season, Schaub gets traded to a team against which he threw an interception that led to an eerily perfect moment in the franchise's history.
He might be a student of the game's history, but will rarely let the public into any aspect of his being that isn't related to the game immediately in front of him. I challenge you, Paul, to extract the personality we all knew was beneath Schaub's stone exterior. By all accounts, he is interesting, funny and has a great personality. We just never saw it publicly. Schaub went to great lengths to make us believe he was dull, but he isn't.
It won't be long before Schaub faces his old team again. The Texans have a trip to Oakland on their schedule, which is less interesting than if the Raiders were to return to Houston with Schaub at the helm, but it'll be interesting nonetheless. What's your prediction?
Gutierrez:
I accept your challenge, Tania, and look forward to seeing what's underneath said "stone exterior." Many see it as more milquetoast and that was a reason so many fans clamored for the likes of
Michael Vick
because, really, ain't nothing boring about the artist formerly known as Ron Mexico. And actually, for what the Raiders are doing, Schaub is their man. He was their No. 1 target all along, followed by
Mark Sanchez
,
Josh Freeman
and then Vick. Fans may not agree with what McKenzie and Allen are doing but as far as the Raiders are concerned, it's exactly what
they
want to do. As far as a prediction, I'll wait until the roster is completely overhauled and the schedule is out and we see when, exactly, Schaub faces the Texans in Oakland. The cynic will predict a back-breaking and game-changing pick-six for Schaub against his former team. The optimist sees a 400-yard passing day and victory for Schaub and the Raiders against the Texans. Look forward to chatting again then.
May, 6, 2013
5/06/13
3:56
PM ET
Pep Hamilton has said the
Indianapolis Colts
won't run a West Coast offense, they'll run a No Coast offense.
That's the new offensive coordinator's way of saying don't put the Colts in a box. They'll combine a lot of different elements in the system
Andrew Luck
runs in his second year.
That's a relief to fans of what the Colts did last season, when Bruce Arians had Luck really push the ball down the field. He notched nearly 7 yards per attempt.
The number will not be the same in 2013, but coach Chuck Pagano said the Colts aren't going to go from big to small in the passing game.
Here's a chunk of what Pagano told me in a recent conversation when I asked if the passing game will be more conservative.
"If we have success running the football, if we don't get behind, that takes pressure off of everybody," Pagano said. "Certainly we want to have balance. The way you have balance is you've got to have success running the football and get yourself in third-and-manageable so you can convert a higher percentage. You can't get behind and have to drop back 628 times; it's too much. You never want to put your quarterback or your offensive line in that situation. If we can hammer the nail, it's going to take the pressure off of everybody. We're still going to take our shots.
"I was only in Oakland a short time, but one thing I did learn from Mr. [Al] Davis, God rest his soul, was about throwing the ball down the field. Nobody loved throwing the ball down the field more than we did last year, right? Bruce loves throwing the ball down the field. Huge plays, we call them chunk plays, are vital. We're still going to take our shots down the field. How many that is a game and what we're going to ask as far as the offensive line provided time, I can't tell you. The game will dictate that. But you've got to be able to hit your chunk plays, have a vertical game. The threat of that has still got to be there otherwise defenses are going to be sitting on all our receivers. We've still got some guys who can run. ...
"By no means are we going to be a dink and dunk, pure West Coast, if you will, three-step drop and get the ball out. I'm sure there'll be a little bit of that flavor built in, but we're still going to take our shots."
February, 24, 2012
2/24/12
10:26
AM ET
INDIANAPOLIS -- The Colts of Chuck Pagano will gradually get bigger.
He spoke respectfully of the success the small and nimble Colts of Bill Polian, Tony Dungy and Jim Caldwell had. But at the scouting combine he referred to an Al Davis mantra he picked up -- "It's a big-man game" -- while emphasizing that doesn't completely discount little, fast guys.
But part of getting big and part of being big in the NFL ties to an age-old football formula: To win, you've got to run and stop the run.
I asked him Thursday about his offensive philosophy, and here's what he said:
[+] Enlarge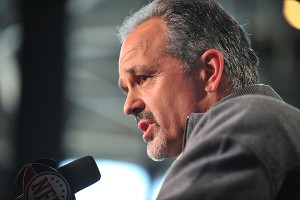 AP Photo/Gary A. VasquezWhen asked about his football philosophy, Colts coach Chuck Pagano stressed that teams "have got to run the football and have to stop the run to be successful at any level."
"You watch the Steelers play, right? I've always said this and I learned this from my dad watching him coach growing up: You've got to run the football and have to stop the run to be successful at any level. So we're going to be able to run the football, and like I said at my first press conference, you've got to be able to throw it also. So a good combination of the two. We want to be explosive, we want to be physical, we want to be tough, we want to dominate the line of scrimmage on both sides of the ball, most specifically up front with the offensive line."
Pagano and GM Ryan Grigson will have a lot of work to do to shape an offensive line that can win like that, and they may not have the running backs who can be a key to that formula, either. (Incidentally, the 2011 Steelers threw the ball better than they ran it, and defended the pass better than they slowed the run.)
Plenty of teams win in today's NFL with below-average run games and run defenses.
The Super Bowl champion New York Giants were the NFL's worst rushing offense in the 2011 regular season and ranked 19th in run defense.

A year before, the Packers won the Lombardi trophy with the league's 24th-best run game and 18th-ranked run defense.

And while the 2009 Steelers defended the run well, ranking third, they were hardly a dominant rushing offense, finishing No. 19.
Pagano seems like an old-school guy. I understand the stance and the talk. But hopefully he and his staff will see that winning football, at least for right now, has a lot more to do with having a top quarterback and being able to hit opposing quarterbacks.
The new coach came to Indianapolis from Baltimore, where the Ravens made a habit of playing good run defense and getting a pretty good share of their offense out of
Ray Rice
.
While they advanced to the AFC title game twice during Pagano's four years on the staff, they failed to win the conference or the Super Bowl.
Ultimately, owner Jim Irsay wants to see his Colts do more than that.
October, 21, 2011
10/21/11
1:30
PM ET
»
NFC Final Word
:
East
|
West
|
North
|
South
»
AFC
:
East
|
West
|
North
|
South
Five nuggets of knowledge about Week 7:
[+] Enlarge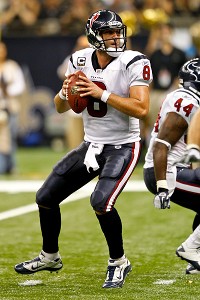 Derick E. Hingle/US PresswirePressuring Houston's Matt Schaub early in the game will be a key for Tennessee on Sunday.
Hit him:
Matt Schaub
is banged up. He's been sacked seven times over the past two games and has 48 pass attempts this season when either hit or under duress, fifth-most in the NFL. The Titans have to hit him to get Houston's offense out of sync. Houston's been starting off games pretty well, so Tennessee's focus should be the old Al Davis mantra about hitting the quarterback early and hard to set a tone. The Texans' big-play potential is down significantly when they are without
Andre Johnson
. Without him, ESPN Stats and Information says the Texans are averaging 15 receptions per game on passes thrown 10 or fewer yards. Tennessee has to make them string together long drives, as the Texans can fall out of rhythm quickly.
How things change:
The Colts started a season 6-0 four times in a five-season span from 2005-09, including three straight from 2005-07. This season, they've started 0-6, their worst start to a season since 1997, when they began the year 0-10 and finished 3-13. That earned them the first overall pick in the 1998 draft, when they selected
Peyton Manning
. The past two regular-season Colts-Saints matchups have gone to Indy by a cumulative score of 96-31. But the Saints won 31-17 in the last head-to-head matchup in Super Bowl XLIV and are heavily favored Sunday night. Look for
Drew Brees
to find cornerbacks to pick on. Brees has thrown eight interceptions this season, but none on passes thrown at least 21 yards downfield. Surprisingly, the Colts have allowed only five completions on such throws, tied for seventh-fewest in the NFL. People are catching and running against Indianapolis, which has not tackled well.
Potential bad ending:
If the Jaguars find a way to hang with the Ravens into the fourth quarter Monday night, the way the teams are playing suggests Baltimore will pull away. The Ravens have outscored opponents 26-6 in the fourth quarter, and the Jaguars have been outscored 38-13 in the final quarter. Baltimore is averaging 29.6 points a game. The Jaguars have topped out at 20 points in a game this season.
One to watch:
Titans cornerback
Cortland Finnegan
won't line up across from Johnson in a rematch of last season's slugfest, but he'll likely still be an irritant. Finnegan and
Derrick Mason
share feisty personas and will surely match up in the slot when the Texans go three-wide. And Finnegan, who blitzes well as an outside cornerback, now lines up a lot closer to the quarterback on third down and is sure to get some runs at Schaub on Sunday at LP Field.
Overrating how bad things are:
The Jaguars and Colts are not good teams. That's obvious. After Texans-Titans, the division will still have only one winning team. Still, it's way too early to declare the AFC South the worst division in the NFL. The Texans and Titans are both capable of contending for the division crown and are each capable of winning nine or 10 games. This is not going to wind up a 2011 version of the 2010 NFC West.
October, 8, 2011
10/08/11
4:27
PM ET
In the summer of 1995, as I prepared to move across the country and start the job that qualified as my big break, I read "Slick" by Mark Ribowsky.
The biography of Al Davis was required reading, a mentor had told me, before I started covering Davis'
Oakland Raiders
for The Oakland Tribune.
It's a gripping account of Davis' life, and I felt I had a good sense of him as I embarked on the move as a raw 26-year-old who'd written a lot but was about to take on his first beat.
There was no sign of Davis as I struggled through my first days at training camp in Oxnard, Calif.
But not too long after I started came several days of joint Raiders-Cowboys practices in Austin, Texas. And there, in the white sweatsuit, he emerged.
The three fields at St. Edwards University ran end to end, so it was a pretty good walk from the second or third down to a fenced-in pathway that led players and coaches to the locker rooms. Reporters walked with them as they left the field.
I was ready to introduce myself to Davis. I waited a reasonable distance from him as he signed autographs and charmed fans until he stepped away to start that walk. He knew of me and the Tribune's plan, he said, and was welcoming. We chit-chatted about a variety of things, including where I went to high school -- he said he'd heard of it, though we didn't have a football team and there no reason for him to know it.
It had gone well, I thought. But we still had a distance to cover and so my mind started racing. What else could I turn to in an introductory conversation when it was clear I'd be walking with him all the way to the building?
And the question I came up with produced the greatest answer I've ever gotten from a prominent sports figure. It was something like this:
"So can you give me some advice, one Northeastern guy to another? How do I adjust to California?"
We had been walking side by side, but Davis stopped, and turned to face me. I responded in kind.
He put a hand on my shoulder and he said: "You don't adjust. You just dominate."