June, 21, 2013
6/21/13
10:00
AM ET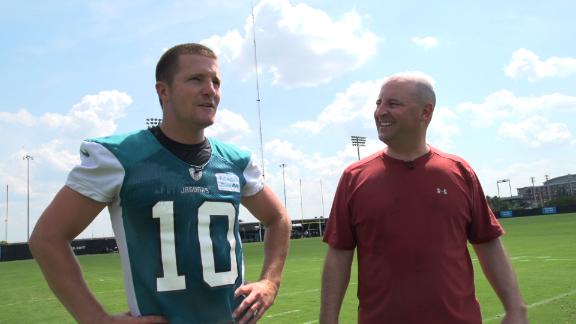 The evening I returned from
Jacksonville Jaguars
minicamp, out to a family-night picnic, all my three-and-a-half-year-old son wanted was for me to join him and run.
I'm slow. He's fast. Often for additional entertainment, I exaggerate my old age (I'm 44) and fake additional slowness.
On this night, I didn't have to pretend. Just above the back of my right knee, on the inside, I was really sore. The low, outside part of my left calf didn't feel great, either.
[+] Enlarge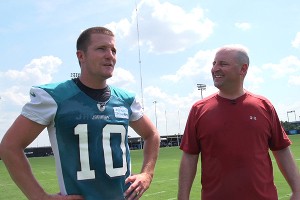 ESPNESPN's Paul Kuharsky, right, lost a pair a cleats while taking a kicking lesson from Jacksonville Jaguars placekicker Josh Scobee.
Those were apparently the spots that suffered the most from a long field goal-kicking lesson/session with
Josh Scobee
the day before on one of the Jaguars' practice fields.
Scobee has connected on 80 percent of his 240 field goal attempts in nine seasons with the Jaguars. He's hit from 59 yards, 56 yards and 53 yards at the end of three different games against the Colts,
game winners all
. USA Football was such a fan of his mechanics, he was the kicker on its All-Fundamentals Team in 2011.
On even mid-range stuff during special-teams practice periods, he booms kicks well over the net that fills the space between the uprights, over fences and into parking lots. My makes, shockingly, went through a bit lower.
The 30-year-old Scobee is a mellow guy, and he was a patient teacher who urged me to stretch thoroughly ahead of our work. I did, or I'd have been in far worse shape facing that request to run a day later.
Why try, a cynical friend asked when I told him about revisiting something I tried with
Al Del Greco
of the Tennessee Oilers 15 years ago as a newspaper reporter. Why not? Finding anything a team and a player is willing to help me try, where I can step across the sideline, do something different and have some fun seemed worth a shot. I'm fatter and squintier in the video than I'd like, but we know what the camera can do to a guy.
Scobee and I wear the same size shoe, which turned out to be really important. My men's-league soccer career has been over for some time now, and my old Puma Kings disintegrated early in my time with Scobee.
[+] Enlarge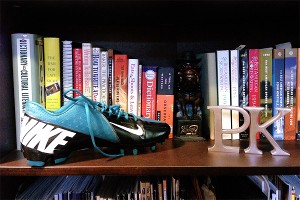 ESPNBut Kuharsky won a cleat from Scobee after nailing a 45-yard attempt.
(It's a great start when, on an initial practice kick with no ball involved, a cleat goes flying and your kicker spots it, tracks it and brings it back for inspection.) Graciously, Scobee loaned me his shoes, coaching me in his socks. When we were finished, I cleaned up the best I could. But the grounds crew might have found a stray cleat or piece of my sole on the field. Sorry, fellas.
What Scobee covered that helped me:
Approaching the ball along the hypotenuse of a triangle formed by taking three steps back and two steps over to find my starting point.

Where I needed to connect with the ball on my foot, and how my kicks that missed short were nearly always a result of striking it too low on my foot.

How I needed to get the ball as high as the 10-foot crossbar within the first 5 yards in order to clear big guys intent on sending me the other direction, chasing a blocked kick being returned for a potential touchdown.

Aiming points, focus and pressure. Scobee will often pick a person -- the guy in the red hat -- to kick at. Lacking a stadium crowd, I picked a diamond on the netting.
In the end, I had a blast on a blazing-hot Jacksonville day and managed to hit one from 45 yards, winning Scobee's left shoe.
It's on my office bookshelf.
I'm back on the press side of the sideline.
October, 26, 2012
10/26/12
1:30
PM ET
»
NFC Final Word
:
East
|
West
|
North
|
South
»
AFC
:
East
|
West
|
North
|
South
Five nuggets of knowledge about Week 8:
Road woes:
The Colts know that if they are going to be playoff contenders in the AFC, they've got to break through on the road. They seek their first win away from Lucas Oil Stadium Sunday at LP Field. It would be their first road win since Dec. 26, 2010. Since then, the Colts have 10 straight road losses. Per ESPN Stats and Information, since 2006 only two AFC teams have had longer road losing streaks -- the Browns and Dolphins each lost 11 in a row. A loss would give the Colts their longest road losing streak since the 1981-82 seasons, when they lost 12 straight.
Forward progress:
The Packers are moving the ball and scoring points, and quarterback
Aaron Rodgers
has completed 73 percent of his passes in his past two games, for 680 yards and nine touchdowns. He has thrown at least three TD passes in his past four games. Meanwhile, the Jaguars have recorded zero or negative yards on 38.9 percent of plays with
Blaine Gabbert
at quarterback and zero or negative yards on 53.9 percent of their plays with
Chad Henne
at quarterback. Gabbert will play with an injured left shoulder and is going against a secondary that will be without
Charles Woodson
, who is injured.
Relief pitcher:
Matt Hasselbeck
will start his third consecutive game in place of
Jake Locker
, who's rehabilitating an injured left, non-throwing shoulder. Hasselbeck enters this game with 199 career touchdown passes. His next one will make him the 32nd player in NFL history to reach the 200-touchdown mark. He would join
Drew Brees
,
Tom Brady
, and
Peyton Manning
as the only active QBs with 200 TD passes. The Giants'
Eli Manning
could join the club with a big game against Dallas -- he currently has 197 passing touchdowns. Hasselbeck has found a rhythm in the past two weeks, leading the Titans to consecutive wins.
Major work:
When the Texans return from their bye, the bad special teams will be subject to revamping. "I think there are just a lot of things that have to get better, me and Joe [Marciano] coaching it, and players doing it," coach Gary Kubiak said. "We may have to get a few starters involved in what we do as we get deeper into the season too. … You hope it doesn't come up too often, because you're trying to stay healthy throughout the whole thing but as we move forward and as you get deeper and deeper in the season, I think it's something you have to think about." Receiver
Kevin Walter
and linebacker
Brooks Reed
are two starters Kubiak mentioned.
Also:
The Jaguars have lost three consecutive games. Since the start of the 2011 season, Jacksonville is tied for the fourth-worst win percentage in the NFL (6-16, .237). The Packers, meanwhile, own the best record during the same stretch (19-4, .826). … After throwing seven touchdowns in his first four games,
Andrew Luck
has not thrown one in his past two games. ... If Tennessee kicker
Rob Bironas
connects on three extra points, he will tie the franchise record for most consecutive PATs made.
Al Del Greco
hit 229 from 1993 to 2000. … Among quarterback-receiver combinations that have attempted at least 30 connections, Gabbert and
Justin Blackmon
have the lowest connection rate at 40.6 percent.
September, 4, 2009
9/04/09
12:00
PM ET
July, 10, 2009
7/10/09
4:08
PM ET
Posted by ESPN.com's Paul Kuharsky
It's a thought that came back to me repeatedly Thursday as I talked to former teammates of Steve McNair at his memorial:
In six months, the Titans will celebrate the 10th anniversary of their biggest moment -- their appearance in Super Bowl XXXIV. What's that going to be like for them without McNair as a part of it?
"Well, we're going to leave that seat [at the head of the table] open, and we know Steve will be there in spirit because he's with us all," Eddie George said. "We talked about him [Wednesday] night, sharing some great stories. We laughed, we cried. It's going to be different. It's surreal."
"I'm going to try to not even think about that right now," Jevon Kearse said. "He will be missed very deeply by myself and a lot of other people."
"It won't feel the same," Samari Rolle said. "He's the face of Nashville. When you think of Steve McNair, you think of that drive in '99."
Several guys who played with McNair said their indelible image of him will come from "that drive in '99," a play that read like this in the official play-by-play sheet from Super Bowl XXXIV:
| | |
| --- | --- |
| | |
| | AP Photo/Susan Walsh |
| | Kevin Carter wasn't the only rusher Steve McNair miraculously escaped on the second-to-last play of Super Bowl XXXIV. |
3-5-SL 26 (:22) S. McNair (shotgun) pass to K. Dyson to SL 10 for 16 (D. McCleon). QB Pressure by K. Carter and J. Williams
If you saw it, that play-by-play line doesn't do it justice.
"I still point back to the second-last play of that game where Kevin Carter and D'Marco Farr literally have him tackled and have him halfway dragged down to the ground and somehow with the power and strength he had he gets away and delivers the ball downfield to Kevin and gives us a chance to win the game on the last play," kicker Al Del Greco said. "If he gets tackled there, the game is over. It just said what he was all about. He was Superman at times."
Three points about the final two plays of that game, and I am not picking on Del Greco, who's hardly the only person to misremember some details.
On that signature play when McNair shed two rushers to stay alive, it's become a habit for many of us to say it was Carter and Farr. But this blog officially offers an apology to Farr, who may have failed to get to McNair but was not brushed aside. Moving forward I pledge to remember the second guy was Jay Williams.
The game wouldn't have been over if McNair had been sacked. The Titans would have called their third and final timeout just as they did after the completion to Dyson. But then the last play would have been from around the 26-yard line instead of the 10.
Had the Titans scored in either scenario, an extra point would have tied it and forced overtime, not won it.
July, 9, 2009
7/09/09
8:23
PM ET
Posted by ESPN.com's Paul Kuharsky
| | |
| --- | --- |
| | |
| | AP Photo/Mark Humphrey |
| | Eddie George, right, and Craig Hentrich were among the former teammates to attend Steve McNair's memorial. |
WHITES CREEK, Tenn. -- Lance Schulters arrived at Steve McNair's memorial with another former teammate of the fallen Titans quarterback, Robaire Smith.
The two also saw Samari Rolle and Eddie George.
Those four friends always thought they'd be reunited with McNair for happier times.
"That's our seats right there, playing cards all day on the plane," Schulters said, gesturing the circle they'd comprise. "Steve always won the big hands. All the big pots he won. We just joked about that, like 'Man, this is crazy.'"
Instead, they gathered in this suburb north of Nashville, not to shuffle and deal, but to join more than 5,000 others to mourn McNair, who was shot and killed Saturday in a murder-suicide.
"We might feel indestructible and indispensable on the field, but the reality of it is we're all human, and we all have an end," said Kevin Mawae, Titans center and president of the NFL Players Association. "We just don't know when that end is going to come.
"It's a difficult thing to be here. But we're all NFL players and there are not very many of us and when one of us passes under these circumstances or any circumstances, you mourn the loss of that guy. He was a brother in the locker room to many of us."
More than 30 teammates -- Titans past and present -- attended the memorial, as did the franchise's owner, Bud Adams, Tennessee Governor Phil Bredesen and Nashville Mayor Karl Dean.
The list of current and former players also includes Derrick Mason, Samari Rolle, Jevon Kearse, Kevin Carter, Frank Wycheck, Yancey Thigpen, Benji Olson, Blaine Bishop, Kyle Vanden Bosch, Jon Runyan, Josh Evans, Justin Hartwig, Al Del Greco, Erron Kinney, Zach Piller, Craig Hentrich, Gary Walker, Joe Nedney, Chris Sanders, Al Smith, Chris Hope and Vincent Fuller.
Current Titans assistant coaches Dave McGinnis, Mike Munchak and Marcus Robertson (who was also a teammate) are also here, as is the team's starting quarterback, Kerry Collins. McNair was drafted third by the Oilers in 1995; Collins fifth by Carolina.
Jeff Fisher will speak during the memorial and is set to talk with the media after it's over.
George said he gathered with 15 or 20 former teammates to remember McNair Wednesday night at The Palm in downtown Nashville
McNair was killed on July 4, which led different players to different thoughts of future Independence Days.
"Here's an opportunity for us to get together every Fourth of July and celebrate his life," George said.
"I know from this point on, my July 4 will never be the same," Kearse said. "I may not even celebrate July 4 from this point on. Instead it will be on July 9 or something like that."
George wrote a poem -- entitled "Where Do Warriors Go?" -- in recent days as he tried to sort through his feelings about McNair's death.
"It was a great question, and based off of that question, these words just started coming out of me and I tried to put it into form," said George, who read the poem at the memorial service. "It was something that I wanted to send off to him, directly speak to him and send him off in the right way. Maybe one day I can recite it for you.
"It's a special place they go to. I don't know the exact place, and that was the question. In it all, he's done his best, right or wrong, and basically it was a message to say, 'You know what, you're free to go into that life, without any judgment. You've done the best you can do and we're going to hold it down here for you.'"
July, 6, 2009
7/06/09
11:40
AM ET
Posted by ESPN.com's Paul Kuharsky
Some thoughts on Steve McNair as I return from vacation and catch up on developments.
Clutch: McNair often played his best in the game's biggest moments. The Titans worked a lot on two-minute drills in practice, but it was McNair's ability to go away from the script and freelance that helped earn him a reputation as being clutch. I'll try to track down some numbers to illustrate just how good he was when halftime or the final whistle approached.
| | |
| --- | --- |
| | |
| | Wade Payne/Icon SMI |
| | Steve McNair served as a mentor to younger quarterbacks such as Billy Volek. |
As I write this, Eddie George is talking about McNair in two-minute drills on 104.5 The Zone in Nashville:
"He never showed any sign of panic. Steve was always in control, always well aware ... He had such a command, and he knew what to do and where to go with the ball ... It was a beautiful thing to watch."
[Updated, 12:27 p.m.:] This from the Titans on McNair's late-game heroics: "In all, he led 19 drives during his Titans career in which the team tied the game or took the lead with a score either inside the final two minutes of regulation or in overtime. There were 21 occasions, including three playoff contests, he rallied the Titans to victory from a fourth-quarter deficit or tie. The three aforementioned cases had another commonality: Due to various injuries, McNair was listed as questionable to play in the games."
Mentoring: The Houston Oilers drafted McNair with every intention of having him sit and learn for a couple of years. The starter ahead of him in 1995 and 1996, Chris Chandler, was not particularly interested in serving as a top aide to the guy in line to take over his job. (To his credit, Chandler said in the buildup to Super Bowl XXXIII, in which he quarterbacked Atlanta, that he should have handled it differently.)
McNair may have been destined to be different even without what happened, or didn't happen, with Chandler. But through his career, McNair was generous with his time and help with young backups like Kevin Daft and Billy Volek and camp guys like Ron Powlus. He also had healthy relationships with veteran backups like Dave Krieg and Neil O'Donnell.
MVP: He won the MVP award in 2003 along with Peyton Manning based as much on the respect he'd earned among the voters as his performance that season when measured against the man he shared the honor with.
McNair was excellent that season, posting his best passer rating (100.4, 10 points higher than his next best in 2001). But side-by-side with Manning the numbers tilted in the Indy quarterback's direction -- he was better in completion percentage, yardage, touchdowns and interceptions. McNair and the Titans lost both head-to-head matchups with Manning and the Colts that year and tailed off some at the end; McNair missed two of the last three games with ankle and calf injuries.
I always had mixed feelings as to whether it was a good thing that those with a ballot decided to reward McNair nonetheless. McNair as MVP could be taken as a victory for intangibles, toughness and leadership -- but those are qualities Manning certainly has in great quantity as well.
Napping: Some guys habitually throw up before a game. John Henderson liked to get slapped in the face. McNair napped, and it became the singular example of his calm. In a new stadium on the road, it was part of the routine that the equipment guys would stake out a nap setting that would be met with McNair's approval.
When the Titans got bad in his final two years, I thought he might have served the team better to change his routine and spend more pregame time throwing to young receivers who needed to develop. As an established guy, however, it was understandable that his Sunday routine -- which has led to a lot of great play -- was something he didn't feel compelled to alter.
Unflappable: It wasn't just that he was calm and poised. McNair didn't get bent out of shape over much.
He was in line to be the face of the franchise as its first quarterback in Nashville, but was booed by the sellout crowd on opening day against Cincinnati in 1999 when he shook off an ankle injury and returned to the game.
In a game the Titans should have finished much more easily, he ultimately positioned the team for a 33-yard Al Del Greco field goal that won the game, 36-35, with 12 seconds left.
McNair's final line: 21-of-32 for 341 yards, three touchdown passes and an interception; six carries for 27 yards and another touchdown along with a lost fumble.
Nashville felt guilty in the following days, with some fans putting up apologetic signs outside the team's facility and others chipping in to have a plane fly over practice pulling a banner with a supportive message.
Funny: I wish I could find what I wrote for The Tennessean at the time, but my single best example of McNair's good humor and laid-back brand of fun came before a practice at the team's temporary facility in 1997 or 1998.
Before practice he built a tepee out of blocking bags and mats, and he sat inside, largely unnoticed by teammates heading out for their pre-practice stretch, making noises to suggest he was in deep meditation in his homemade sanctuary.
I expect as the week unfolds I will revisit and expand on some of these themes and find some others to discuss.
June, 18, 2009
6/18/09
7:21
AM ET
Posted by ESPN.com's Paul Kuharsky
In a study of the best and worst all-time seasons for field goal kickers, Chase Stewart hits Cary Blanchard, Mike Vanderjagt, Dean Biasucci, Al Del Greco and Tony Fritch on the good list and Seth Marler on the bad one.
Before I left Houston, I visited the Oilers' old training facility.
Houston Texans
Indianapolis Colts
Jacksonville Jaguars
Tennessee Titans
January, 10, 2009
1/10/09
3:49
PM ET
Posted by ESPN.com's Tim Graham
NASHVILLE, Tenn. -- If Saturday's playoff game between the Baltimore Ravens and Tennessee Titans comes down to a late field goal attempt, the direction will be significant if pregame warmups are any indicator.
Titans kicker Rob Bironas and Ravens kicker Matt Stover both had trouble kicking toward the north end zone -- heading left on your TV screen. Although the upright flags weren't whipping around much, attempts seemed to hit a wall near the goal line.
Stover twice missed from 47 yards, and again from 49 yards and 50 yards in that direction.
Both kickers were more successful with line drives from longer range, but that will increase the likelihood of a block.
Fans will recall a similar situation in January 2001, when the wild-card Ravens came into Nashville and beat the top-seeded Titans.Al Del Greco's field goal attempt into the same end zone was a blocked line drive that Anthony Mitchell returned 90 yards for a touchdown to break open a 10-10 game.
Bironas was crushing the ball when kicking toward the south end zone, nailing one from 61 yards. He also made tries from 58 (barely) and 54 yards.
January, 8, 2009
1/08/09
12:00
PM ET
Posted by ESPN.com's Paul Kuharsky
NASHVILLE, Tenn. -- Nashville is nervous.
While the Titans talk of their ill-fated divisional round matchup with the Ravens on Jan. 7, 2001 as ancient history, a good share of their fans can't help but relive it this week.
| | |
| --- | --- |
| | |
| | Geoff Burke-US PRESSWIRE |
| | Tennessee tight end Bo Scaife wants to make people forget about 2001 playoff loss to the Ravens. |
The 2000 Titans had the best record in the NFL regular season, were the No. 1 AFC seed and hosted wild-card Baltimore on the second weekend of the playoffs, just as the 2008 Titans are preparing to do. Eight years ago that recipe resulted in a drastic and deflating defeat, ending a season that was supposed to conclude with a second consecutive Super Bowl appearance.
"It hurt more than losing the Super Bowl the year before that, just because we knew whoever won that game would probably win the Super Bowl," said cornerback Samari Rolle, then with the Titans, now with the Ravens.
Only three players are left from that Titans team: punter Craig Hentrich, linebacker Keith Bulluck and defensive end Jevon Kearse, who left for four seasons and returned to Tennessee this year. Two others who were part of the loss, Rolle and receiver Derrick Mason, are now with Baltimore and the Ravens still have linebacker Ray Lewis and kicker Matt Stover.
| | |
| --- | --- |
| | |
| | NFL.com Video |
| | Relive the Titans impressive run to the AFC South crown and a No. 1 seed in the playoffs. |
"I think this city might still be living in the past just because of that 2000 season," said Bulluck, who was a special-teamer and the team's fourth linebacker then and is a defensive mainstay and captain now. "To me and this team, it has nothing to do with anything. We're not getting caught up in it as a team, that's what's important."
Yes, the Titans avenged that loss a bit with a wild-card win in Baltimore on Jan. 3, 2003, but it didn't have the same stakes, context or -- most important -- setting.
Can Bulluck understand how a lot of people pulling for the Titans of Steve McNair and Eddie George and Frank Wycheck, fans who watched the Titans hold the ball for more than 40 minutes, earn 23 first downs to the Ravens' six and outgain the visitors by 183 yards, still carry that loss with them?
"I do, I do," he said. "But I can't be concerned with that. My whole concern is us being prepared to play. I'd say to them, 'Sit back, enjoy the game on Saturday.' "
Tight end Bo Scaife celebrated his 20th birthday the day before that Titans-Ravens game. He was a redshirt sophomore at Texas that year. Still, as a relatively new Nashvillian, he's got a sense of what many fans are feeling and wants to talk people down, pointing to Tennessee's 13-10 win in Baltimore on Oct. 5.
"I hope they're not nervous," he said. "They should look at the most recent game we played against them, in 2008. The past is the past. The past might scare people. But no one in this locker room is worried about that, no one in this organization is worried about that or thinking about it. We can't control that.
"Steve ain't on this team, Eddie ain't on this team, Frank ain't on this team. It's a whole new team just like it's a whole new team for Baltimore too. It's a whole new team, hopefully it'll be a whole new result."
Al Del Greco also isn't on this team, and he was a major goat in the 24-10 loss -- he had a 45-yard field goal blocked, clanged a 31-yarder off the left upright and had a 37-yard field goal blocked and returned for 90-yard touchdown that broke a 10-10 deadlock early in the fourth quarter. A Lewis interception, stolen right out of arms of George and returned for a 50-yard touchdown, was the final dagger.
In what looks to be another defensive struggle, one big or bad special-teams play or one key turnover could dictate the result again.
Hentrich said it's the playoffs more than the Ravens that make for an uneasy week.
"It's a nervous week no matter who we play, not just because it's Baltimore," he said. "This city's been pretty spoiled this year, we've won a lot at home and any time you play a defense like Baltimore or Pittsburgh, you're nervous because anything can happen."
Kearse is in the minority, but said on some level he does see the game as an opportunity for payback.
As for the city with its hopes set on an entry in Super Bowl XLIII, in Tampa, Fla., just as it was eight years ago when the Titans lost out to the Ravens.
"Half [of Nashville] is kind of afraid, the other half is like, 'It's time for payback,'" Kearse said. "They're doing the same thing that they did that year and so far we are doing the same thing we did that year. It's all a matter of just making some new history.
"If they're afraid? Just chill out. We've got this, we're ready for it ... It's all a matter of what happens now, not what happened in the past."
December, 21, 2008
12/21/08
7:51
PM ET
| | |
| --- | --- |
| | |
| | Lecka/Getty Images |
| | Tennessee running back Chris Johnson was part of two agressive fourth-down plays by the Titans en route to a 31-14 win over Pittsburgh. |
Posted by ESPN.com's Paul Kuharsky
NASHVILLE, Tenn. -- For 30 minutes, Jeff Fisher played territorial football, worrying about field position above all else. It was traditional Titans.
But at the half, a coach known for relying on his defense and his willingness to settle for field goals or punt the ball away, saw the need to shape the game differently. It sparked a stunningly complete 31-14 rout of the Pittsburgh Steelers in a game that determined AFC playoff seeding supremacy.
Steelers-Titans featured big hits, sacks and tackles for losses, but it opened up with more scoring opportunities than Fisher anticipated. And when it did, he didn't fight it, he allowed for it.
So twice on fourth downs with his team well in the range of kicker Rob Bironas, Fisher elected to keep his offense on the field. A week after a failed fourth-down play cost the Titans a chance to win in Houston, he gave the green light twice more -- with spectacular results.
The two plays:
With 5:12 on the clock in the third quarter, down four points and facing a fourth-and-1 from the Pittsburgh 21-yard line, Kerry Collins faked an inside handoff to fullback Ahmard Hall, then pitched the ball behind him to the left to Chris Johnson. As the Titans anticipated, a cornerback -- Ike Taylor -- was all that was between the rookie running back and the first down, and Johnson easily juked Taylor. He then chomped up the remaining yards too, scoring a touchdown that put the Titans ahead for good, 17-14.

Next series, with the ball back thanks to the first of two Michael Griffin interceptions with two minutes remaining in the third quarter, Fisher gave the nod again. On fourth-and-3 at Pittsburgh's 30, Collins fired a pass up the right side perfectly fitted between defenders to Justin Gage for 17 yards. The Titans scored another touchdown to complete the drive.
What did Fisher have to say about the aggressiveness?
"I didn't feel like field goals were going to win this ball game," Fisher said. "Because of the way their defense was playing and the way their offense has the potential to play. We get down to the plus territory, we take a shot at it and we got it, it worked for us.
"A lot of it is just a gut reaction. To me, you evaluate the flow of the game, you assess what you anticipate happening. Keep this in mind, before that, they missed a field goal, they fumbled it on the 5-yard line, they were moving the ball. You like to assume that your defense is going to make the stops, and we did. But, still, in a game like this you have to be aggressive. You have to play it to win it. We played our field position game in the first half. The second half was time to go win in."
Some Titans diehards will read and reread those two paragraphs blinking hard and wondering if they are misattributed. Because that's the sort of talk they've wished to hear on so many tense Sundays when they were left to watch Bironas or Joe Nedney or Gary Anderson or Al Del Greco wind up the hero or goat after close, conservative games.
All the bedrocks of Fisher's stability -- the balanced temperament, the ability to endure a bad stretch, the unwavering faith in the organization's philosophy and scheme, the patience -- come intertwined with a default to conservatism.
The field goal has almost always been his friend.
Now, in three huge moments over the course of three weeks, he hasn't pointed to Bironas. The net against the Steelers was eight additional points -- two touchdowns instead of two field goals. The bounce-back win over the Steelers and the No. 1 seed in the playoffs make it feel like significantly more than that.