August, 25, 2010
8/25/10
7:42
PM ET
NASHVILLE, Tenn., -- When the Titans and Cardinals broke into pieces early in practice, injured Arizona receiver
Larry Fitzgerald
didn't stick with the quarterbacks and receivers in seven-on-seven.
He watched the Titans defensive linemen work against Arizona's large offensive line. There were many good battles, and the Cards fared a lot better at fending off the rush in the drill than they did Monday night in a preseason loss at LP Field.
My thinking about the Titans is turning a bit -- they may be better than I've been expecting. And the biggest force behind it is the defensive line.
And that's with four key guys currently out or limited:
Derrick Morgan
, the No. 1 pick;
William Hayes
, perhaps the best edge rush prospect;
Jacob Ford
, who has 12 sacks in 29 games; and
Tony Brown
, probably the best all-around interior lineman.
It still looks like a very deep group that will find ways to get to the quarterback without blitz help, though the Titans worked the blitz a good deal against the Cardinals in the game.
The rest of the group is also a pretty anonymous gang, part draft picks, part reclamation project free agents: ends
Jason Babin
and
Dave Ball
; tackles
Jason Jones
,
Jovan Haye
and
Sen'Derrick Marks
.
That's five quality ends before
Raheem Brock
or
Eric Bakhtiari
, who's likely to be on a 53-man roster. That's four quality tackles before seventh-round rookie
David Howard
.
High motor end
Kyle Vanden Bosch
, who set the Titans' standard for work, left as a free agent for Detroit.
Albert Haynesworth
is heading into his second-season of drama in Washington.
And defensive line coach Jim Washburn may be just fine without them. The rotating won't be based as much on situations -- though you want your best pass rushers on the field on third down, first down hardly qualifies as a "run down" any more -- as it will be on freshness. Tired linemen are expected to remove themselves from action, making way for the next guy while recovering.
Jeff Fisher said he's very happy with the group's depth and his counterpart at Thursday's practice was impressed.
"I think they're good, I think it's one of the better defensive lines, I've always thought that." Ken Whisenhunt said. "I know what coach Fisher's mentality's been with defense. They play hard. They do a very good job with their twists and their stunt game. Definitely when you play a team like Tennessee, it makes your O-line better. Because if you don't work hard, you're going to get embarrassed."
Cardinals guard
Alan Faneca
also talked about twists and stunts, saying he thinks the Titans are using them more instead of relying on juggernauts like KVB and Haynesworth to pave the road.
"I think they've mixed in a lot of guys, they all seem to play pretty good with each other," Faneca said. "…To me it seemed like they were working a lot on their inside games and stuff. With Vanden Bosch and Haynesworth, they really let those guys work so that really wasn't as big of a staple of theirs. They mix it up. You can't anticipate one thing, you've got to anticipate a couple things, and that slows your reaction down."
I don't know how much more the Titans may game and stunt -- this could just be a time in camp where they've emphasized it. I am certain they all want to and believe they can line up and beat the man across from them while using stuff to keep blockers off balance. A year after the team had 31 sacks, a drop off of 13 from 2008, I'll be surprised if the number isn't up.
"We're very deep right now," Jones said. "Right now we still have interchangeable parts, athletic guys on this D-line. When the hurt guys get back it's going to be full force… We still have the same pride. When we get our rushes we expect to get to the quarterback or at least hit him and cause some havoc."
March, 3, 2010
3/03/10
1:53
PM ET
Here's a
free-agency preview
of the AFC South from Pro Football Focus -- they give one target per team.
I think three out of four are pretty good. But I can't see the Titans chasing
Aaron Kampman
. If they are letting their own aging, high-motor pass-rusher,
Kyle Vanden Bosch
, leave via free agency, it doesn't make a whole lot of sense to court another if their prices are in the same ballpark. KVB is 31, Kampman is 30.
Here's Pro Football Weekly's thorough look at
needs
in the AFC South.
PFF has also done
pass-protection research
recently. They rank
David Stewart
and
Eric Winston
among the league's best right tackles in 2009 with
Eben Britton
as one of the worst and
Eugene Monroe
and
Duane Brown
among the worst left tackles.
Part two covers
guards and centers
;
Chris White
and
Jeff Saturday
fared well and
Brad Meester
and
Kevin Mawae
did not.
These links bring me in a roundabout way to a different topic.
I am very intrigued by what Pro Football Focus tries to do in terms of player ratings. But I also have known many of the guys who do work for Football Outsiders and greatly respect their approach, opinions and pioneering work.
So I am compelled to include
this link
, where Stephanie Stradley has Bill Barnwell of FO commenting on the ratings process at PFF. I think Barnwell raises some interesting questions about PFF's methods while not striking a defensive tone. Quite frankly I'd welcome an expansion on this commentary from FO, though I know it would be a difficult thing to do.
It's important, whatever stats we sift through that go beyond what we get from the NFL itself, to consider what's doable, what's possible, what's reasonable to expect.
January, 22, 2010
1/22/10
1:30
PM ET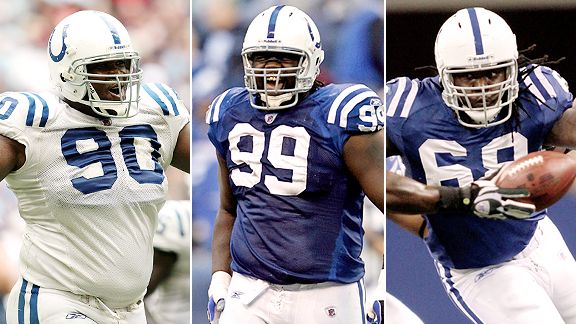 US Presswire/Getty Images/AP PhotoDaniel Muir (left), Antonio Johnson and Eric Foster will face the league's best rushing offense Sunday.
INDIANAPOLIS -- The 2009
Indianapolis Colts
needed to be stouter.
Item No. 1 on virtually every team's list of needs after the 2008 season was defensive tackle. A new head coach with a new defensive coordinator would still want quick interior linemen, but a little more beef would help the team better tamp down the run.
Thus, the Colts selected
Fili Moala
out of USC in the second round of the 2009 draft. They grabbed Terrance Taylor from Michigan in the fourth round. They recruited Adrian Grady from Louisville as an undrafted free agent. They ultimately brought back veteran
Ed Johnson
, who had been waived early in the 2008 season.
Things were going to appear a whole lot different between veteran defensive ends
Dwight Freeney
and
Robert Mathis
.
Months later, here stand the Colts, a game away from their second Super Bowl in four seasons. The three defensive tackles who will key the run-stopping efforts Sunday against the
New York Jets
in the AFC Championship Game are... the same three guys they intended to replace with upgrades.
New York has a Pro Bowl center in
Nick Mangold
and a Pro Bowl left guard in
Alan Faneca
, two key pieces of an offensive line that blocks for the NFL's top rushing team. The Colts will counter with starting defensive tackles
Antonio Johnson
,
Daniel Muir
and
Eric Foster
as the primary changeup.
Of all the "upgrades," only second-rounder Moala stuck -- and he's inactive when the guys ahead of him are healthy.
The three holdovers are used to beating long odds. Antonio Johnson was signed off the
Tennessee Titans
' practice squad in early November 2008 and played eight games with the Colts that season. Muir was a waiver claim from the
Green Bay Packers
in late August 2008. Foster was an undrafted free agent from Rutgers signed in 2008.
And so it's no-names versus big-names in the trenches when the Jets have the ball at Lucas Oil Stadium, and it could be the matchup most telling in who wins the AFC title and advances to the Super Bowl.
January, 22, 2010
1/22/10
11:41
AM ET
I asked Ken Moll, Doug Kretz and Matt Williamson of Scouts Inc. to give me one, non-obvious, key matchup in the AFC Championship Game and to tell me how they envision things panning out in that area. (You can find biographical in fo on these three fine men
here
.)
Here's what they said:
Moll:
"Here is something that I thought was very subtle in last week's game that the Jet were trying to do. Get the old man
Tony Richardson
more involved only early downs. Not so much in the running game (though he did average over 6 yards per carry this year/ regular season, only seven attempts) but as a receiver out of the backfield. Obviously the Colts will stack the line of scrimmage (eight in the box, etc. especially on early downs) and slipping Tony out of the backfield off of play action will likely put him WIDE OPEN in the flat where he can turn up field. They (Brian Schottenheimer) tried to get him the ball versus the Chargers (two catches and he dropped at least one) where he only had three catches all of the regular season."
"I don't think this will be a BIG part of the game but I do think he could play a part in giving the Jets young quarterback some easy throws on early downs in a hostile environment."
"Tony only has four catches in the two seasons but he does have good hands and usually is reliable as a receiver out of the backfield (career catches 205-- and nine TDs). "
"Again not a big part of the game (though he will blocking a bunch) but this matchup between the oldest man on the field (Tony Richardson) and the Colts linebackers (both in the running game as well as defending him off of play action) could be a factor in keeping the Colts defense off balance."
Kretz:
"I'd look at the play of the two interior lines. A lot of attention is being focused (and rightly so) on New York's two offensive tackles being able to contain
Robert Mathis
and
Dwight Freeney
and their ferocious pass rush. New York NEEDs to establish a strong ground game, especially up the middle. Center
Nick Mangold
and guards
Alan Faneca
and
Brandon Moore
allow the Jets to do a lot of running between the two tackles an area that has traditionally been a weakness for the Colts' defensive front."
"The play of DTs
Daniel Muir
and
Antonio Johnson
has been a huge lift to Indianapolis' defense. If the Colts can't contain New York on the ground and force them into a lot of obvious passing situations (third and long) all that speed on Indianapolis' defense will be negated. In years past the Colts were extremely undersized up the middle, on defense, but both Muir and Johnson are legitimate 300 pounders and have done a lot to improve the Colts' run defense."
"Look for the Colts to focus a lot of their attention to stopping
Thomas Jones
and
Shonn Greene
before they can get to the second level and produce explosive run plays or simply keep moving the chains. I'd expect the Jets to struggle with their ground game."
[Side note: Stay tuned for a column by yours truly on those defensive tackles in just a bit.]
Williamson:
"I fully expect
Darrelle Revis
to matchup with
Reggie Wayne
for the majority of this game. It should be noted that Revis did usually line up over
Antonio Gates
last week when
Vincent Jackson
went to the slot and Indy might try similar tactics to free up Wayne. But all in all, the Colts do what they do and they do it extremely well."
"They will not differ much from their norm -- nor should they. So, that will often leave
Pierre Garcon
on
Lito Sheppard
. Sheppard has more big-game experience and is probably the bigger named player, but I tend to give this advantage to Garcon -- if
Peyton Manning
isn't under too much duress.
"Also, the further that Indy goes into their wide receiver corps, namely
Austin Collie
, the harder and harder time New York will have matching up with their cover men. Many thought this was the case last week. But while
Malcolm Floyd
is extremely talented, he is also inconsistent and often just misses on big plays. I expect Garcon to convert."
December, 4, 2008
12/04/08
10:42
AM ET
Posted by ESPN.com's Paul Kuharsky
NASHVILLE, Tenn. -- He's a good listener who doesn't talk back. He's reliable and steady. He's always good for a laugh.
He probably ranks as the offensive linemen's favorite teammate.

So popular is Bryan Pride, his offensive linemates got a special nameplate installed above his locker. They track his weight gains like proud parents. They sometimes put a "Monday Night Football" hat on him and drape a towel around his midsection when reporters visit the locker room.
| | |
| --- | --- |
| | |
| | Paul Kuharsky/ESPN.com |
| | He started as an empty Gatorade bottle wrapped in tape. Bryan Pride has grown into a running joke for the Titans' offensive line, complete with his own locker stall and a name plate. |
It's not a bad life for a giant ball of tape the position group has been nurturing for months, a symbol on a larger scale of the light-hearted mood and style of the team with the AFC's best record. The defensive line has
Dave Ball
, the offensive line has Pride.
This morning he weighed in with the rest of the fellas, and he's up to 122.4 pounds. He's on the last line of the official report strength and conditioning coach Steve Watterson passes on to general manager Mike Reinfeldt and coach Jeff Fisher.
"So far, he's been a model guy for the locker room," Watterson said. "He's there, he's steady. It's amazing. I don't know that he sleeps at all. He's there before the first guy gets there, and I swear to you, sometimes I've been here late, 11, 11:30 at night, and he's still here. He's dedicated. I don't think he has much of a life outside of here."
That doesn't mean the Titans don't have to monitor him closely.
"If you don't keep him on track and keep him balanced, he will drift away," Watterson said. "If he gets on a slippery slope, you're in trouble."
Pride started as a time-killer for reserve lineman Daniel Loper, who wound athletic tape around a Gatorade bottle. He took the shape of a football or rugby ball, and the group would toss him around.
"He was very oval shaped and football like," Loper said. "And we were throwing him around to people. It was fun when he was like six or seven pounds. Once he got to 20, it stopped being fun and we quit doing it."
The name is homage to Jacob Bell, the guard who jumped to St. Louis as a free agent who called everybody Bryan. Loper said it was left tackle Michael Roos who had the ingenious idea of making Pride round. Someone found an old Christmas tree stand, sat him on it in front of an empty locker and an imaginary teammate, an honorary mascot and running joke was born.
November, 20, 2008
11/20/08
9:00
AM ET
Posted by ESPN.com's Paul Kuharsky and Tim Graham
In advance of the New York Jets vs. Tennessee Titans on Sunday in Nashville, AFC East blogger Tim Graham and AFC South blogger Paul Kuharsky debate what this November showdown means. The Jets could make a statement by ruining the Titans' hopes of a 16-0 regular season. Graham and Kuharsky debate other factors that should be considered.
| | |
| --- | --- |
| | |
| Collins | Favre |
Which graybeard quarterback will carry the day?
Paul Kuharsky: Well, Timothy, it's hard to argue against Brett Favre's contagious enthusiasm, but Kerry Collins is asked to provide something entirely different for the Titans. He's calm and cool, which fits a Jeff Fisher team perfectly. Odds are he throws for under 200 yards. Odds also are he doesn't get picked off or make a big mistake that puts his defense in a tough spot.
Tim Graham: I hear you loud and clear, Brocephus. But the Jets seem to have located their offensive happy place with Favre. Offensive coordinator Brian Schottenheimer has reached a comfort level in calling plays for the type of quarterback the Jets weren't used to. Favre appears to be settling into his role -- somewhere between swashbuckler and game manager. I like to call him a swashmangler.
PK: Very wordsmithy of you. I know Farve's enjoyed joining a team that upgraded the offensive line before he arrived. One key to the Titans' success has been that they consistently get pass pressure from their front four. Kyle Vanden Bosch expects to be back from a groin injury that's pretty much cost him five weeks. Side-by-side with Albert Haynesworth, they'll look to overpower and outwork the left side of the Jets' line.
TG: The Jets' offensive line has been sensational. Alan Faneca has performed as advertised. Nick Mangold is turning into an elite center. But the New England Patriots, without Adalius Thomas and Ty Warren, got to Favre three times last week. Favre went down Strahan-style.
| | |
| --- | --- |
| | |
| | Jeff Hanisch/US Presswire |
| | New York's run defense will be tested by Tennessee's Chris Johnson on Sunday. |
How will the Titans' running game fare against the Jets' 3-4 defense?
TG: The element of Sunday's game I'm most fascinated to see unfold is how New York's run defense handles Tennessee's running backs. Two of my favorite players to watch this year have been Jets nose tackle Kris Jenkins and Titans rookie Chris Johnson. The Jets have the fourth-ranked defense against the run. The Patriots didn't even bother last week, choosing to let Matt Cassel throw 50 times. The Jets' front seven are scary.
PK: Collins threw it 41 times in Chicago, but the Titans will be determined to hand the ball off. Still, the Titans likely will continue to look to get Johnson additional touches in the passing game, trying to set him free in space against favorable matchups. I certainly wouldn't be looking to get him up the middle against Jenkins. If offensive coordinator Mike Heimerdinger sees the Jets selling out to reduce the risk of big-plays by Johnson, then he'll give somebody else like Bo Scaife, Justin Gage or LenDale White more chances.
TG: I wonder how much of this game will hinge on Collins' arm. The Jets have a couple of stars in their secondary. Cornerback Darrelle Revis is one of the NFL's best, and safety Kerry Rhodes is Pro Bowl-caliber. But they were concerned enough with rookie cornerback Dwight Lowery's shaky play that they signed Ty Law, who hadn't played in 11 months.
PK: The Titans will be content to dink and dunk against that crew if that's what they have to do. Patience won't be a problem. And I suspect they'll like their chances of getting Favre to try to force a couple against their own group of rising DBs who are establishing names for themselves. Cortland Finnegan, Michael Griffin and Chris Hope each rank at the top of the AFC with four picks. If they can get one or two here, I like the Titans' chances. If they can't, this could be loss No. 1.
Which team has more to prove?
PK: It takes a 10-0 start and Favre coming to town with the hot Jets for Jim Nantz and Phil Simms to call a game for CBS in Nashville for the first time. The Titans love to cast themselves as the under-the-radar underdogs. They know they'll be drawing a lot of eyeballs Sunday and that
if they lose, there will be people who say the Titans weren't worthy the hype.
TG: One of the more nauseating sports phenomena is when teams try to underdog each other. Every team wants to enter a game feeling as though they're not being taken seriously. But the Jets feel that way, Paul. I mean, they were so emotional last week they actually were shedding tears before and after beating the Patriots. The Jets come into Sunday's game with a chip on their shoulder even though they're from the nation's biggest media market. Don't forget, the reason they went out and made all these splashy offseason moves was because they were sick of being in the New York Giants' shadow.
PK: The Titans would take a loss to this New York team if they could trade it for a Super Bowl matchup against the other New York team. I'm with you on the artificial underdog and faux disrespect stuff. Griffin played good defense against the Jaguars, then got all twisted up in the postgame locker room. He said people get tired of teams or athletes who win all the time, that they are rooting against the Titans just like they rooted against Michael Phelps. Yeah, nobody wanted to see that guy with all those gold medals around his neck.
TG: If Mercury Morris is OK with the notion you might go undefeated, then you're not exactly Public Enemy No. 1. In my travels around the AFC East, I haven't heard any negative talk about those dastardly Titans. I think the Patriots still lead the conference in haters. But if that's how the Titans are getting themselves jacked up, so be it. As Crash Davis once scolded Annie Savoy: "A player on a streak has to respect the streak." Whatever the Titans are doing to get mentally prepared, it is working.
PK: Even the truest Titans fan has to admit there would be at least one upside to a loss: Morris would disappear for another year.