January, 22, 2013
1/22/13
5:41
PM ET
Three of four AFC special teams coaches lost their jobs after the season.
Marwan Maalouf was out after just one year in Indianapolis (replaced by Tom McMahon).
John Bonamego was out after just one year in Jacksonville (replaced by Mike Mallory,
today
.)
Alan Lowry was out after 14 years in the position in Tennessee (replaced by Nate Kaczor who was promoted from on staff.)
Houston's Joe Marciano has been in the post since the Texans came into existence in 2002.
Rick Gosselin of The Dallas Morning News annually ranks every teams' special teams. In 22 kicking game categories he awards one point for the best and 32 for the worst. Minnesota grabbed the No. 1 spot with 253.5 points, and Carolina was worst at 486.
The AFC South
scored quite poorly here
, offering some rationale for the three ousters. Parenthetically, I've added Football Outsiders rankings, an explanation of which you can find
here
.)
16. Tennessee, 358.5 (19th)

24. Houston, 402 (32nd)

26. Jacksonville, 418 (25th)

27. Indianapolis, 423 (12th)
A team like the Jaguars suffers more from bad special teams than Houston and Indianapolis, I'd argue. Any team can get a big boost from special-teams play, but a bad team needs that boost more because it's less likely to get major plays from offense or defense. (That doesn't, however, mean they should be spending a third-round pick on a punter who punts 91 times all season.)
Solid, disciplined, well-coached play and schemes can do more to overcome average personnel in special teams than on offense or defense. Building teams are likely to be younger, and younger guys are generally more willing and able to sell out to cover a kickoff or block for a punt returner.
A good team like the Colts of the Bill Polian/Tony Dungy/Jim Caldwell era showed for a lot of years that, with a quarterback the caliber of
Peyton Manning
, disregarding or de-emphasizing coverage and return teams can be completely survivable.
Houston and Indianapolis were playoff teams this season, despite bad special teams. The playoff field was all over the map in Gosselin's ratings -- from the Vikings (No. 1) to the Redskins (No. 31).
The Titans ranked in the middle of the pack and special teams helped them more than they hurt them. That's a goal the other three teams can aspire to, at least to start an upward swing.
September, 9, 2011
9/09/11
10:48
AM ET
NASHVILLE, Tenn. -- In four preseason games, Mike Munchak looked comfortable in a headset, roaming the sideline as the Titans' front man.
But the regular season is a completely different animal. We have no idea how he will be as a game manager, as a clock manager, as a thrower of the challenge flag. In a tense moment when he has to make a quick decision about accepting or declining a penalty or about burning a timeout or asking
Matt Hasselbeck
to spike the ball, how will Munchak operate?
[+] Enlarge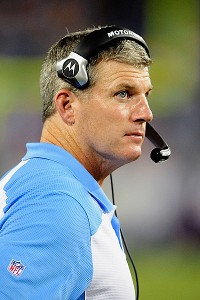 Photo by Grant Halverson/Getty ImagesNow that the regular season is here, Mike Munchak's game management style will be revealed.
"I think you are playing that game with yourself now, when you know you are the one making those decisions," Munchak said. "I think that's probably the biggest thing is just managing the game and thinking a play ahead on offense and defense. I'm always thinking now, if there was a penalty, would I take it? If there is a penalty on their offense, would I take the penalty, or would I let the play play out, assuming it's an incomplete pass.
"So I start playing those games more than I ever have, because before I never had to think about those things. Now I think ahead and click over to [special-teams coach] Alan Lowery and say, 'Can he make this field goal' if it's another kicker? So, maybe I need to back him up 10 if we get a penalty right here rather than them punt. I think there are a lot of those during preseason that I spent more time on."
As a Hall of Fame player and a longtime position coach, Munchak surely developed situational philosophies. It will be interesting to see them in action for the first time on Sunday at EverBank Field.
The job has changed the way he watches a college game on TV.
"Now I'm thinking, 'Well, I would have done this, or I would have done that,'" he said. "Even when the other team has the ball in preseason, I'm thinking well I would have probably called a timeout there or maybe I would let the clock run."
I suspect his second-guessing of Penn State's decisions when he gets to watch his Nittany Lions will be on a lesser scale.