January, 10, 2013
1/10/13
8:38
AM ET
I feel badly for Khaled Elsayed today.
Afterall, he picked
Andrew Luck
as his All-AFC South quarterback. And we know when a certain AFC South blogger recently made that move how Texans faithful reacted.
I suspect Elsayed has a big day of Twitter activity ahead.
But that's the price he pays for being right.
Our differences are few, and I don't find any of the spots where he went a different direction to be objectionable.
Here's
his team
. Here's
mine
.
He went two-back while I went two-tight. He went 4-3 while I went 3-4.
He has
David Stewart
at right tackle, but I know Stewart didn't play to his standard, and downgraded him because he got hurt and missed four games.
Winston Justice
of the Colts was hardly great, but got my nod.
He picked
Derrick Morgan
as his fourth defensive lineman where I had
Paul Posluszny
as my fourth linebacker, and he gave
Zach Brown
a spot where I had
Robert Mathis
. He also has
Dwight Lowery
as a safety, a pick I very nearly made because
Danieal Manning
was inconsistent.
Finally, PFF liked
Josh Scobee
as the place-kicker where I tabbed
Rob Bironas
. Like me, Elsayed gave the nod at punter to
Pat McAfee
. The tweets protesting the crime of going that direction over Jags' rookie
Bryan Anger
won't match the Schaub defense, Khaled, but they might come close.
PFF liked
Alan Ball
as its special teamer. He missed a lot of games, and I had his teammate
Bryan Braman
.
Dig in and enjoy.
December, 27, 2012
12/27/12
12:30
PM ET
»
NFC Season Wraps
:
East
|
West
|
North
|
South
»
AFC
:
East
|
West
|
North
|
South
Five things to know and my all-division team.
Division MVP:
J.J. Watt
, defensive end,
Houston Texans
. I've never seen someone so disruptive up front. The guy's got the complete package. He's incredibly instinctive, knowing when to stop rushing and pull up, looking to bat down a pass. He also understands the lane into which a quarterback might be looking to throw. He simply manhandles some blockers -- swimming past them, bowling them backward, speeding around them or knifing between two guys. Some blockers have had absolutely no answer for him, and even if a team tried to take plays as far away from him as possible, he often tracked those plays and got involved in stopping them.
[+] Enlarge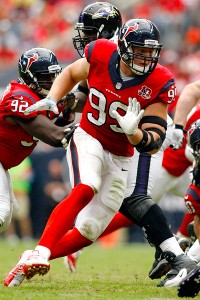 Brett Davis/US PresswireJ.J. Watt needs two more sacks to tie Michael Strahan's record of 22.5 sacks in a season.
Early in the season he talked about wanting to
redefine
the 3-4 end position, which hasn't traditionally been a stat position. Later
Antonio Smith
pointed out how often Watt is really lining up
at tackle
. He's not likely to win MVP based on what the league's best quarterbacks and
Adrian Peterson
(despite my thinking that the running back is not worthy of the award) are doing. But his ability to push an offense backward so often has been a tremendous factor in an excellent season for the Texans. The other three teams would be wise to reinforce their offensive lines, because it's reasonable to expect Watt will be a handful for protections and run blocking for years to come.
Biggest disappointment:
The pass rushes of the Jaguars and the Titans required offseason attention. Neither team did enough to find a way to disrupt opposing quarterbacks consistently. The Jaguars go into the final game of the season with the worst sacks-per-play average in the NFL and a total of only 18 sacks. Jacksonville's big addition was second-round pick
Andre Branch
, who couldn't hold onto a starting job and finished with one sack in 12 games and is on IR. The Jags played nine games in which they produced either one sack or no sacks. Tennessee has 32 sacks and is close to the middle of the pack. But it's not enough for a defense with a lot of kids in the back seven and bad safety play. Tennessee got better results than Jacksonville from its newcomer, free-agent signee
Kamerion Wimbley
(five sacks), but he didn't offer the game-to-game and play-to-play threat Tennessee so desperately needed.
Joe Cullen's been in place for three seasons as Jacksonville's defensive line coach. He's a good coach and motivator, but he did not get the production the defense had to have. His counterpart in Nashville, Tracy Rocker, came from Auburn in 2011 and hasn't proved to be an effective NFL position coach. Pass-rush coach Keith Millard was brought in to help the rush and the blitz, but it's hard to see a major difference as a result of his presence. The Titans got shredded by the best quarterbacks they faced, from
Tom Brady
on opening day to
Aaron Rodgers
last week.
Offensive player of the year, rookie of the year, fourth-quarter player of the year:
Andrew Luck
has thrown too many interceptions in his rookie season. His stat line is hardly cause for a parade. He dug himself some holes. But leading his team to 10 wins, seven of them in comeback fashion, and getting into the playoffs does a lot to reduce the importance of those turnovers. He showed a great talent for climbing out of those holes. He was capable of digesting everything the first time around, handling Bruce Arians' very vertical offense, the absence of coach Chuck Pagano, an often ineffective defense and a less-than-watertight offensive line with aplomb.
Robert Griffin III
and
Russell Wilson
have strong cases for the NFL Offensive Rookie of the Year award, which may never have been so hotly contested. We may see all three rookie quarterbacks in the playoffs. In the AFC South, Luck is the quarterback who was asked to do the most from the start, and he was the quarterback who did the most. Rookie receiver
T.Y. Hilton
is already a good player for the Colts. If you took Hilton and put him on the Titans or the Jaguars, how would he fare? Nowhere near as well as he fared playing with Luck in their first years in the NFL, I feel certain.
Worst injuries:
The Jaguars really suffered because
Daryl Smith
and
Clint Session
were absent from the linebacking corps. Smith just returned last week from a groin injury and Session never made it back from multiple concussions suffered in 2011, his first season in Jacksonville. The corners all took turns missing time, and safety
Dwight Lowery
played only nine games. The loss of playmakers really dented a defense that plummeted in the rankings from 2011 to 2012.
Tennessee's offensive line was not good enough, and revamping the interior needs to be a major offseason priority. The Titans lost starting center
Eugene Amano
in the preseason and right guard
Leroy Harris
halfway through the year. For the last quarter of the season, they were also down left guard
Steve Hutchinson
and right tackle
David Stewart
. It's hard for them to give
Jake Locker
a real chance playing behind a line with four reserves. Still, he could have shown far more in his chances when he was healthy.
The division's two worst teams lost a lot of time with their young quarterbacks, too. Locker missed five games with a shoulder injury, and
Blaine Gabbert
played through a shoulder injury before adding a forearm issue that ended his season after 10 games. Looking ahead to 2013, the status of each as a long-term answer is not what it once was.
[+] Enlarge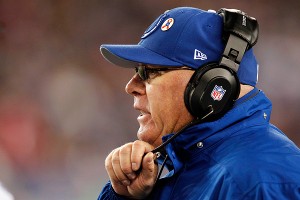 Greg M. Cooper/USA TODAY Sports Bruce Arians stepped in for coach Chuck Pagano and led a team coming off a two-win season to the playoffs.
Coaches of the year:
Pagano and Arians of the Colts. It's been a storybook season for Indianapolis, which rallied around Pagano. He learned he had leukemia after just three games and handed the team to Arians while he underwent treatment. His fight gave the team a purpose, and it responded by playing better than the sum of its parts. Behind the scenes, Pagano was more involved than many might imagine.
But it was Arians conveying the messages, overseeing the game-planning, leading and, as offensive coordinator, calling the plays. He did a masterful job in overseeing the team, the offense and the rookie quarterback. Now, with Pagano back in place, he'll drift into the background. He's 60, which will work against his getting a head-coaching job. His work, however, should earn him consideration for some of the jobs that are about to open. That was quite an audition. And just about every team hiring a coach will need a quarterback developer.
ALL-DIVISION TEAM
I want to emphasize one thing about this All-AFC South Team.
Wade Smith
is measured against the division's left guards, not against the rest of the selections. There are miles between Smith as a player and Watt as a player, and if we measure a guard against a defensive end who's the division MVP, things look askew.
One I'll get crushed for: Many of you argued with me on Twitter when I wrote that I would take Luck over
Matt Schaub
as the third Pro Bowl quarterback, so I am sure you won't like the choice of quarterback here. Luck struggled more than Schaub, for sure. But he was asked to do far more than Schaub and produced seven comeback wins, leading a team that's really lacking in talent to an improbable playoff spot. There were no expectations for the Colts, and Luck and the team delivered. There were huge expectations on the Texans, and Schaub and the team delivered. My gut continues to prefer Luck's year. That doesn't mean I dislike what Schaub's done.
Just misses: Titans defensive end
Derrick Morgan
, Texans outside linebacker
Brooks Reed
, Jaguars cornerback
Derek Cox
, Texans quarterback Matt Schaub.
January, 31, 2012
1/31/12
2:49
PM ET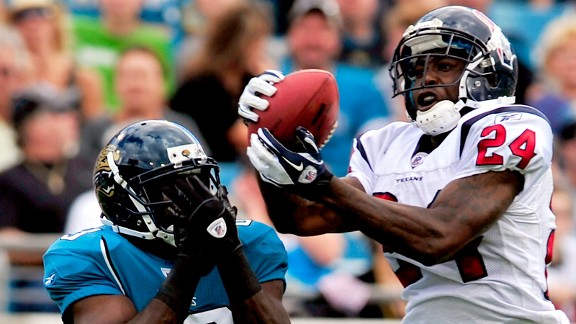 AP Photo/Stephen MortonSigning cornerback Johnathan Joseph proved to pay off for the Houston defense.
Monday we presented the
All AFC-South offense
. Today we move to defense and special teams.
I felt like there was a worthy candidate at every spot, and beyond wrestling with choosing between
Dwight Freeney
and
Robert Mathis
for a defensive end spot, I didn't have any gigantic struggles.
To accommodate the personnel of the 3-4 Texans along with the 4-3 Colts, Texans and Titans, we created a 12-man defense with four linemen and four linebackers. It seemed like a fair approach to me that stops short of bastardizing the team.
DEs:
Houston rookie
J.J. Watt
was a giant presence from the start, serving as a key piece of the team's revamped front. He was easily the division's rookie of the year. Mathis gets the nod over Freeney but it could have gone either way. They both had fewer chances because teams threw less against them, but remained quite effective.
DTs:
Antonio Smith
of the Texans played end in base and tackle in nickel and his versatility was really highlighted in the 3-4 system. Casey was not at a similar level, but the Titans rookie was a stout and reliable run-stopper.
OLBs:
The Jaguars were stacked at linebacker thanks to their free-agent shopping. On an upgraded defense,
Daryl Smith
really got to show himself a fine player. In Houston,
Connor Barwin
blossomed into an 11.5-sack guy who was constantly around the quarterback.
ILBs:
Brian Cushing
was a terror for the Texans, proving an excellent fit as an inside backer for Wade Phillips. At his best, he was something to behold. The same can be said for Jacksonville's
Paul Posluszny
. He gave the Jaguars everything they were looking for in terms of production and leadership as a free-agent acquisition.
CBs:
Houston's
Johnathan Joseph
was the AFC South MVP in my eyes. The Texans hit a home run by adding Joseph, a settling force in the secondary who played sticky coverage all season. Tennessee's
Cortland Finnegan
didn't produce on the same level, but his willingness and ability to shift inside and play a physical brand of nickel was a positive factor for the Titans' defense.
S:
The Texans' move of
Glover Quin
from nickel corner to strong safety worked out beautifully and they are trend-setters in terms of having guys with corner skills playing in the middle of the field. He was steady and productive.
Dwight Lowery
showed good smarts and awareness for the Jaguars at a spot that was a huge hole the previous season. Signing him will be a priority.
K:
Rob Bironas
of the Titans missed just three field goals all season. While Jacksonville's
Josh Scobee
missed only two, he tried fewer. And Bironas had a division-high 44 touchbacks
P:
The Colts'
Pat McAfee
gets the edge over the Titans'
Brett Kern
in a very close race. Punting out of trouble was more important more often for Indianapolis, and McAfee's net average was hurt by less than stellar coverage but shouldn't offset his slightly bigger leg.
PR, KR:
There was no outstanding work done in these spots for anyone in the division, so we pretty much go chalk. Tennessee punt returner
Marc Mariani
led in punt return average and Jacksonville kick returner
Deji Karim
led the division in kick return average.
ST:
Kassim Osgood
of the Jaguars continued to be a top guy in coverage work.
January, 30, 2012
1/30/12
4:43
PM ET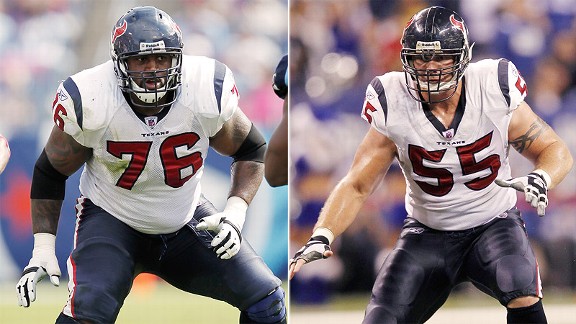 Getty ImagesDuane Brown (left) and Chris Myers anchored one of the best offensive lines in the league.
At long last, we start to unveil ESPN.com's All-AFC South Team.
We'll start with the offense.
It's a tough assignment.
The second guy at some spots -- like Houston running back
Arian Foster
-- is superb, while the top guy at other spots was hardly as good and was not so clearly better than his competition.
But we forge ahead.
WRs:
Wide receivers were not great this season, with
Andre Johnson
missing too much time to be eligible and not one Jacksonville player at the position worth a look. Indianapolis'
Reggie Wayne
remained productive on a team that played three bad quarterbacks and was unable to have many offensive days of note. Tennessee's
Nate Washington
topped 1,000 yards and was a prime third-down target. He blossomed in a season when the Titans were desperate after
Kenny Britt
was lost early on.
LT:
Houston's
Duane Brown
gets the nod after a fine season. He was probably the second-best guy (to center
Chris Myers
) on one of the very best lines in the NFL. But Tennessee's
Michael Roos
was very steady again and Jacksonville's
Eugene Monroe
emerged as a player closer to the kind the Jaguars expected and need him to be. Both deserve mention.
LG
: I struggled to find a left guard that was worthy of a spot here, so I reluctantly leave the spot open. The second-best guard in the division was Houston's
Mike Brisiel
and, like Jacksonville's
Uche Nwaneri
, he plays on the right. One film-watcher I spoke with said I should just go with the entire Texans group, but others thought left guard
Wade Smith
dropped off from his 2010 performance. Tennessee's
Leroy Harris
pass-blocked well like all the Titans, but was part of the team's run struggles.
C:
Myers led Houston's line, perhaps the best in the NFL. He's super smart, efficient and effective. He's also very much the group's tone-setter and leader. Considering how much the team's scheme relies on the unit working together with lateral movements and cutting, Myers' leadership is incredibly valuable.
RG:
A lot of Jaguars linemen were in and out of the lineup as the team had to shuffle and leaned on one rookie,
Will Rackley
. Nwaneri may have even outranked Monroe as the steadiest guy on a line that help spring
Maurice Jones-Drew
for a league-high 1,606 yards on a team that could hardly throw the ball.
RT:
Tennessee's
David Stewart
was very good, but
Eric Winston
had a very strong season. Winston wins out over Stewart because he was more balanced and the Texans were far more balanced.
TE:
Not a great year for guys at a position that could be stacked if everyone was healthy for the full season and producing as they are capable of doing. I was leaning toward Tennessee's
Jared Cook
based on a solid finish. But Cook didn't do enough early and scouting associates steered me to
Owen Daniels
, who was not at his best but was still a threat who helped offset the stretches without Johnson.
QB:
Matt Schaub
didn't play enough for the Texans to offset
Matt Hasselbeck
's season. While Hasselbeck didn't maintain the high level of play he showed early on, he was the most consistent and productive guy in the division and the only quarterback not named
Warren Moon
to pass for 3,500 yards for the Titans/Oilers.
FB:
Greg Jones
of the Jaguars blocked for the best running game in the division and the most productive running back in the division. Case closed.
RB:
If we weren't in a quarterback-dominated era and if running well translated to winning more, then Jones-Drew of the Jaguars would be in the running for offensive player of the year. Such things are not happening in today's NFL. That does not detract from his remarkable season, which is what took to win this spot over Foster.
January, 25, 2012
1/25/12
12:45
PM ET
So it's time to set about putting it together.
Here you'll see my initial sketch of the team. The players I've added, in my eyes, are unquestionably worthy of spots on the team. Debate their presence if you are so compelled.
But I am most interested in your help filling in the blanks.
Last year
showed I am willing to leave a spot blank if we don't have a quality person to insert into the lineup.
The Texans' change to a 3-4 defensive front provided a new wrinkle. My solution? We make the defense 12-players deep, with four linemen and four linebackers. That allows us to mix the personnel of three 4-3 fronts with the Texans' 3-4 front and come out with a satisfactory team.
In my eyes, with apologies to the Colts'
Pat Angerer
, the linebacker slots are fairly easy to fill.
You can have significant influence over my thinking as the final team is formulated. As of now, I intend to post it on Friday.
So hop into comments here and make a case for your man. Or men. Thanks in advance for your part in it.
Many NFL awards have been doled out, but I know the top players from the division still await our All-AFC South Team.
January, 20, 2011
1/20/11
1:00
PM ET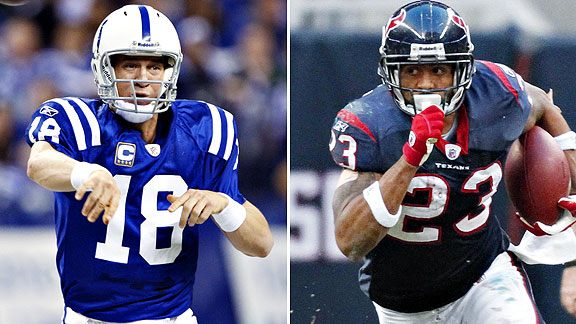 US PresswireQB Peyton Manning, left, and RB Arian Foster were easy choices for the All-AFC South team.
Aspirations were high. Piecing together our second-annual All-AFC South team sounded easy on the front end. Now that it's time to share, I feel I'm going to insult the division's best.
Seriously.
How will Colts safety
Antoine Bethea
, a steady and settling presence in the Colts' secondary at free safety, feel about being part of a secondary with such shaky candidates?
How can I sell that Jacksonville's
Maurice Jones-Drew
isn't here when I think he had the second-best running back season in the division and one of the four best in the league, while wedging on a right guard when I didn't see any I really found worthy?
How do I explain to the Titans'
Jason Babin
that as the No. 3 defensive end I had to leave him off, while my initial search for linebackers produced only one name?
How do I sort through the Colts'
Adam Vinatieri
(92.9 percent on field goals), Titans'
Rob Bironas
(92.3) and Texans'
Neil Rackers
(90.0) while rewarding a punter from a group whose top net average was 15th in the league and eighth in the AFC?
Here is how I will start: I won't force. We're leaving blanks where a guy doesn't match the caliber required. And top guys -- clear-cut guys, the cream of the division -- get not just a spot on the All-AFC South team, but a spot with honors.
I wanted to create a minimum number of games played to qualify, but that would have taken away too many good players.
The fact is, teams like this generally include the best guy at his position. The context of how good the best guy at another position is doesn't factor in. But we're dealing with a small group here, and the skill guys and the pass-rushers were sterling compared to a lot of others.
When Matt Williamson of Scouts Inc. sent me back his All-AFC South team to help with perspective, he added four guys he categorized as "by default" and concluded with this:
"Must say, this is a pretty bad all-star team."
I don't see it competing very well with an all-division team from anywhere else, but it does have some very fine skill players, so who knows?
Receivers:
Houston's
Andre Johnson
played through a serious ankle injury and was still an incredible threat. Indy's
Reggie Wayne
made more mistakes than usual but was still exceptionally productive. Three up-and-comers are worthy of mention for strong seasons: The Titans'
Kenny Britt
and Colts'
Austin Collie
missed too many games and the Jaguars'
Mike Thomas
was the best slot guy outside of Indy.
Tackles:
It was a down year for the Titans' line, but
Michael Roos
was the best of the bunch. His only challenger here was Houston's
Duane Brown
. The Texans'
Eric Winston
did not have his best year either, but he's the top guy in the spot and his team had the league's leading rusher.
Guards
:
Wade Smith
was an excellent fit in Houston and the sort of veteran addition the Texans need to continue to find. He gets the nod over the stronger
Vince Manuwai
. He was overweight in camp and didn't take over the starting job until the Jaguars' sixth game. Fellow Jaguar
Uche Nwaneri
was good, not great. But there was space between him and the rest of the middling pool.
Center:
Jacksonville's
Brad Meester
got some good reviews during the year and Colts star
Jeff Saturday
is an obvious default choice. But my sense is that Houston's
Chris Myers
is regarded as one of the division's most underrated players. He's a smart guy who's still improving and did a lot to get the blocking for
Arian Foster
organized.
Tight end:
Jacksonville's
Marcedes Lewis
made an excellent jump. He continued great work as a blocker, and his 58 catches and 10 touchdowns were career highs by 17 and eight, respectively. He was tough to get around and tough to cover.
Quarterback:
Peyton Manning
wasn't the league MVP, but there is no argument at all about the Colts' star being division MVP. Prefer Foster? The Texans could have won six games and not made the playoffs without him.
Running back:
Foster's the easy choice as he was the league's most productive runner and also very good as a pass-catcher. Jones-Drew's chance to challenge faded with the late games missed to a knee injury. What a pool when the Titans'
Chris Johnson
ranks third.
Fullback:
I debated this out when I did my
Pro Bowl suggestion
post and settled on Houston's
Vonta Leach
as more than one person I trust said he was better than Jacksonville's
Greg Jones
.
Defensive ends:
Tough group when I've got Houston's
Mario Williams
fourth. He played hurt and saw his season end early.
Dwight Freeney
and
Robert Mathis
didn't get to tee off as much because the Colts weren't playing with big leads as much. And still they were very good. Babin was a revelation and right on Mathis' heels.
Defensive tackles:
The enormous
Terrance Knighton
ate up people and space for the Jaguars and has become a stalwart. His teammate
Tyson Alualu
is quicker and rates third here because the Titans'
Jason Jones
was outstanding. Consistently disruptive, I rank him as his team's best defender.
Outside linebackers:
Jacksonville's
Daryl Smith
was quite good, with a lot of uncertainty at the third linebacker spot and in the secondary. Houston's
Brian Cushing
was not nearly as good as he was as a rookie, but was still better than other outside guys in the division by a solid notch. I didn't love him, but scouts I talked to said he's worthy.
Middle linebacker:
A tough spot I thought about not filling.
Gary Brackett
was not as good as usual, but the Colts were better when he was in the lineup than when he wasn't. The guy who would typically challenge him, Houston's
DeMeco Ryans
, was lost for the season after six weeks.
Free safety:
Bethea was the glue for a secondary that endured unimaginable turnover. Bethea often played with other defensive backs he had very little practice time with. He's just a sound and reliable football player, and if he didn't match previous years, his supporting cast had quite a bit to do with it.
Strong safety:
The Colts were battered at the spot and the rest of the division's strong safeties were awful. The best of a bad group isn't worthy of mention here. It's going to be a popular draft need.
Cornerbacks:
Indy's
Jerraud Powers
was very good before he got hurt; a two-dimensional corner who covered well and did his part against the run. He's developing into a premier guy. The second spot is vacant. A lot of corners suffered for the weak safety play, but I'm uncomfortable singling out anyone else's season.
Kicker:
Vinatieri has huge fan support and he was clutch. But when the competition also kicks off, it dents your candidacy. So Bironas, who has a division-high 17 touchbacks to go with 24 of 26 field goals, wins out. Jacksonville's
Josh Scobee
and Rackers were not far off.
Punter
: Jacksonville's
Adam Podlesh
beats out the Titans'
Brett Kern
with slightly better numbers. But the entire division can punt better and more consistently.
Special teamer:
Montell Owens
of the Jaguars benefited from the addition of
Kassim Osgood
, but edged him in this category. Scouts really like him as a special-teams contributor.
March, 18, 2010
3/18/10
10:50
AM ET
Here's a look at Pro Football Focus'
All-AFC South team
.
There is a good bit of overlap with
the one we put out
in February.
We mostly disagreed on defense: at one defensive tackle spot, a corner spot and on two of three linebacker spots.
Have a look.