March, 19, 2014
3/19/14
10:00
AM ET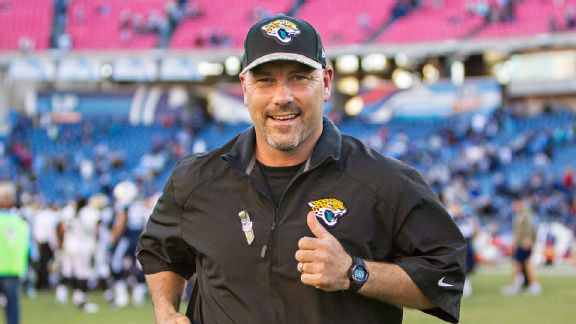 Wesley Hitt/Getty ImagesJaguars coach Gus Bradley's enthusiastic approach to his job is attractive to prospective players.
JACKSONVILLE, Fla. -- NFL free agency isn't quite like college recruiting. Sure, in many places facilities are pretty similar, the possibility of playing time plays a role, and it can be a lifelong dream for a player to join a certain team.
But in the NFL, money is often the No. 1 factor -- and in some cases the only factor -- when a player makes his decision on where to sign.
However, it appears there is the beginning of a twist involved in the Jaguars' pitch to free agents. Something in addition to the $11 million in upgrades to the weight room and locker room and the plethora of holes in the roster.
Coach Gus Bradley is quickly becoming a crucial part of the draw players are feeling toward the franchise.
Money and fit in a team's scheme are still the most significant factors for free agents, but Bradley is beginning to gain a reputation around the league as a coach who is good to play for. More importantly, he is becoming known as a coach who is fun to play for.
When multiple offers are relatively equal, something has to serve as the tiebreaker. If what happened during the first days of free agency last week is an indication, it's Bradley in Jacksonville.
"As soon as you meet him, he is already a likable person," said cornerback
Will Blackmon
, who joined the Jaguars in August on a one-year deal and re-signed last week. "That's what's really cool about all the competitive players that are coming here. They don't have to come here. Usually teams are like, 'Oh, Jacksonville didn't do well.' But once they come here and they see the environment and they see what they're about, they're real attracted to it."
Owner Shad Khan and general manager David Caldwell created the environment, but Bradley is the public face. He's the one who is showing visiting free agents a PowerPoint presentation. He's the one spewing energy like mud off a tractor tire. He's the one who had at least one visitor ready to put on his pads and hit the field after only a few minutes.
That was running back
Toby Gerhart
, who chose the Jaguars over Cleveland and San Francisco, which is led by Gerhart's college coach Jim Harbaugh.
"I've never seen in anything like that," Gerhart said. "Meeting Gus, it was unlike anything I've … I walked away, and I was like, 'Yes, I belong here.' I actually was going away coming out thinking, 'What type of person am I?' He talks about different characteristics of people and how can I make people better and the positive, prosperity and adversity. All this stuff he talked about in a quick 10 minutes. I was like, 'I wish I had a notebook to write some of this stuff down.'
"I was enlightened and fired up and extremely excited. I've never met anybody like him. I can see why everybody spoke so highly, and you can tell things are going to get going and you're going to want to jump on this train."
Gerhart was blown away even though he knew what to expect before his visit. He's a former roommate of tight end
Allen Reisner
, who spent the 2013 season with the Jaguars, so he called him. Gerhart also talked to Jaguars quarterback
Chad Henne
, who also is represented by Athletes First.
"[Henne] said, 'Trust me, there's something about this program,'" Gerhart said. "Coach Bradley, there's something special that's going to happen."
Gerhart could have been the No. 1 back in Cleveland or gone to a San Francisco team that has played in three NFC Championship Games in a row, but he chose Jacksonville in large part because of his experience with Bradley. Defensive lineman Ziggy Hood and his representatives had contact with Washington, Oakland, St. Louis and Kansas City, but he chose the Jaguars. Being able to move back to his natural position at defensive tackle from defensive end, which he played in Pittsburgh, was the main reason, but Bradley also was a major factor.
"The first time I met Coach Bradley, his energy was high," Hood said. "It was different. This guy has energy. He was bouncing from wall to wall. He was from room to room, side to side."
If most NFL coaches are like poetry readings, Bradley is a monster truck rally.
But perhaps most importantly from a player's perspective is that he's a monster truck rally
every day
.
Players function best when things are consistent. They liked Bradley's message, the way he treated them on the field and in the locker room, and his positive attitude during organized team activities, minicamp and training camp, but they wondered how it would be during the season. They especially wondered how it would be when they were 0-4.
Nothing changed. Not even when the Jaguars were 0-8.
That's what Reisner, Henne and other Jaguars players told colleagues around the league. Not only will Bradley let you be who you are and allow you to have fun, but he's also going to be the same person every single day.
That certainly doesn't mean the Jaguars will land every free agent they target.
Walter Thurmond
and
Emmanuel Sanders
visited last week and signed elsewhere. Not everybody fits the system, and not everybody is willing to come to a small-market team that has won just 11 games in the past three seasons.
But playing for Bradley was a pull for several players this year, and that number may grow as his reputation quickly spreads throughout the league.
March, 18, 2014
3/18/14
9:08
AM ET
Clemons
Most significant signing
: The Jaguars have finished last in the NFL in sacks the past two seasons, so adding defensive end
Chris Clemons
, who has 58 career sacks, was a good move. The 32-year-old Clemons had just 4.5 sacks last season after compiling 33.5 from 2010 to 2012, but he was returning from a torn ACL he suffered during the 2012 playoffs. He's a speed rusher, which is something the Jaguars haven't had since
Tony Brackens
(1996-2003).
Most significant loss
: There is still a chance the team can re-sign running back
Maurice Jones-Drew
, but it would be surprising at this point because the Jaguars signed
Toby Gerhart
last week. Jones-Drew is finding that the market for running backs isn't as lucrative as he hoped. The Jaguars aren't likely to re-sign tight end
Allen Reisner
or defensive tackles
Brandon Deaderick
and
Kyle Love
, but they didn't figure into the team's plans beyond 2013, anyway. Seattle signed receiver
Taylor Price
, who has missed the past two seasons with a foot injury.
Gerhart
Biggest surprise
: The Jaguars needed to pursue a running back because of the uncertainty with Jones-Drew, but signing Gerhart was unexpected. It's a good fit, though, because Gerhart is exactly what the Jaguars wanted. He's young (he turns 27 later this month) and has low mileage (276 carries in five seasons). At 6-foot and 231 pounds, Gerhart is a physical, between-the-tackles runner who can give the Jaguars positive yardage on first down. The Jaguars averaged just 3.4 yards per rush on first down last season, the third-lowest total in the league.
What's next
: The Jaguars aren't done in free agency. General manager David Caldwell said he'll let the market settle and then go bargain hunting, an approach that worked last year with defensive tackle
Sen'Derrick Marks
. Caldwell would like to add another guard or center, an outside linebacker and a big, physical receiver. Those spots will also likely be addressed in the draft because the Jaguars have 11 picks. Beefing up the defensive line and adding guard
Zane Beadles
gives the Jaguars flexibility in the draft. They aren't stuck drafting for need.
February, 27, 2014
2/27/14
12:00
PM ET
Here is the fourth of a 10-part series breaking down the Jacksonville Jaguars' free-agency needs, position by position:
Tight ends

Lewis
Who's on the roster:
Brandon Barden
,
Clay Harbor
,
Marcedes Lewis
,
Danny Noble
and
Allen Reisner
.
Analysis
: Lewis was pretty much MIA the first half of the season because of a calf injury and trying to find his spot in the offense, but he came on late in the season and caught 16 passes for 242 yards and four touchdowns in the last five games. If he's used the same way in 2014, he should have a 50-catch season. He is by far the team's best blocker, and Harbor and Reisner are flex tight ends who combined for 29 catches in 2013. Noble is a young, raw player with good size (6-foot-5, 248 pounds) and seems to be OK as a blocker, but he needs refinement. He flashed his potential with his 62-yard catch-and-run for a touchdown against Arizona. Barden signed a futures contract with the team in late December.
NFL free agents of interest:
Ed Dickson
,
Garrett Graham
,
Dustin Keller
and
Andrew Quarless
.
Need meter: 3.
Lewis is among the league's best blocking tight ends and is a weapon in the passing game. He's not as much of a threat up the seam as some of the league's elite tight ends, but as long as he stays healthy the Jaguars are in pretty good shape. Harbor is an unrestricted free agent and he could be the Jaguars' best option. The tight end market is pretty thin after the top two or three, and the Jaguars are unlikely to invest a lot of money in this spot since Lewis already has such a high cap number ($8.25 million). Expect the Jaguars to draft a tight end.
September, 5, 2013
9/05/13
4:46
PM ET
The Jaguars are now dealing with another player who may not be available for Sunday's season opener.
Tight end
Marcedes Lewis
missed practice on Thursday, one day after reinjuring his left calf -- an injury he suffered in pregame warmups against the
New York Jets
on Aug. 17. That means coach Gus Bradley isn't sure if he's going to have his starting quarterback and tight end against Kansas City.

Lewis
"We'll continue to evaluate [Lewis], see where he's at," Bradley said. "I know that he was riding the bike and going through some of the rehab things for his calf with [head athletic trainer] Mike [Ryan]."
Bradley said the plan is to be cautious with Lewis, who is coming off a 52-catch season, to keep the injury from becoming a long-term issue. Lewis will be re-evaluated on Friday.
"We don't want to put him in there and have this continue to be another three weeks," Bradley said.
Lewis has been limited in practice since he suffered the original injury. If he can't play, the Jaguars will have to rely on
Allen Reisner
, who signed with Minnesota as an undrafted free agent out of Iowa and spent 2011 and most of the 2012 season on the Vikings' practice squad, and two tight ends they claimed off waivers on Saturday.
Clay Harbor
spent the past three seasons with Philadelphia and caught 47 passes for 421 yards and four touchdowns.
D.J. Williams
played in 26 games over the past two seasons with Green Bay and has nine receptions for 70 yards.
Bradley said he's still unsure if Gabbert will be able to play against the Chiefs, but he is pleased with the progress Gabbert has made from the fractured right thumb he suffered against the Jets. Bradley said Gabbert was limited in practice on Thursday but took more reps than he did on Wednesday.
"If it was a situation where we felt like Blaine couldn't make the throws we want him to make then the decision would be made right now," Bradley said. "But right now we're seeing him make some of the throws. We're seeing him do a lot of things we're asking him to do. Now, we'll go through it one more time tomorrow and finalize it."
Chad Henne
and
Ricky Stanzi
got extra reps just in case, Bradley said.
August, 25, 2013
8/25/13
3:18
AM ET
Observations and thoughts out of the
Jaguars' 31-24
Week 3 preseason loss to the
Philadelphia Eagles
on Saturday night:
The Justin Blackmon-Cecil Shorts receiving duo produced five catches for 70 yards playing with their backup quarterback, Chad Henne. The two looked smooth and efficient, though each had a play that rated as a drop.
Jacksonville's blockers gave up seven sacks, four of them coming against Henne. That's simply too much pressure and it's creates too much risk of injury back there while Blaine Gabbert is already out with a thumb injury.
I liked the one-play, 63-yard touchdown drive after an interception. That sudden change in possession was thanks to rookie corner Dwayne Gratz's pick -- followed by sudden change on the scoreboard thanks to running back Jordan Todman's cut back touchdown run. But the Jaguars had just one first-half drive with more than one first down -- the opening 12-play touchdown drive.
Has Todman dented Justin Forsett's status or security? Forsett injured a toe early in camp and hasn't been seen in game action. Todman has done some good work and had an eight carry, 105-yard game with the 63-yard TD. Denard Robinson averaged 4.7 yards a carry on seven runs.
The Jaguars were 45 percent on third- and fourth-down conversions while holding Philly to 36 percent.
Linebacker Paul Posluszny and rookie strong safety Jonathan Cyprien both bit on bad play-action fake where it was not at all believable that Michael Vick was handing off to LeSean McCoy. But the early movement of Poz and Cyprien helped create the play and the space where Vick found Riley Cooper for a 9-yard scoring catch.
Chip Kelly's offense seeks to maximize plays run. But they ran 70 in this game to the Jaguars' 73. One big difference, however, was average gain per pass play, where the Eagles posted a 7.8 to the Jaguars 3.7.
Philadelphia gained 189 yards on kick and punt returns, meaning the Eagles had an average drive start of their own 38-yard line, 14 yards better than Jacksonville's average start.
Tight end Allen Reisner made a nice 8-yard touchdown catch and his game play certainly indicates he's going to make this team as a tight end behind Marcedes Lewis.
We had an Andre Branch sighting. The defensive end knifed inside and snuck by guard Evan Mathis who was preoccupied on combo block on the outside. Center Jason Kelce passed off defensive tackle Sen'Derrick Marks, but it was too late for Kelce not to whiff on Branch storming up the middle.
August, 22, 2013
8/22/13
9:30
AM ET
Reading the coverage of the Jacksonville Jaguars ...

We linked Wednesday to David Fleming's piece from ESPN The Magazine about the Jaguars'
analytics department
. In that piece, the Jaguars shared three numbers they used to make the case that Blaine Gabbert deserved another opportunity to be the team's quarterback. Here, however, John Parolin and Jason Vida of ESPN Stats & Info
deconstruct
those three points and tell us why they aren't as significant as the team may think.
Playing with Brian Urlacher and Lance Briggs
opened the eyes
of linebacker Geno Hayes, who now stands to start for the Jaguars.
Allen Reisner started camp just wanting to make his coaches
know his name
. They know it now, and Vito Stellino of the Times-Union says Reisner is in no danger of being cut.
"There are plenty of 'winnable' games and, given Jacksonville's baseline for improvement (two victories), the chances for finishing 2013 with a
greater sense of accomplishment
are high. Doubling last season's win total is a fair expectation," says Chris Johnson of Sports Illustrated.
August, 18, 2013
8/18/13
12:04
AM ET
The
Jacksonville Jaguars
stuck with
Blaine Gabbert
as their starter at quarterback in preseason game No. 2.

Part of why, it now appears, is because they were ready to put him in a no-huddle offense, force the pace against the
New York Jets
at MetLife Stadium and see if the offense couldn't work more effectively with an appearance by running back
Maurice Jones-Drew
and a contribution from receiver
Justin Blackmon
.
Gabbert was excellent, with 13 completions in 16 attempts for 165 yards, a touchdown to tight end
Allen Reisner
and a 130.5 passer rating. He threw on the move, he threw in the face of pressure when he had to, he threw to people who made plays for him. He carried himself confidently, rarely huddling, and running plays that seemed to offer him quick and simple decisions.
Chad Henne
took over with 5:34 on the clock in the second quarter. On his final play, Gabbert banged his thumb on defensive tackle
Muhammad Wilkerson
. He was shaking his hand as he headed for the sideline, and according to tweets from several who covered the game in person, coach Gus Bradley said X-rays of the quarterback's right thumb were negative. It's a sprain and he'll be evaluated further on Sunday.
It was 10-10 when he left the game, and with him at quarterback the Jags converted five of seven third downs.
Against a better opponent who is not surprised by the hurry-up and who will have game-planned more for Gabbert, can he do similar things? We'll have to wait for the answer to that. We don't want to give too much weight to less than a half of a preseason game. But still, there is a lot more reason to think it could be a yes than there was before this game.
A few other thoughts on
Jets 37, Jaguars 13
:
The Jags failed to convert the final three third downs they faced in the first half, when Henne had replaced Gabbert. But the first two were runs, they went for it on the fourth down that followed and they converted both.
In 16 minutes of play, the Jaguars had eight penalties for 63 yards. While the hurry-up caught the Jets off guard, it may have also thrown the Jaguars off a bit in this department. The pace of the Jacksonville offense didn't have a bearing on consecutive neutral-zone infractions against defensive linemen Jason Babin and Sen'Derrick Marks. The Jaguars finished with 12 penalties for 100 yards.
Blackmon was very good, with four catches on five targets for 46 yards. He ran well with the ball in his hands on a couple of quick receiver screens. They are going to miss him during his four-game suspension to start the season. But once he and Cecil Shorts (who didn't play) are on the field together, they should be a formidable duo. Mix in rookie Ace Sanders who flashed some in this game and there is plenty of reason for encouragement. Sanders caught Gabbert's first pass, a 35-yarder down the middle.
Timing wasn't great for rookie safety John Cyprien, who just started practicing on Monday after an offseason hamstring injury. He fell down on the Jets first touchdown, a 23-yard pass from Mark Sanchez to tight end Jeff Cumberland. But even if Cyprien has stayed on his feet, he would have gotten beat on the play.
Jones-Drew got three carries for 9 yards and took a little pass 20 yards. The Jags got him out quickly after his first game action since Oct. 21, 2012. Jordan Todman had some quality carries as the next in line – at least one was undone by a penalty and rookie Denard Robinson showed off his speed before he was slowed in the second half. Neither had a good stat line in the end.
The Jets got effective work out of Bilal Powell when the running back fielded direct snaps. He took one 37 yards as offensive lineman Willie Colon swallowed up Marks to create a big hole. Powell finished with 68 yards on seven carries.
Sanchez and Matt Simms were each sacked once. Jeremy Mincey had the first, sticking with it on a deep drop for Sanchez and ultimately pushing back fullback Tommy Bohanon. Mincey has bulked up so he can play some tackle, and he should beat a fullback. Also of note on the D-line: Continued silence and invisibility from end Andre Branch. His stat line included just one tackle, on special teams.