AFC South:

Alphonso Smith
December, 15, 2009
12/15/09
7:27
PM ET
The suggestion, from Dave in Baltimore, MD:
About 9:30 left in the Colts/Broncos game, Colts on their own 20 facing 3rd and 10. Manning hits
Austin Collie
on a curl for a 23-yard completion, moving the chains, keeping the drive alive, and eventually putting seven points on the board to salt the game away. [Nilay Baxi in Ocean, NJ and unionjackwh joined Dave's suggestion.]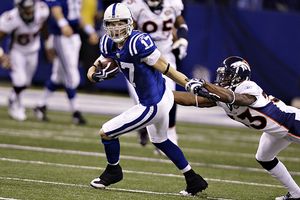 AP Photo/Michael ConroyAustin Collie's 23-yard reception in the fourth quarter against Denver was a key play in the Colts win.
The situation:
Denver's just cut Indianapolis' lead to 21-16 and with 8:57 left in the fourth quarter the Colts face a third-and-10 from their own 20-yard line. Peyton Manning's been cold -- completing just one of his first 11 second-half throws with two picks.
Manning lines up in the shotgun, flanked by
Dallas Clark
on his left and
Joseph Addai
on his right.
Pierre Garcon
is lined up right, Austin Collie is in the slot left and
Reggie Wayne
is wide left.
The Broncos are in nickel, with
Champ Bailey
on Wayne, Andre Goodman on Garcon and
Alphonso Smith
on Collie.
What I saw unfold after the snap:
Manning takes the shotgun snap, drops back two steps and bounces three times, with plenty of time to assess and release.
Lined up as left end,
Elvis Dumervil
hesitates and waits to see if he needs to cover anyone out of the backfield, drawing no real attention. Once right tackle
Ryan Diem
sees Dumervil is staying, he shifts inside to help
Kyle DeVan
and they cancel out right defensive tackle
Vonnie Holliday
.
D.J. Williams
blitzes from right linebacker and is handled by center
Jeff Saturday
.
Lined up as left linebacker,
Wesley Woodyard
crosses the path Williams took and tries to get to Manning by squeezing between Saturday and left guard
Ryan Lilja
. Addai picks him up and Clark is nearby in case he's needed, which he isn't because the ball is out by the time Ayers recovers from Addai's initial stop.
Right end
Robert Ayers
comes out of his stance, waits for Clark or Addai to emerge from the backfield. When neither comes he waits and then tries to chase the play. Left tackle
Charlie Johnson
realizes he doesn't need to get Ayers, so he looks to help Lilja who's already doing just fine against right defensive tackle
Darrell Reid
.
Collie is looking inside as the snaps comes, gestures inside with his shoulders and hands, then beats Smith off the line to the outside. As he gets downfield, he leans inside selling a curl and buying himself the space he wants before breaking off his route at about the 34 and turning back outside to face Manning's pass while standing on the "3" of the "30" on the Lucas Oil Stadium turf. Smith slips off him and is face down as Collie cuts outside where Wayne is blocking Bailey. Safety
Brian Dawkins
arrives to make the tackle after a 23-yard gain.
Result:
The Colts eat 7:19 on the drive, ending it with Clark's third touchdown catch that puts them ahead 28-16 with only 2:25 remaining for Denver.
Ultimate outcome:
Denver moves just eight yards in four plays, giving the ball back with 1:51 remaining in the game. Manning kneels three times to run out the clock and seal up the Colts' 13th win.
April, 23, 2009
4/23/09
5:12
PM ET
Posted by ESPN.com's Paul Kuharsky
NASHVILLE -- A while back, a reader asked about whether the high salaries attached to the earliest picks of the draft had altered the draft value charts around the league. Teams use such charts, which assign a point value to every pick, to weigh and balance trades. GMs and coaches like to talk about how theirs are different, but the general construct is similar.
I asked Titans GM Mike Reinfeldt this week if he's got a new chart and if he thought most teams had altered theirs.
"Some of the trade charts have changed addressing the trade value of those top picks and it has gone down," he said. "What those picks were, it's not that way anymore. I think it's there is a burden associated with having those top 10 picks.
"...But you have two sets of charts -- depending on which way you're going, up or down, you pull out the appropriate one," he added as we laughed.
The early phone check-ins are usually 50-50 with teams talking about expecting to look to move up or back, Reinfeldt said. This time more people are talking about moving back.
Here are a few highlights from the Titans' pre-draft news conference Thursday:
National supervisor of college scouting C.O. Brocato said USC linebacker Rey Maualuga can play inside or outside, and he thinks his college teammate Brian Cushing, an outside backer by trade, can play inside. He said he views the third USC linebacker, Clay Matthews, as strictly an outside guy.
Brocato likes the crop of linebackers and tight ends but said running backs have fallen off.
Scouting coordinator Blake Beddingfield said there "is a value on every player" and that the Titans hadn't taken anyone off the board. But he joined the laughter when asked if Florida receiver Percy Harvin was a seventh-rounder on the Titans' board.
I believe the Titans will steer clear of Harvin because of the issues surrounding him. But director of college scouting for the Eastern region Mike Ackerley said Harvin is "the most explosive player in this draft by far," that he has no doubt Harvin can run routes and be a top receiver who can also work as a return man and that "he can play wherever he wants."
Reinfeldt said a number of receivers have grades that would make them worthy of the 30th pick, and such grades mean those players should be able to be productive early.
Weight gained by Hakeem Nicks after the combine was not a concern, Ackerley said. So much of a premium is put on 40 times at the combine, everyone drops weight for that, then gets bigger and stronger by the time pro days arrive.
Malcolm Jenkins, Vontae Davis and Alphonso Smith have separated themselves into the first tier of corners, but there is not that much space between them and the next group, Ackerley said.
Reinfeldt was coy when asked questions that were clearly aimed at getting him to show if the Titans have any real interest in trading for Anquan Boldin or Braylon Edwards. He said at some point the Titans would like to add a veteran receiver to the mix, which made it sound like it wasn't going to be a top name. He mentioned that after the draft some veterans would shake free. Asked if the team has to have another veteran wideout, he said: "It would be nice; I don't think it's a necessity."
Brocato gave a rave review of Kansas State quarterback Josh Freeman. "He's got everything you want for a quarterback," he said.

April, 22, 2009
4/22/09
12:14
PM ET
Posted by ESPN.com's Paul Kuharsky
Throw eight bloggers in a blender with the first-round draft order, hit stir, mix or puree and you get the NFL Blog Network's mock draft.
My comments seem to run the longest of anybody's and I don't want to repeat myself here.
But here is a quick look at my thinking and the primary alternatives:
No. 8: Jacksonville, B.J. Raji -- There may be character issues for the Jaguars with Raji. But in this scenario he seems the clear choice with the top two tackles and top two receivers gone. The better scenario is probably them trading down, handing over the pick to a team that covets Mark Sanchez and getting additional players later.
No. 15: Houston, Clay Matthews -- They may look to drop back a bit for him. If Brian Cushing or Malcolm Jenkins were there at 15, I think I would have gone a different direction and I can see the Texans going with either of them. There has been so much focus on linebackers, maybe it's all been a smokescreen. Or isn't it possible they decide the best way to help the defense is to get even better on offense? What if an offensive player is their highest rated when they go on the clock? Might they spring a surprise with Knowshon Moreno?
No. 27: Indianapolis, Hakeem Nicks -- This one is the least predictable, as Bill Polian could take a player form just about any position. In this scenario, maybe it's Evander Hood, maybe it's a guy a lot of experts consider a second-rounder and Polian considers a perfect fit for a role on the Colts.
No. 30: Tennessee, Alphonso Smith -- Tennessee has former NFL defensive backs as GM, coach and defensive coordinator and minimal depth behind its two starters and nickel. Perhaps the Titans prefer Darius Butler or Sean Smith at corner, perhaps they prefer the first of the next tier of outside linebackers, Connor Barwin or Larry English.
February, 25, 2009
2/25/09
2:35
PM ET
Posted by ESPN.com's Paul Kuharsky
Plenty of mock drafters are still sifting through what they learned and heard at the scouting combine. But I found four updated mocks on Wednesday that are sure to stir some conversations, so I'll dive right in.
Jacksonville Jaguars, No. 8
Charles Davis, NFL.com: Running back Chris "Beanie" Wells, Ohio State
Pat Kirwan, NFL.com: Quarterback Matthew Stafford, Georgia
Chad Reuter, NFLDraftScout.com: Offensive tackle Michael Oher, Mississippi
Don Banks, SI.com: Quarterback Mark Sanchez, USC
My thoughts: Only Reuter has a chance at a bull's-eye here. If the Jaguars stay at eight, I find it hard to believe they would go for a quarterback or running back. They are not unsatisfied with David Garrard, they think he needs better protection and more threatening weapons. And they are ready to hand more work to Maurice Jones-Drew with help from Greg Jones -- guys who also need better offensive line play. But maybe I am too focused on need.
Houston Texans, No. 15
Davis: Quarterback Mark Sanchez, USC
Kirwan: Defensive end Tyson Jackson, LSU
Reuter: Outside linebacker Brian Cushing, USC
Banks: Jackson
My thoughts: Jackson is a case of matching need with availability. Seems possible, though I didn't sense any buzz about him in Indianapolis. Cushing would be tempting depending on who's available. Sanchez? Maybe he'd be judged a value here, but replacing Sage Rosenfels is hardly one of the team's priorities considering their issues on defense, particularly on the line and in the backfield.
Indianapolis Colts, No. 27
Davis: Wide receiver Percy Harvin, Florida
Kirwan: Linebacker James Laurinaitis, Ohio State
Reuter: Defensive tackle Peria Jerry, Mississippi
Banks: Linebacker Clay Matthews, USC
My thoughts: I've written about why Harvin doesn't look like a match -- they need a guy who can run precise routes and that's not what he was asked to do at Florida. Laurinaitis or Matthews could arrive in a best-player available scenario. Jerry fits, but watch him rise in the coming weeks. I think he will be gone well before this pick.
Tennessee Titans, No. 30
Davis: Wide receiver Kenny Britt, Rutgers
Kirwan: Defensive end Robert Ayers, Tennessee
Reuter: Cornerback Alphonso Smith, Wake Forest
Banks: Ayers
My thoughts: I think it's a mistake to automatically funnel defensive linemen to the Titans. Even if Albert Haynesworth is gone, the team drafted tackle Jason Jones and end William Hayes last season. If the Titans break with tradition and take a wideout in the first, Britt could be the guy. Smith is intriguing too -- they are likely a year away from needing a replacement for Nick Harper and are hardly shy about drafting corners.
February, 17, 2009
2/17/09
11:11
AM ET
Posted by ESPN.com's Paul Kuharsky
A pre-combine rundown of what mock drafters have the teams of the AFC South doing.
Jacksonville Jaguars, No. 8
Pete Prisco, CBSSports.com: Eugene Monroe, OT, Virginia.
Wes Bunting, National Football Post: Jason Smith, OT, Baylor
Rob Rang, NFLDraftScout.com: Michael Oher, OT, Ole Miss
Chad Reuter, NFLDraftScout.com: Monroe
My thoughts: The early consensus is there will be a left tackle worth the pick for the Jaguars to insert in place of the disappointing Khalif Barnes, a free agent who won't be brought back. But if they don't love who's left, they could look to defensive tackle or corner.
Houston Texans, No. 15
Prisco: Vontae Davis, CB, Illinois
Bunting: Michael Johnson, DE, Georgia Tech
Rang: Brian Cushing, OLB, USC
Reuter: Cushing
My thoughts: Cushing could be a bigger and more durable outside linebacker, but Davis and Johnson would do more to fill needs. A pass rusher to work opposite Mario Williams is one of them, and Johnson could be the guy. And corner will become an even bigger need if the Texans are unable to re-sign Dunta Robinson.
Indianapolis Colts, No. 27
Prisco: Peira Jerry, DT, Ole Miss
Bunting: Percy Harvin, WR, Florida
Rang: Harvin
Reuter: Jerry
My thoughts: If Jerry is as good as people are saying, I don't know that he'll be on the board here. Is Harvin the crisp route runner and quick learner the Colts require? While defensive tackle and wide receiver are the clear needs, in a best-player-available scenario they could go virtually anywhere position-wise.
Tennessee Titans, No. 30
Prisco: James Laurinaitis, LB, Ohio State
Bunting: Jerry
Rang: Johnson
Reuter: Alphonso Smith, CB, Wake Forest
My thoughts: Unless they see Laurinaitis as an outside guy, the Titans won't spend even a low first-round pick on a middle linebacker as it's a situational role for them. Smith may make sense as an heir to Nick Harper in 2010. Jerry probably won't last this long and if they lose Albert Haynesworth it doesn't mean they have to have a tackle -- they drafted Jason Jones last year.