March, 13, 2014
Mar 13
2:00
PM ET
Michigan offensive tackle
Taylor Lewan
, ESPN draft analyst Mel Kiper Jr.'s pick for the
Tennessee Titans
in two earlier mock drafts, moves up
two spots in version 3.0
.

This time around Kiper projects UCLA outside linebacker
Anthony Barr
to Tennessee. Barr has become the standard default pick for the Titans.

I like this pick better that Lewan for Tennessee.
The Titans are going to be a hybrid defense, shifting toward a 3-4.
Akeem Ayers
translates as does
Kamerion Wimbley
, but Wimbley is expensive with a $7.8 million cap charge and a $6 million base. He may need to take a pay reduction to stick around. Cutting him would save $2.4 million.
Barr projects as a 3-4 outside linebacker and has a connection to the Titans.
New linebackers coach Lou Spanos was Barr's defensive coordinator at UCLA.
Barr is agile and fast and has excellent pass-rushing attributes that include long arms and great athleticism.
If he's on the board at No. 11, I think he's a guy the Titans will seriously consider in the spot.
Kiper has Pittsburgh defensive tackle
Aaron Donald
and Alabama linebacker
C.J. Mosley
still on the board when the Titans pick, and I see them as possibilities as well.
February, 21, 2014
Feb 21
10:30
AM ET
JACKSONVILLE, Fla. -- A daily
Jacksonville Jaguars
-related look at what's happening at the NFL combine in Indianapolis:
Friday, Feb. 21
What
: Place-kickers, special teams, offensive linemen and tight ends bench press, psychological testing, and interviews. Quarterbacks, receivers and running backs measurements, medical exams, media, and interviews. Defensive linemen and linebackers medical pre-exam, orientation and interviews.

TV
: 2 p.m. ET, NFL Network.
The skinny
: As Ryan O'Halloran of the Florida Times-Union reported from Indianapolis, the Jaguars are scheduled to meet with 12 quarterbacks this week, including
Teddy Bridgewater
,
Johnny Manziel
and
Blake Bortles
. That process will begin in earnest on Friday. The Jaguars also are looking for help along the interior of the offensive line and at running back, too, and will meet with some of those players as well. The Jaguars did not request to meet with any players from the Senior Bowl, so that means they won't be speaking with guys like
Derek Carr
,
Jimmy Garoppolo
,
Bryan Stork
, and
Lorenzo Taliaferro
, all players they liked in Mobile, Ala.
The linebackers include potential targets for the No. 3 pick in
Anthony Barr
and
Khalil Mack
. The Jaguars are looking to fill their leo spot, which is a hybrid end/linebacker whose main responsibility is rushing the passer, and Barr and Mack fit that profile. But the Jaguars also are looking for additional help at outside linebacker. Potential targets there include
Ryan Shazier
,
Telvin Smith
,
Lamin Barrow
.
Jaguars head coach Gus Bradley's news conference is scheduled for noon EST. We'll provide a recap of his comments.
February, 18, 2014
Feb 18
11:00
AM ET
With the NFL combine starting Wednesday, here's a look at the Jacksonville Jaguars' positions of need on defense and which prospects the team might be looking taking a closer look at in Indianapolis. Positions of need are listed in order of importance. We looked at the offense on Monday.
JACKSONVILLE, Fla. -- The Jaguars have a lot of holes to fill on the roster and the next part in the process comes this week when general manager David Caldwell and head coach Gus Bradley evaluate, watch, and interview prospects at the NFL combine.
Here's a breakdown of what the Jaguars need, in order, on defense and some potential targets:
Babin
Leo
: Call this need No. 1A, just barely behind quarterback. The Jaguars have finished last in the NFL in sacks in each of the last two seasons and desperately need someone that can affect the quarterback on a consistent basis.
Jason Babin
and
Andre Branch
manned this spot in 2013 but Babin is scheduled to make $6.175 million in 2014. The 33-year-old Babin led the Jaguars with 7.5 sacks in 2013 but he's making elite defensive end money and he's not an elite defensive end. He has said he'd be willing to re-negotiate his contract because he likes it in Jacksonville, but he also can declare himself a free agent because of a clause in the new CBA. It'd be a surprise if Babin is on the roster in 2014 under his current contract. Branch really improved in 2013 because defensive coordinator Bob Babich and defensive line coach Todd Wash got him to become more consistent with his effort. He's a long way from being a 15-sack player, though, and that's what the Jaguars need.
Potential targets:
Jadeveon Clowney
,
Dee Ford
,
Anthony Barr
,
Khalil Mack
.
Outside linebacker:
Geno Hayes
turned in a solid year in 2013 (78 tackles, two interceptions, three pass break-ups) despite playing through a nagging knee injury that eventually forced him to miss the last two games. But the Jaguars still need to upgrade both outside spots. It was partly due to his knee injury, but Hayes didn't make very many impact plays and
Russell Allen
, the starter on the other side, made none. The leo spot is a hybrid end/outside linebacker that specializes in rushing the passer, so the outside linebackers don't need to be elite pass rushers. They need to be athletic enough to play in coverage and have the ability to blitz if needed.
Potential targets:
Ryan Shazier
,
Telvin Smith
,
Lamin Barrow
.
Defensive end:
This is the spot opposite the leo in the Jaguars' defense and it doesn't call for an elite pass-rusher. The Jaguars want a big, physical end who can anchor the line of the scrimmage in the run game.
Tyson Alualu
held the job last season and was solid (44 tackles, eight QB pressures, three tackles for loss), but the Jaguars need more production there. The only other player at that spot is
Ryan Davis
, who spent most of last season on the practice squad. They're also hoping for a little more pass rush production than what Alualu had, but it's not the primary responsibility.
Potential targets:
Brent Urban
,
Jackson Jeffcoat
,
Scott Crichton
.
Defensive tackle:
The Jaguars' two starters are set with
Sen'Derrick Marks
and
Roy Miller
, but the Jaguars need to add some quality depth here. Marks is coming off a career year and was awarded a four-year extension. Miller battled a shoulder problem all season but underwent surgery after the season concluded and should be fine by the time OTAs begin in April.
Potential targets:
Will Sutton
,
Caraun Reid
,
Deandre Coleman
.
February, 6, 2014
Feb 6
3:00
PM ET
Mock draft season is cranking up, and we've got new ones from Mel Kiper and Todd McShay to review.

Kiper

sticks with his pick for the Titans from his first mock: Michigan offensive tackle
Taylor Lewan
.
Lewan could replace outgoing right tackle
David Stewart
in 2014 and be poised to move to left tackle to replace
Michael Roos
down the road. Lewan would certainly upgrade the position, but it would be a second consecutive first-round choice on an offensive lineman.
Given the reshaping of the defensive front and scheme changes on both sides of the ball, my gut at this stage is that the Titans will be heading in a different direction with the 11th pick.
McShay

goes with UCLA outside linebacker
Anthony Barr
, a player the Titans will gain some insight on from new linebackers coach Lou Spanos. Spanos came to Tennessee after serving as the Bruins' defensive coordinator.
Says McShay: "Michigan OT Taylor Lewan and Alabama safety
Ha Ha Clinton-Dix
would also fill needs here, but I think Barr would be a fit for new defensive coordinator Ray Horton's hybrid scheme, given Barr's experience working on the line and standing up as a 3-4 outside linebacker."
I'll lean toward McShay over Kiper here at this early stage.
January, 22, 2014
Jan 22
12:00
PM ET
MOBILE, Ala. -- The
Jacksonville Jaguars
are in a good position to make some noise in free agency.

With more than $54 million in projected cap space for 2014, the Jaguars could go after several top-tier free agents (such as Carolina's
Greg Hardy
or Cleveland's
Alex Mack
) or take a more conservative approach by mining the middle tier of free agents. The Jaguars have several areas of need they could address in free agency: pass-rusher, interior offensive line, running back, and outside linebacker.
Jaguars GM David Caldwell has said he wants to build through the draft, so it seems unlikely the Jaguars would be big spenders in free agency this offseason. Next offseason is more likely, especially if Caldwell's first two draft classes are productive.
As for in-house work, the Jaguars hope to re-sign quarterback
Chad Henne
and running back
Maurice Jones
-Drew
, the latter of which seems less likely.
As for the draft, it seems the Jaguars' decision on what to do with the No. 3 overall pick comes down to this: Take one of the elite pass-rushers, which would address one of the team's most glaring problems, or go with a quarterback.
There is no doubt that the Jaguars need to find a quarterback to build around, but Caldwell has to decide if he believes any of the quarterbacks in this year's draft can be an immediate starter and make a difference right away. If he doesn't, then the plan likely will be to take the pass-rusher --
Jadeveon Clowney
or
Anthony Barr
seem most likely -- and grab a quarterback sometime in the next few rounds.
January, 20, 2014
Jan 20
1:15
PM ET
MOBILE, Ala. -- Nearly the entire Jaguars football staff is on hand for the Reese's Senior Bowl. The Jaguars will coach the South team and the
Atlanta Falcons
will coach the North team, but each will switch rosters for a day on Thursday so they can interact with all the players.
Here's a primer of what to expect:
Help wanted:
Jaguars coach Gus Bradley said he expected his staff to remain intact, but linebackers coach Mark Duffner left the team on Sunday night to take the same position with the
Miami Dolphins
. Duffner just finished his eighth season with the team. Defensive coordinator Bob Babich, who spent seven seasons as a linebackers coach with the
Chicago Bears
and
St. Louis Rams
, will work with the linebackers this week. In addition to being a college all-star game, the Senior Bowl is also part coaches convention. Unemployed assistants are here trying to land jobs and head coaches are also here trying to fill staffs.
Keep your eye on:
The Jaguars certainly have a lot of needs to fill, beginning with quarterback and pass rusher. So naturally all the quarterbacks -- particularly
Derek Carr
,
Tajh Boyd
and
David Fales
-- are players to watch during the practices and games. Though he is unable to play because of a torn ACL he suffered in late November against Kentucky,
Aaron Murray
is here to participate in meetings and interviews. It's a smart decision and one that GMs will like.
As for those pass rushers, Jeremiah Attaochu (who played linebacker at Georgia Tech), Michael Sams,
Kareem Martin
,
Chris Smith
, and
James Gayle
are defensive ends to watch. At outside linebacker,
Trent Murphy
and
Christian Jones
are worth watching.
Unfortunately, two of the country's top pass rushers won't be here. Buffalo's
Khalil Mack
has opted not to participate and UCLA's
Anthony Barr
will miss the week because of an undisclosed injury. Both are considered top-10 draft picks.
Some other players to watch: WR
Jordan Matthews
, TE
C.J. Fiedorowicz
, TE Jacob Pederson, G
Cyril Richardson
and C
Weston Richburg
.
What you'll get:
Each day I'll provide Jaguars news and notes as well as observations from practice. I'll concentrate on players at positions that correspond to the Jaguars' top needs (QB, DE, OLB, interior OL, RB, WR) but there will be other players as well. I'll have several blog posts a day and you also can follow me on Twitter @ESPNdirocco.
ETC.:
Among the other players who either opted out or cannot participate because of injury are RBs
Carlos Hyde
(opted out),
Andre Williams
(injury) and
Tyler Gaffney
(injury), OTs
Jake Matthews
(opted out) and
Taylor Lewan
(injury), WR
Tevin Reese
(injury), and DT
Dominique Easley
(injury).
January, 15, 2014
Jan 15
3:00
PM ET
There are two prevailing thoughts about the
Jacksonville Jaguars
when it comes to the No. 3 overall selection in the upcoming draft: take a quarterback and grab a pass-rusher in the second round or take a pass-rusher and then draft a quarterback in the second round.

Mel Kiper Jr. believes the Jaguars will take the second approach, which is why he predicted in
his first mock draft

they will select South Carolina defensive end
Jadeveon Clowney
in the first round.
That's a prediction that would have had Jaguars fan euphoric in July, but it doesn't evoke the same degree of reaction now. Pass-rusher is certainly one of the team's top two needs, and Clowney is undoubtedly the most gifted defensive player in the draft, but the Jaguars desperately need to find a franchise quarterback.
Yet in Kiper's mock, they pass on the most NFL-ready quarterback in the draft to take Clowney. Kiper predicts that Houston will take
Johnny Manziel
with the first pick and St. Louis will take offensive tackle
Jake Matthews
with the No. 2 pick. That means
Teddy Bridgewater
is available, but instead the Jaguars opt for defense.
It's hard to imagine the Jaguars not taking Bridgewater, or any quarterback, with their top pick, but it's starting to become more and more of a reasonable approach for two reasons: The depth of this quarterback class and the shortage of truly elite pass-rushers.
This quarterback class doesn't have the surefire star like Andrew Luck, so any of the first-round quarterbacks -- Kiper has Manziel, Bridgewater and
Blake Bortles
being selected -- is a bit of a gamble. But there are plenty of other options that will be available in the second round or later, like
AJ McCarron
,
Aaron Murray
,
Zach Mettenberger
,
Tajh Boyd
,
Derek Carr
and
Stephen Morris
.
Are they as highly rated as Bridgewater, Bortles or Manziel? No, but that doesn't mean they won't be better players. Just look at the quarterbacks playing in Sunday's conference championship games. Colin Kaepernick was a second-round pick. Russell Wilson was a third-round pick. Tom Brady didn't go until the sixth round. Peyton Manning is the lone exception.
Elite pass-rushers, however, won't last until the second round. In addition to Clowney, Kiper predicts that
Anthony Barr
,
Khalil Mack
,
Stephon Tuitt
and
Scott Crichton
also will be first-round picks. That means the Jaguars wouldn't be able to land one of those elite rushers if they take a quarterback in the first round -- unless they were to somehow trade up into the latter part of the first round.
GM David Caldwell, however, has said he's committed to building through the draft and you don't do that by giving away picks.
Taking Clowney, whom many believed would have been the No. 1 overall pick in the 2013 draft as a sophomore, instead of a quarterback in the first round may not be the correct decision, but it is the safer pick.
December, 18, 2013
12/18/13
12:01
PM ET
HOUSTON -- Minutes after their young quarterback stood at the podium in Indianapolis and heaped blame on himself for the Texans' least productive offensive game of the season, his teammates stood up for him in the locker room.
Players like left tackle
Duane Brown
and receiver
Andre Johnson
acknowledged that
Case Keenum
was going through a rough patch. They expressed their belief that he would get through it and they talked about what they could do to help.
They might be right. There's no question Keenum has struggled to transition into his role as an NFL starting quarterback, but the learning process can take longer for some than others.
[+] Enlarge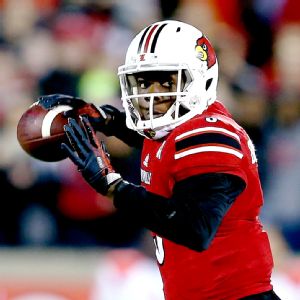 Photo by Andy Lyons/Getty ImagesWould the Texans opt for a franchise quarterback such as Teddy Bridgewater with their top pick or would they go pass-rusher?
Even if they are right, the Texans will need to address the position in this year's draft. They'll need another option because Keenum's development is still in question.
That's exactly what ESPN draft analyst Todd McShay has been doing in his first mock draft of the season (yes, it's that time again). McShay has the Texans, right now positioned for the first overall pick in the draft, taking Louisville quarterback Teddy Bridgewater.
Bridgewater makes sense for the Texans if they think he's a surefire franchise quarterback, which is the best-case scenario for a No. 1 overall pick. If they don't, a pass-rusher like South Carolina's Jadeveon Clowney or UCLA's Anthony Barr could make an impact.
Regardless of what defense awaits them with the next head coach and his staff, the Texans will need another pass-rusher. They'll lose defensive end
Antonio Smith
and haven't gotten much pressure from their outside linebackers this season. A premium pass-rusher means a lot to a team, and pairing one with interior pass-rusher
J.J. Watt
would give the Texans' defense a rare luxury.
There might still be a decent quarterback available in the second round if the Texans go that route. There's also the option of signing a veteran free agent or trading for a veteran. It might not be a perfect solution, but the Texans can make a dramatic improvement from last season even without the perfect quarterback. Drafting the wrong quarterback too high, meanwhile, can be a bigger problem.
This isn't an unfamiliar dilemma in Houston.
For many years, AFC South teams built themselves to counter
Peyton Manning
, trying to create a productive pass rush and a time-consuming running game that would keep Manning off the field.
That dynamic impacted the Texans' choice the last time they had the No. 1 overall draft pick. Instead of taking hometown hero
Vince Young
(which has since shown itself to be a brilliant decision) or Heisman winner
Reggie Bush
(another solid move) in 2006, the Texans looked to the other side of the ball and took defensive end
Mario Williams
.
This is a different team with different needs, but making the right call remains no less crucial.