AFC South:

Anthony Costanzo
August, 14, 2013
8/14/13
6:30
PM ET
ANDERSON, Ind. --
Indianapolis Colts
defensive tackle
Josh Chapman
waited almost two years for last Sunday.

The second-year defensive tackle hadn't played in a game since he helped the University of Alabama win the national title in January 2012.
Chapman was finally on the field during the Colts' preseason loss to the
Buffalo Bills
on Sunday.
"It felt pretty good," Chapman said. "I got a little nervous about it but at the same time, when I got the first pop it was back to normal. ... Every day it feels better and better, more punch on it and just cutting on it, it feels great."
Chapman was the Colts' fifth-round draft choice in 2012, but missed all of last season with a torn ACL, which he played with most of his senior season at Alabama.
Chapman's numbers weren't eye-popping against the Bills -- four tackles -- but all that matters is the "900-pound safe in the middle of the line of scrimmage" is back playing again. Chapman has the size -- 340 pounds -- to clog the middle of the line and draw multiple blockers to him, which will open things up for his teammates. Chapman is behind
Aubrayo Franklin
on the depth chart.
"I think Josh is a bigger-bodied guy," Colts defensive coordinator Greg Manusky said. "He's got a great amount of weight behind him. ... He's a little sore, which is expected, but he did a fabulous job for us."
Other camp highlights Wednesday:
A day after dropping at least four balls, receiver Darrius Heyward-Bey made up for it Wednesday when had he one of his best practices at camp, catching two touchdown passes from quarterback Andrew Luck. The Colts need Heyward-Bey to produce like that on a regular basis.
Manusky said he'd like for the starters on defense to play about 15 plays in Sunday's game against the New York Giants. "It depends on how old they are, too," he said. "You get the 30-plus guys like Cory [Redding] and Aubrayo and Robert [Mathis], it's a little bit different. You kind of want to take care of them a little bit."
In a move that had the defensive players pumped up during a pass-rush drill, Mathis had tackle Anthony Castonzo convinced he was making a high outside move, but then he suddenly spun in the opposite direction to get to the quarterback dummy. Fellow defensive lineman Cory Redding ran over to Mathis and started dumping water on him to cool him off.
August, 10, 2013
8/10/13
4:26
PM ET

INDIANAPOLIS -- The
Indianapolis Colts
open their preseason with an afternoon game against the
Buffalo Bills
on Sunday.
Starting tight end
Dwayne Allen
(foot) and linebacker
Jerrell Freeman
(shoulder) are definitely out.
Here are three areas to pay attention to during the game:
Mixing in the run. The Colts no longer want to be known as a pass-oriented team on offense. They want to balance things by running the ball more. The Colts finished in the bottom third of the league in yards per carry last season at 3.8 yards. Offensive coordinator Pep Hamilton said they don't have a percentage on how much they want to run the ball. They want to let the flow of the game dictate things. You won't get a real feel for what type of rushing attack the Colts have because Ahmad Bradshaw, whom they signed during the offseason, is still recovering from foot surgery. Vick Ballard, who rushed for 814 yards as a rookie last season, will start, with former first-round pick Donald Brown backing him up.
Protecting the franchise. Andrew Luck's playing time will be limited, but you can use those snaps to get an early indication to see if the offensive line has improved. It has to be, right? General manager Ryan Grigson went out and signed tackle Gosder Cherilus and guard Donald Thomas during the offseason to go with Anthony Castonzo, Samson Satele and Mike McGlynn on the line. Their goal is to do a better job protecting Luck, who was sacked 41 times during his rookie season.
Who will help catch passes? The Colts are set at the top three receiver spots with Reggie Wayne, Darrius Heyward-Bey and T.Y. Hilton. Things get interesting after that. LaVon Brazill is the fourth receiver, but he's suspended for the first four games of the season for violating the league's drug policy. Griff Whalen has been the training camp darling so far, catching almost every pass thrown his way. He can solidify his spot as the fourth receiver during Brazill's absence with strong playing during the preseason.
August, 1, 2011
8/01/11
3:41
PM ET
The Colts started training camp practices today without one key youngster -- first-round pick
Anthony Castonzo
.

Bill Polian said yesterday if the team isn't fully guaranteeing a contract for a proven player like
Joseph Addai
, it can't do so for Costanzo. He's now officially a holdout as his representation sorts that out with the team.
Other Colts kids started out with name tags on as coaches try to quickly get to know players they've had no time with.
"You are always somewhat familiar because we have a lot of guys that have been with us for a long time, but it's going to be an unusual practice for us, and typically we put the names on the front of helmets of rookies and guys that are new to our organization," Jim Caldwell told the local media.
"We are going to do the same thing during preseason camp. Typically we don't do it this time of year; it's done in the spring. Everybody gets a feel for who those individuals are and we can associate names, numbers, faces, and all that kind of stuff so we will have to do a little bit of that this fall. Yes, we will have name tags for young kids."
I hope they're still wearing them when I get up there in a week.
August, 1, 2011
8/01/11
9:48
AM ET
Reading the coverage …
A
new quarterback rating system
is coming at ESPN.
Houston Texans
The Texans open camp today
without
fullback Vonta Leach, who signed in Baltimore, says John McClain.
The team has signed all its
draft choices
, says McClain.
Indianapolis Colts
"We won't sign Robert [Mathis] and Reggie [Wayne] early," Bill Polian said. "But they will be, along with Pierre [Garcon] probably, the No. 1 priorities next year. And we always achieve those priorities. The fact of the matter is we address them in due course."
Mike Chappell's story
.
Jeff Linkenbach will start out as
the left tackle
while the Colts wait on Anthony Costanzo to sign and get up to speed. The team will not fully guarantee the first-round pick's contract, says Chappell.
Looking at what
percentage of the cap
Peyton Manning has taken up year by year, with Nate Dunlevy.
Jacksonville Jaguars
Gene Smith has finally
come up for air
, says Vito Stellino.
Marcedes Lewis will be
back with the team
today but won't practice, says Tania Ganguli.
John Oehser's review of
The Oklahoma Drill
.
Tennessee Titans
Some teammates say they
support
Chris Johnson's stance on a new contract, says Jim Wyatt.
The Titans could be OK without
an additional veteran wide receiver
, according to veteran wide receiver Nate Washington said. Notebook from John Glennon and Jim Wyatt.
The split
between the Titans and Vince Young is good for all, says David Climer.
The lockout was
a learning experience
for union rep Jake Scott, says David Boclair.
April, 12, 2011
4/12/11
2:39
PM ET
Virtually every prognosticator is giving the
Indianapolis Colts
a first-round offensive tackle, and Boston College's
Anthony Castonzo
, Colorado's
Nate Solder
and Mississippi State's
Derek Sherrod
could all be nice fits.
Much has been made of vice chairman Bill Polian's comment during the 2010 season about how
Rodger Saffold
, a tackle the Colts passed on who went on to play quite well for St. Louis, could have helped for Indianapolis.
But Polian said that comment got misshapen as it was repeated.
[+] Enlarge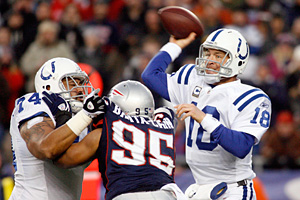 Stew Milne/US PresswireColts tackle Charlie Johnson played hurt for most of the 2010 season.
"What I said was, if I'd know we were going to suffer all the injuries we had on the offensive line, we might have looked at things differently in terms of the draft," he said. "Because when you are drafting as low as we were, there isn't a lot of difference between the players. I said, 'You know, you could make the argument that we should have taken Rodger Saffold instead of the player that we took.'
"That's what I said. It's been construed very differently. What I meant was, if foresight were 20-20, we probably would have taken an offensive tackle. But it isn't and that's the point. This is an inexact business."
(I thought the use of "the player" as opposed to "Jerry Hughes" was both Parcellian and a little odd.)
The Colts certainly had banged up people playing on the line all year, but by my count there look to have been just five starts missed to injury through the regular season and playoff loss. The injuries were far more severe elsewhere in terms of lost games.
Indianapolis has spent 12 picks on offensive linemen since realignment in 2002. Only one, guard
Jake Scott
from 2004's fifth-round, qualified as an outright hit. He moved to Tennessee as a free agent in 2008 and helped pave the road for
Chris Johnson
's 2,000-yard season in 2009 before dropping off last season.
The franchise hasn't used a first-round pick on a lineman since 1997, when
Tarik Glenn
was the choice. That was the year before Polian joined the franchise.
Only two of the Colts' dozen offensive line picks since 2002 have been higher than fourth-round selections. They traded up to take
Tony Ugoh
in the second round in 2007 and he wound up busting. They took
Mike Pollak
in 2008 and he was an OK starter at right guard in 2010 based on the team's concerns at other spots.
The presumption is offensive line is viewed as an issue in-house and that to maximize the chances for the
Peyton Manning
-led Colts to claim another Super Bowl, they need to offer him better protection and be able to block better for a tough yard from a running back.
But going in that direction would mean at least a minor philosophy change for Polian when it comes to draft emphasis at the position.
I don't know if we should jump there considering Polian's assessment of the Colts' line play in 2010. The team started seven different offensive linemen with left tackle
Charlie Johnson
playing banged up all season and
Kyle DeVan
pushing
Jamey Richard
out of the left guard slot.
"Now I thought our offensive line, given all that happened with injuries, did very well," Polian said. "As it turns out, Jeff Linkenbach came in as a collegiate free agent and ended the season as a starter and did quite well. So those things work themselves out."
Linkenbach started one game at left tackle, three games at right guard and the playoff loss to the Jets at right tackle.
Here we can connect Mel Kiper's recent piece ranking the "vulnerability scale" of the NFL's 12 best teams. Kiper ranks the Colts at moderately to extremely vulnerable for a big fall.
"Seemingly every win after September was a close battle and Manning was the difference. Injuries killed the Colts in 2010, but even with Manning upright, they couldn't run the ball, they were barely hanging on defensively and even now there are a number of personnel needs. The offensive line and defensive interior need help, and the team didn't get hurt in a spot I thought could have hurt it most in an injury situation -- the pass rush, if either Dwight Freeney or Robert Mathis was out. Indianapolis could easily prove me wrong, as Manning alone seems like spackle enough for a whole roster. But this team felt like it was on the edge all of 2010."