March, 13, 2012
3/13/12
11:42
AM ET
One player I think will be outgoing, one player I think should be incoming, for the
Indianapolis Colts
once free agency opens Tuesday afternoon.

I'm steering clear of the huge guys on the incoming category, as it's easy to say a team should covet the best/most expensive player at a position of need.
Outgoing:
Reggie Wayne
and
Pierre Garcon
, receivers: The Colts are looking to cut costs, and that continues with them allowing the veteran Wayne to move on, and with limiting what they are willing to pay Garcon. Garcon is an enticing guy with game-breaking speed. But his consistency to this point isn't what you'd like. Maddening drops aren't what
Andrew Luck
will need at the outset.
Incoming:
Aubrayo Franklin
or
Antonio Garay
, nose tackles. Franklin was supposed to be a hot commodity last year as he left San Francisco, and was a quieter player in a 4-3 in New Orleans. Garay is older, but probably has a few years left. The Colts can't answer everything in the draft, and coach Chuck Pagano has no one who can really be a nose tackle in the 3-4 he'd like to employ at least some of the time.
September, 23, 2011
9/23/11
11:18
AM ET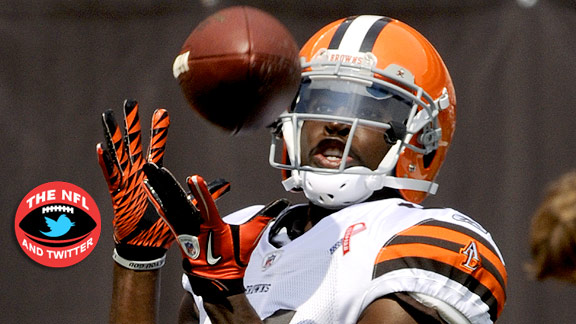 Tom Cammett/Getty ImagesMohamed Massaquoi tops this week's Twindex.
It was a good week for pictures from NFLers on Twitter.
We had tourist shots of Larry Fitzgerald
at the Lincoln Memorial
and
at The White House
, a picture of Antonio Garay driving a
Hello Kitty car
, a shot of a receipt showing off just
how much
Michael Huff's dad spent for groceries on his son's credit card and a freeze frame of Josh Scobee's
locker on TV
.
We at the NFL Twindex are in favor of all sharing. We seek insight into football lives, and do our best to weed through a lot of junk to find it.
If you see good humor, good explanations or yes, good pictures from an NFL player or coach or mascot or anyone on Twitter, please make sure we see it by calling our attention to it. Twindex headquarters can be found at
@ESPN_AFCSouth
and
@PaulKuharsky
.
To our new edition.
September, 2, 2011
9/02/11
11:00
AM ET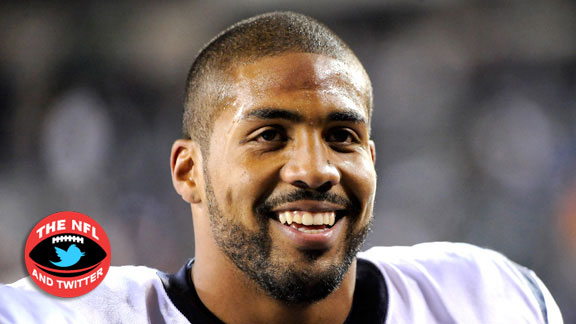 Howard Smith/US PresswireThe Texans' Arian Foster leads the way in this week's Twindex ranking.
OK, the Twindex has been retooled a bit as we set sail on the 2011 NFL season.
While I sift through hundreds of players' tweets, only five will make our weekly list, though there will be quirky honorable mention categories for stuff that grabs my attention.
As always, I ask for your assistance. If there is a tweet that needs to be considered, call it to my attention at
@ESPN_AFCSouth
or
@PaulKuharsky
.
You can see the "finalists" by looking at favorites at the ESPN account.
An announcement to our fine player pool: It's time to crank it up fellas. Camps are over, you're back home and getting to your in-season schedule. It demands a lot of time to rest. During said rest, why not cleverly tweet us insight into football and life and football life?
We'll be watching.
July, 8, 2011
7/08/11
10:56
AM ET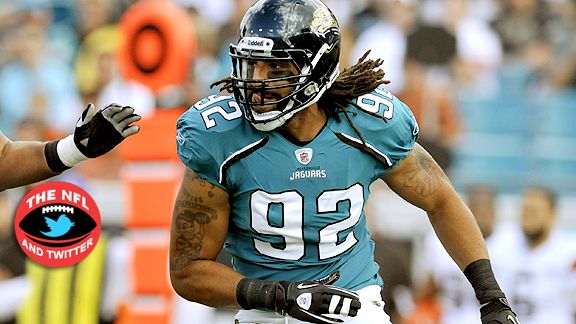 AP Photo/Stephen MortonAusten Lane has now been in the top-10 rankings of all four of the NFL Twindexes so far.
Show, don't tell. We're making it an NFL Twindex commandment.
"I usually hate when athletes tweet about how good their workout was," Matt Hasselbeck (
@Hasselbeck
) tweeted Thursday in a good start, "but we had a great one today!"
Bad finish.
Plenty of NFL fans starved for morsels and insight into football and beyond would love to know what made it good.
J.J. Watt (
@JJWatt
) did very well with show-don't-tell when he tweeted
this picture
. Yowza.
Alas, Hasselbeck and Watt are snapshot examples for us here at Twindex HQ, where we'd like to host Cleveland receiver Carlton Mitchell and Green Bay tight end Tom Crabtree. They hold the top two spots in our new poll, flip-flopping their standing from two weeks ago.
We could have a 10-event competition for the two including feats of strength and intellect and concluding with a tweet-off or a tweet-up or a tweet-meet.
They were neck and neck, and it came down to my gut feeling -- Mitchell was more consistently amusing.
Scroll through
my favorites
to see what was considered as we made the final cuts -- we are now trying to track 493 guys.
And hit me at
@ESPN_AFCSouth
and
@PaulKuharsky
with tweets I need to see and people I need to follow.
June, 10, 2011
6/10/11
10:52
AM ET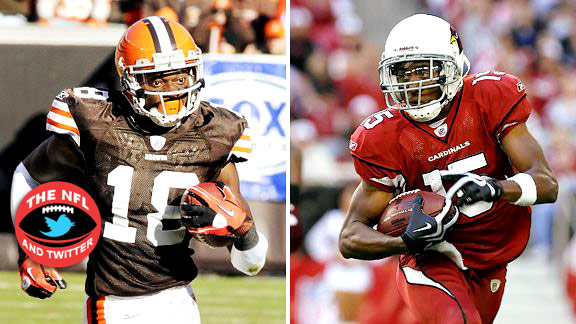 Getty ImagesCarlton Mitchell and Steve Breaston were the cream of the NFL tweeting crop in the latest Twindex.
My eyes glazed over as would-be analysts offered little worthy of attention on Twitter regarding the NBA Finals, starting with too many of these: "Who ya got tonight, Mavs or Heat?"
Yawn-inducing, akin to, "What up [insert city here]?"
Over the last two weeks, we heard who came close to missing a flight and who was delayed and what they thought of the airports they were delayed in.
But even in such a desolate landscape, wonderful things popped up.
Little-known
Carlton Mitchell
, a second-year Browns wide receiver, was consistently hilarious and emerged from nowhere to take the top spot -- not by a nose, but in a landslide.
Laughs are aplenty among the rest of the field in the second edition of the NFL Twindex, one man's subjective rankings of the best NFL tweeters out there over the last two weeks.
Big names who did well in the feature's debut disappeared, with only three players retaining a spot in the top 10.
Without further ado, the new list:
Have a tweet I need to see? A Tweeter who needs more consideration? Find me at
@ESPN_AFCSouth
and
@PaulKuharsky
.
November, 28, 2010
11/28/10
11:31
PM ET
Thoughts from the
Colts' loss to the Chargers
Sunday night.
What it means:
Indianapolis could have taken a one-game lead in the AFC South, but another loss to San Diego and the first home loss of the season means the Colts are at 6-5, still even with the Jaguars and down a head-to-head tie-breaker. The Colts have not lost as many as five games since a 10-6, second-place finish in 2002.


Rare repeat:
Peyton Manning
threw four interceptions, the most since his six interception game on Nov. 11, 2007 in San Diego. It was just the second time in his career he's thrown three picks in two consecutive weeks. The first was in 1998, when he threw three in the first two games of his career. He was under pressure all night, and at one point his own man, right guard
Jeff Linkenbach
, got pushed back into him by
Antonio Garay
.
What I didn't like:
The rushing offense was ineffective (1.8 yards per carry) and the pass offense was out of sync. A two-play sequence in the second quarter illustrated the troubles:
Pierre Garcon
appeared to let up on a deep ball he ultimately couldn't catch up to before
Reggie Wayne
allowed a ball to sail between his hands.
Hard to believe:
The Colts were just three-of-12 on third down, but they fared better than the Chargers. San Diego won this game despite going zero-for-eight on third down.
What's next:
The Colts host the
Dallas Cowboys
in Indianapolis' final game of the season against the NFC East.