AFC South:

Antony Castonzo
August, 6, 2013
8/06/13
9:28
AM ET
Reading the coverage…

Houston Texans
By Gary Kubiak's count, just seven of his 15 linebackers
are practicing
, says John McClain of the Houston Chronicle.
The Texans have been drawing
record crowds
at training camp. Says John McClain of the Houston Chronicle.
Kubiak believes an element of
early struggle
for a top rookie makes him stronger in the end, says McClain.
Deion Sanders talked to the Texans' defensive backs, and you can watch it here through the team's website. (
Video
.)

Indianapolis Colts
Andrew Luck and Reggie Wayne are passing around the
unofficial team presidency
, says Mike Chappell of the Indianapolis Star.
Robert Mathis says not being with Dwight Freeney is
still weird
, says Michael Marot of the Associated Press.
A collection of
videos
from the Star. Griff Whalen's having a great camp where the depth at receiver is limited. With Darrius Heyward-Bey out with a knee sprain, Whalen figures to play a lot in the preseason opener Sunday against Buffalo.
Speed up the clock and
let's get to meaningful games
, says Phillip B. Wilson of the Star.
Is Antony Castonzo's new look part of being the
longest-running incumbent
on the Colts' offensive line? Heather Bremer of the Anderson Herald Bulletin looks at Castonzo.

Jacksonville Jaguars
Rookie receiver Ace Sanders is having a
sensational
training camp according to Hays Carlyon of the Florida Times-Union.
Practice highlights
included a Blaine Gabbert-to-Tobias Palmer bomb and an Alan Ball interception of Gabbert, says Ryan O'Halloran of the Times-Union.
Cecil Shorts left practice with
a calf injury
, says the AP.
Quarterbacks Gabbert and Chad Henne, who share the top line on the depth chart, are
not keeping score
, says John Oehser of the team's website.

Tennessee Titans
Rookie wide receiver Justin Hunter
bristles at questions about
his toughness
, says Jim Wyatt of The Tennessean.
Jake Locker had
a slow start
to practice, says Wyatt in his Monday practice report.
Multiple Titans are pleased to see Vince Young getting
another chance
, says Wyatt.
Moise Fokou has made the Titans' middle linebacker spot
a competition
with Colin McCarthy, says Teresa Walker of the Associated Press.
To which I say:
McCarthy recently rejoined the starters and lasted a whole day before he developed a right hamstring issue that will keep him out of the preseason opener.
January, 3, 2013
1/03/13
12:28
PM ET
Heading into the Colts' season finale against the Texans,
Andrew Luck
had failed to connect on 50 percent of his passes in four consecutive games.
In the win against Houston last Sunday, he connected on exactly half his passes. He was generally more accurate and made the plays Indianapolis needed to win the game.
[+] Enlarge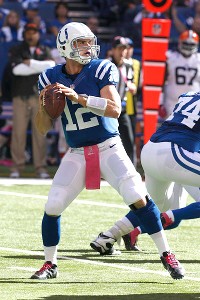 Brian Spurlock/US PresswireColts quarterback Andrew Luck has shown he can be dangerous when he has good protection.
Much has been made of Luck's completion percentage (54.1) and interceptions (18) this season. Those are not good numbers, but he has regularly done things to overcome them.
I was struck Sunday by two passes Luck threw in very difficult circumstances: On third-and-13 from the Colts' 40-yard line early in the fourth quarter, he dropped back, had time and stepped into a great throw to
Reggie Wayne
for a 24-yard gain. It was called back because of a hold against left tackle
Anthony Castonzo
.
Given a second chance on third-and-23, Luck got quality protection again, stepped into a throw again and connected deep to
T.Y. Hilton
for a 70-yard touchdown.
Back-to-back throws. With good protection both times (aided by a hold on the first), Luck was able to really step into his throws, and they were excellent.
How many of his 14 incomplete passes resulted from an inability to step into the throw?
There is a degree of subjectivity in assessing what happened on a play. Here is my breakdown of the incomplete passes:
Hurried or hit -- 5

Drops -- 3

Thrown away -- 2

Defended by DB -- 2

No issue -- 1

Batted -- 1
Those five hurries or hits certainly affected Luck's ability to be accurate. He overthrew
Donnie Avery
and bounced a ball to Wayne.
These are situations every quarterback faces. Luck tends to hold on to the ball extra at times to try to make something happen, knowing he can handle some jostling or even absorb a hit in exchange for extending a play.
"Luck is already one of the best quarterbacks around at keeping his eyes downfield and moving within the confines of the pocket, which is amazing for a rookie -- and lucky for him, because the Colts' line is obviously pretty bad," said Matt Williamson of Scouts Inc. "But Bruce Arians does help the line out, and they obviously go deep a ton. Luck has the natural abilities to throw well even when his feet are not set, but like you mentioned, Luck might be lethal if he actually had adequate time to throw more consistently in their downfield attack."
The issue Luck has had recently with throwing high seemed to have settled down in this game. He was blitzed a great deal by the Texans but not, incidentally, on the third-and-23.
It's basic for any good quarterback: Protect him well, and the odds of a good result improve.
Still, I imagine Arians, offensive line coach Harold Goodwin and quarterbacks coach Clyde Christensen showed that Luck-to-Hilton touchdown pass, and even the one to Wayne, to the entire offense:
See how assertively Luck was able to step into his throw? See the quality result? If we can give him a chance at more plays like that Sunday in Baltimore, we can be playing in the divisional round a week later.
January, 1, 2013
1/01/13
3:41
PM ET
After I saw a post at PFT about New England offensive lineman
Ryan Wendell
leading the league in playing time, I went to see who played the most snaps in the regular season from our four teams.
Tennessee cornerback
Jason McCourty
played the fifth-most snaps in the NFL -- 1,282.
Note that a defensive guy being among the league-leaders is both a compliment to his durability and an indictment of his unit. A defender doesn't want the opportunity to play too many snaps, because it means his defense is on the field too much.
Here are the team by team leaders, with their league rank and overall snaps, which includes any special teams work.
Titans
CB Jason McCourty, fifth, 1,282

S Michael Griffin, 10th, 1,270

CB Alterraun Verner, 17th, 1,235
Jaguars
S Dawan Landry, 14th, 1,244

MLB Paul Posluszny, 18th, 1,233

OLB Russell Allen, 46th, 1,172
Colts
LT Anthony Castonzo, 15th, 1,239

RG Mike McGlynn, 16th, 1,237

QB Andrew Luck, 48th, 1,169
Texans
LG Wade Smith, 31st, 1,193

LT Duane Brown, 32nd, 1,192

S Glover Quin, 47th, 1,171
You can flip through playing time numbers league-wide or by position at
this fine page
from Football Outsiders.
October, 11, 2012
10/11/12
2:40
PM ET
Pro Football Focus looks very closely on who's on the field when, and thanks to them we are able to look at how many offensive line combinations each of our teams have used.
Here's a breakdown of how much each team has been able to use its preferred combination of offensive line personnel.

Houston
Preferred combination (L-R):
Duane Brown
,
Wade Smith
,
Chris Myers
,
Antoine Caldwell
,
Derek Newton
.
Snaps together:
181 of 338 (54 percent)
Total combinations:
5
My thoughts:
The Texans are using
Ryan Harris
some at right tackle and
Ben Jones
at right guard by design, so this is less telling than it is for everyone else who wants to have the same five all the time.

Indianapolis
Preferred combination (L-R):
Anthony Castonzo
,
Joe Reitz
,
Samson Satele
,
Mike McGlynn
,
Winston Justice
.
Snaps together:
0 of 290
Total combinations:
6
My thoughts:
Reitz hurt his ankle in the preseason and hasn't played. His replacement,
Seth Olsen
, is not on IR with the possibility of being reactivated later. The four starters with Olson have played 59 of 290 snaps, 20 percent.

Jacksonville
Preferred combination (L-R):
Eugene Monroe
,
Eben Britton
,
Brad Meester
,
Uche Nwaneri
,
Cameron Bradfield
.
Snaps together:
102 of 278 (37 percent)
Total combinations:
6
My thoughts:
I think they would have probably been better off with
Will Rackley
, but the left guard was hurt in the preseason and is on IR. There were strong, early indications the team was heading toward the above configuration even if Rackley was healthy, so we're using it as the preferred combo.

Tennessee
Preferred combination (L-R):
Michael Roos
,
Steve Hutchinson
,
Fernando Velasco
,
Leroy Harris
,
David Stewart
.
Snaps together:
266 of 291 (91 percent)
Total combinations:
4
My thoughts:
Eugene Amano
was in line to be the center until a preseason arm injury put him on IR. You'd like a line that's been healthy and together basically the whole season to be playing far better than this one has.
October, 10, 2012
10/10/12
2:19
PM ET
With
Donald Brown
out for a bit following knee surgery, the Colts will turn to rookie
Vick Ballard
as their starting running back Sunday against the Jets.
Ballard is the new regime's guy, a fifth-round draft pick, whereas Brown was inherited.

While Brown ran well in the win Sunday against the Packers, well is a team-by-team term. For the Colts, 17 carries for 84 yards is a sufficient day for a back in the Colts pass-centric offense. Brown's contribution against Green Bay was significant.
The Jets just gave up big rushing yardage to
Arian Foster
and the Texans. But the Colts are 19
th
in the league in rushing and the Texans are sixth.
Brown or Ballard isn't close to Foster. But even more significantly, the Colts' patchwork offensive line is not close to the Texans' blockers, even as Houston rebuilds its right side.
Seth Olsen
, who did poor work as a fill-in for
Joe Reitz
at left guard, has been put on IR with the option to recall. That illustrates just how thin Indianapolis is. The Colts used their one chance to bring someone back from IR down the line on a guy who's been middling as a backup.
From Bruce Arians' news conference today: Reitz is still expected out as he's working back from a long layoff. Center
Samson Satele
should be back, but the team will be monitoring his knee.
So the line should start out, from left-to-right, as
Anthony Castonzo
,
Jeff Linkenbach
, Satele,
Mike McGlynn
and
Winston Justice
.
They'll block some, too, for
Delone Carter
. The second-year back who seems built for short-yardage situations, was active against Green Bay ahead of veteran
Mewelde Moore
.