May, 3, 2011
5/03/11
1:33
PM ET
I don't see every AFC South game from start to finish.
So I certainly don't see every NFL game start to finish.
And I think to really have a sense for and to appreciate good safety play, you need to see guys play regularly to have a full understanding of them.
I know
Antoine Bethea
is a first-rate safety, a dependable guy in the Colts' scheme who could play centerfield on my team. I know
Michael Griffin
can be really good, but is not consistently dependable enough.
If you're on the highlights weekly like
Troy Polamalu
and
Ed Reed
(when they are healthy), you're easily identified. Otherwise things can be a lot more subtle.
All of that is my way of saying you can probably find a dozen reasonable arguments with which to shred my ballot.
First though, here's
James Walker's summary
of where we wound up and the safety Power Rankings results.
I'm in that piece talking about
Bob Sanders
, but my response to a question on Griffin did not make it.
So here's my answer to how he could finish sixth without any points out of his division's blogger:
"Griffin can be very good, but he's very inconsistent. He went to the Pro Bowl in 2008, then had a terrible 2009: Bad angles and missed tackles galore. In 2010, he rebounded, played well during the Titans' good start and seemed to be back on track. Then he was a big contributor to the brutal finish. He can let off-the-field stuff distract him and handles criticism horribly."
I felt I could find 10 guys who were steadier players, and steadiness in a safety is crucial.
Bethea is certainly one of the 10, and a 10th-place tie is too low for him.
I respectfully ask my peers who they think was spearheading the pass defense for the AFC South-winning Colts last season when the starting corners (
Kelvin Hayden
and
Jerraud Powers
) missed 11 games, the starting strong safety (Sanders) missed 15 and the second-string strong safety (
Melvin Bullitt
) missed 12.
I'm sure, in turn, some of the other bloggers can come at me for not having the full picture on one of their players.
Anyway, here then is the one-eighth of those final results that came from yours truly.
Troy Polamalu
Ed Reed
Antoine Bethea
November, 30, 2010
11/30/10
1:00
PM ET
»
NFC Decisive Moments
:
East
|
West
|
North
|
South
»
AFC
:
East
|
West
|
North
|
South
The Jaguars looked to be in good shape with a 20-17 lead over the Giants at New Meadowlands Stadium and 7:20 left in the game. They took possession at their own 26-yard line.
David Garrard
hit
Mike Thomas
with a quick screen, he scooted 23 yards to the 49 and the Jaguars were on the move. But an offensive pass interference call against
Kassim Osgood
undid the play.

Osgood was in the slot on the same side as Thomas and initiated contact with defensive back
Antrel Rolle
, who was on him in press coverage. Officials ruled Osgood was blocking Rolle before Thomas caught the pass.
Jack Del Rio objected.
"I need clarification because either I misunderstand the rule or the official did, but one of us was wrong," Del Rio said,
per Vito Stellino
. "Maybe it's me. I'm going to go back and check the rulebook, but the guy was pressed, we were engaged at the line, he maintained his block. In our opinion, that should not have been a call."
But in re-watching the play, I think the officials got it right. Getting off the jam and blocking are not the same thing. Osgood failed to differentiate the two and it looked like he blocked from the start to me.
If Osgood could have delivered a shove to get off the jam and bought a second before turning into a blocker, the play may have still unfolded in the same way.
Instead, the Jaguars faced a first-and-20 from their 16, quickly stalled and punted the ball back to New York. The Giants then drove for what proved to be the game-winning touchdown.
November, 29, 2010
11/29/10
7:17
PM ET
The Jaguars were down 4 points and had the ball at their own 27-yard line with all three of their timeouts Sunday at New Meadowlands Stadium against the Giants. They moved to the Giants' 29-yard line before things fell apart.
"The end of the game we're sitting there first and ten on their 29-yard line, all three time outs, just under two minutes and in perfect position to take that game back, really take it back, and just didn't get it done," Jack Del Rio told Jacksonville media Monday. "We certainly had many opportunities. There wasn't any one play or one person that was the difference. I think it was simply a matter of not executing and taking advantage of some of those opportunities we had."
Here is a closer look at back-to-back-to-back sacks of
David Garrard
that ended any chance for the Jaguars:
First-and-10 NYG 29 -- Left guard Vince Manuwai gets a good block on Chris Canty. Left tackle Guy Whimper goes left to get Osi Umenyiora and tight end Zach Miller stays outside, whiffing on a chip. Safety Antrel Rolle cuts inside the space between Whimper and Manuwai, chasing Garrard to his right where Justin Tuck sheds Jordan Black and gets in on half the sack. Result: Loss of 11 yards and a Jacksonville timeout.
Second-and-21 NYG 40 -- Garrard takes a deep drop and as the pocket starts to close he steps up. Whimper steers Jason Pierre-Paul past him, but Pierre-Paul managed to slap at Garrard's left elbow, prompting a fumble. Garrard recovers. Result: A 4-yard sack for Dave Tollefson and a Jacksonville timeout.
Third-and-25 NYG 44 – Black turns his head to the left at the snap and doesn't recover, whiffing on two blitzing defensive backs. Rolle goes outside him and is picked up by Maurice Jones-Drew, but Terrell Thomas goes inside Black and gathers some speed as he decks the quarterback from his right, forcing a fumble Rolle recovers. Result: A 12-yard sack, a lost fumble and, effectively, the end of the game. An injured left wrist for Garrard.
Said Garrard: "I just think we felt like we were going to be able to do fine with the pass game. We felt like they were playing a lot of single-high and they were bringing some blitzes. They brought a couple of blitzes that we hadn't seen before. Really it was just up to us executing and picking our guys out, me getting the ball out of my hands. We didn't do that and it showed."
September, 21, 2010
9/21/10
3:00
PM ET
»
NFC High Energy
:
East
|
West
|
North
|
South
»
AFC
:
East
|
West
|
North
|
South
A look at a player who gave his team a significant boost in Week 2.
[+] Enlarge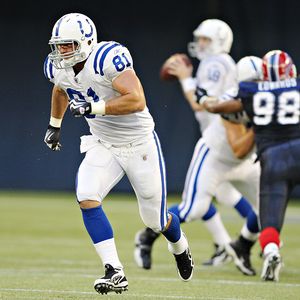 Luc Leclerc/US PresswireRookie tight end Brody Eldridge has opened a few eyes in the early part of the season.
This category doesn't amount to a player of the week for us here at AFC South HQ, so we don't look to skill guys with gaudy numbers or sack specialists dragging down quarterbacks.
I would have liked to have gone with the whole Colts' offensive line here, but I am told the guidelines demand I single out one player. So I choose the guy who supplemented the line in the first significant action of his career: rookie tight end
Brody Eldridge
.
He made a real difference for the Colts in their biggest ground yardage production since 2006. A week after not seeing much action as the Colts went with a lot more three-wide than two-tight end, Eldridge chipped in to block Giants defensive ends.
On
Donald Brown
's 7-yard touchdown run that completed the Colts' opening drive and gave them a 7-0 lead, Eldridge lined up next to left tackle
Charlie Johnson
. Eldridge drove defensive end
Osi Umenyiora
outside before leaving him for Johnson and moving on to knock safety
Antrel Rolle
out of the play.
"I think he has a chance to be a good, solid football player," Jim Caldwell said. "He is tough. He's developing into a good in-line blocker, but he can also give you something in the pass game, as well. But he's young yet. The jury is still out. It's two ballgames, and the first one I think he played nine plays. We'll see how he develops."
September, 22, 2009
9/22/09
4:36
PM ET
| | |
| --- | --- |
| | |
| | Sam Greenwood/Getty Images |
| | A possible missed pass interference call on the Cardinals Bryant McFadden against the Jags Tory Holt was a game-changer last Sunday. |

Posted by ESPN.com's Paul Kuharsky
The situation:
Down 10-3 in the early second quarter, the Jaguars'
Sean Considine
recovers a punt muffed by
Greg Toler
, positioning Jacksonville at the Arizona 26-yard line. After a sack and a run, the Jaguars face third-and-12 from the Arizona 28.
The Jaguars line up quarterback
David Garrard
in shotgun with
Maurice Jones-Drew
to his left, a tight end
Marcedes Lewis
is to the right of right tackle
Eben Britton
and back a step. Three receivers are deployed, two to the right and
Torry Holt
to the left.
The Cardinals have three men on the line with their hand down. They are in nickel or dime -- I cannot identify the player to the left of
Darnell Dockett
, who functions as the left end here. The unidentified defender and safety
Adrian Wilson
, who's a step behind right end Adrian Branch, creep forward as if to blitz from both sides.
Here's what I saw unfold after the snap:
Garrard takes the snap and drops back an additional three or four steps. He might have looked middle then left, he might have been looking at Holt the whole time. He's sandwiched by two rushers just as he lets go of the pass.
Wilson drops off and when he sees Jones-Drew come out of the backfield and head to the left flat, he follows him.
Branch gets a good rush from the right, sliding around left tackle
Eugene Monroe
at the end to hurry Garrard.
The defensive back or linebacker on the left side blitzes, and while Britton holds him up, Dockett loops around, loses right guard
Maurice Williams
as he gets caught up in what's going on his right and gets to Garrard as he throws.
Holt has 10 or 11 yards of cushion from cornerback
Bryant McFadden
at the snap and runs straight, turning left just after the 15-yard line. He inches back while cutting to the left sideline. Before the ball arrives, McFadden's initial contact with Holt is his right hand on Holt's right shoulder, pulling and turning the receiver. McFadden winds up with each arm over each of Holt's shoulders before the ball arrives. It ties up Holt's arms and he cannot reach for an on-target ball as it arrives.
Holt argues about the non-call with field judge Greg Gautreaux. It unfolded in front of
Jack Del Rio
, who pulls out his red flag but is helpless and it's not a reviewable play.
Result:
Fourth-and-12 from the 28. Kicker
Josh Scobee
attempts a 46-yard field goal.
Calais Campbell
blocks it,
Antrel Rolle
recovers it and returns it for an 83-yard touchdown.
Ultimate outcome:
With the pass interference call, a team with little margin for error would have been in position for a touchdown to pull even at 10-10. The field goal would have made it 10-6. The block and return make it 17-3 and the Jags are never closer than 14 points again.
April, 23, 2009
4/23/09
8:45
AM ET
Posted by ESPN.com's Paul Kuharsky
Concluding our periodic look at the history of the relevant first-round draft slots, we examine No. 8 before Jacksonville drafts there for the second year in a row.
Here are the previous entries on Tennessee at No. 30, Indianapolis at No. 27 and Houston at No. 15.
The No. 8 Pick Since 1999
Year
Pos.
School
Player
Team
Comment
2008
DE
Florida
Derrick Harvey
Jacksonville
Contract dispute killed
chance at a big start
2007
DE
Arkansas
Jamaal Anderson
Atlanta
Has missed only one game;
just two sacks
2006
S
Ohio State
Donte Whitner
Buffalo
Has started 42 of 48 games
2005
CB
Miami
Antrel Rolle
Arizona
Has moved to safety
as some projected
2004
CB
Virginia Tech
DeAngelo Hall
Atlanta
Is he worth big contract
from Skins?
2003
OT
Utah
Jordan Gross
Carolina
Pro Bowler is a key cog
for Panthers
2002
DB
Oklahoma
Roy Williams
Dallas
Weak in coverage, now a
free agent
2001
WR
Michigan
David Terrell
Chicago
Five-year career,
128 catches
2000
WR
Michigan State
Plaxico Burress
Pittsburgh
Troubled but very productive
1999
WR
Ohio State
David Boston
Arizona
Nine years, four teams,
315 catches, 25 TDs