AFC South:

Ashton Youboty
July, 10, 2012
7/10/12
1:08
PM ET
I've been pondering depth in the AFC South, and thought as we await the start of training camps we should look at what position groups compose the deep end, and which compose the shallow end on each roster.
Next up is Jacksonville …

Deepest:
It's tempting to say linebacker, but
Clint Session
has to prove healthy to make it a four-pack with
Russell Allen
as the extra. And four isn't that deep. So I go cornerback, where the starters might not be as good, but the team has solid options beyond its top three (
Derek Cox
,
Rashean Mathis
and
Aaron Ross
) in
William Middleton
and
Kevin Rutland
, and two others who got time last season showed some potential:
T.J. Heath
and
Ashton Youboty
.
Thinnest:
Offensive tackle.
Eugene Monroe
is solid on the left side, but needs to emerge as elite. The team is counting on a big comeback from
Eben Britton
on the right after a season pretty much lost to a back injury. But beyond those two I don't have much faith. They like second-year man
Cameron Bradfield
, who's unproven, and they gave a new deal to veteran
Guy Whimper
, whose play was too inconsistent during a lot of work last season. Better protection for
Blaine Gabbert
is a priority. If Britton has a setback or something happens to Monroe, do they really feel like they can offer it with those guys?
December, 24, 2011
12/24/11
8:12
PM ET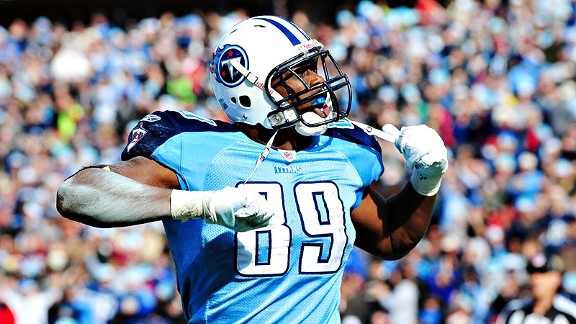 Don McPeak/US PresswireJared Cook had eight catches for a franchise-record 169 receiving yards against the Jaguars.
NASHVILLE, Tenn. -- Titans offensive coordinator Chris Palmer polls his quarterbacks on their three favorite plays out of each week's game plan.
Matt Hasselbeck
,
Jake Locker
and
Rusty Smith
all voted this week for a deep crossing route.
It was a play the Titans ran with great success in a
23-17 Christmas Eve win
over the Jaguars that kept Tennessee in contention for the sixth and final berth in the AFC playoff field.
The Titans need to finish in a three-way tie at 9-7 with the Bengals and Jets or with the Bengals and Raiders to earn the No. 6 seed.
The trio of signal-callers often votes the same way in separate, secret balloting which influences Palmer's approach, Hasselbeck said.
"It's mental telepathy or something," he said. "We get along really well, we like the same plays. They think we're cheating off of each other, but we're not."
Rarely does the favored play contribute so heavily to a favored result.
Hasselbeck leaned on it heavily and posted strong passing numbers despite two interceptions, with 24 completions in 40 pass attempts, for 350 yards and a touchdown.
Tight end
Jared Cook
is a big, fast, receiver-like threat. He disappears at times and has not been featured the way many of us expected he would be this season. In Week 15 he lost a deadly fumble in Indianapolis when the Titans were mounting a charge.
But he keyed this Titans win with eight catches for 169 yards and the 55-yard score on a mismatch with Jaguars middle linebacker
Paul Posluszny
, who was left in an unreasonably difficult spot by the coverage.
No tight end for the Titans or Oilers ever collected so much receiving yardage in one game. The previous record was 150 by Houston's Dave Casper in 1980.
While the Jaguars have a strong front seven, they do not have particularly threatening edge pass-rushers. That helped the Titans feel comfortable lining Cook up less often next to a tackle, and more often in a two-by-two set, as if he were a receiver in a four-wide formation.
Nate Washington
, also in a slot, typically drew nickelback
Drew Coleman
in coverage. Hasselbeck said that also helped get Cook into open space more often than usual.
Cook said the Titans talked all week about the opportunities they'd find against an injury-depleted Jaguars defense. The Jaguars are without both their starting corners,
Rashean Mathis
and
Derek Cox
, and played Saturday minus starting safety
Dwight Lowery
. That meant
Ashton Youboty
and
Morgan Trent
started at corner and
Akwasi Owusu-Ansah
was in the lineup at safety.
Youboty suffered a hamstring injury in the fourth quarter, and couldn't finish the game. He was replaced by
David Jones
, a player Jacksonville decided was not part of its future at the end of training camp.
Combine all that change with a gimpy
Chris Johnson
, who sprained an ankle last week, and the Titans decided to push it with the pass.
"We kind of looked at the first-15 script and saw there was a little change up from the normal," Cook said, referring to the preordained 15 plays the Titans wanted to run out of the gate if the situations permitted for them. "We kind of got excited. So kudos to coach Palmer for kind of doing that and catching the defense off guard."
Not to harp, but… While the Titans are over last week's loss at previously winless Indianapolis, I can't help wonder how things might be different for them had they taken this approach a week earlier against the Colts, who rush the passer better but also have a secondary minus three starters.
"It's just hard to predict games," Hasselbeck said.
It's hard, too, to predict what happens in all the games that influence the Titans' chances next week.
But the Texans are locked into the third seed, and have nothing to gain with a win and nothing to lose with a loss. If the Titans find their way in, their opponent isn't in question. They'll go right back to Houston for a wild-card game.
The Titans know they've blown a ton of chances that would have left them in a better spot.
"We're alive," guard
Jake Scott
said. "That's all you can ask for right now. We've got to handle our business and hope for the help that we need."
December, 15, 2011
12/15/11
12:58
PM ET
Five things to look for tonight in the Jaguars game at Atlanta tonight:

Khan!
He won't take over the team until Jan., but Shahid Khan's been approved by the league to buy the Jaguars. He will be at the Georgia Dome to watch his new team for the first time tonight, and NFL Network cameras are sure to find him. He was absolutely beaming as he participated in a news conference after approval, and he figures to start off all smiles at kickoff. But if things go badly for Jacksonville early, the expression under the mustache might change.
The defensive backs:
Jacksonville is ridiculously thin in the secondary. Cornerbacks
Ashton Youboty
and undrafted rookie
Kevin Rutland
have both had some good moments. But surely Atlanta offensive coordinator Mike Mularkey and quarterback
Matt Ryan
see the potential to attack on the outside and win.
Points:
The Jaguars hadn't topped 20 points all season until they exploded for 41 last week in a romp against the Buccaneers. The Falcons are playing good scoring defense. In the past month they've given up 23, 17, 14 and 17.
The receivers:
Both
Mike Thomas
and
Cecil Shorts
are out with injuries. With them,
Blaine Gabbert
's got a super limited number of weapons. Without them we'll see if newcomer
Taylor Price
and youngsters
Jarett Dillard
and
Chastin West
can make any plays. Mike Sheppard's been working as the receivers coach for a couple weeks now, is he able to have a positive influence on this group?
Energy:
High motor defensive end
Jeremy Mincey
qualifies as a tone-setter for the Jaguars. With a short turnaround and a road game, the team needs to show some hop against a team that's primed to be a playoff entry. I'll watch Mincey to see if he can provide the sort of early spark that could serve notice the Jaguars won't go down easily.
December, 5, 2011
12/05/11
12:11
PM ET
JACKSONVILLE, Fla. -- In his first year calling plays for the Jacksonville defense, Mel Tucker's had a solid season for the Jaguars.
He was given a huge upgrade in personnel out of free agency, and the team's issues in a 3-8 season have been primarily on offense.
[+] Enlarge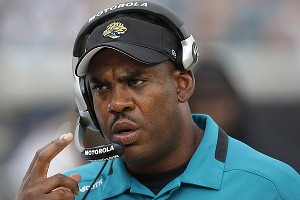 AP Photo/Phil Coale, FileJaguars interim coach Mel Tucker makes his debut on Monday against San Diego.
Tonight, as he debuts as the team's interim coach in a home "Monday Night Football" game against San Diego, Tucker will be without his three top outside cornerbacks.
Will Middleton has joined
Rashean Mathis
and
Derek Cox
on injured reserve.
While Chargers quarterback
Philip Rivers
has struggled this season, he could be in line to make some connections at EverBank Field, where recent addition
Ashton Youboty
, undrafted
Kevin Rutland
and retread
David Jones
are in line to play in Jacksonville's secondary. Jones, who struggled mightily last season, was re-signed as Middleton went to IR.
Drew Coleman
plays as the nickel corner and seems to be pigeonholed there, but whether Tucker likes him outside or not, the Jaguars might have to use him more.
I'm not sure what Tucker can do in the team's remaining five games to hold on to the job. He's respected and he's expected by those who put him in place to do well. But after nearly nine seasons of Jack Del Rio, the Jaguars are a team in need of fresh air, and new owner Shahid Khan is likely to want to make a splash with an outsider who revamps the way the team plays.
Tucker has been assured of an interview, and many are mentioning him as a strong candidate for the post. At this stage I'd guess it's more likely the new coach, hopefully an offensive mind, recognizes the Jags' productive defense and tries to get Tucker to return to the coordinator post.
ESPN's Mike Tirico will do the play-by-play of tonight's game. He watched Saturday's practice and was part of a production meeting with Tucker.
"He's very detailed, very organized," Tirico said. "I think it's definitely an approach that would be what I'd expect from a guy who's learned from Nick Saban and Jim Tressel, among others. The practice was a crisp, well-paced practice."
It's been a whirlwind week. Tucker had no hint of what was coming when he reported to work Tuesday. Since then, he dismissed receivers coach Johnny Cox, shifted Mike Sheppard from quarterbacks to receivers coach and gave offensive coordinator Dirk Koetter full sway over the quarterbacks.
He's overseen the construction and installation of a game plan. He's dealt with Middleton's injury.
And he's very likely implemented some other unseen alterations to the operation.
"For that sort of fire drill for a guy who's 39 and has never been a head coach, he's seems pretty organized," Tirico said.
At his first practice as the head man leading up to this game, Tucker arrived 30 minutes early. He talked of wanting to get some fresh air, but also confessed it gave him the vantage point he wanted as he began to watch everything.
The Jaguars know they've got new eyes on them.
What Tucker sees will be important. What Tucker shows will be more important.
November, 27, 2011
11/27/11
11:55
AM ET
JACKSONVILLE, Fla. --
Matt Leinart
and the Texans rank as the biggest story in the AFC South since it became clear the Colts would be horrible.

Leinart
I've crossed paths with few national media members this season at games.
As Leinart steps in for the injured
Matt Schaub
today at EverBank Field, I'm with writers from The New York Times, Sports Illustrated and Yahoo.
Andre Johnson
is back in Houston's lineup. He's averaged 102 receiving yards in his first game back from missed time because of injuries in his career.
Arian Foster
is averaging 161 yards from scrimmage against AFC South teams over the last two seasons. No player comes close against division opponents.
LeSean McCoy
is at 137 yards against the NFC East over the same stretch.
And Houston's defense is allowing just 186 yards to division opponents this season. That doesn't bode well for the Jaguars and their terrible offense.
The inactive lists for both teams:
Texans: QB
Kellen Clemens
, CB
Brandon Harris
, FB
Lawrence Vickers
, G
Thomas Austin
, T
Andrew Gardner
, TE
Garrett Graham
, DE
Tim Bulman
.
Jaguars: WR
Brian Robiskie
, C
John Estes
, DE
Aaron Kampman
, TE
Fendi Onobun
, DE
Matt Roth
, DT
Terrance Knighton
, QB Dan LeFevour.
For the Jaguars,
Leger Douzable
starts at left defensive end,
C.J. Mosley
starts at defensive tackle and
Ashton Youboty
starts at left cornerback.
November, 25, 2011
11/25/11
1:51
PM ET
The Jaguars couldn't have had a much more costly loss in Cleveland last week. The defeat featured end of game debacles in play-calling and clock management. Veteran linebacker
Clint Session
was lost for the season after suffering his second concussion of the year. And Friday the team put cornerback
Derek Cox
on IR with a knee injury.
Cox joins
Rashean Mathis
on the list of Jacksonville cornerbacks out for the season.
As
Andre Johnson
returns to action for the Texans on Sunday and
Matt Leinart
takes his place as Houston's quarterback, the explosive and powerful receiver will be working against Will Middleton or
Ashton Youboty
.
Few teams have third and fourth cornerbacks who are on the level of their first and second. But that's a substantial drop off. Veteran nickelback
Drew Coleman
now ranks as the team's best and most experienced corner, but he's apparently viewed as strictly a slot guy and it doesn't appear the team plans to use him as a corner in the base defense.
The Jaguars filled Cox's roster spot by adding quarterback Den LeFevour, who was signed off the Indianapolis Colts' practice squad.
November, 16, 2011
11/16/11
8:53
AM ET
Reading the coverage ...
Rebranded NFL logos
from Kurt Snibbe at Page 2.
Houston Texans

Matt Schaub
holds out hope
for a return but says his foot is the size of a cinder block, writes John McClain of the Houston Chronicle.
Matt Leinart is walking into
a perfect situation
, says McClain.
Writes Jeffrey Martin: "It's important to note Leinart, who was perceived as a bust, is only 28. His best days weren't too long ago, and the reminders were everywhere Tuesday inside the Texans' dressing room. From the cardinal red 'USC Football' long-sleeved shirt peeking out of his locker to the playful embrace he shared with nose tackle Shaun Cody, who played with Leinart in college, to the media mob hanging on his every word.
Leinart is relevant again
, and this is the second chance the former Heisman Trophy winner desperately desired."
Five backups who
stepped in
and led a team to the playoffs, from McClain.
Leinart can be
a viable starting quarterback
on a playoff team, says Bill Barnwell of Grantland.
Indianapolis Colts

Colts
ticket prices
will stay the same in 2012, Jim Irsay said via Twitter.
Dwight Freeney is
heading to NYC
and other bye plans from Phillip B. Wilson.
Peyton Manning is not fired up about the (tongue-in-cheek)
opportunity
to coach at Ole Miss despite a push by some fans, says Tom Weir of USA Today.
Jacksonville Jaguars

Running back Dei Karim aspires
to be better
than Maurice Jones-Drew, says Vito Stellino.
The Jaguars
filled out their roster
with corner Ashton Youboty and defensive end George Selvie, says Tania Ganguli.
Tennessee Titans

Injuries elsewhere have
opened the door
for the Titans in the AFC South, says David Climer of The Tennessean.
Can the Titans
succeed against
a quarterback like Atlanta's Matt Ryan? John Glennon of The Tennessean ponders.
Five
hot topics
for the Titans going forward, from Glennon.