AFC South:

Best of the NFL summer 2011
June, 30, 2011
6/30/11
1:00
PM ET
»
Best of NFC
:
East
|
West
|
North
|
South
»
AFC
:
East
|
West
|
North
|
South
As part of Best of the NFL Week on ESPN.com, here are five bests for the AFC South:
[+] Enlarge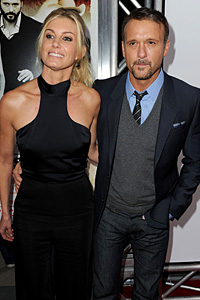 Kevin Winter/Getty ImagesFaith Hill and Tim McGraw are two of the Titans' more famous fans.
Best celebrity fans
-- Tim McGraw and Faith Hill bring a good deal of star power to LP Field and are the headliners of a large country music contingent that counts the
Tennessee Titans
as its hometown team. (There is a pretty good stream of musicians who pass through to take on the national anthem.) Hill picked games in print against staffers from The Tennessean last season and rare was the week when she didn't go with her team despite its struggles.
Best logo
-- We hit this in our
Power Rankings of helmets
. It's hard not to love that Colts horseshoe. First, it's a classic with a lot of history in two great cities. Second, it's a good luck charm so long as it's pointed the right way. It's practically stitched onto the image that comes into my head when I think of Johnny Unitas and
Peyton Manning
. Given the divisional competition -- three cookie-cutter "modern" NFL Properties designs (OK, the Texans' isn't too bad), this is a runaway.
Best tailgating
-- It's a Houston claim to fame. I get steady invitations to stop by but have always resisted, because it's not part of a reporter's pregame routine. Perhaps my boss will let me alter a game day to test things out for myself. It's a venue where cars line up well before the gates open and where there were huge complaints from non-ticket-holders because of a new rule forbidding them from taking up coveted parking lot space for pregame partying.
Best shot at HOF, non-QB
-- Colts defensive end
Dwight Freeney
is closer to the end of his career than
Andre Johnson
, so he gets the vote here. He's 31 but remains a consistent force who's a threat on every play. Offensive coordinators, left tackles and quarterbacks have to worry about him all the time, and game plans are built around slowing him. A high percentage of his sacks come with forced fumbles. With a few more good sack totals, his numbers will be at the right level to earn induction.
Best mascot
-- Much to rival T-Rac's chagrin in Nashville, I am going with wise-guy Jaxson De Ville of the Jaguars. Admittedly, it may be because I see him less and absence makes the heart grow fonder. But he's clever and edgy in a way that extends his appeal beyond people whose age is in single digits. He's an athlete who's
bungeed
onto the field and
flipped off a light tower
before rip lining, but his softer side is unafraid to
dance
to Michael Jackson. He's also been on fire and caught a last-second game-winning field goal.
June, 29, 2011
6/29/11
2:00
PM ET
»
Best of NFC
:
East
|
West
|
North
|
South
»
AFC
:
East
|
West
|
North
|
South
As part of Best of the NFL Week on ESPN.com, here are five bests for the AFC South:
Best no-nonsense assistant, John Teerlinck:
Teerlinck, the Colts' defensive line coach, teaches technique, then expects his charges to master it. He's straightforward and direct with players, who get no babying and can't get away with excuses. While he has top-flight ends to work with in
Dwight Freeney
and
Robert Mathis
, his interior linemen of late haven't been of the highest quality. He doesn't complain (most assistants don't, mind you), he just rolls up his sleeves and gets to work with what he has with high expectations for performance and production.
[+] Enlarge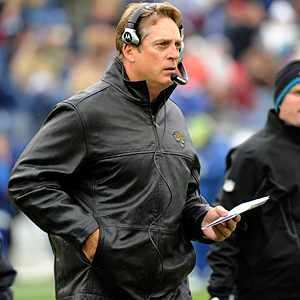 AP Photo/Frederick BreedonEven in cold-weather games, Jack Del Rio is well-dressed.
Best dressed, Jack Del Rio:
The Jaguars have three prime-time games in 2011 if we get the full schedule. Del Rio was a suit and tie guy before and has talked about breaking them out for games again. Now do Reebok suits qualify a guy for best dressed? The rumpled sportswriter is unqualified to say, but they certainly look more like off the rack than designer. Nobody in the division coaching ranks I can think of is going to be confused with Louis Vuitton. But Mr. Blackwell would have to at least appreciate the effort, especially if Del Rio misses the weekend coaches are supposed to wear Jaguars bowling shirts. He's typically the best-dressed guy at team events and community appearances, and he's not in Reebok at them.
Best sense of humor, Gary Kubiak:
We poke fun at Houston's Kubiak at times for being such an aw-shucks type. But his self-effacing humor is no act. He's pretty good at self-deprecating humor, and his timing and delivery of concise lines that produce a laugh can be excellent. Sometime all that serves to take the heat off the guys in his locker room -- which maybe isn't always such a great thing. That said, it helps make him a coach his players love working for and makes for some humorous sound bites.
Best at weathering the cold, Bruce Matthews:
Matthews, the Titans' offensive line coach, was part of offensive lines in Tennessee that had an internal rule -- if you don't wear it for a game in September, you can't wear it for a game in December. That means no long sleeves for a snowy game in Cleveland and other road trips to icy venues and no complaining about the elements. As a coach, he's not going to roam the sideline in frigid locales in short sleeves. But I don't imagine we're going to see him flinch or get frostbite in a blizzard, either.
Best at sticking to his news conference plan, Jim Caldwell:
Ask the Colts' coach the right sort of question, and you can get a helpful and insightful answer. But ask too specifically about strategy or philosophy or injury, especially leading into a game, and he's going to answer politely with a smile without giving reporters anything much. I've done a word count of some of Caldwell's press sessions and come up with a remarkably low number. I don't know that he'd be expansive in other circumstances, but in the Colts' culture, he certainly isn't. And he's pretty good at it.
June, 28, 2011
6/28/11
2:00
PM ET
»
Best of NFC
:
East
|
West
|
North
|
South
»
AFC
:
East
|
West
|
North
|
South
As part of Best of the NFL Week on ESPN.com, here are five bests for the AFC South:
Best nickname, "Pot Roast."
Jacksonville defensive tackle
Terrance Knighton
ordered it his rookie year in range of teammate
Clint Ingram
, and Ingram turned it into a nickname that stuck. Knighton's gigantic to the point his weight has been an issue. But he's a warm and funny guy who's embraced the moniker rather than letting it bother him. It will become more widely known if and when he moves from lists of underrated players to lists of guys who are tops at their positions. He may also have the division's best sack dance: he rubs his belly.
[+] Enlarge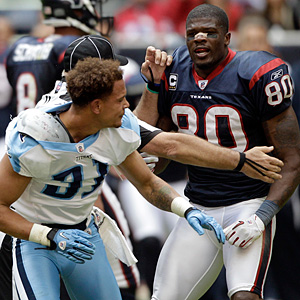 AP Photo/David J. PhillipAndre Johnson (80) and Cortland Finnegan went toe-to-toe last season.
Best leader, Peyton Manning:
No one does more to set a standard that teammates have to follow than Manning. His work ethic borders on ridiculous and his detailed one-on-one sessions with pass-catchers during the offseason pay dividends when games roll around. Young guys on the Colts step into serious expectations and know that if they can't live up to them, they'll be subject to a glare or worse from Manning, who wants everyone to be as prepared as he is and to execute as precisely as he does.
Best individual rivalry, Texans receiver Andre Johnson vs. Titans cornerback Cortland Finnegan:
They had some history before last season's game in Houston when they had a big, well-documented and publicized fight. Finnegan got under the mild-mannered Johnson's skin, provoking him. Johnson won the fight even as the Titans tried to play up and praise Finnegan's restraint. Moving forward, every time the division rivals play, the matchup between one of the league's best receivers and a cornerback who's been a Pro Bowler and All Pro will be a story.
Best teammate, Titans fullback Ahmard Hall:
Hall has a sense of the moment. He knows when to be funny and when to be serious. He's a Marine who served in Kosovo, who made it into the league as a free agent after he wasn't selected in the supplemental draft. The Titans lack leadership, and even though Hall is not on the field for all of the offensive snaps, he provides a follow-me work ethic and seems to get along with everyone in every situation.
Best tweeter, Jacksonville's Austen Lane:
Lane is the lone player in the NFL to appear on the first three versions of ESPN.com's
NFL Twindex
, which rates the quality of recent Twitter activity of players. He's consistently entertaining. "This is not an account...but a lifestyle," reads his Twitter bio. "If you are not into hitting QB's or dropping Twitter Bombs from the skies then this lifestyle is not for you!" As of Monday afternoon, he had only 1,975 followers, which is too few for him to have a chance to get Taylor Swift's attention, something he's joked about wanting. Badly.