AFC South:

best teams ever 2010
June, 29, 2010
6/29/10
11:45
AM ET
Notable Players:
QB
Matt Schaub
. WR
Andre Johnson
, DE
Mario Williams
, TE
Owen Daniels
, MLB
DeMeco Ryans
, LB
Brian Cushing
, SS
Bernard Pollard
[+] Enlarge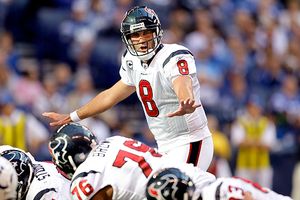 Andy Lyons/Getty ImagesMatt Schaub passed for 4,770 yards in 2009, the sixth-most in NFL history.
Analysis:
Let's be frank. This will be the lone best team ever in our series of 32 that didn't advance to the playoffs. These Texans are the best because they posted the only winning record in franchise history.
They did it despite some serious faults: a terrible run defense at the outset, a terrible run game and too many missed field goals late in close games.
Schaub posted the sixth-highest passing yardage season in league history. His 4,770 yards exceeded the best years for
Peyton Manning
or
Warren Moon
. Schaub accomplished this despite losing his second-best pass-catcher, tight end Owen Daniels, to a knee injury at the season's midpoint.
The defense started poorly, but once in-season addition Pollard settled in, things settled down. Outside linebacker Cushing was fantastic from the start and won the NFL Defensive Rookie of the Year honors.
Schaub showed just how valuable he can be, but these Texans often relied on his passing to win or stay in games. A win at struggling Tennessee early was the lone division victory. A 1-5 overall division record set up an impossible route to the postseason.
The Texans are hopeful the 2010 edition will replace this team as a franchise-best. A more balanced club and a playoff berth would accomplish that.
Most impressive win:
I'm really struggling to pick one here, but I'll go with 34-31 in Nashville over the Titans in Week 2. Schaub threw four touchdowns to offset a huge day for Titans running back
Chris Johnson
.
Research room:
The 2009 Texans were only the second AFC South team to finish with a winning record and not make the playoffs. (Jacksonville was 9-7 in 2004.)
Honorable mention:
2008:
Andre Johnson was outstanding and running back
Steve Slaton
was a revelation with 1,282 rushing yards and nine touchdowns. But the 2008 Texans were outscored by 28 points. An 0-4 start killed them and a 5-1 finish was only enough for 8-8 overall.
June, 29, 2010
6/29/10
11:30
AM ET
Notable Players:
WR
Jimmy Smith
, OT
Tony Boselli
, RB
Fred Taylor
, QB
Mark Brunell
, DE
Tony Brackens
, LB
Kevin Hardy
, S
Donovin Darius
[+] Enlarge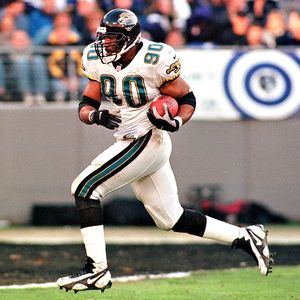 AP Photo/Roberto BoreaTony Brackens made big plays for the 1999 Jaguars, including a team-record 12 sacks.
Analysis:
The Jaguars have only 15 years of history, and choosing their best edition isn't difficult. The 1999 club lost three games all season, all to the
Tennessee Titans
, with the third in the AFC Championship Game in Jacksonville.
Their ace running back was Taylor, who missed six regular-season games because of injury. He returned to turn in two 100-yard rushing games in the postseason.
Jacksonville had seven Pro Bowlers that season. After earning a bye with its 14-2 regular season, it waltzed to a 62-7 win over Miami in its first playoff game.
James Stewart
, who started seven games with Taylor hurt, scored 13 rushing touchdowns and Jimmy Smith pulled in 116 balls for 1,636 yards -- both still franchise records.
Brackens' 12 sacks remain in place as the team's single-season record. The 2009 Jaguars had 14 sacks total.
Most impressive win:
Of the teams the Jaguars beat, only the Dolphins had a winning record. Only Carolina, the Jets, and Baltimore finished 8-8. Can you pick?
Research room:
The 1999 Jaguars are one of four teams since 1999 to win at least 14 regular-season games and not reach the Super Bowl -- along with San Diego in 2006 (14-2), Indianapolis in 2005 (14-2), and Pittsburgh (15-1) in 2004.
Honorable mentions:
2007:
A 11-5 record with an upset playoff win at nemesis Pittsburgh before a loss at eventual AFC Champion New England made for a surprisingly successful year.
1998:
The AFC Central champions wound up 11-5, with a playoff win over New England before a road loss to the Jets.
1996:
In only their second season on the field, the Jaguars got into the playoffs at 9-7 as the fifth seed thanks to tiebreakers with Indianapolis and Kansas City. They pulled upsets at Buffalo and at Denver before losing at New England in the AFC Championship Game.
June, 29, 2010
6/29/10
11:15
AM ET
Notable players:
LG
Bruce Matthews
, QB Steve McNair, RB
Eddie George
, DE
Jevon Kearse
, CB
Samari Rolle
, WR
Derrick Mason
, S
Blaine Bishop
, TE
Frank Wycheck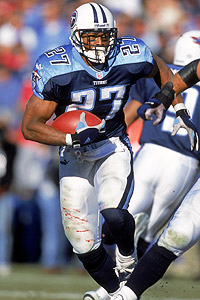 Scott Halleran/Getty ImagesEddie George rushed for 1,509 yards and 14 touchdowns in 2000. He also caught 50 passes for 453 yards and two scores.
Analysis:
While the Titans were transformed by reaching the franchise's first Super Bowl during an improbable run in 1999, most insiders -- and this observer -- believe the follow-up team was better.
Fred Miller
wasn't as good as
Jon Runyan
at right tackle, but
Randall Godfrey
was a significant upgrade over
Barron Wortham
at middle linebacker. The defense allowed 133 fewer regular-season points than the year before. The addition of offensive coordinator Mike Heimerdinger also qualified as an improvement. These Titans weren't discovering they were good, they knew they were good, rolling to a 13-3 season.
An opening-night loss at Buffalo was a grudge match over the Music City Miracle, but Tennessee responded with an eight-game winning streak. The Titans won in a variety of ways. They beat the Giants 28-14 and the Steelers 9-7, adapting to what a certain Sunday may have demanded.
They also lost close games to Baltimore and at Jacksonville. The total margin of their three losses was seven points.
With the NFL's best record and as the No. 1 seed, the Titans felt primed to return to the Super Bowl and win it. But they were undone by the rival Ravens, who upset the Titans in Nashville with big defensive and special-teams performances that sparked a run to a championship. Jeff Fisher says the 2000 Titans are the best team he's coached, which made the loss to the Ravens all the harder to swallow.
Most impressive win:
The Giants were ranked as the NFC's best team in 2000, and the Titans beat them by two touchdowns on Oct. 1.
Research room:
While it was the Ravens' year, and they are regarded as an all-time defense, it was the Titans who finished the year as the NFL's No. 1-rated defense.
Honorable mentions:
1993:
This edition of the Houston Oilers, which had two Hall of Fame offensive linemen in
Mike Munchak
and Matthews and a Hall of Fame quarterback in
Warren Moon
, rattled off 11 consecutive wins to conclude the regular season and finished 12-4. But they lost their first playoff game to Kansas City.
1961:
The Houston Oilers were 10-3-1 and won their second AFL championship in a row with 13 players who were in the AFL All-Star Game.
1999:
The Music City Miracle came to define a gritty, prepared, never-say-die team. They won their first playoff game thanks to the last-second trick play and came a yard short of forcing overtime on the final play of the franchise's lone Super Bowl appearance.
June, 29, 2010
6/29/10
11:00
AM ET
[+] Enlarge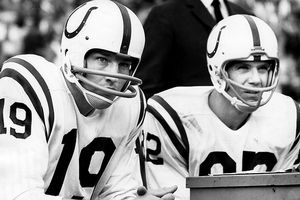 NFL/Getty ImagesJohn Unitas and Raymond Berry led the 1958 Colts to victory in "The Greatest Game Ever Played."
Notable players:
QB John Unitas, WR Raymond Berry, LT Jim Parker, HB Lenny Moore, RB Alan Ameche, DT Gene Lipscomb, DE Don Joyce, DE Gino Marchetti, DT Art Donovan.
Analysis:
It's very difficult to choose against the 1958 NFL champions, who took the crown with an overtime win in "The Greatest Game Ever Played." That win over the Giants at Yankee Stadium avenged a regular-season road loss to New York and did much to propel the NFL and football to prominence.
It's prompted books with subtitles like "The Birth of the Modern NFL" and "How the 1958 NFL Championship Changed Football Forever."
And Baltimore's lineup featured six players -- Berry, Donovan, Marchetti, Moore, Parker and Unitas -- who are in the Pro Football Hall of Fame, as is their coach, Weeb Ewbank.
These Colts were 6-0 at home and finished 10-3. Before the title tilt, they'd won by an average of 17 points and only once by a margin as small as seven. Their three losses were by 14 points. While Unitas threw 19 touchdowns against seven interceptions, the offense was really run-based with 24 rushing touchdowns and an average of 177.3 ground yards per game.
The defense posted even more impressive numbers, allowing only nine touchdown passes while intercepting 35 passes. Safeties Andy Nelson and Ray Brown had eight interceptions each.
And, before you fire off that e-mail: Sorry if Indy folks don't like it, but yes, Baltimore and Indianapolis are the same franchise. Check the nickname, check the record books, check with the league. We're following its lead. This is what happens with relocated teams, with only the Browns/Ravens exception.
Most impressive win:
Did we mention "The Greatest Game Ever Played?"
Research room:
The 1958 Colts were the first team in league history to win a game in overtime, regular season or postseason.
Honorable mentions:
1959:
These Baltimore Colts finished 9-3 and beat the Giants for the title again, with the same core of eventual Hall of Famers the 1958 team had.
1968
: The famous clip of Joe Namath running off the field, his raised index finger wagging, overshadows these Baltimore Colts. They outscored opponents 402-144 and won the NFL title but lost Super Bowl III to the
New York Jets
in another game crucial to the league's growth.
2006:
Peyton Manning
and the
Indianapolis Colts
went 16-4 and their four-game playoff run produced a Super Bowl title. Yes, 2005 may have been a better team, but this one gets the nod because it got the trophy.
1970:
In the last five seconds of Super Bowl V, rookie kicker Jim O'Brien's 32-yard field goal lifted the Baltimore Colts to victory over the Dallas Cowboys.