September, 27, 2013
9/27/13
12:00
PM ET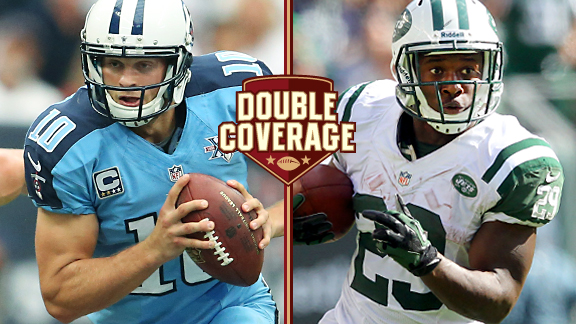 USA TODAY SportsJake Locker, left, and Bilal Powell hope to build on big games when their teams meet Sunday.
Preseason expectations for the
New York Jets
and the
Tennessee Titans
were poor, at best. Rex Ryan and Mike Munchak were at the top of the list of coaches on the hot seat. They had questions at quarterback and critics wondering about the caliber of their defensive playmakers.
Those questions still exist.
But three games into the season, entering a head-to-head matchup in Nashville, each stands at 2-1. They each won last week despite major penalty problems.
The Titans' offseason included more than $100 million spent on a big group of free agents and a revamping of the coaching staff, including the addition of senior assistant/defense Gregg Williams.
The Jets were much about turmoil, particularly with the drafting of quarterback
Geno Smith
and his competition with
Mark Sanchez
. To set up the game, ESPN.com Titans reporter Paul Kuharsky and Jets reporter Rich Cimini got together to break things down:
Paul Kuharsky:
How, Rich, have the Jets pulled off this start after such an ugly offseason?
Rich Cimini:
You're right, Paul, it was an ugly offseason. Ugly preseason, too, with a rigged quarterback competition that ended with Sanchez's shoulder injury. But to its credit, this team has stayed focused and confident. It's too early to say the Jets have arrived, but they're playing good defense. For a change, they actually have a front three/four that can put pressure on the quarterback. In the past, Ryan had to rely on exotic blitzes to generate the heat. Now he has a young, talented defensive line led by
Muhammad Wilkerson
. Seven of their eight sacks last week came on four-man rushes. The offense exploded last week, for one of the most prolific days in team history -- if you can believe it -- but I think a lot of that can be attributed to a lousy Buffalo secondary. Smith has a big arm, but he's prone to two or three big mistakes per game. He already has seven turnovers, compared to none for
Jake Locker
. What can you say about Locker's development?
Kuharsky:
He's really made nice, steady progress. I like my quarterback to do more than not make giant mistakes, and Locker showed last week that he might be capable of more. The Titans love his intangibles. In a lot of ways, they drafted him because he's the anti-
Vince Young
. Locker prepares well, works hard, understands the hard parts of being an NFL quarterback and earns the respect of his teammates and coaches. He's blazing fast and can really throw. He changed protections twice in the game-winning drive against San Diego, which is real progress. Still, it's a run-first team that wants to hand the ball to
Chris Johnson
and, when he's healthy,
Shonn Greene
. (I know Jets fans are sad he's out this week.) The Titans rebuilt their interior line to protect better, but even more so, they can establish and count on the run. How is the Jets' front as a run-stopping group, and how are the Jets running the ball to take some of the burden off the rookie quarterback?
Cimini:
Bilal Powell
is coming off a career day (149 rushing yards), but offensive coordinator Marty Mornhinweg isn't married to the idea of running the ball to take pressure off Smith. He has been pretty aggressive with his play calling, allowing Smith to attack downfield. In fact, he has nine completions on attempts that went 21 yards or longer, tied with
Aaron Rodgers
for the league lead. As for stopping the run, the front seven is doing a nice job. It's a younger, faster front seven than the one you saw last December in Nashville. Linebacker DeMario Davis, nose tackle
Damon Harrison
and rookie defensive tackle
Sheldon Richardson
have injected much-needed speed into the defense. They have held a couple of good backs in check, namely
Doug Martin
and
C.J. Spiller
. I'm really curious to see how they handle Locker and Johnson. Talk to me about the Titans' defense. Sounds like Williams has brought a different dynamic.
Kuharsky:
Yeah, Jerry Gray might still have the defensive coordinator title and might still be calling the game. But the Titans are running stuff he never thought to install or call on his own, and they've got an attitude he wasn't able to instill without Williams. The Titans are blitzing more, they are playing more press coverage, they are hitting harder, they are more assertive and their confidence and swagger is well beyond what we saw last season. Williams is completely in the background, low-keying it. If the defense plays as it has, he could re-emerge as a candidate for coordinator jobs after just one year back from his suspension. Rex seems to have backed off the crazy pronouncements and is more low-key himself. Same guy being a bit more guarded, or is there more change to it than that?
Cimini:
Ryan is in self-preservation mode. He has a new boss, general manager John Idzik, a buttoned-down guy whose objective was to send the circus out of town. He has changed the culture around the organization, and Ryan has bought into that mentality. So yes, the old bravado is gone. Selfishly, as a reporter, I liked the old Rex because he gave us plenty to write about. Another reason for the change in his approach, I think, is he realizes this is a fairly young team (three or four rookies in the starting lineup) and he doesn't want to put extra pressure on them by making outrageous statements. As a result, it's a lot quieter around here. Bummer.
Kuharsky:
It's always quiet down here, Rich. Hopefully, someone will make some sort of noise Sunday. I'm thinking it's unlikely to be a Jets receiver. I know
Stephen Hill
did some good work against the Bills. But the Titans' pass rush and coverage might be fine against Smith and his receivers. They don't rate very well, do they?
Cimini:
Astute observation, Paul. The Jets picked on a couple of backup cornerbacks for the Bills, racking up numbers you'd expect to see from
Peyton Manning
and the Broncos. It won't be that easy against the Titans. Hill is talented, yes, but he's wildly inconsistent. He'll make your heart race with a big play, but he'll also break it with an easy drop.
Santonio Holmes
remains their best receiver. Last week's big game notwithstanding, he's not the Holmes of a few years ago, still not 100 percent after foot surgery. Bottom line: This is still a receiving corps with questions.
.
August, 18, 2013
8/18/13
12:04
AM ET
The
Jacksonville Jaguars
stuck with
Blaine Gabbert
as their starter at quarterback in preseason game No. 2.

Part of why, it now appears, is because they were ready to put him in a no-huddle offense, force the pace against the
New York Jets
at MetLife Stadium and see if the offense couldn't work more effectively with an appearance by running back
Maurice Jones-Drew
and a contribution from receiver
Justin Blackmon
.
Gabbert was excellent, with 13 completions in 16 attempts for 165 yards, a touchdown to tight end
Allen Reisner
and a 130.5 passer rating. He threw on the move, he threw in the face of pressure when he had to, he threw to people who made plays for him. He carried himself confidently, rarely huddling, and running plays that seemed to offer him quick and simple decisions.
Chad Henne
took over with 5:34 on the clock in the second quarter. On his final play, Gabbert banged his thumb on defensive tackle
Muhammad Wilkerson
. He was shaking his hand as he headed for the sideline, and according to tweets from several who covered the game in person, coach Gus Bradley said X-rays of the quarterback's right thumb were negative. It's a sprain and he'll be evaluated further on Sunday.
It was 10-10 when he left the game, and with him at quarterback the Jags converted five of seven third downs.
Against a better opponent who is not surprised by the hurry-up and who will have game-planned more for Gabbert, can he do similar things? We'll have to wait for the answer to that. We don't want to give too much weight to less than a half of a preseason game. But still, there is a lot more reason to think it could be a yes than there was before this game.
A few other thoughts on
Jets 37, Jaguars 13
:
The Jags failed to convert the final three third downs they faced in the first half, when Henne had replaced Gabbert. But the first two were runs, they went for it on the fourth down that followed and they converted both.
In 16 minutes of play, the Jaguars had eight penalties for 63 yards. While the hurry-up caught the Jets off guard, it may have also thrown the Jaguars off a bit in this department. The pace of the Jacksonville offense didn't have a bearing on consecutive neutral-zone infractions against defensive linemen Jason Babin and Sen'Derrick Marks. The Jaguars finished with 12 penalties for 100 yards.
Blackmon was very good, with four catches on five targets for 46 yards. He ran well with the ball in his hands on a couple of quick receiver screens. They are going to miss him during his four-game suspension to start the season. But once he and Cecil Shorts (who didn't play) are on the field together, they should be a formidable duo. Mix in rookie Ace Sanders who flashed some in this game and there is plenty of reason for encouragement. Sanders caught Gabbert's first pass, a 35-yarder down the middle.
Timing wasn't great for rookie safety John Cyprien, who just started practicing on Monday after an offseason hamstring injury. He fell down on the Jets first touchdown, a 23-yard pass from Mark Sanchez to tight end Jeff Cumberland. But even if Cyprien has stayed on his feet, he would have gotten beat on the play.
Jones-Drew got three carries for 9 yards and took a little pass 20 yards. The Jags got him out quickly after his first game action since Oct. 21, 2012. Jordan Todman had some quality carries as the next in line – at least one was undone by a penalty and rookie Denard Robinson showed off his speed before he was slowed in the second half. Neither had a good stat line in the end.
The Jets got effective work out of Bilal Powell when the running back fielded direct snaps. He took one 37 yards as offensive lineman Willie Colon swallowed up Marks to create a big hole. Powell finished with 68 yards on seven carries.
Sanchez and Matt Simms were each sacked once. Jeremy Mincey had the first, sticking with it on a deep drop for Sanchez and ultimately pushing back fullback Tommy Bohanon. Mincey has bulked up so he can play some tackle, and he should beat a fullback. Also of note on the D-line: Continued silence and invisibility from end Andre Branch. His stat line included just one tackle, on special teams.
December, 18, 2012
12/18/12
2:03
AM ET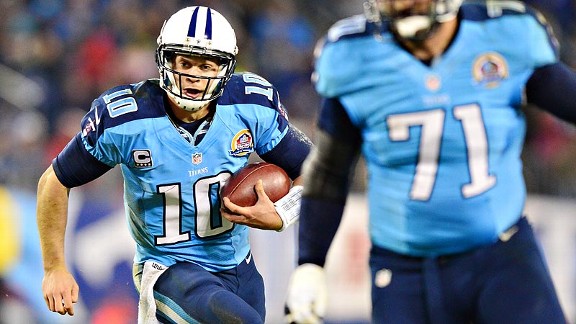 Don McPeak/USA TODAY SportsJake Locker capped a seven-play, 64-yard drive with the winning 13-yard touchdown run.
NASHVILLE, Tenn. -- Minimizing mistakes and letting
Mark Sanchez
do his thing wound up a sufficient recipe for the
Tennessee Titans
to end a three-game losing streak and eke out a 14-10 win over the
New York Jets
on "Monday Night Football."
The Titans weren't trying for a work of art and don't particularly care that people who watched it might have wound up with headaches.
With five takeaways by the defense (call them giveaways by Sanchez, who threw four picks and lost a fumble, if you prefer), the offense could have and should have done far more.
Instead, the game came down to Sanchez's finale gaffe, a low shotgun snap he failed to scoop that running back
Bilal Powell
kicked and linebacker
Zach Brown
recovered to end it with 43 seconds left.
"So many times in this game we could have took advantage and put a drive together and put it away and not made it so hard for us to get the victory," running back
Chris Johnson
said. "Out of all the turnovers they got for us, we never really put a drive together and made it easy on our defense."
Said coach Mike Munchak: "You should win it by more points."
Let's break the Titans' fifth win of the season into three sections:
C.J.'s record run:
Second-and-9 from the Tennessee 6-yard line, 9:06 on the clock in the second quarter. Johnson took the handoff, brushed past center
Kyle DeVan
, who had turned nose guard
Sione Po'uha
to the left, and was gone, easily outracing
Yeremiah Bell
.
The Jets' eight-man box and pursuit at the snap left the defense too flat, and once Johnson got through the line, there was no hope of stopping him from
setting a franchise record for longest run from scrimmage
. Previously he shared the record of 91 yards with Sid Blanks (1964).
In the locker room, on his way to the shower, DeVan detoured to Johnson's locker. He'd learned the run was a record and wanted to offer his congratulations.
DeVan was cut by the Titans on Aug. 31 after training camp. They brought him back on Halloween, and he's been off the roster and back on three times since.
"It was fun to get in there and block for C.J," DeVan said. "With how they play defense, we just had to get C.J. out to the next level, and we were able to do that on that play."
Johnson's season average per carry jumped from 4.55 to 4.93 with the play. His other 20 carries on the night got him 28 yards.
He now has six touchdown runs of 80 or more yards. No other player in NFL history has more than three.
Johnson paid his small tribute to the victims of the elementary school shooting in Newtown, Conn., by playing in shoes that had every victim's name written on them.
Locker's defining drive:
This marked
Jake Locker
's ninth NFL start, and he has yet to really produce a defining moment.
The go-ahead drive that produced the winning margin in this game will hold that title for the time being.
The Jets had just taken a 10-7 lead late in the third quarter, and the Titans got a 35-yard kickoff return from
Darius Reynaud
. Locker took Tennessee 64 yards in seven plays over 2 minutes and 59 seconds. He had passes of 21, 12 and 13 yards before taking a shotgun snap and heading left behind a convoy that helped him get into the end zone on a quarterback sweep.
The Titans didn't even face a third down on the drive.
"I thought it was crisp, there was a lot of tempo, there weren't any mental mistakes," Locker said. "We executed really well. When you do those things, that's what you're capable of doing. We need to find ways to multiply that throughout a game."
Tennessee converted just 2 of 13 third downs and was flagged for 14 penalties for 111 yards. Multiplying good drives can start with major changes in those two departments.
Plenty of picks:
Two defensive backs who got big contract extensions in the recent past had big nights.
Cornerback
Jason McCourty
and safety
Michael Griffin
each tracked Sanchez for two picks.
"We knew coming into the game they were going to pound the ball, and we knew when they put the ball in the air, we were going to have opportunities to make plays," McCourty said. "... The last few games it just seemed like they were pounding the ball, pounding the ball on the ground. They came out and threw the ball a few more times than we expected. We were able to make some plays on the ball in the air, and that gave us a chance."
The takeaways were a lot more about point prevention than point production. Griffin's second pick came on a ball throw from the Titans' 23-yard line, and Brown's fumble recovery was at the Titans' 32.
The Titans' offense followed up the four interceptions with a grand total of 14 plays, 26 yards, 7:50 with the ball and four punts.
"We managed not to give them momentum with turnovers," Locker said, finding the positive.
December, 17, 2012
12/17/12
11:41
PM ET
NASHVILLE, Tenn. --
Thoughts on the Titans' 14-10 victory over the Jets at LP Field:


What it means:
The end of a three-game losing streak for Tennessee (5-9). Coach Mike Munchak can use a solid finish to prevent owner Bud Adams from considering a change after the season.
Chris Johnson
sprinted to a 94-yard touchdown that gave the Titans a lead in the first half. After the Jets pulled ahead in the third quarter,
Jake Locker
engineered what was probably the best drive of his young career and ran in from 13 yards out for what stood up as the winning score. The result knocked the Jets out of the AFC playoff picture.
Bad times for bad punts:
Brett Kern
shanked a punt out of the Titans' end zone to give the Jets some great field position late in the third quarter. New York drove 35 yards to a
Mark Sanchez
-to-
Jeff Cumberland
17-yard touchdown pass. Linebacker
Tim Shaw
was in range, but had his back turned to the ball. Then, with 47 seconds left in the game, Kern punted 19 yards out of his own end zone, giving the Jets the ball at Tennessee's 25. Sanchez couldn't scoop up a low shotgun snap on the next play, running back
Bilal Powell
kicked it and Tennessee linebacker
Zach Brown
recovered it.
Rocky ground:
While Locker made enough plays to win and got a bit of a signature drive, he missed on a lot of throws. He was long on multiple deep throws where receivers didn't have a chance. Early in the fourth quarter with
Kendall Wright
open deep, Locker was late and short, allowing two defenders to get back in the play and break it up. Wright wound up getting hurt as he landed awkwardly on top of
Antonio Cromartie
.
Another injury:
The Titans were already playing four replacement offensive linemen. They lost center
Kevin Matthews
late in the first quarter to a sprained right ankle.
Kyle DeVan
, who has been on and off the roster numerous times this season, played the rest of the game.
An awful number:
The Titans committed a season-high 14 penalties for 111 yards. None was bigger than a personal foul against linebacker
Will Witherspoon
that extended a Jets drive near the end of the fourth quarter. Witherspoon was bailed out by
Michael Griffin
's interception on the first play after the two-minute warning, Griffin's second pick of the game.
Four picks:
Tennessee made sure Sanchez's miserable season stayed miserable, as
Jason McCourty
and Griffin each intercepted him twice.
What's next:
The Titans travel to Green Bay for their last road game and their final game against the NFC North. They've lost to Minnesota and Chicago and beaten Detroit.
December, 14, 2012
12/14/12
1:30
PM ET
»
NFC Final Word
:
East
|
West
|
North
|
South
»
AFC
:
East
|
West
|
North
|
South
Five nuggets of knowledge about Week 15:
On the verge:
A year after finishing 2-14, the Colts can clinch a playoff spot with a win OR a loss by the Jets. According to the Elias Sports Bureau, since the schedule expanded to 16 games in 1978, only two teams have made the playoffs the year after going 2-14 or worse: the 2008 Dolphins and 1982 Patriots, both of whom lost their first playoff game. The Texans, meanwhile, will clinch the AFC South with a win and can wrap up a first-round bye with a win, Patriots loss and Broncos loss. Houston, which won the division for the first time last season, can become the only team other than the Colts to win consecutive AFC South titles since the division was created in 2002.
Bad beginnings:
The Titans' slow starts have been a major problem. ESPN Stats & Information points out the Titans have allowed 38 more points in the first quarter than any other team. They are minus-66 in the first quarter. The Raiders are second worst (minus-57). The Titans have allowed 131 first-quarter points, 38 more than the Saints, who are second worst. The Jets are averaging only three first-quarter points. They are trying to take pressure off struggling quarterback
Mark Sanchez
. The Titans need to stuff
Shonn Greene
and
Bilal Powell
on the ground and put the game on Sanchez's shoulders.
[+] Enlarge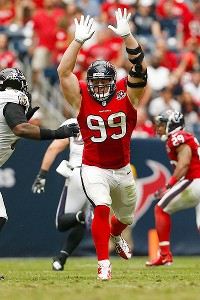 AP Photo/Aaron M. Sprecher'J.J. Swatt' has deflected 35 passes this season, tops in the league.
Watt vs. Luck:
The Texans have batted or tipped a league-high 35 passes this season, including 15 by
J.J. Watt
.
Andrew Luck
has a league-high 21 passes batted or tipped this season. That's a major issue to keep an eye on, particularly if the Texans can turn tipped balls into interceptions. Luck has the most drop backs under duress in the fourth quarter this season, but he has handled the pressure. Luck has been his best under duress in the fourth quarter, throwing two touchdowns (as opposed to one in the first three quarters) and no interceptions.
Back home:
Chad Henne
will face the Dolphins, who drafted him in 2008 with the 57th overall pick. In 36 career games and 31 starts with Miami, Henne completed 60.7 percent of his passes. That is the highest completion percentage in franchise history (minimum 200 attempts). If he's to play well, ideally he'll be looking to
Cecil Shorts
, who is coming off a concussion. He has a receiving touchdown in four straight games. Only
Fred Taylor
and
Maurice Jones-Drew
have scored a touchdown in five or more consecutive games in team history.
Play-action at issue:
Texans quarterback
Matt Schaub
has 10 touchdown passes on play-action throws this season, tied for the league lead with
Drew Brees
and
Peyton Manning
. The Colts have struggled to defend play-action this season, allowing the fifth-worst Total QBR (84.1) on those plays with 9.4 yards per attempt, six touchdowns and no interceptions. If Houston can get
Arian Foster
going and make play-action believable, it could be a long day for Indianapolis.
December, 9, 2012
12/09/12
5:55
PM ET
Thoughts on the
Jacksonville Jaguars
'
17-10 loss
to the
New York Jets
at EverBank Field:
What it means:
The Jaguars allowed Jets quarterback
Mark Sanchez
to end a stretch of 17 scoreless possessions he quarterbacked en route to a loss that dropped them to 2-11. They remain contenders for both a postseason front office shake-up and for the first overall pick in the upcoming NFL draft.


What I didn't like:
The Jets are far better rushing the ball on offense than passing it, and the Jaguars allowed them to do just that.
Bilal Powell
turned 19 carries into 78 yards and a score and
Shonn Greene
took his 20 carries for 77 yards and a touchdown. That meant Sanchez only needed to manage things and he did well enough, completing 12 of 19 passes for 111 yards.
Chad Henne
had to throw it 43 times and while he made a of couple of big fourth-down conversion throws in the Jaguars' last-ditch drive, the last one resulted in a game-sealing interception when he threw it long and receiver
Kevin Elliott
broke off his route.
What could have been:
Derek Cox
forced a
Jeremy Kerley
fumble after a second-quarter, 7-yard gain and it appeared
Dwight Lowery
recovered it, got up and went 60 yards up the sideline for a touchdown. But the replay review showed Kerley touched Lowery while he was down. Instead of a touchdown, the Jaguars got four plays and then had to punt.
Impact play:
Jason Babin
produced a pass-rusher's trifecta with a sack of Sanchez that forced a fumble that Babin recovered himself. It's just the sort of thing Jacksonville was looking for when it claimed Babin off waivers from Philadelphia a couple of weeks ago.
One good sign:
The Jaguars gave up one 37-yard pass play. Beyond that, they really made the Jets drive the ball, as the second longest play was 14 yards. The Jaguars got only three plays over 20 yards themselves, nothing bigger than
Montell Owens
' pretty 36-yard touchdown run.
Big differential:
The Jets committed just one penalty for 15 yards while the Jaguars were flagged for seven that cost them 54 yards.
What's next:
The Jaguars travel south for a game at Miami.