October, 18, 2012
10/18/12
12:00
PM ET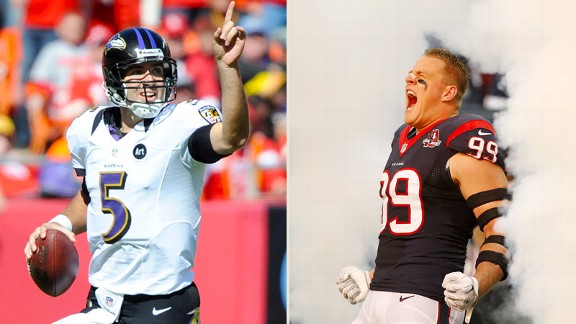 US Presswire, AP ImagesHow Baltimore's Joe Flacco, left, fares against Houston's explosive J.J. Watt could be key Sunday.
The last time we saw the Texans and Ravens square off, we were watching a divisional-round playoff game at M&T Bank Stadium in Baltimore.
Terrell Suggs
had six tackles and a pass defended as the Ravens' rush linebacker. Houston featured third-string rookie
T.J. Yates
at quarterback, and his three interceptions -- paired with multiple special-teams gaffes by Texans returner
Jacoby Jones
-- were big factors in a 20-13 Baltimore victory.
The Texans returned home to rave reviews for their first playoff season but also couldn't help wonder what might have been if they'd had injured starting quarterback
Matt Schaub
and played a cleaner game. Baltimore advanced to the AFC Championship Game in New England, where it lost to the Patriots, but a near-catch for a touchdown by
Lee Evans
could have won it with 27 seconds left and a missed 32-yard field goal by
Billy Cundiff
could have forced overtime.
This rematch doesn't carry the same stakes but could have big implications. The winner will have the AFC's best record at 6-1.
AFC North blogger Jamison Hensley and AFC South blogger Paul Kuharsky will be watching closely.
HENSLEY
: I think it's easy to say this is a battle of the two best teams in the AFC. Not really going out on a limb here because the Ravens and Texans are the only teams with winning records in this mediocre conference. I know there are going to be nine games after this one, but this is shaping up to be the Ravens' most important game of the regular season.
The result of this game could become a tiebreaker for home-field advantage or a first-round bye at the end of the season. The Ravens, who have won a league-best 14 consecutive games at home, don't want to go on the road in the playoffs. The Ravens' mindset is that they won't have to come back to Houston this year if they win there Sunday. What's the mindset of the Texans after what happened in Houston last Sunday night?
KUHARSKY
: Because the Texans are so young, they've played a lot of "biggest games in franchise history." This is certainly the newest one to top the list. Their critics look at the 5-1 record and see wins over mostly softies and a pasting by the Packers on Sunday night. A victory over the Ravens validates everything they've done and regains a firm hold on Best in the AFC. A loss would create some serious concerns. They do have the cushion of playing in a terrible division they simply can't lose. But Baltimore has been an obstacle and ended the Texans' last season in the playoffs. If they meet again with such high stakes, they don't want to be traveling.
It might be a good time to draw the Ravens, too, right? I know
Ray Lewis
wasn't what he has been, but their first game without a leader like that and without an underrated, great corner like
Lardarius Webb
may make them a bit more susceptible, no?
HENSLEY
: This is the most vulnerable I've seen the Ravens' defense in 13 seasons. Lewis wasn't playing like the Lewis from 10 years ago, but he was still an above-average linebacker in this league. The Ravens have given up more than 200 yards rushing in each of the past two games, and losing Lewis only makes that run defense shakier.
Dannell Ellerbe
, who has made seven starts since entering the league as an undrafted free agent in 2009, will take Lewis' spot.
Though the Ravens will miss Lewis' leadership, the bigger loss is Webb. He was emerging as one of the top cornerbacks in the league. His nine interceptions since the start of the 2011 season was tied for the league lead. So, the Ravens have taken shots to both their run and pass defenses this week. How do you see the Texans attacking the Ravens' defense Sunday?
KUHARSKY
: Although they might not run first chronologically Sunday, the Texans are a run-first team. Everything they do offensively is keyed on the one-cut-and-go running of
Arian Foster
, who did great work running for 132 yards in that playoff game on Jan. 15. They send him left most often now, because
Duane Brown
and
Wade Smith
are steadier blockers than the guys on the right side, where they have two new starters who aren't even full time.
Spinning off that run game, we'll see play-action heavy with bootlegs and rollouts. It's always remarkable to see
Owen Daniels
out in space awaiting a Matt Schaub pass.
Andre Johnson
is certainly dangerous too, though they've not been able to feed him the ball as much as usual. He hates the talk that he's getting older and slowing down, but he hasn't looked like the same player so far this season. Two weeks ago, Jets cornerback
Antonio Cromartie
really smothered Johnson. I figured Webb would be a guy who could do similar work. If AJ sees someone like
Cary Williams
instead, it could be a different story.
Speaking of Schaub, let's turn to quarterbacks. He has been quite efficient this year, doing what Houston needs and not getting caught up at all in his numbers. I came into the season not sold on
Joe Flacco
and thinking the Ravens didn't have the right guy under center to become an offensive team. But he has done some very good work in the games I've seen and started to change my opinion. Even minus
Brian Cushing
, the Texans' front throws a lot at a quarterback. Green Bay might have exposed some coverage deficiencies. How's Flacco at assessing such things on the fly and taking advantage?
HENSLEY
: Flacco's biggest improvement this season has been his ability to audible at the line. The Ravens are using the no-huddle more than any other time in Flacco's five seasons. It's not to the point of being
Peyton Manning
, but Flacco is constantly changing the play at the line. Flacco, who ran the no-huddle during his college days, is comfortable with this. He has wanted to have more control of the offense and he's now getting it.
A lot of credit goes to quarterbacks coach Jim Caldwell, who is familiar with this style from his days with the Colts. Flacco makes his mistakes when he gets pressured. His pocket awareness has improved and he can scramble for yards. But Flacco will rush and make poor throws when a defender is in his face. Left tackle
Michael Oher
(four sacks) and rookie right tackle
Kelechi Osemele
(three sacks) have struggled at times keeping rushers away from Flacco. Is there any chance the Ravens slow down
J.J. Watt
and Houston's pass rush?
KUHARSKY
: It sure seems like the key to the game for me. Watt is going to get his at some point, and it's not just sacks. Watch how he'll stop rushing when he knows he's not getting there and time his jump to bat down, or even pick off, a pass.
And although the numbers of the other guys aren't in his stratosphere,
Brooks Reed
,
Antonio Smith
and
Connor Barwin
are very effective rushers who will have a bearing on Flacco's pocket comfort. Force some mistakes with that rush, and I like Houston's chances. Get stonewalled and fall victim to the ball coming out super-fast, and I feel differently.
One note about the quicker Ravens offense: With Cushing out,
Brice McCain
, the nickelback, will have a bigger role in covering players such as
Ray Rice
and
Dennis Pitta
on routes. If the Ravens run hurry-up or no-huddle, they can potentially trap the Texans in base if they want McCain off the field. I am eager to see whether they try that. The Texans are obviously are familiar with Jim Caldwell's no-huddling.
How about special teams? Tell me how Jacoby Jones is now reliably explosive? The Texans have some serious special-teams issues.
HENSLEY
: Jacoby Jones has been one of the bigger surprises this season for Baltimore. The Ravens were looking to upgrade the return game this offseason and failed to sign
Eddie Royal
or
Ted Ginn
in free agency. That's why they jumped on Jones when he was cut by the Texans. He has been average as a punt returner (9 yards per return), but he really keyed the win over the Cowboys on Sunday. His 108-yard kickoff return for a touchdown, which tied an NFL record, was the big play in that game.
The only reason the Ravens turned to Jones on kickoffs was because rookie
Deonte Thompson
fumbled a kickoff the week before. If you think about it, it's kind of funny that Jones got his chance to be explosive because another player couldn't hold onto the ball, especially after Jones' problems fielding kicks in the past. But that really hasn't surfaced so far with the Ravens.
Baltimore's coverage teams are both ranked in the top half of the league, which is a big improvement from last year. In 2012, the Ravens allowed three touchdowns on returns. Another improvement is at kicker. Rookie
Justin Tucker
has made 12 of 13 field goals this season and has hit both attempts beyond 50 yards. If this game is close, the Ravens have a lot of confidence in Tucker to make a pressure kick. So, what are the issues with the Texans' special teams?
KUHARSKY
: Well,
Trindon Holliday
was absolutely electric as their returner in the preseason. But it didn't carry over and they gave up on him. You saw Holliday playing for the Broncos on Monday night.
Keshawn Martin
is the man now. The team averages only 9.8 yards a punt return and 18.5 yards a kick return.
Their average start after a kickoff is the league's worst -- the 17.7-yard line. Their coverage isn't that bad -- it's 31st in the league instead of 32nd. Opponents start at the 26.9-yard line.
Donnie Jones
is a middle-of-the-pack punter in net average.
Shayne Graham
has been good on field goals, hitting 11 of 12, but is tied for 24th in touchbacks playing at home in what amounts to a domed stadium.
It's gambler's logic that the Texans are due to break through against the Ravens. Maybe they will, maybe they won't. If they don't and Jacoby Jones has something to do with it, it'll hurt a little bit extra.
It's certainly no stretch to predict we'll see these teams facing off again in the playoffs. In what round and where is the question, and Sunday's winner will lead the race to be in position to host.
August, 26, 2012
8/26/12
6:12
PM ET
It sure felt like rookie Randy Bullock was going to be the Texans kicker.

The team spent a fifth-round pick on him and he'd done fine in the preseason.
But he was the reason Gary Kubiak was in a bad mood when he met with the Houston media Sunday.
"We lost Randy, Randy is going on IR [injured reserve]," Kubiak said. "I just found out 15 minutes ago. He has torn a muscle somewhere in the groin area. I don't know all the specifics. Obviously, it's going to be a long process back, so it's been a disappointing last half-hour for me and for us to find this out. It had been bothering him for a couple of weeks and he continued to kick through it.
"He's very tough and he kicked very well last night. He came in here today, black and blue. We ran some tests on him and so it's a sad situation. He's going to kick in this league. He's going to kick a long time. He's going to go on IR this year and thankfully we've got
Shayne (Graham)
, who has done a hell of a job, too. He was pushing him neck-and-neck to kick for us. It's a tough deal."
Graham hasn't missed a preseason attempt, including a 53-yarder Saturday night in New Orleans.
"He's kicked off well for us," Kubiak said. "He's a guy who throughout the course of his career has been a very, very accurate kicker inside of 40. He's done a heck of a job. Like I said, it was right down the middle between those two guys. I think we would've been proud with either one of them. I think this situation obviously calls for Shayne to move forward and be our guy. We expect him to do well."
If he doesn't and no one else has scooped them up, there should be at least two solid veteran alternatives to consider.
The Ravens have cut
Billy Cundiff
and the Saints will let go of either
Garrett Hartley
or
John Kasay
.
In other injury news for the Texans, Kubiak said nose tackle
Shaun Cody
(back) and end
J.J. Watt
(elbow) will practice this week but not play in the preseason finale Thursday night against Minnesota.
September, 18, 2011
9/18/11
2:34
PM ET
NASHVILLE, Tenn. -- The Tennessee Titans have looked to be the better team though the first half of their game against the Baltimore Ravens. But a couple crucial mistakes have made it a
10-10
game at intermission.
On a short pass over the middle that turned into a 31-yard
Ray Rice
touchdown, several Titans including linebacker
Barrett Ruud
and safety
Jordan Babineaux
missed chances to bring down the running back. (Not as bad as
Maurice Jones-Drew
's untouched run last week, but not better enough.)
After the Titans pulled ahead 10-7 they kicked off with just 29 seconds left in the second quarter. Even with three Baltimore timeouts, it was reasonable to hope they'd get to the locker room unscathed.
But kick returner
David Reed
burst up the middle then headed to the left sideline and only a good play by
Lavelle Hawkins
prevented a return touchdown. Reed advanced the ball 77 yards. Baltimore moved it just seven more, but it was enough for
Billy Cundiff
to hit a 41-yard field goal as time expired.
If the Titans could have tackled on the Rice play and could have covered the kickoff, they'd be in a lot better shape.
A small bright side: They deferred the opening kickoff and will get the ball to start the third quarter.
December, 16, 2010
12/16/10
12:32
PM ET
Fan voting counts for one-third of the Pro Bowl results, which is unfortunate because fans treat it like a popularity contest and botch their part.
I just went and filled out my ballot
here
. If you're a reader of the blog network, I rate you as smarter than the average fan and urge you to go vote to offset some people who don't pay us regular visits.
My endorsements don't mean a lot. But here's who got my votes from the AFC South:
Running backs:
Arian Foster
,
Maurice Jones-Drew
Receivers:
Andre Johnson
,
Reggie Wayne
Fullback:
Vonta Leach
Tight end:
Marcedes Lewis
Defensive ends:
Dwight Freeney
,
Robert Mathis
,
Jason Babin
Defensive tackle
:
Terrance Knighton
Return man:
Marc Mariani
An explanation on a few close calls:
I initially had Greg Jones over Leach before talking to two people I respect who gave their nod to the "Leach to the Beach" campaign. Jones is playing great right now, but Leach may be having a better total season.
I like what Vince Manuwai's done at left guard for the Jaguars and he may be my favorite/the best offensive lineman in the division right now, but he wasn't a starter for the first five games.
Josh Scobee's been great. But look at Billy Cundiff. He's right there with Scobee on makes -- minus a 59-yard game-winner -- and he's on a record pace for touchbacks.
I'm sure you'll find oversights and I look forward to the conversation this sparks.
January, 17, 2010
1/17/10
2:08
AM ET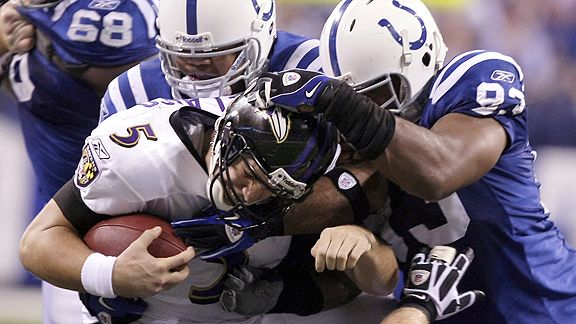 AP Photo/Mark Duncan Gary Brackett, left, Dwight Freeny, right, and the Colts nearly shut out Joe Flacco and the Ravens.
INDIANAPOLIS -- The defense was asserting itself, frustrating Baltimore, keeping the Ravens from mounting any sustained challenges.
Still, the Colts didn't have a takeaway.
Then an unlikely guy got the turnover parade started -- receiver
Pierre Garcon
.
After
Ed Reed
cut in front of a
Peyton Manning
pass intended for Garcon late in the third quarter, the second-year receiver tracked back and put an end to a 38-yard return by punching the ball free from behind. Tight end
Dallas Clark
recovered.
Perhaps spurred by the effort, and certainly aided by the Ravens' increasing desperation, the Colts' D then ended three of Baltimore's final four possessions with takeaways:
Raheem Brock
forced a
Ray Rice
fumble recovered by
Clint Session
,
Antoine Bethea
leaped to haul in an interception and
Jerraud Powers
grabbed one from
Joe Flacco
too.
The
20-3
win set up Indianapolis as the host of the AFC Championship Game in a week, against the winner of Sunday's Jets-Chargers contest.
As long as Manning is around, the Colts are never going to be known as a defensive team. (Find an old post on that topic
here
.)
But Saturday was the rare night when a guy like Garcon found himself flipped, sampling life on the other side of the ball for a few seconds. In so many Manning-era Colts games, any side-swapping thoughts have come from a defender craving a chance to get a carry or a catch.
"The defense balled out," guard
Ryan Lilja
said, while expressing dismay over the second-half offense. "This defensive unit we've got now, these guys are aggressive, they play nasty. We've got playmakers all throughout the team. In a game like this, holding them to three points, you can't say enough."
But for a Bethea misplay, they might have had the Holy Grail -- a playoff shutout. After a first-possession field-goal drive ended at the Colts' 6-yard line, the Ravens never got closer than the 19, and that was at game's end.
The play just before
Billy Cundiff
connected on the 25-yard field goal, Bethea let a pick he probably would have returned for a touchdown slip through his hands.
"Antoine told us he was going to make it up to us and he got a pick later on, but I still wanted that pick-six, we could have gotten a shutout," Session said. "But that was a very complete effort. We had some plays where we missed tackles and all that, but for the most part guys were in the right position and we had each other's back all game."
A week after he carried the Ravens to a 19-point win in New England with 159 yards rushing, Rice gained only 67 yards on the ground.
"Give them credit," Rice said. "Their defense is sometimes overlooked because their offense is so good."
Bethea thought it was as good a defensive effort as his team had pieced together all season.
"I think that ranks right there at the top," he said. "Our defense played great and it means a lot for us coming off of the bye week, hopefully we can just build on it. You can read the body language of the other team, but you can never let down. We wanted to put the clamps down and we did that. We just want to be known as a team that's good in all phases."
Once the Colts had the sort of lead that put the onus on the Ravens to pass, the Colts weren't shy about sending help for the defensive line.
Flacco had fared well against blitzes in his second season, completing 61 percent of his passes for a 98.6 passer rating with only three interceptions in 174 attempts.
Sunday night, ESPN Stats & Information counted five or more pass-rushers on 11 of the Ravens' 36 pass plays. Flacco completed only 3 of 10 passes in those situations with a pick, a sack and a passer rating of 6.3
There are lots of numbers and a solid result for the Colts to admire.
But
Dwight Freeney
circled back to one of his favorite themes: No matter how well a defense plays, it's never hard to find fault with it.
"As defense is concerned, you can really find something on every play," he said. "OK, they gained five yards. They should have only really gained two. They had an 8-yard completion? They should have had no completion. Defense you can look at something and say, 'We need to correct it.' But I think overall we played good."
January, 16, 2010
1/16/10
11:15
PM ET
INDIANAPOLIS -- This puts to rest the debate about rest, we can hope.


The Colts will host the AFC Championship Game Jan. 24 after a stingy defense and an offense that found enough big plays made the difference between them and the
Baltimore Ravens
look monstrous.
Indianapolis 20, Baltimore 3
.
The Ravens took their first possession 87 yards on 15 plays, but settled for a
Billy Cundiff
field goal. They struggled mightily to move the ball after that.
And when the big sparks arrived, they could not turn to a fire.
Ed Reed's first interception of
Peyton Manning
in the third quarter was given back to the Colts when the intended receiver,
Pierre Garcon
, chased him down and punched it free for
Dallas Clark
to recover.
Reed's second interception, later on the same Colts possession, also didn't take the ball away. It only happened because
Corey Ivy
interfered with Clark.
Indy wound up collecting four second-half turnovers.
Offensively, the Colts weren't phenomenally crisp, but they did some good work against a tough Ravens defense and bounced right up from every big hit. Taking what was available, they didn't manage a play longer than 20 yards.
Manning connected on 30 of 44 passes for 246 yards, two touchdowns and a pick. The scoring throws to
Austin Collie
and
Reggie Wayne
were of the vintage variety.
If they get a defensive effort like this against the Chargers or Jets, Manning and the offense can have a season-worst day and still be punching a ticket to the Super Bowl.
January, 16, 2010
1/16/10
7:00
PM ET
November, 22, 2009
11/22/09
7:26
PM ET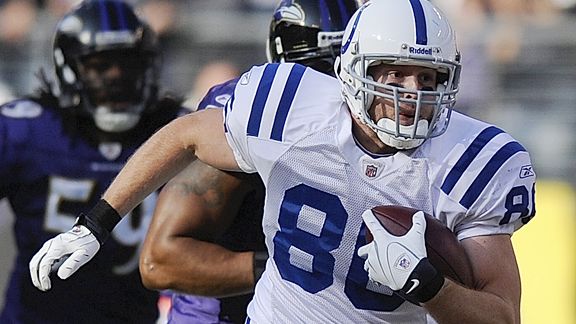 AP Photo/Nick WassWhile he admits he made some mistakes, Colts tight end Tom Santi made the most of his time on the field in Sunday's win over the Ravens.
BALTIMORE -- The Colts pride themselves on plugging people into holes with no drop-off. They expect that when mistakes are made, they will find a way to overcome them.
Sunday at M&T Bank Stadium, as they improved to 10-0 with a
17-15 win
over the Ravens, second-year tight end
Tom Santi
came to symbolize both themes.
The Colts were without
Gijon Robinson
, a starter who does a lot of blocking in the shadow of
Dallas Clark
, helping keep
Peyton Manning
clean and create room for
Joseph Addai
and
Donald Brown
. While he was in Indianapolis recovering from a concussion, Santi got the call.
Santi proved himself a capable blocker and a largely reliable target for Manning, chipping in with six catches for 80 yards.
He also had three costly plays -- a lost fumble near the goal line, an apparent alligator-arms moment in another scoring chance and a false start penalty.
"Everybody makes mistakes. You've got to watch, how do they handle it afterwards?" Addai said. "He was able to handle it afterwards. He hasn't been playing a lot. This game he did a lot of good things. Yeah, he fumbled. But you've got to kind of let that go. I know he'll learn from it, but move on. He did a great job for us today and I know he'll improve from there."
"That doesn't surprise me,"
Reggie Wayne
said of the positive contribution. "He does it every day in practice. So now he just turned it over to the game. I think he did a pretty good job, minus the fumble. But that happens. I'm just glad it didn't cost us."
The Colts don't so much plan to feature a guy as they allow Manning to take what's available.
Robinson isn't generally a large piece of the passing offense. Santi had a sense in the middle of the week that he'd be in line for a good share of the work that usually goes to Robinson.
Clark made a spectacular one-handed catch in the back of the end zone for a 3-yard touchdown to cap the game's opening drive. Other than that, Baltimore did things defensively that prompted Manning to look elsewhere, and he turned to Santi for four of his 12 first-half completions.
"We saw some things, and obviously the quarterback is pretty good back there and he does a great job putting us in great position," Santi said.
Down 9-7 in the second quarter, Manning placed a pass to Santi over the middle and in the middle of a crowd for a 22-yard gain. Santi got nailed, suffering a neck injury that briefly forced him from the game. It was a key play on a touchdown drive that put Indianapolis ahead 14-9.
On a day when he made his first catch of the season, he might have also scored his first touchdown of the year.

Instead, he ended the Colts' first possession after the half when he was clobbered at the 1-yard line, hit low by Ed Reed and then high by Ray Lewis, who jarred the ball free for Dwan Edwards to recover.

Just about anyone might have coughed it up when scrunched by two eventual Hall of Famers.

Santi didn't know who the defenders were.

"That's a bad play on my part," he said. "I definitely left points out there. As far as I am concerned, that's unacceptable."

The Colts' defense didn't allow it to translate into points. While Baltimore moved 84 yards on the ensuing possession, Billy Cundiff missed a 30-yard field goal wide right.

Later, with Dawan Landry closing fast, Santi seemed tentative on a ball he could have pursued more aggressively on a second-and-goal from the 7. Just before the 2-minute warning, he was whistled for a false start.

He said both errors were a matter of lost focus. On the pass, he needs to come out of the break faster and be ready for it quicker.

"I definitely left some plays out there," he said. "As you can see we've got a good team with a lot of great veteran leadership and that's what we've talked about the whole year. Play the next play, next man up and when it's your time, go out there and perform."

He will enjoy the win, review the film, then shred it, mentally, as he knows his coaches will.

Then, if still needed, he will plug back in to the next-man-up, play-the-next-play philosophies that are a big part of why the Colts are the AFC's lone undefeated club.

He'll simply look to be the kind of player Wayne says all of the Colts are supposed to be.

"We're like machines," Wayne said. "They program us to keep pushing, don't fall. Keep chugging away, chugging away. There is no time to point fingers or put your head down. Just keep going, keep going and find a way to get it done."

November, 22, 2009

11/22/09

5:17

PM ET

BALTIMORE -- A lot of times, too much is made about a player returning to his old town to face his old team. In many, many instances in the NFL, these guys are mercenaries.

Stover
Certainly there are exceptions.
Matt Stover
's return to Baltimore as a member of the Colts was one of them.
In a 17-15 game, he hit the winning field goal against the franchise he played 17 seasons for, 12 of them in Baltimore.
"It was surreal, but I think everybody can understand that I tried my best to not internalize the fact that I am actually at Baltimore's stadium," he said. "So for that three hours, I compartmentalized my team, I did everything I could to erase it. Now of course there were time I was thinking, 'Look at those guys over there, I am usually over there…'"
"Mind you I didn't want them to win today, but I do want them to win… And I don't want Baltimore to forget this: I'm part of the community and always will be."
Had the Colts not signed him to fill-in for the injured
Adam Vinatieri
Oct. 14, Stover easily could have been with the Ravens again as they gave up on
Steven Hauschka
. With Stover off the market, they went with
Billy Cundiff
, who hit five field goals but missed a 30-yarder wide right.
After the Colts moved to 10-0 and players spilled out of the locker rooms in the tunnels below M&T Bank Stadium, Stover bumped into John Harbaugh, the coach who was part of the decision not to bring him back this season as the team went younger and looked for a bigger leg.
"Sorry about that kick he missed," Stover told Harbaugh about Cundiff. "He kicked the ball great."