January, 21, 2014
Jan 21
7:20
PM ET
MOBILE, Ala. -- Here are 10 observations/thoughts from Tuesday's Senior Bowl practice(s) and interviews:
After practicing Monday on a mild 65-degree day, players had to deal with temperatures in the 50s and wind gusts of more than 20 mph. Naturally, it wasn't an easy day for the quarterbacks, who had trouble throwing the ball into the wind. It also was an issue for the punt and kick returners, who had trouble adjusting to the ball. Jalen Saunders (Oklahoma) did the best job of any of the South returners. Lorenzo Taliaferro (Coastal Carolina) completely whiffed on one punt and Mike Davis (Texas) dropped two kickoffs.
Three South players are out with injuries: offensive tackle Ja'Wuan Jones (Tennessee) suffered a sprained knee; tight end Marcel Jensen (Fresno State) suffered an abdominal strain; and defensive end Ed Stinson (Alabama) suffered a groin strain. Former Colorado State tight end Crockett Gillmore has been added to the roster and was scheduled to arrive Tuesday night.
One of the more fun drills to watch was the running back/tight end pass-blocking drills. Taliaferro was the most impressive of the backs, which shouldn't be surprising considering he's the biggest back on the roster (231 pounds). He handled linebacker Christian Jones (Florida State) and stuffed linebacker Telvin Smith (Florida State) before finally getting beat by defensive end Kyle Van Noy (BYU). Jones rebounded nicely, though, and consistently got by the other backs. He also beat tight end Arthur Lynch (Georgia) twice, including once with a nasty spin move.
Running back Antonio Andrews (Western Kentucky) more than held his own in the pass-blocking drill despite being much shorter than the players he was blocking. Andrews is 5-foot-10 but a solid 225 pounds. He also showcased his agility with a nifty juke after catching a swing pass that left linebacker Lamin Barrow (LSU) on the ground.
Smith's size is becoming an issue. He was a 6-3, 217-pound linebacker at FSU but he's having trouble getting off blocks and has been pushed around too easily at times.
It's clear that Jordan Matthews (Vanderbilt) is the South team's top receiver. He made a twisting sideline catch after adjusting to deep ball that got caught up in the wind and showed the ability to fight through press coverage. He also caught a short pass on a drag route with a defensive back all over him.
Give the Senior Bowl staff credit for putting offensive tackle Billy Turner on the South team. Why is that interesting? Turner helped North Dakota State win three consecutive FCS national titles. The Jaguars are coaching the South team and head coach Gus Bradley played and coached at North Dakota State. "We talked a little bit. There's a saying up there, once a Bison always a Bison," Turner said. "I don't know if it'll help me but it's kind of a connection. I think that my play on the field will help me the most." Turner certainly has the size to be an NFL tackle (6-5, 316 pounds) but he has struggled a bit adjusting to the speed on the edge. Defensive end Chris Smith (Arkansas) blew by him quite easily in 11-on-11.
Cornerback Jaylen Watkins (Florida) had an impressive day. He broke up several passes, including one intended for Matthews, and had an interception. He's comfortable in press coverage, which was what he played most of the time at Florida under coach Will Muschamp. Watkins (5-11, 194) has experience at field and boundary.
Quarterback Derek Carr spent about 20 minutes throwing to Matthews after practice. He worked on slants and in routes because he missed several of those throws during practice. He wasn't just doing it for the field of scouts, either. It's part of his competitive nature, he said, and his commitment to continually improve. "If I miss a throw I'd be wrong to not throw it again after practice," Carr said.
One outside linebacker who has flown somewhat under the radar so far this week is Jordan Tripp (Montana). The 6-3, 237-pound Tripp isn't flashy and doesn't have the speed and quickness of some of his SEC teammates but he always seemed to be around the ball. He is a two-time FCS All-American and was twice a finalist for the FCS defensive player of the year award.
January, 20, 2014
Jan 20
7:10
PM ET
MOBILE, Ala. -- Here are 10 observations/thoughts from Monday's Senior Bowl practices and interviews:
1. Though there was only one period at the end of South team practice in which the entire offense faced off against the entire defense, Monday was a good day to evaluate the quarterbacks. It was mainly from a mental standpoint, Jaguars offensive coordinator Jedd Fisch said. The offense was put in Sunday night and Monday was the first chance to see how well the quarterbacks transferred it from the meeting room to the field. Fisch said he was pleased with the way
Jimmy Garoppolo
(Eastern Illinois),
Derek Carr
(Fresno State) and
David Fales
(San Jose State) handled that. There were mistakes and issues, but all the quarterbacks did a solid job.
2. There isn't a lot of size among the quarterbacks for either team, with the exception of
Logan Thomas
(Virginia Tech), who measured in at an impressive 6-5 5/8 and 250 pounds. Fales (6-1) and Carr (6-2) were both listed at 6-3 on the pre-measurement roster.
[+] Enlarge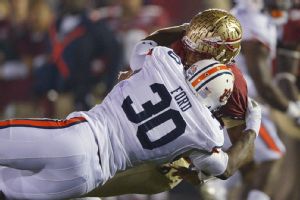 AP Photo/Mark J. TerrillDee Ford, who had 2 sacks in the national title game against Florida State and 10.5 sacks for the season, impressed on Monday at Senior Bowl practices.
3. Maybe it's my SEC background (I covered Florida and the league for 13 seasons), but defensive ends
Dee Ford
(Auburn) and
Chris Smith
(Arkansas) were noticeably quicker than the other defensive linemen. It really showed during one-on-one pass-rush drills. Offensive tackles
Joel Bitonio
(Nevada),
Wesley Johnson
(Vanderbilt),
Ja'Wuan James
(Tennessee),
Morgan Moses
(Virginia) and
Billy Turner
(North Dakota State) really struggled with those two players on the edge. Turner had a particularly hard time, which is partly to be expected because of the step up in competition. However, it was a bit surprising to see Johnson, James and Moses have issues. The layoff is partly to blame.
4. Ford had 10.5 sacks, including two in the national title game against Florida State, and was consistently beating the tackles around the edge. It'll be interesting to see how he handles coverage responsibilities. He's not really big enough to play a down end (6-2 1/4, 243 pounds) so he'd likely fit in the Jaguars' scheme as a leo.
5.
Jon Halapio
(Florida) had a rough start in one-on-one run-blocking drills -- defensive tackle
Will Sutton
(Arizona State) threw him aside pretty easily -- but he rebounded to have a solid performance in the pass-rushing drills. He handled Sutton and tackle
Deandre Coleman
(California) in pass-rush drills.
6. From the Don't Read Too Much Into This Department: Jaguars GM
David Caldwell
wandered over to watch some of the one-on-one run-blocking drills and stood next to end
Ed Stinson
for a while. The two appeared to be chatting while Stinson was sitting out some drills. Stinson weighed in at 292 pounds so he'd be a better fit for the spot that
Tyson Alualu
plays. The Jaguars were satisfied with the way Alualu played the run last season but they'd like more pass-rush production out that spot.
7. Here's a name to keep an eye on as the draft rolls into the later rounds: defensive tackle
Caraun Reid
(Princeton). He had a really strong day in run-blocking and pass-rushing drills. He moves very well for his size (6-2 1/8, 301 pounds) and showed good strength and quickness. He tossed guard
Gabe Jackson
(Mississippi State) aside and got underneath center
Bryan Stork
(Florida State) and drove him back.
8. Another small-school player that caught my eye was running back Lorenzo Taliaferro (Coastal Carolina), mainly because he's the biggest running back participating this week (6-0, 231 pounds). He had a couple nice runs during the short 11-on-11 period. He ran for 1,742 yards and 27 touchdowns and averaged 6.3 yards per carry last season. He has lost only 20 yards in 356 career carries.
9. Receiver
Jordan Matthews
(Vanderbilt) made a nice catch with a DB all over him during 11-on-11. Matthews (6-2, 209 pounds) is a physical player who caught 201 passes the past two seasons. He has good hands, knows how to use his body, and will make the tough catch. He doesn't have top-end speed, but he'll be one of the first several receivers drafted.
10. I wasn't that impressed with fullback
Jay Prosch
(Auburn), who struggled whenever he had to block an end or on the edge. Granted, there were only a few live periods but he seemed to be much better whenever he had to take on an inside linebacker.