July, 7, 2014
Jul 7
10:00
AM ET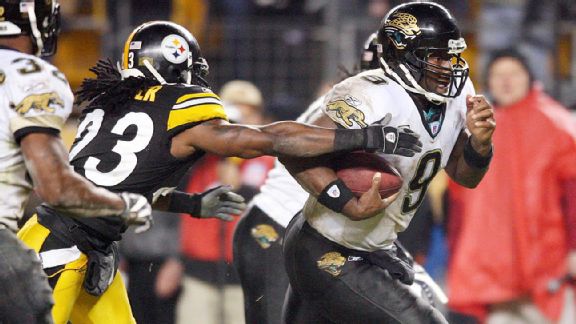 Gary W. Green/Orlando Sentinel/MCT/Getty Images
»
VOTE HERE
»
NFC Plays:
East
|
West
|
North
|
South
»
AFC:
East
|
West
|
North
|
South
This is one of three nominations for the most memorable play in
Jacksonville Jaguars
history. On Monday we featured Morten Andersen's missed field goal in the 1996 regular-season finale that sent the Jaguars to the playoffs. On Tuesday we featured Mark Brunell's touchdown pass to Jimmy Smith to clinch the 1996 AFC divisional playoff game over the Broncos.
Score
: Jaguars 31, Steelers 29
Date
: Jan. 5, 2008
Site
: Heinz Field
The Jaguars have won just one playoff game since their run to the 1999 AFC Championship Game, and it came thanks to a gutsy play call, a couple of good blocks and a holding penalty that wasn't called.

The Jaguars appeared headed for an easy victory over Pittsburgh in a 2007 AFC wild-card game after beginning the fourth quarter with an 18-point lead and the Steelers facing a fourth-and-12 at the Jacksonville 37-yard line. But
Ben Roethlisberger
and
Santonio Holmes
hooked up for a touchdown, and Pittsburgh's comeback got jump-started.
The Steelers eventually took a 29-28 lead with a little more than six minutes to play. After the teams traded possessions, the Jaguars drove into Pittsburgh territory but faced a critical fourth-and-2 from the Steelers' 43 with 1:56 remaining.
Offensive coordinator Dirk Koetter didn't choose a pass play or a run by Fred Taylor or
Maurice Jones-Drew
. He called a quarterback draw out of the shotgun formation, putting the season on David Garrard's feet.
Four players threw key blocks: Center Brad Meester sealed linebacker James Farrior on the inside, left guard
Vince Manuwai
drove defensive end
Brett Keisel
backward, right tackle Maurice Williams took down nose tackle
Casey Hampton
and tight end
Marcedes Lewis
turned safety
Troy Polamalu
outside.
That opened a huge hole for Garrard, who put a move on safety Tyrone Carter and ran by him at the 30 before Carter finally ran him down at the Pittsburgh 11-yard line. That play set up
Josh Scobee
's 25-yard field goal with 37 seconds remaining, and defensive end Bobby McCray sacked Roethlisberger and forced a fumble that defensive tackle
Derek Landri
recovered with 20 seconds to play to give the Jaguars a 31-29 victory.
Except it shouldn't have happened.
Officials missed a pretty blatant hold by left tackle
Khalif Barnes
on linebacker
James Harrison
. Barnes got his feet crossed as Harrison went outside and then back inside and grabbed Harrison's jersey by his shoulders. By the time Barnes let go, Garrard was already past the first-down marker.
Steelers players and fans were irate about the noncall. Their complaints were eventually validated when the NFL's head of officiating admitted the following spring that the crew working that game missed the holding call.
There was obviously nothing the NFL could do about the outcome. That remains the last time the Steelers lost a playoff game at home.
@ESPNdirocco David Garrard on 4th down in Pitt: made jags only team to ever beat the steelers on their home soil twice in same season

— David Lipton (@d_lipton14) June 10, 2014
April, 1, 2014
Apr 1
3:30
PM ET
JACKSONVILLE, Fla. -- It would be hard for the
Jacksonville Jaguars
to blow their first-round draft pick.
General manager David Caldwell and coach Gus Bradley have so much talent from which to choose at No. 3 that it would be hard to find fault with whatever decision they made.
Jadeveon Clowney
,
Khalil Mack
,
Sammy Watkins
,
Greg Robinson
, or any of the three quarterbacks are all good options.
The same applies for the second round as well, especially if the Jaguars are going offense because Caldwell said this is a deep draft for offensive talent.
It's on the third day of the draft, however, where it gets a lot tougher. How the Jaguars perform in Rounds 4-7 will be the key to the success of the draft, Bradley said.
"I think that's where we really have to do well," Bradley said. "The first round, obviously, and the second round you have to do some things there. But this draft will be determined by how well we do in those rounds.
"Example:
Richard Sherman
,
Kam Chancellor
, guys like that can make a big difference there. We focus on all areas, but that's an area that we've got to concentrate on, too."
Sherman (2011) and Chancellor (2010) were both fifth-round picks who developed into key members of the Seattle secondary. That's the kind of result for which the Jaguars are hoping for this year.
They've set themselves up with enough ammunition. Because of trades with Baltimore, Detroit and San Francisco, the Jaguars have eight picks in rounds 4-7, including three in fifth round. That should increase their odds of finding at least one player who could develop into a starter.
In reality, though, they're fighting against tradition. Looking back over the past 10 years of fifth-round picks by every NFL team doesn't exactly reveal a lot of success. There are some familiar names -- Sherman, Chancellor,
Riley Cooper
,
Chris Clemons
(the defensive back),
Rob Ninkovich
, and
Brent Celek
, for example -- but the majority of the picks turned into marginal players at best or were out of the league within a year or two.
The Jaguars haven't had much success with players selected in rounds 4-7 over the past decade, either. They hit on three in 2004 -- receiver
Ernest Wilford
(fourth), kicker
Josh Scobee
(fifth) and defensive end
Bobby McCray
(seventh) -- but since then only five players taken in those round became significant contributors: safety
Gerald Sensabaugh
(fifth round in 2005), guard
Uche Nwaneri
(fifth round in 2007), running back
Rashad Jennings
(seventh round in 2009), receiver
Mike Thomas
(fourth round in 2009) and receiver
Cecil Shorts
(fourth round in 2011).
It's too early to tell if any of the players taken in rounds 4-7 the past two seasons will become significant contributors, but it appears the team hit on receiver
Ace Sanders
(fourth round in 2013).
Bradley said the Jaguars will try to find players in those rounds that fit a specific role. Sanders, for example, was drafted to be the team's punt returner. It's the same approach they used in free agency with linebacker
Dekoda Watson
, a special teams standout who played situationally on defense with Tampa Bay. The Jaguars project him as a strongside linebacker on first and second downs and a leo on third down.
"For us he was intriguing. We have a spot for him," Bradley said. "We know exactly where we want to play him. That's what can happen [in] the fifth, sixth round. Hey, we really like this guy. We have a spot that he can come in and do some good things."
Find enough of those guys on the third day and Bradley will consider the draft a success.
April, 8, 2013
4/08/13
10:11
AM ET
While NFL fans look at the
Jacksonville Jaguars
and the upcoming draft and think quarterback, signal-caller isn't actually the long-standing issue the team might have the easiest time solving with the No. 2 pick.
Sure, the Jaguars need a quarterback. But this draft doesn't include anything near the sure-thing types that headlined last year's draft, when
Andrew Luck
and
Robert Griffin
III were the top two picks.
Some analysts read a lot into the attention the team has paid West Virginia quarterback Geno Smith. I suspect it was a matter of doing its due diligence.
If I'm the Jaguars, I wait a year and hope that in 2014 there is more of a sure thing quarterback to chase, and that I've put together a better team for him to join.
And to be a better team, they need to address their pass rush.
The Jaguars have not had a player record double-digit sacks since 2006. That's right, Jacksonville has played a half-dozen seasons without a player getting 10 sacks. In fact, since
Bobby McCray
notched 10 sacks in 2006, the highest total anyone's had is eight, by
Jeremy Mincey
in 2011.
Jaguars sack leaders since 2006:
Enter Dion Jordan of Oregon. In the above video, Todd McShay tabs Jordan as the best edge pass-rusher in the draft. He's got a great combination of size and athleticism and seems like the kind of guy who can help transform a defensive front.
Sports Science worked with Jordan and found he's got 3.8 percent body fat, spins faster than
Dwight Freeney
and has the potential of
DeMarcus Ware
.
This video
will get you excited about the guy.
I'm guessing the odds of regretting passing on a player like Jordan for a quarterback are higher than the odds of regretting passing on Smith for a pass-rusher.
There are other spots in the mix, of course, like offensive tackle.
But a little over two weeks before the draft, the guy who has me most intrigued when I think of the Jaguars and the No. 2 spot is Jordan.
April, 18, 2011
4/18/11
5:32
PM ET
A look back at how a later pick who has turned out well or a higher pick who has not was reviewed before he was drafted into the AFC South.

McCray
Bobby McCray
, former Jaguars defensive, Florida, seventh round, 249th overall in 2004
Mel Kiper, eighth defensive end
"He has great closing speed and can get to the quarterback once he works past the OT. He's not real instinctive, though, and will disappear from the action during some games. He's an enigma in that he has all of the physical and athletic skills you look for, yet he didn't always show it on a consistent basis."
Pro Football Weekly, ninth defensive end
"Tall, strong, very quick edge rusher who can be great when he wants to be, but has done little more than show flashes. Has similar measurable to
Jevon Kearse
, but is nowhere close to Kearse as a football player."
NFL Draft Scout, 22nd defensive end
"…More of a one move type, showing little desire to generate secondary and counter moves. ... Non-leader type who will not do things to improve his technique on his own, give marginal effort but is the type of player that thinks he has already 'arrived…' Has great straight-line speed, but is a little stiff in his hips and knee bend."
After seven years:
McCray was quite productive for the Jaguars for a seventh-round pick. He missed just three games in his four years with the team, starting 29 times. He had 22 sacks in his time in Jacksonville working predominantly as a pass rush specialist.
He bolted to the
New Orleans Saints
as a free agent in 2008, signing a five-year deal that could be worth as much as $20 million and included a reported $5 million in the first season.
He had 7.5 sacks in two seasons in New Orleans, then was signed in time to play in the regular season finale for the
Philadelphia Eagles
in 2010.
September, 14, 2010
9/14/10
12:05
PM ET
Reading the coverage ...
Houston Texans
According to John McClain, the Texans will audition
three defensive ends
to help fill in for Connor Barwin -- Ryan Denney, Adewale Ogunleye and Bobby McCray. None of them would bring what Aaron Schobel could.
Gary Kubiak is
shifting gears
to plan for the Redskins, says McClain. Going against his mentor is a big deal.
Chris Myers and the line
paved the way
for Arian Foster, says Jerome Solomon.
Surgery is set
for Barwin, says McClain.
Former NFL offensive line coach Larry Zierlein joins his son, Lance, for discussion of Texans'
zone-game dominance
. (Podcast.)
Indianapolis Colts
The Colts are
vague
about Bob Sanders' injury, says Mike Chappell. I hope they don't believe we believe they don't know more.
Robert Mathis and the defense look forward to hitting
a quarterback named Manning
, even if it's Eli, says Phil Richards.
Releasing Sanders
would do nothing
for the Colts except open a roster spot, says Chappell.
The Colts' run defense could be an issue that means
long-term trouble
, says Vince Verhei. (Insider.)
Did the Colts
give up
in the fourth quarter? Stampede Blue explores the question.
Jacksonville Jaguars
Derek Cox is
still a starter
and his teammates expect him to bounce back, says Vito Stellino.
David Garrard
enjoyed a day
of facing down critics, says Tania Ganguli.
Vic Ketchman proposes a "
No Penalty Zone
."
Tyson Alualu made a
good first impression
and Brian Fullford laments it didn't get national mentions. (I can't see every snap of three games that are played simultaneously, sorry.)
Andrew Das wonders about the
Tim Tebow treatment
at EverBank Stadium. I think it's not a big deal and typical game-day stuff.
Ten things
Black & Teal thinks about the Jaguars.
Tennessee Titans
Jeff Fisher defends leaving Chris Johnson in a blowout
to the end
, says Jim Wyatt. I don't understand why this is a big issue. Play the starters as long as you like, those are the guys I want to see.
Fisher liked the damage Vince Young did
with his legs
, say Wyatt and John Glennon.
According to Fisher, Javon Ringer doesn't need late-game reps, he just needs to
be ready
, says David Boclair.
The Titans claim Steelers week is
still special
, says Darren McFarland. I don't buy it. To most guys on this team, Pittsburgh is not a lot different than any other team.
Boclair ranks 10 years of Titans
defensive ends
.
February, 24, 2010
2/24/10
2:02
PM ET
»
NFC Schemes/Themes
:
East
|
West
|
North
|
South
»
AFC
:
East
|
West
|
North
|
South
»
Draft Watch
:
Biggest needs
(2/17) |
Busts/gems
(2/24) |
Schemes, themes
(3/3) |
Recent history
(3/10) |
Needs revisited
(3/17) |
Under-the-radar needs
(3/26) |
History in that spot
(3/31) |
Draft approach
(4/7) |
Decision-makers
(4/14) |
Dream scenario/Plan B
(4/21)
Each Wednesday leading up to the NFL draft (April 22-24), the ESPN.com blog network will take a division-by-division look at key aspects of the draft. Today's topic: Busts and late-round gems.
Houston Texans

The previous regime traded with division rival Tennessee to get Western Michigan linebacker
Jason Babin
with a second first-round pick in 2004 and he never became what they envisioned. The first-rounder from the next year, Florida State defensive tackle
Travis Johnson
, wasn't good either. Johnson flashed some but wasn't long-term help. Wide receiver
David Anderson
(seventh round from Colorado State in 2006) is a quality slot receiver, and probably the team's best late-round pick.
Indianapolis Colts

The Colts traded up in 2007 to take Arkansas offensive tackle
Tony Ugoh
42nd overall. He was the man to replace
Tarik Glenn
when he surprised the team by retiring the same year. But Ugoh lost his starting job in 2009 and was often inactive. Two third-rounders from the same draft also faded: cornerback
Dante Hughes
from Cal didn't make it out of camp in 2009 and Ohio State defensive tackle
Quinn Pitcock
quit football in 2008. Late-round finds abound: Howard safety
Antoine Bethea
(sixth round) is a Pro Bowl talent; Mount Union receiver
Pierre Garcon
(sixth round, 2008) just had a breakout season; punter/kickoff man
Pat McAfee
from West Virginia (seventh round, 2009) is a consistent performer. And Indianapolis does consistently well with undrafted rookies, such as safety
Melvin Bullitt
and cornerback
Jacob Lacey
.
Jacksonville Jaguars

First-round busts have been a major reason the Jaguars haven't broken through as a consistent contender: receivers R. Jay Soward of USC in 2000,
Reggie Williams
from Washington in 2004 and
Matt Jones
from Arkansas in 2005 are gone and safety
Reggie Nelson
(Florida, 2007) and defensive end
Derrick Harvey
(Florida, 2008) rank as major underachievers. Late-round gems? Purdue guard
Uche Nwaneri
was a 2007 fifth-rounder and has started a lot of games and Florida's
Bobby McCray
was a good defensive end for a seventh-rounder in 2004.
James Harris
was ousted as the personnel chief and the team seems on a better track under Gene Smith, who was named GM about a year ago.
Tennessee Titans

Any list of recent high-ranking failures has to start with first-round cornerback Pacman Jones, sixth overall from West Virginia in 2005. He was probably the best defensive football player there, but the Titans failed miserably in researching his personality. Other busts who hurt them:
Ben Troupe
(second-round tight end from Florida in 2004),
Andre Woolfolk
(first-round cornerback from Oklahoma in 2003) and
Tyrone Calico
(second-round receiver in 2003). Cornerback
Cortland Finnegan
was an All-Pro in 2008 and heads any list of recent late-round gems. He was a seventh-rounder from Samford in 2006. Tight end
Bo Scaife
was a sixth-rounder from Texas in 2005 and promising defensive end
Jacob Ford
from Central Arkansas was a sixth-rounder in 2007.
January, 31, 2010
1/31/10
1:00
PM ET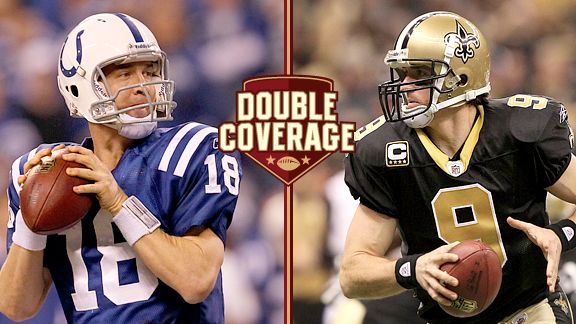 Getty ImagesPeyton Manning and Drew Brees lead two of the most powerful passing attacks into Super Bowl XLIV.
The Colts and Saints arrive in Miami on Monday, when the hype for Super Bowl XLIV will kick into high gear.
Eager to do our part, we locked NFC South blogger Pat Yasinskas, who analyzes the Saints for ESPN.com, and AFC South blogger Paul Kuharsky, who tracks the Colts, in a room and asked them to talk through several of the top issues.
We're sure to revisit many of them in the week to come, so consider this a tasty platter or appetizers. Tuck a napkin in your collar and dive in.
How much of a factor is it that the Colts have a recent Super Bowl championship on their resume, while this is the first Super Bowl appearance in a not-so-glorious franchise history for the Saints?
Pat Yasinskas:
I'm not going to even try to bluff my way through this one or downplay this aspect. This is a huge factor and the Saints are clearly at a disadvantage here. By my count, they've only got four players who have even appeared in a Super Bowl (with other teams, of course). That's safety
Darren Sharper
, cornerback
Randall Gay
, fullback
Kyle Eckel
and long-snapper
Jason Kyle
. Gay is the only one of those guys with a Super Bowl ring.
If you really want to pad the list, I suppose we could throw in tight ends
Jeremy Shockey
and
David Thomas
, who were on the injured-reserve list when their teams went to Super Bowls, and fullback
Heath Evans
, who went to a Super Bowl with New England. But Evans won't play in this one because he's on injured reserve. That's it. Not a long list of guys who have been there and done that.
The Saints haven't been here before, but they have to act as if they have. They've got strong veteran leadership in players such as Sharper,
Drew Brees
and
Jonathan Vilma
. They'll have to follow their lead. Just as important, the coaching staff has to set the tone that the Saints shouldn't stroll into Miami with their eyes wide open. They need all eyes focused only on winning the game.
Paul Kuharsky:
I'm not expecting the Saints to be overwhelmed or unfocused by the hype or events of Super Bowl week. They were smart to get their game plan drawn up and installed during the week after winning their conference, same as the Colts did.
It's Super Bowl Sunday itself that can prove to be the big difference. It's great to have people tell you about the unnatural start time, the long delay between warm-ups and pregame festivities and the extended halftime to make room for The Who. It's another thing to go through it yourself. Edge: Colts. Not only have they done it, they've done it in this very venue.
I also think the adrenaline that shoots through guys when kickoff finally arrives can make it hard for them to settle down. Indianapolis will be better prepared for that, and if the Colts settle down more quickly than the Saints, New Orleans has to hope by the time its feet hit the ground it's not facing a two-score deficit.
Understandably, the first thing people talk about with these two teams is the passing game. But both the Colts and the Saints can run the ball a little bit. Which team has the better running game?
[+] Enlarge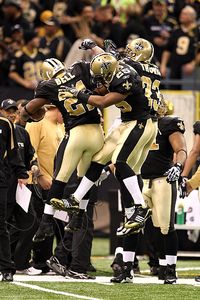 Scott Cunningham/Getty Images Mike Bell, left, Reggie Bush and Pierre Thomas are part of a running game that balanced New Orleans' offense.
PY:
I'm going with the Saints. People tend to overlook their running game, but it's a big reason why they're in the Super Bowl. One of the best things Sean Payton did in the offseason was realize his running game was inconsistent and just plain bad last year. He made a conscious commitment to make the running game better this year and the most impressive thing might be that he and general manager Mickey Loomis were able to avoid the temptation to go out and sign
Edgerrin James
or draft
Beanie Wells
.
They realized they already had some good backs in the building with
Pierre Thomas
,
Reggie Bush
and
Mike Bell
and they added
Lynell Hamilton
for a bit of depth. They had a good offensive line already in place, and Payton altered his play calling to have a more balanced offense that allowed the Saints to protect leads and run out the clock.
New Orleans doesn't have one dominant back. Thomas can do a bit of everything, Bush provides speed and a receiver out of the backfield and Bell and Hamilton give the Saints some power. This makes for a very solid combination.
PK:
I like the Saints' running game better as well, but as we've discussed thoroughly in the AFC South blog this season, the Colts aren't looking for conventional production in this department. They need their runners to pick up blitzes, put together some efficient runs, work well in play-action, and not put the team in bad spots with runs for losses. The home run plays are far more likely to come out of the passing game.
It's important to note that the Colts, the NFL's lowest-rated running team in the regular season, just out-rushed the Jets, the league's top ground game, in the AFC title game. Indy has survived a lot of quality running backs too, including the Titans' explosive 2,000-yard runner
Chris Johnson
. While he torched the rest of the league, averaging 5.8 yards a carry, he managed 4.1 and 147 total rushing yards against the Colts in two Tennessee losses.
The Colts may give up some yards, but overall they are more than capable of containing Thomas, Bush, Bell and Hamilton well enough to win.
The quarterbacks are obviously the marquee names in this game and they will be dissected all week.
PK:
I have a great deal of appreciation for Drew Brees, but even if he wins this game, we're not going to be calling him
Peyton Manning
's equal. Both quarterbacks are excellent leaders. Both are supremely accurate. Both have a quality stable of weapons.
But things begin to stray from there. Manning has four MVPs, including this season's, and he won it over Brees, who finished second. Manning has a lot more big-game experience and a title on his resume. And while he wasn't always at his best on the playoff stage, he's playing at a level right now where a lot of people feel, reasonably it seems, that he may just be unstoppable.
In the AFC Championship Game, against the Jets and the NFL's top-rated defense, he needed some time to figure out what New York was trying to do. Once he did, he shredded the Jets with 377 yards and three touchdowns. His in-game adjustments, with help from coordinator Tom Moore, are unparalleled. And like a lot of defensive coaches before him, Gregg Williams
is talking about
sending people at Manning and hitting him. These days, it very rarely works out the way against Manning and the Colts, as it did against
Brett Favre
and the Vikings.
PY:
Paul, let me start by saying I respect the heck out of Manning and all he has achieved. He is a first-ballot Hall of Famer and, quite possibly, the best quarterback ever. And I'll gladly agree that he probably is playing at his highest level ever right now.
That said, why can't we call Brees his equal if the Saints win this game? Seriously, I believe the only thing really separating Brees and Manning right now is a Super Bowl ring. Look at Brees' numbers the past few years. He's right there with Manning. I honestly remember watching him in training camp last year and thinking, "This guy is the closest thing to Peyton Manning I've ever seen'' and Brees has only continued to improve since then. He has carried a franchise on his shoulders and that franchise is the
New Orleans Saints
-- enough said about that.
As for the MVPs, that's a wonderful thing. But I think some of that is overrated and the Manning name carries a lot of weight in elections. I'm not trying to tear down Manning at all. But I think you have to at least let Brees in the same sentence if he can win this game. I'll offer a compromise here. If the Saints win this game, can we at least say the two best quarterbacks in the league are from teams in the South?
PK:
Well, beyond four MVPs to none, if the Colts win Manning will be up two Super Bowls to none, and while he's only three NFL seasons ahead of Brees he has led his team to the postseason 10 times to Brees' three. Lots of cushion there in my eyes. But I'll go with you on the South divisions ranking one and two if Brees gets his hands on that Lombardi Trophy.
We talked quarterbacks, of course we have to talk pass rushes. How much will the guys chasing Manning and Brees influence this game?
PK:
For a long time the Colts' defense was at its best when the offense got a lead and made the opponent one-dimensional. That did a lot to get the run game out of the mix against a defense keyed around speed, not size, and put
Dwight Freeney
and
Robert Mathis
in those maximal pass-rushing situations.
It doesn't have to be that way now. This version of the Colts is still fast, but the defense is a bit bigger with
Antonio Johnson
and
Daniel Muir
manning the middle of the line. It has a second big-hitting linebacker in
Clint Session
to go with
Gary Brackett
and boasts defensive backs who can come up and hit as well as run and cover.
Jon Stinchcomb
(against Mathis) and
Jermon Bushrod
(against Freeney) will be dealing with some serious speed. If
Freeney's ankle injury
holds him out or limits him, that will hurt. Raheem Brock is a quality third end, but he won't necessarily prompt the Saints to help Bushrod with a tight end or back, so the vaunted Saints passing attack may not have to sacrifice a weapon in protection. If the Colts bring a fifth rusher to help, as they have much more often in Larry Coyer's
first season
as their defensive coordinator, the timing up front can get all out of whack no matter who's at end.
If either defense can prompt some happy feet, it could be an edge.
PY:
Absolutely. The pass rush is going to be a deciding factor in this game for both teams. No doubt Indianapolis has a great pass rush and that's a challenge for the entire New Orleans offense, particularly Bushrod. He is a backup who has been forced to play all season because of an injury to
Jammal Brown
.
Bushrod has his limitations. But he has held up all right against players such as
Julius Peppers
and
John Abraham
.
DeMarcus Ware
has been the only guy to really tear him apart. Admittedly, a lot of that has to do with the rest of this offense more than it does with Bushrod's skills. The Saints account for him on every play and they've been able to cover him because the rest of their offensive line is so good. They've given him help from tight ends, fullbacks and running backs and the offense is designed so that Brees rarely takes deep drops and he gets rid of the ball very quickly. Plus, it's tough to fluster Brees.
Sure, it's tough to fluster Manning too, but that's not going to stop the Saints from trying, and their pass rush is better than a lot of people think. Defensive end
Will Smith
is one of the most underrated players in this game and Bobby McCray's a pretty good pass-rusher too. With
Sedrick Ellis
and
Anthony Hargrove
, the Saints are capable of getting a push in the middle and Gregg Williams is not afraid to bring the blitz -- although I don't see him doing it a lot in this game. The Saints beat up Favre and
Kurt Warner
in their two playoff games. I know Manning is seen as sacred by a lot of people, but I don't think Williams and the New Orleans defense view him that way.
PK:
However it unfolds, I root for a classic. We should have good seats, I want the good storylines too.
PY:
I'm with you my friend. Nothing better than the Super Bowl -- good football, good weather and good entertainment. Remember how great Bruce Springsteen's show was at halftime last year? Oh, that's right, you didn't make it. Hope The Who helps make up for that.
PK:
Could be another tricky day for you and the team you're following. But it'll be fun to join together to see how it unfolds.
March, 24, 2009
3/24/09
11:00
AM ET
Posted by ESPN.com's Paul Kuharsky
We know what the compensatory picks are for the four teams of the AFC South in the upcoming draft.
But what have they meant in past drafts?
Using the great website drafthistory.com, I looked at all the picks the Colts, Jaguars, Texans and Titans have made after the 32nd pick in rounds three through seven since 2004.
The scorecard is unsurprising. The Colts, who've let a lot of players who made big contributions leave via free agency, have had 10 compensatory selections; the Titans have had eight; the Jaguars and Texans three each.
There are some significant names on the list of players acquired with those picks:
Indianapolis: Center Steve Justice, running back Mike Hart, defensive tackle Quinn Pitcock, linebacker Clint Session, safety Antoine Bethea, linebacker Tyjuan Hagler.
Titans: Running back Quinton Ganther, receiver Roydell Williams, guard Eugene Amano.
Jacksonville: Defensive end Bobby McCray.
Houston: Receiver David Anderson.
March, 18, 2009
3/18/09
10:12
AM ET
Posted by ESPN.com's Paul Kuharsky
Houston Texans
Indianapolis Colts
Jacksonville Jaguars
Tennessee Titans