November, 23, 2009
11/23/09
12:35
PM ET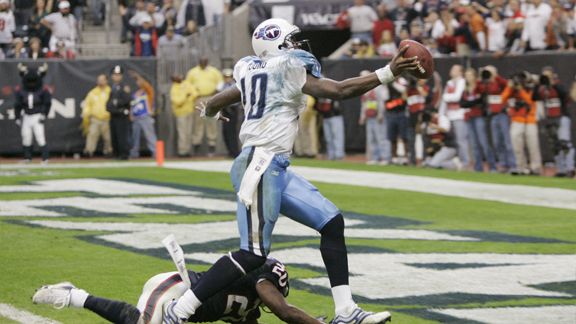 AP Photo/David J. PhillipNearly three years after scoring an overtime touchdown to beat Houston, Vince Young hopes for similar success Monday night.
HOUSTON -- It qualifies as ancient history now, and several Titans didn't remember the specifics.
But when
Vince Young
burned a big blitz on a third-and-14 from the Houston 39-yard line on Dec. 10, 2006 for an overtime touchdown, he pulled off a play that symbolized how things can work for him.
The rookie made an electric play and got great blocks from
Chris Brown
and
Bobby Wade
, who paved the way to the end zone. Part of the reason that path opened, however, was Young had called a route wrong in the huddle.
The in-cut that was supposed to happen would have likely put a safety in his way to slow him down or change his course. The out-cut that took place instead just happened to clear out some of the space he was able to use.
Center
Kevin Mawae
worries about the protections, not the routes.
But if it happened that way then, he said he wouldn't have been surprised. And if it happens that way now, he won't either.
"What I do remember is they had everybody coming and we knew if we just picked it up and he hit the hole, there is nobody," Mawae said. "Because if they're bringing seven guys, three guys are covering receivers, you've got one guy out there. And that's what happened. ...
"He's that kind of a guy, that's the thing he brings to us. He has the ability to make everybody look silly on a play that should have never worked in the first place just because of his athletic ability. He's got the ability to make everybody right when something's gone wrong."
Surely the fervor for Young at Reliant Stadium will be different Monday night than it was that day -- those Texans were 4-8, these are 5-4 with a chance at a playoff spot.
Still, he will have plenty of support.
His family will be in a luxury box, some wearing throwback Houston Oilers jerseys with his No. 10. Plenty of Texas alumni and/or fans will still look at him and be reminded of the Rose Bowl performance and resulting national championship for the Longhorns. Others have been following him longer than that, back when he was a kid drawing attention in Houston.
Texans linebacker
Brian Cushing
told me Friday he hadn't heard much VY buzz in town but expects some, which is understandable based on what the quarterback did for the city and state.
Fans may be more partial to the home team, but a lot will hope Young does well in a loss.
"VY is the mayor of Houston," Titans fullback
Ahmard Hall
said. "He thrives in big moments and he'll have another big moment on Monday night. He's definitely excited to be the starting quarterback going back there."
Young played down the mayor idea, saying only that he's a Houstonian.
That game-winning touchdown sprint at Reliant Stadium ranks behind only the Rose Bowl for him, he said.
"That's a fairy tale, a dream come true," he said.
He's 3-0 since taking over for
Kerry Collins
, and these Titans feel like a completely different team than the one that lost to the Texans in Week 2.
"Him getting out of the pocket, running an option, running a boot, anything he does, his ability to make big plays running the football adds a big-time dimension that you have to worry about defensively," Texans coach Gary Kubiak said. "They've been exceptional at what they've been doing ... and protecting the ball extremely well along the way.
Young's always been a prime-time guy. Can he help mess things up for his hometown team in his first chance under the spotlight in a long time?
September, 29, 2008
9/29/08
3:29
PM ET
Posted by ESPN.com's Paul Kuharsky
NASHVILLE, Tenn. -- Not everything is as simple as a scorecard comparison with side-by-side stats. But as I watched Bernard Berrian drop a couple passes, one a relatively easy long TD, I thought it would be good to measure Berrian and Bobby Wade, the veterans who were lured to Minnesota as free agents the last few years, to Justin Gage and Justin McCareins the veterans who came to Nashville as free agents the last few years.
Darren Sharper, who should know, said after the game that the Titans receivers are "good enough" for the team to win.
Here's what they did in Sunday's Tennessee win over the Vikings and a look at their money:
WRs: Tennessee Titans vs. Minnesota Vikings
Vikings
Catches
Yards
TDs
Contract
Dollars this year
Wade
7
75
0
5 yrs, $15M
$2M
Berrian
5
78
0
6 yrs, $40M
$13.7M
Totals
12
153
0
11 yrs, $55M
15.7M
Titans
Catches
Yards
TDs
Contract
Dollars this year
Gage
5
92
0
4 yrs, $14M
$3.25M
McCareins
3
37
0
1 yr, $.925M
$.925
Totals
8
129
0
5 yrs, $14.925M
$4.175
September, 28, 2008
9/28/08
8:59
PM ET
Posted by ESPN.com's Paul Kuharsky
| | |
| --- | --- |
| | |
| | Charles Small/US PRESSWIRE |
| | Chris Johnson's performance for Tennessee on Sunday drew some comparisons to Adrian Peterson. |
NASHVILLE, Tenn. -- Can you mention them together? Is it reasonable to ask?
Might Chris Johnson be comparable to Adrian Peterson?
Take the idea into the Minnesota locker room at your own risk.
"You're not comparing him to Peterson, are you?" said Darren Sharper when asked if the two backs' performances in the Titans' 30-17 win amounted to a wash.
"He's an explosive back, quick, fast, showed some good vision on plays. He's definitely a threat because he can also be used in the passing game. Whenever you have a back with that versatility, he's tough to stop. He flashed some good plays and he flashed some talent. But he's not going to be [Peterson]."
The thing is, he doesn't need to be.
After the Titans' dismantling of the Vikings at LP Field, Peterson certainly still ranks as more dangerous. But in context, Johnson can do as much or more because he's surrounded by a better team, a 4-0 team.
Peterson accounted for 30 percent of his team's yards, averaged 4.6 yards a touch and scored two touchdowns in a loss.
Johnson accounted for 27 percent of his team's yards, averaged 3.8 yards a touch and scored two touchdowns in a win.
Only four games into Johnson's career, the Titans are tempering their praise of him, and they should. Seventy-five yards from scrimmage is hardly cause for a parade.
But the speed, explosion and play-making abilities he brings the Titans amount to an X factor Jeff Fisher's teams have never had before. So those qualities make Tennessee dangerous in a way it has never been before.
"He's got as many skills as anybody I've played with, including Tiki [Barber]," Kerry Collins said. "He just gives you that burst, gives you that speed that just comes along every so often. He's a football player. He's got all the physical skills, no doubt about it. But the guy's also got a knack for knowing what to do with the ball."
On both of his touchdown runs, Johnson got around the corner and pulled up, able to coast inside the pylon knowing well in advance he'd gotten the blocks and won the race.
He's not going to be as singular a force as Peterson. The Titans are still determined to pound out some yards from LenDale White, who also will get a good share of goal-line carries -- he scored his fifth touchdown Sunday.
But it sure feels as if Johnson brings the same sort of voltage to games that Peterson does, and the one issue that might have held him back from being able to be an every-down back seems to have melted away.
"He's probably come along father than I thought he would on pass protections," offensive coordinator Mike Heimerdinger said. "For us to put him in on third downs, that doesn't usually happen with a rookie. As far as running, I've never worried about that very much ... If he does what he did on his two touchdown runs, that gives us something else where we don't have to pound him up the middle all the time."
Before I move on, here's the rest of a best-of collection of key people discussing Johnson and Peterson after the game:
* "We know we have one of the best backs in the league," fullback Ahmard Hall said. "Even though he's a rookie, he's playing like a vet. He's preparing every week and he's out there proving himself to this league."
* "They are both special players," Titans GM Mike Reinfeldt said. "Adrian's done it. He had a huge year last year. He's a bigger man. But they both have the ability to take it to the end zone every time, they just add a certain level of electricity to the air when they touch the ball."
* "He's got a 4.24 40, so if you give him the corner, it's going to be tough to contain him," Peterson said. "He did a good job, he ran the ball hard. I talked to him after the game and I encouraged him to just keep doing what he's doing, keep running the ball. And call me if you need any pointers."