October, 11, 2013
10/11/13
12:00
PM ET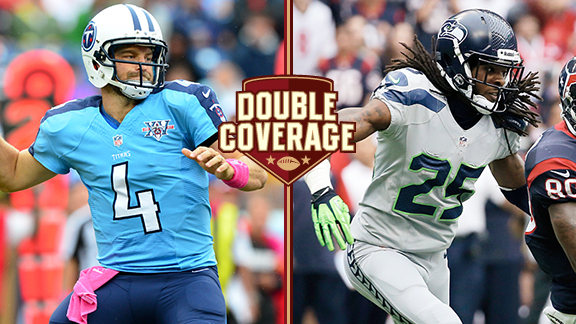 USA TODAY Sports, Getty ImagesBackup quarterback Ryan Fitzpatrick will have to face a stifling Seattle secondary and the league's best corner in Richard Sherman.
Sunday's game between the
Tennessee Titans
and
Seattle Seahawks
is a matchup between two winning teams coming off losses, and both are missing key players on offense.
Quarterback
Jake Locker
is out for the Titans. Both starting tackles --
Russell Okung
and
Breno Giacomini
-- are out for Seattle. Tight end
Zach Miller
could also sit.
The Seahawks have a 10-game home winning streak on the line, hoping to rebound after their first defeat of the season, 34-28 to the
Indianapolis Colts
.
The Titans hope to get a stagnant running game going and find some consistency with backup quarterback
Ryan Fitzpatrick
.
Paul, it looked like Fitzpatrick had a rough first outing for the Titans subbing for an injured Locker. Do you think Fitzpatrick will improve, and how difficult will it be for Tennessee to have success on offense while Locker is out?
Kuharsky:
Fitzpatrick is certainly capable of playing better than he did in the loss to Kansas City, when he had three very bad quarters and one good one. I'm not sure what the Titans can do to help him if they are unable to run the ball. If they can bring some balance with
Chris Johnson
(and maybe
Shonn Greene
, who's still trying to get back after knee surgery), it could be a lot less difficult. Fitzpatrick hardly has Locker's excellent speed, but he scrambled around pretty well against the Chiefs. With Locker in the first four games, the Titans didn't turn the ball over and overcame their deficiencies running the ball. Without him, they need Fitzpatrick to imitate the mistake-free youngster. But Fitzpatrick is more of a gunslinger than Locker and is streakier, and that's probably too much to ask.
Terry, the Titans pledged to be a great running team. It hasn't really panned out that way. Last time Johnson was in Seattle, he had a 2,000-yard season. What's the run defense going to be like?
Blount:
It's been all but impossible to run up the middle on the Seahawks. Defensive tackle
Brandon Mebane
is as strong a run stopper as there is the NFL, and it takes two blockers to handle 325-pound
Red Bryant
. If that fails, it's tough to get past middle linebacker
Bobby Wagner
. But Wagner probably won't play Sunday because of a high ankle sprain. Nevertheless, it's difficult to establish a running game on the Seahawks. Seattle is an aggressive outside pass-rushing team, so occasionally a back can get yardage outside, but not often.
Paul, Locker told us on the conference call Wednesday what a disappointment it is that he won't get to play this weekend in front of family, friends and University of Washington alumni who love him for all he did to help turn around the Huskies football program. He is a beloved guy here and a huge hero in this community. How is he viewed in Nashville?
Kuharsky:
Nothing close to that yet. People who have given him a chance know he's an eminently likable guy, a hard worker and a well-respected leader, but plenty of fans called talk radio over the offseason talking about why Fitzpatrick would be a better choice or how it should at least be a camp competition. Even after Week 2's overtime loss in Houston, when he overthrew a wide-open
Kenny Britt
on a crucial third-and-1 late in the game, there were calls for change. (It's a throw he's got to make.) The game-winning drive against San Diego showed people what he can do. Locker also had a fantastic two-plus quarters against the Jets, which seems to have done a lot to win more people over. In playing style and development arc, I think he is a lot like
Steve McNair
so far. If that holds true, impatient fans will wind up happy.
Terry, home field is viewed as such a giant advantage for the Seahawks. Can you give us a tangible feel for just how loud and crazy the atmosphere is there?
Blount:
In the San Francisco game, where the outdoor stadium decibel record was set at 131.9, it was so loud that it was difficult at times to even hear people talk in the enclosed press box. I know every team believes its stadium is one of the loudest, and I've been to most of them, but trust me, there is nothing like CenturyLink Field. It's deafening.
Paul, cornerback
Alterraun Verner
is off to an outstanding start this season with four interceptions and 11 passes defensed. Seattle cornerback
Richard Sherman
is viewed by some as the best corner in the NFL, but is Verner the most underrated?
Kuharsky:
He could have had another two picks last week on balls he didn't manage to haul in. Verner has been really good. The team wasn't sure what it had in him. The Titans knew they got a good football player out of UCLA three years ago. But as they revamped this offseason, with Gregg Williams joining the coaching staff and the Titans determined to get more aggressive, they figured a big increase in press-man coverage would move them away from Verner's strengths. They wanted
Tommie Campbell
, a faster and bigger guy to win the job. (Some wrote about how Campbell has some of what makes Sherman so good.) But Campbell didn't catch on and bombed in training camp, and Verner proved to be better. If
Coty Sensabaugh
hasn't recovered from his concussion for Sunday, Verner will start in base and move into the slot in nickel, with Campbell replacing him outside.
The Titans rush pretty well, and Verner is getting his hands on balls all over the field. Who has had the best success slowing
Russell Wilson
and how?
Blount:
Even though Seattle came back and won the game, the Texans had the most success because of their talented defensive front and all-everything defensive lineman
J.J. Watt
. Both Houston and Indianapolis took advantage of Seattle missing starters on the offensive line and teed off on Wilson on third down. Nevertheless, Wilson is the best I've ever seen making the most of a bad situation and finding the opening the defense gives him. Anticipating when Wilson will roll out and cutting off his running lanes is the key, but it is far easier said than done.
September, 27, 2013
9/27/13
12:00
PM ET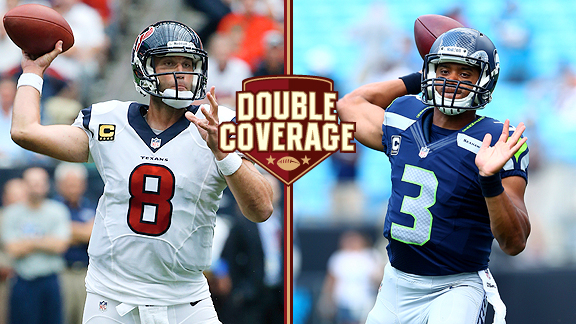 Getty ImagesMatt Schaub and Russell Wilson have combined to throw 12 touchdowns through Week 3.
When they saw each other at the Pro Bowl earlier this year,
Houston Texans
defensive end
J.J. Watt
told
Seattle Seahawks
quarterback
Russell Wilson
that if Watt had just stayed another year at Wisconsin, they might have won a national championship together.
"I wish I knew he was coming," said Watt on Wednesday, who left Wisconsin after his junior year, just as Wilson arrived.
Sunday at Reliant Stadium, they might see a lot of each other. The matchup between the Texans and Seahawks will pit the league's two best defenses against each other. But Wilson won't be easy to contain for a Texans' defense that gave up only 236 yards in last week's loss to the
Baltimore Ravens
. The Seahawks, meanwhile, are coming off such a dominating win over the
Jacksonville Jaguars
that Wilson didn't need to finish the game.
Texans reporter Tania Ganguli and Seahawks reporter Terry Blount take a look at the matchup.
Ganguli:
So Terry, what makes Seahawks cornerback
Richard Sherman
special?
Blount:
Preparation, enormous athleticism and confidence are what makes him special. I know many people outside of Seattle just see Sherman as a arrogant guy with a big mouth. That's a big mistake. Sherman is an extremely hard worker who spends hours studying film of every receiver he faces. Consequently, he rarely gets fooled on a play, and the few times when he does, he has the athletic ability to react quickly, overcome it and get back to the ball.
Tania, how do you think
Andre Johnson
will do against the talented Seattle secondary, and especially a head-to-head matchup with Sherman?
Ganguli:
The Texans are considering Johnson day-to-day right now. He didn't look right when he tried to play Sunday after suffering a shin bruise in Baltimore and ultimately recognized that it was better for him to leave and heal than play hindered by the injury. If they don't have him, the Texans will look to rookie receiver
DeAndre Hopkins
, a budding star who has shown talent from the moment he arrived in Houston, but also improved steadily as a rookie.
And speaking of young players, how has quarterback Wilson changed in his second year?
Blount:
Wilson is willing to take a lot more chances on difficult throws now because he understands what his receivers are going to do and where they will be. In the Jacksonville game, he made what appeared to be a dangerous throw in the middle of the end zone when
Sidney Rice
had three defenders near him. But Rice had signaled Wilson to toss it up high and Rice would get it, which he did. Wilson knows the offense now and has complete confidence to make plays at clutch moments, and his teammates believe in him.
Wilson is at his best when he scrambles and improvises, often resulting in big plays downfield. Can the Texans defense contain him?
Ganguli:
The most mobile quarterback they faced so far this season was Titans quarterback
Jake Locker
, who threw two touchdown passes but had a QBR of 44.3 against the Texans. They haven't faced a quarterback who is such an accurate passer while having the ability to use his legs and improvise. Wilson's numbers have been among the best in the league this season. That will be a challenge for a defense that wants to be the best in the league.
You wrote that the loss of left tackle
Russell Okung
didn't hurt much against the Jaguars, but how do you see it impacting the Seahawks going forward?
Blount:
Tania, this has to be Seattle's biggest concern entering the Texans game. The Seahawks may be the deepest team in the league, but the offensive line, and particular the tackle spots, is a thin area. They are no match for
J.J. Watt
.
Paul McQuistan
moved from guard to left tackle to replace Okung, but the team is weaker without Okung on the field. Right tackle
Breno Giacomini
probably won't play because of a knee injury. That means rookie
Michael Bowie
, a seventh-round draft choice, will have to go head-to-head with Watt. Bailey is talented, but he has a lot to learn. Throwing him out there this week against Watt is truly scary for the Seahawks.
I know the Seahawks have major concerns about trying to stop Watt and keeping him off Wilson. Do you see Watt having a big game Sunday?
Ganguli:
Watt has a keen ability to exploit weaknesses in inexperienced players. And if he doesn't know it right from the start, he figures it out eventually. He's a player with work ethic to match his talent, which isn't always the case with athletes of his caliber. Watt has been the third most effective player at disrupting opponents' passes since he entered the NFL. He ranks behind San Francisco's
Aldon Smith
and Minnesota's
Jared Allen
. Watt has played very well this season and he's determined to have a better year than he did last year when he led the league with 20.5 sacks and 16 batted passes.
The Seahawks secondary gets the most attention, but how has their defensive front played and what are their strengths and weaknesses?
Blount:
This was an area of needed improvement at the end of last season, so the staff made a major effort to bring in veterans who could help with the pass rush. It worked. Defensive linemen
Michael Bennett
, a free agent Seattle signed after he spent four years in Tampa Bay, has been a force up front.
Cliff Avril
, the biggest offseason acquisition, was hurt all preseason, but is back now and just starting to contribute. Defensive end
Chris Clemons
, the team's top pass-rusher last season, returned last week after offseason ACL surgery. And
O'Brien Schofield
, who was released at Arizona, has been strong at linebacker and defensive end. This is a much stronger, deeper and quicker group than it was a year ago, and it still doesn't have
Bruce Irvin
. He returns next week after a four-game suspension for PEDs.
Tania, these teams have two of the best running backs in the NFL in
Arian Foster
in Houston and
Marshawn Lynch
at Seattle. Which running back do you think will have the upper hand on Sunday?
Ganguli:
The running back situation has been interesting in Houston this season. The Texans eased Foster into the season after he missed the entire preseason and in the meantime backup
Ben Tate
has played very well. Tate is in a contract year and if he keeps up the way he's started, he'll be making some money after the season. His yards per carry have been strong and even better have been his yards after contact, 4.5 yards, the best in the NFL. If we're talking fantasy numbers, Lynch will definitely have the upper hand on Sunday. Foster will be sharing his load with Tate.
Last question from me: What is one name Texans fans might not know that they will after Sunday's game?
Blount:
Great question. I'll pick a couple. First might be middle linebacker
Bobby Wagner
, a second-year player who is growing into one of the best linebackers in the league. Another is slot receiver
Doug Baldwin
, an exceptional possession-type receiver who has a knack for making the big catch on third down.
And finally, everyone talks about how the Seahawks have the best home-field advantage in the NFL, but I'm a Houston native who has seen some pretty rabid fans down there, as well. How much of a factor can the crowd be Sunday at Reliant Stadium?
Ganguli:
They are a rabid bunch and have the added benefit of a perpetually closed roof that keeps their rabidity trapped like a greenhouse gas. They've been frustrated recently, but if their team plays well on Sunday, it will be loud.
.
April, 25, 2012
4/25/12
12:33
PM ET
The Titans need a pass-rusher and a center. In a year they could really need a free safety. The right kind of receiver would be intriguing.
One spot we've not talked much about is linebacker. They spent a second-rounder on strongside linebacker
Akeem Ayers
last year, when they also found a dynamic middle linebacker in fourth-rounder
Colin McCarthy
.
Veteran
Will Witherspoon
is on the weak side. He has some big games, and some where he seems kind of invisible. The team can find a bigger guy who's more of a playmaker for the spot, be it now or in 2013.
The depth is poor.
Gerald McRath
was a starter in 2010 and didn't take advantage of the chance. He was only occasionally situational last season.
Patrick Bailey
and
Tim Shaw
can fill in for a bit, but they are primarily special-teamers.
I don't think Tennessee will go linebacker at No. 20, but Alabama's
Dont'a Hightower
or Alabama's
Courtney Upshaw
could be in play.
More likely the Titans will tab someone a bit later like Cal's
Mychal Kendricks
or someone further down like Utah State's
Bobby Wagner
.
April, 19, 2012
4/19/12
6:25
PM ET
Plucked fresh from Mel Kiper's Grade A mock draft, here are three-rounds of picks for each team of the AFC South, a snippet of his analysis from
the Insider file

and my reflections.
Houston Texans
Rd 1 (26) OT
Bobby Massie
, Ole Miss
Rd 2 (58) WR
Alshon Jeffery
, South Carolina
Rd 3 (76) LB
Bobby Wagner
, Utah St.

Some of Kiper's analysis:
One of the quiet stories of the offseason is the work Houston will have to do on the offensive line to keep its very efficient run game rolling. Massie is a guy moving up my board, and if I'm Houston I know where my bread is buttered and make sure things up front are in good shape. As a caveat, I'll say I'm really tempted here by
Coby Fleener
, the tight end out of Stanford. Houston lost a good one this offseason in
Joel Dreessen
.
Kuharsky:
John McClain of the Houston Chronicle is also steering away from a first-round wide receiver, mentioning
Kevin Zeitler
,
Cordy Glenn
and Massie. It makes sense. The depth at right guard and right tackle after the departure of
Mike Brisiel
and the release of
Eric Winston
should be a major concern. Wagner is intended to replace the traded
DeMeco Ryans
. I think between Daryl Sharpton,
Bradie James
and
Tim Dobbins
, the replacement is on the roster.
Indianapolis Colts
Rd 1 (1) QB
Andrew Luck
, Stanford
Rd 2 (34) DT
Jerel Worthy
, Michigan St.
Rd 3 (64) WR
Ryan Broyles
, Oklahoma

Some of Kiper's analysis:
Worthy runs a little hot and cold, but when he's on the warm side of that equation, he is a first-round talent at defensive tackle the Colts can say they got in Round 2. Roll the film when he's up against Notre Dame, Michigan or Georgia last year and see how hard it is for even some really good offensive linemen to keep him in place. The Colts have to stop the run, and it starts inside.
Kuharsky:
That second pick carries a ton of intrigue, and the Colts can go any number of directions based on what's happened in the draft's first 33 picks. Ryan Grigson just talked of being OK at nosetackle with
Brandon McKinney
and
Antonio Johnson
. So that about ensures a defensive tackle like Worthy, right?
Jacksonville Jaguars
Rd 1 (7) DE
Melvin Ingram
, South Carolina (or trade down)
Rd 2 (38) WR
Stephen Hill
, Georgia Tech
Rd 3 (70) CB
Josh Norman
, Coastal Carolina

Some of Kiper's analysis:
The Jags need pass-rush help so bad, even if
Justin Blackmon
were somehow still there at No. 7, I'm not sure they pull the trigger. Ingram, if he can do anything, can rush the passer. The guy is wonderfully versatile, and even with his short arms he disengages really well and falls back on an arsenal of moves. This is not an elite class of pass-rushers, in my opinion, but the Jags can say they got the one who grades out best as of draft day. You can do worse at No. 7.
Kuharsky:
Tania Ganguli of the Florida Times-Union reports the Jaguars
appear to like Hill
, and that he could be in play if they trade out of No. 7. If that's the case, they'd be thrilled to still get him in the second round. Kiper says he needs a lot of refinement. Jacksonville sure could use an immediate impact guy for
Blaine Gabbert
, and maybe his speed and size can affect coverages and produce plays even as he learns.
Tennessee Titans
Rd 1 (20) CB
Dre Kirkpatrick
, Alabama
Rd 2 (52) DE
Vinny Curry
, Marshall
Rd 3 (82) C
Ben Jones
, Georgia

Some of Kiper's analysis:
Knocking out the needs here, with good value at each spot. Kirkpatrick is ready to start. The star out of Alabama has uncommon length at near 6-3 and plays with an edge. He'll come in willing to take on top receivers. After some misses in recent drafts, the Titans need to keep going back to the pass rush.
Kuharsky:
The Titans could take a cornerback at No. 20, but I don't think it will be because they don't think they have starting caliber people as they are. It'll be more about value. I like end and center picks. If the Titans have
Kamerion Wimbley
,
Derrick Morgan
,
Dave Ball
and Curry as their top four ends, that's not bad. And Jones should be able to knock
Eugene Amano
from the lineup.