September, 6, 2013
9/06/13
1:00
PM ET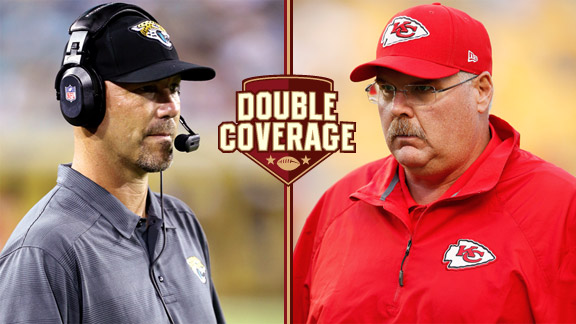 AP PhotoGus Bradley and Andy Reid are looking to get off to fast starts with their new teams.
JACKSONVILLE, Fla. -- Fans know a lot about their favorite teams, but they don't have the same depth of knowledge of the 31 other teams in the NFL. That's not going to be a problem any longer.
Each week the NFL Nation writers will team up Q&A style to help you get a handle on each team. Today, Kansas City Chiefs reporter Adam Teicher and Jacksonville Jaguars reporter Michael DiRocco help break down Sunday's matchup.
Michael DiRocco:
Is
Alex Smith
really an upgrade over
Matt Cassel
?
Adam Teicher:
He had better be or the Chiefs are in some trouble. Cassel and
Brady Quinn
turned over the ball far too many times last season. One thing we know about Smith is that he hasn't thrown many interceptions. He threw just 10 in his last 25 starts with the 49ers. So he's been a quarterback who protects the ball, and if he can just do that, he's already an upgrade over Cassel and Quinn. Another thing: Andy Reid's West Coast offense will succeed if the quarterback completes a high percentage of throws. Smith completed 70 percent last season. If he can get close to that number this season, he's even more of an upgrade.
Teicher:
How patient will the Jaguars be with
Blaine Gabbert
on Sunday and this season?
DiRocco:
This is a make-or-break season for Gabbert, who must prove he's capable of being a franchise quarterback. That's the team's No. 1 goal for the season, so there will be a certain amount of patience. It does no good to give him a half or one game and yank him because the team will essentially be where it was heading into the season. That being said, if Gabbert really struggles during the first two months of the season, then the team will have its answer and may turn to
Chad Henne
or the recently signed
Ricky Stanzi
for the remainder of the season.
DiRocco
: What's the biggest change Andy Reid has brought to Kansas City?
Teicher
: It's a change brought by Reid and John Dorsey, the new general manager. Everybody seems to be pulling in the same direction. The Chiefs went through plenty of infighting the past few years and it was dragging them down. People often had their own agendas or felt they had to align themselves with one person or another. Dorsey and Reid swept that out the door. Winning looks to be the only goal and it certainly appears everybody is on board with that. Of course, it's easy for a new administration to have everybody on board when it's undefeated. So it's an issue to keep an eye on once the Chiefs start losing some games.
Teicher:
What are the biggest changes Gus Bradley and Dave Caldwell have brought to the Jags?
DiRocco:
On the field, it's on defense, where Bradley is implementing a more aggressive attitude and trying to rebuild the secondary with bigger, more physical cornerbacks -- essentially what he did in Seattle. Off the field, Bradley and Caldwell have changed the culture in the locker room. There's a lot of energy and enthusiasm around the franchise even though everyone knows that the talent level needs a significant upgrade and the team likely isn't going to reach .500. It was a much-needed boost, because the atmosphere around the team the past few seasons under Jack Del Rio and Mike Mularkey had become somewhat stale.
DiRocco:
Some NFL experts have pegged the Chiefs as a playoff team just one season after finishing 2-14. What are a few things that have to happen for that to become a reality?
Teicher:
They have many good players, but from the GM to the coach to the coordinators to the offensive and defensive system to the quarterback to 29 other players who didn't play for the Chiefs last season, there's a lot new here. How quickly Reid and his staff can pull everything together will be a key. The Chiefs have a favorable schedule the first half of the season and they need to take advantage because it gets more difficult after that. On the field, the Chiefs have to fix a turnover differential that was minus-24 last season. Their defense and special teams have to do a better job of providing better field position for the offense. This offense won't make a lot of big plays, and if it has to go 80 yards on every possession, it will be a struggle.
Teicher:
What are realistic expectations for the Jags this season in terms of number of wins?
DiRocco:
I kind of let that slip in my earlier answer, but a six-win season would be the best-case scenario for the Jaguars. Four or five victories seems more likely, though, especially considering the team has back-to-back road games on the West Coast, plays San Francisco in London, and has to play at Denver, Indianapolis and Houston.
March, 13, 2013
3/13/13
8:26
PM ET
Drew Stanton
knows Bruce Arians' system quite well from working as
Andrew Luck
's backup, and could have a chance for some playing time in Arizona.

His departure to the Cardinals means the
Indianapolis Colts
have a new need: A No. 2 behind Luck. It's hard to envision
Chandler Harnish
, the last pick of last year's draft, seizing the job. He'll be learning a second offense in his second year.
The list of free-agent quarterbacks is a poor one.
Ryan Fitzpatrick
was just cut in Buffalo.
Jason Campbell
could be a functional spot starter.
The Colts might need to pounce on one of them given the other options:
Josh Johnson
,
Charlie Batch
,
Rex Grossman
,
Kellen Clemens
,
Byron Leftwich
,
Tyler Thigpen
,
David Carr
,
Josh McCown
,
Brady Quinn
,
Luke McCown
,
Caleb Hanie
,
Matt Leinart
or
Jordan Palmer
.
I'm thinking the same thing you're thinking: I sure hope
Gosder Cherilus
and
Donald Thomas
upgrade Luck's protection, because the Colts can't afford for him to be hurt.
December, 23, 2012
12/23/12
4:52
PM ET
Thoughts on the
Indianapolis Colts
'
20-13 victory
over the
Kansas City Chiefs
at Arrowhead Stadium:


What it means:
A year after they suffered through a 2-14 season the Colts are already back in the playoffs, having clinched a wild-card berth with their 10-5 record.
Andrew Luck
surpassed the rookie record for passing yardage set last year by the
Carolina Panthers
'
Cam Newton
. Interim coach Bruce Arians, expected to hand the reins back to Chuck Pagano on Monday, led the Colts to a 9-3 mark while Pagano endured treatment for leukemia.
Two big stops:
While the Chiefs had a 507-288 advantage in yards, Kansas City was simply unable to translate yards into points. The Colts made a big fourth-down stop of a
Brady Quinn
sneak late in the fourth quarter, setting the offense up for a 73-yard drive that ended with a 7-yard Luck-to-
Reggie Wayne
touchdown pass that provided the winning points with 4:08 left in the game. The defense then forced a three-and-out for KC and the offense killed out the clock.
Up-and-down:
Luck was 10-for-18 for 123 yards in the first half, and he hit Wayne for a 33-yard gain on his first throw of the second half. Then he missed on 10 straight throws. He followed that up by connecting on his final six throws of the game. Overall, he was 17-for-35 for 205 yards and the touchdown.
Big concern:
The Colts simply won't survive playing a defensive game like this in the playoffs. Kansas City ran 44 times for 352 yards, as both
Jamaal Charles
and
Peyton Hillis
topped 100 yards. Charles went for an 86-yard touchdown on the first play from scrimmage in the second half.
What's next:
The Colts host the Texans, who beat them 29-17 in Houston a week ago. The result could determine if the Texans get home-field advantage throughout the AFC playoffs and whether the Colts will be the fifth or sixth seed.
April, 7, 2011
4/07/11
1:10
PM ET
»
NFC Draft Watch
:
East
|
West
|
North
|
South
»
AFC
:
East
|
West
|
North
|
South
Each Thursday leading up to the NFL draft (April 28-30), the ESPN.com NFL blog network will take a division-by-division look at key aspects of the draft. Today's topic: History in the spot.
Houston Texans

2010: OT
Anthony Davis
(49ers)
2009: LB
Aaron Maybin
(Bills)
2008: DB
Leodis McKelvin
(Bills)
2007: LB
Patrick Willis
(49ers)
2006: QB
Jay Cutler
(Broncos)
2005: LB
DeMarcus Ware
(Cowboys)
2004: QB
Ben Roethlisberger
(Steelers)
Last year at No. 11, the 49ers got Rutgers offensive tackle Davis, who started every game on the right side. Maybin, taken in the spot in 2009, is on the hot seat in Buffalo, where he's not come close to expectations. In 2007, the 49ers got the excellent middle linebacker Willis 11th, when the Texans took defensive tackle
Amobi Okoye
the spot before. The verdict on Cutler is still to be determined, while Ware is a superstar and Ben Roethlisberger has won two Super Bowls. Other hits since the NFL-AFL merger include
Michael Irvin
,
Dwight Freeney
and
Leon Searcy
. Other misses:
Ron Dayne
,
Michael Booker
.
Indianapolis Colts

2010: WR
Demaryius Thomas
(Broncos)
2009: WR
Percy Harvin
(Vikings)
2008: RB
Felix Jones
(Cowboys)
2007: QB
Brady Quinn
(Browns)
2006: LB
Manny Lawson
(49ers)
2005: WR
Mark Clayton
(Ravens)
2004: QB
J.P. Losman
(Bills)
Last year's 22nd pick, Denver receiver Thomas, caught 22 passes and scored two touchdowns. Minnesota grabbed receiver Harvin in the spot in 2009 and he's one of the game's most dynamic players already. Quinn didn't cut it in Cleveland and ranks third now in Denver, and Losman didn't solve Buffalo's quarterback issues. The last time the Colts were in this spot, they took receiver
Andre Rison
in 1989. He played only one season for the franchise, but in 12 years he amassed more than 10,000 receiving yards and caught 84 touchdowns.
Jacksonville Jaguars

2010: DE
Derrick Morgan
(Titans)
2009: LB
Larry English
(Chargers)
2008: CB
Dominique Rodgers-Cromartie
(Cardinals)
2007: DT
Justin Harrell
(Packers)
2006: CB
Jason Allen
(Dolphins)
2005: DT
Travis Johnson
(Texans)
2004: OT
Shawn Andrews
(Eagles)
Morgan went 16th to Tennessee last year, but suffered a season-ending knee injury early on. Rodgers-Cromartie had a big rookie season in 2008 as the Cardinals went to the Super Bowl. Pittsburgh safety
Troy Polamalu
was a huge find at the spot in 2003 and
Jevon Kearse
set a rookie record for sacks and led Tennessee to the Super Bowl in 1999. But others in the recent past like Allen, Houston's Johnson and Cleveland running back
William Green
hardly lived up to expectations.
Dan McGwire
, a big quarterback bust for Seattle, also went in the spot in 1991. But anyone thinking the Jaguars can't hit a home run should know that a guy rated by many as the greatest player of all time,
Jerry Rice
, was selected 16th in 1985.
Tennessee Titans

2010: LB
Rolando McClain
(Raiders)
2009: OT
Eugene Monroe
(Jaguars)
2008: DE
Derrick Harvey
(Jaguars)
2007: DE
Jamaal Anderson
(Falcons)
2006: S
Donte Whitner
(Bills)
2005: S
Antrel Rolle
(Cardinals)
2004: CB
DeAngelo Hall
(Falcons)
McClain went to Oakland eighth last season and was second on the Raiders in tackles his rookie year. Jacksonville had the spot the two years before that. The Jaguars think they got a long-term left tackle in Monroe, but Harvey might be done already.
Jordan Gross
is a topflight tackle for Carolina and receiver
Plaxico Burress
was a Super Bowl hero for the Giants. But receiver David Terrell busted for the Bears, receiver
David Boston
didn't fare much better in Arizona and running back
Tim Biakabutuka
was a dud for the Panthers. Sam Adams' long career clogging up the middle as a defensive tackle started in Seattle. The last time the Titans had this pick, they landed Hall of Fame guard
Mike Munchak
, who's now the team's coach.
September, 21, 2009
9/21/09
3:37
PM ET

Posted by ESPN.com's Paul Kuharsky
The Jaguars have been about youth, youth, youth, but Monday's reported release of
Nate Hughes
is about something else they smartly want to emphasize: consequences and accountability.
Hughes started with the Browns as an undrafted rookie in 2008 and finished the season on the Jaguars' roster. During training camp he proved himself more game ready than any of the team's three draft picks.
But a touchdown pass that bounced off his facemask was apparently part of what led the Jaguars to decide they can fare better elsewhere, even on the day it also became known they've lost
Troy Williamson
for the season with a shoulder injury. (Michael C. Wright's story on the developments is
here
.)
What's next? Well, it's time to turn to more of the draft class.
Mike Thomas
and
Jarett Dillard
haven't dressed for the first two games and
Tiquan Underwood
is likely to be promoted from the practice squad to fill Williamson's spot once he's officially placed on injured reserve.
The 22nd-ranked passing offense has been horrible and
David Garrard
is averaging a 5.69-yard gain per pass, better than only St. Louis'
Marc Bulger
, Cleveland's
Brady Quinn
and Detroit's
Matthew Stafford
.
Torry Holt
can't magically cure things, surely has unfavorable matchups and is running routes for a quarterback who's been shaky. But the Jaguars brought the veteran in to settle the group and lead, and now he's got an ever bigger opportunity to do both.
Here's what the team announced in terms of roster moves:
Signed rookie cornerback William Middleton off Atlanta's practice squad.
Signed rookie free-agent safety Courtney Greene.
Released veteran tight end Greg Estandia.
Released Hughes.
Waived safety Michael Desormeaux from the practice squad.
Signed first-year linebacker Justin Roland to the practice squad.