AFC South:

Brandon Deaderick
March, 18, 2014
Mar 18
9:08
AM ET
Clemons
Most significant signing
: The Jaguars have finished last in the NFL in sacks the past two seasons, so adding defensive end
Chris Clemons
, who has 58 career sacks, was a good move. The 32-year-old Clemons had just 4.5 sacks last season after compiling 33.5 from 2010 to 2012, but he was returning from a torn ACL he suffered during the 2012 playoffs. He's a speed rusher, which is something the Jaguars haven't had since
Tony Brackens
(1996-2003).
Most significant loss
: There is still a chance the team can re-sign running back
Maurice Jones-Drew
, but it would be surprising at this point because the Jaguars signed
Toby Gerhart
last week. Jones-Drew is finding that the market for running backs isn't as lucrative as he hoped. The Jaguars aren't likely to re-sign tight end
Allen Reisner
or defensive tackles
Brandon Deaderick
and
Kyle Love
, but they didn't figure into the team's plans beyond 2013, anyway. Seattle signed receiver
Taylor Price
, who has missed the past two seasons with a foot injury.
Gerhart
Biggest surprise
: The Jaguars needed to pursue a running back because of the uncertainty with Jones-Drew, but signing Gerhart was unexpected. It's a good fit, though, because Gerhart is exactly what the Jaguars wanted. He's young (he turns 27 later this month) and has low mileage (276 carries in five seasons). At 6-foot and 231 pounds, Gerhart is a physical, between-the-tackles runner who can give the Jaguars positive yardage on first down. The Jaguars averaged just 3.4 yards per rush on first down last season, the third-lowest total in the league.
What's next
: The Jaguars aren't done in free agency. General manager David Caldwell said he'll let the market settle and then go bargain hunting, an approach that worked last year with defensive tackle
Sen'Derrick Marks
. Caldwell would like to add another guard or center, an outside linebacker and a big, physical receiver. Those spots will also likely be addressed in the draft because the Jaguars have 11 picks. Beefing up the defensive line and adding guard
Zane Beadles
gives the Jaguars flexibility in the draft. They aren't stuck drafting for need.
December, 23, 2013
12/23/13
2:00
PM ET
JACKSONVILLE, Fla. -- The
Jacksonville Jaguars
' lineup in the regular season finale on Sunday is going to look very little like it did in the season opener.

Depending on how some players respond to injuries this week, the Jaguars may only start nine players in Week 17's game against Indianapolis that started against Kansas City in Week 1. All teams have to deal with injuries to key players throughout the season -- the
Denver Broncos
just lost linebacker
Von Miller
with a torn ACL -- but turning over more than half of the starting lineup in four months doesn't happen on a regular basis.
The Jaguars (4-11) didn't exactly have a deep roster to begin with, but they've somehow managed the through the personnel losses to win four games in the second half despite having to rely on some young, unproven players -- especially at linebacker and receiver.
"We really didn't make that big of a deal about it, but what we did talk about was to really go in there and sometimes special stories take place with opportunities," coach Gus Bradley said. "We really taught our whole team the mindset you've got to have to go in there."
The results have been hit and miss, which is what you'd expect from those players. Good plays -- like receiver
Kerry Taylor
catching four passes for 45 yards against the Titans -- and bad, like Taylor dropping an easy reception that would have converted a first down against Buffalo.
"You've just got to do it all the time," Bradley said. "There's going to be times when young guys get [out of position or make a mistake] but we just need to limit that. That's what we're seeing right now and that's what happens sometimes with younger players especially if they're getting their first opportunity."
Here's a breakdown of the missing starters:
WR
Justin Blackmon
: Suspended for the first four games of the season for violating the league's substance abuse policy, played four games, and then was suspended indefinitely for violating it again.
WR
Cecil Shorts
*: Placed on IR on Dec. 17 with a groin injury.
LT
Eugene Monroe
*: Traded to Baltimore on Oct. 2.
LT
Luke Joeckel
* (started Week 1 at RT): Suffered a fractured ankle against St. Louis on Oct. 6.
G
Will Rackley
*: Placed on IR on Dec. 17 with a concussion.
LB
Russell Allen
*: Placed on IR on Dec. 18.
G
Mike Brewster
: He replaced Rackley in the lineup and suffered a fractured ankle against Buffalo on Dec. 15.
DT
Brandon Deaderick
: He was on the field for starting DT
Roy Miller
, who did not play against Tennessee on Sunday, and suffered a dislocated elbow.
Here's a breakdown of other starters who may miss Sunday's finale:
LB
Geno Hayes
*: He did not play last Sunday because of a knee injury. He likely won't practice this week.
DT
Roy Miller
*: He has battled a shoulder injury all season and did not play last Sunday. He likely won't practice this week.
CB
Dwayne Gratz
*: He suffered a high ankle sprain last Sunday and likely won't practice this week.
RB
Maurice Jones-Drew
*: He fought through a hamstring injury and started against Tennessee last Sunday but will be limited this week.
LT
Cameron Bradfield
: He joined the starting lineup after Joeckel was injured and suffered a high ankle sprain last Sunday and will be limited in practice this week.
*Denotes started season opener.
December, 22, 2013
12/22/13
7:50
PM ET
JACKSONVILLE, Fla. -- The
Jacksonville Jaguars
were already banged up on defense before Sunday's meeting with the
Tennessee Titans
.
It got even worse during the game.
The Jaguars ended up being down five starters and it really showed up in the run defense. Tennessee ran for 182 yards and rallied from a 10-point deficit to
down Jacksonville 20-16
at EverBank Field. It was the Jaguars' third-worst performance of the season behind the 226 they allowed to Oakland in Week 2 and the 198 they allowed last week to Buffalo.
"We had some things we had to clean up, some things maybe that we counted on in the past due to some new personnel in there," coach Gus Bradley said. "We just had to tighten it up a little bit and it was hit and miss. There were some inconsistencies."
That's to be expected with that many players playing different roles. The Jaguars didn't have outside linebackers
Russell Allen
(concussion) and
Geno Smith
(knee) and defensive tackle
Roy Miller
(shoulder). That meant rookie
John Lotulelei
and third-year player
J.T. Thomas
-- mainly special teams players -- had to start at linebacker.
Brandon Deaderick
, who had been inactive for the last two games, started for Miller. By the second half, Deaderick was out with an elbow injury and
Jordan Miller
, who was just activated from the practice squad this week, was getting snaps.
Cornerback
Dwayne Gratz
had to leave the game with an ankle injury but the Jaguars are much better equipped to handle an injury in the secondary than in the front seven.
The lack of depth really showed in the second half. The Titans ran for 68 yards in the first half but ran for 58 on their second drive in the third quarter. They had 114 yards rushing in the second half. The Jaguars were especially hurt up the middle, which was a byproduct of a worn-down defensive front that had just three healthy defensive tackles: Miller, Deaderick and
Sen'Derrick Marks
.
"We had some new guys step in but those guys, they've been here and they've practiced with us so it's no blame on them for giving up plays," defensive tackle Sen'Derrick Marks said. "We gave up some plays and we weren't as sound as we usually have been. Our thing is if a guy goes down we've got to have another guy to step in and make sure them we surround them and make sure he does what he's supposed to do."
The Titans put together two long drives in the third quarter that lasted 11 and nine plays and resulted in touchdowns. The Titans ran the ball on 14 of those 20 plays, including quarterback Ryan Fitzpatrick's 3-yard scramble on fourth-and-2.
By the time that second drive ended, the Titans had a 20-16 lead just 35 seconds into the fourth quarter. You could see the Jaguars' defensive players were gassed.
"It always takes something out of you but it's what we do," Marks said. "You're supposed to be in shape. You're a professional football player. We've just got to go out and get the stop and try to get off the field."
The Jaguars did that in the first meeting with the Titans. They held Tennessee to 83 yards rushing, including 30 yards by
Chris Johnson
. He had 90 and Shonn Green had 91 on Sunday.
Bradley understands the limitations he has with his roster, but even so he's expecting more from the reserves when they do get on the field.
"Even though they got limited reps [in practice] when their number is called upon they have to perform," Bradley said. "I sure we will see some good things that they did on tape. It's just the consistency. That's what you have to battle through sometimes."
December, 22, 2013
12/22/13
3:53
PM ET
JACKSONVILLE, Fla. -- A few thoughts on the
Jacksonville Jaguars
' 20-16
loss
to the
Tennessee Titans
:

What it means
: The Jaguars (4-11) were unable to overcome a slew of injuries and pick up their second victory at EverBank Field this season. It's just the second time in franchise history the Jaguars have won just one game at home. They went 1-7 at EverBank last season and 1-6 this season (they played a home game against San Francisco in London).
Stock watch
: The Jaguars' group of no-name receivers did a solid job against the Titans. Injuries have left the Jaguars with little experience at the position. Entering the game, the team's four active receivers (
Ace Sanders
,
Kerry Taylor
,
Mike Brown
and
Lamaar Thomas
) had a combined 75 catches this season. None of them have more than a year of experience in the NFL. The group responded, especially Brown and Taylor. Brown caught five passes for 71 yards and one touchdown while Taylor had four catches for 45 yards.
Honoring Meester
: The Jaguars had a quick postgame ceremony to honor center
Brad Meester
, who is retiring at the end of the season after 14 years with the team. Offensive coordinator Jedd Fisch tried to send him out in style by calling a screen pass for Meester that was designed to get him a touchdown. Meester made the catch but cut left instead of right and got tackled at the 4-yard line. Hard to criticize him for making that wrong cut, though. As former Jaguars offensive tackle Tony Boselli joked at halftime, it's not like offensive linemen regularly read blocks.
Depleted defense
: The Jaguars were already without three starters (linebackers
Russell Allen
and
Geno Hayes
and defensive tackle
Roy Miller
) and they lost two more key players during the game: defensive tackle
Brandon Deaderick
(elbow) and cornerback
Dwayne Gratz
(ankle). That forced the Jaguars to use defensive tackle
Jordan Miller
, who was active for the first time this season, and start inexperienced linebackers
J.T. Thomas
and
John Lotulelei
. You could see the drop off. The Titans ran for 182 yards and had most of their success in the passing game in the middle of the field.
What's next
: The Jaguars end the 2013 season at Indianapolis on Sunday.
December, 12, 2013
12/12/13
5:30
PM ET
August, 26, 2013
8/26/13
5:15
PM ET
JACKSONVILLE, Fla. -- The final preseason game is usually a pretty easy one for starters.
One series. Maybe two. But it's rare for the starters -- or any key veteran who isn't on the bubble -- to play more than a quarter.

That's not going to be the case for the Jaguars, however. Coach Gus Bradley said Monday that several players who normally wouldn't play much -- or at all -- in a final preseason game could see the field or get a larger dose of playing time on Thursday night against the
Atlanta Falcons
.
"We're talking about getting an opportunity for some guys who have maybe missed due to injuries or setbacks," Bradley said. "… Some reps out there just to get their timing and get their legs back underneath them. But not a lot of playing time for them, but enough to make sure that they're comfortable heading into next week."
Whether it's because of injuries, competition at the position or to get playing time to help in their development, here's a quick list of players who may see more action than anticipated on Thursday:
RT Luke Joeckel:
The Jaguars' first-round pick played against Philadelphia last Saturday after missing the previous game with a hip flexor. Joeckel suffered the injury Aug. 9 and has not gone through a full-pads practice since the injury. He's the entrenched starter but will benefit from a little more work to knock off what Bradley said was some rustiness.
WR Cecil Shorts:
A strained left calf kept Shorts out of the first two preseason games, but he did play against the Eagles, catching one pass for 20 yards. He said in the locker room that he was going to talk to Bradley and ask to get significant reps since he missed two weeks of practice after suffering his injury on Aug. 5.
SS John Cyprien:
He was bothered by a hamstring injury at the beginning of training camp and missed the first preseason game. The second-round pick struggled in his debut but continues to progress in his development and could use some more playing time, Bradley said.
DT Brandon Deaderick:
He sat out the first two preseason games with a groin injury. He played against the Eagles but did not record a tackle. He's a proven veteran in the top four of the defensive tackle rotation but may see more action just to make sure he is ready for the season.
August, 6, 2013
8/06/13
12:55
PM ET
JACKSONVILLE, Fla. -- Through the late years of Jack Del Rio's nine-season tenure and Mike Mularkey's one awful year, plenty of
Jacksonville Jaguars
lacked faith in the coaches above them.

New coach Gus Bradley believes trust is as important as any ingredient in his team, and in the early stages of a big rebuild he has earned a great degree of it from his players.
"It's been really refreshing, his whole approach from day one," said
Jason Babin
, the team's most proven pass-rusher. "The way he's laid out how we're going to do things, the way we'll go about our business, the way things are going to be here is genuine. As you know coaches often say one thing, and it's not always entirely true."
"To have a coach like that with the genuine sincerity is special. You believe him when he talks to you, and he's done a great job developing relationships."
Belief is big for a team that is coming off a disastrous 2-14 season, lacks a proven quarterback and has some areas of questionable talent. Bradley has preached a simple, core theme from the very start. He's not talking playoffs, he's
not talking wins
, he's not talking success. He's constantly talking improvement.
Bradley is high energy, and while he's not trying to stamp his personality on his players, the enthusiasm can't help but be contagious.
"He's like a breath of fresh air, it's like night and day," tight end
Marcedes Lewis
said. "I've always said you can have good coaches but bad people. He's actually a great coach and a good person who actually cares about you. You can tell when you come into work. It's just a better working environment.
"When he first came in and we met him, I thought his enthusiasm was fake. Like it wouldn't last. But that's who he is, every single day. You can't do anything but appreciate it."
While Bradley would like his team to start fast, his bigger emphasis is on finishing strong. For a team that might not have a lot of success in the standings, it seems a smart approach. Because if you talk all about starting fast and you don't, then what?
THREE HOT ISSUES
[+] Enlarge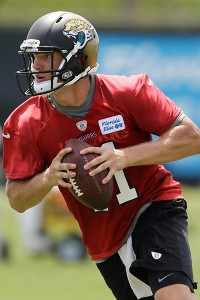 AP Photo/John RaouxThis season could be Blaine Gabbert's last chance to assert himself as Jacksonville's QB.
1. The quarterback.
The Jaguars steered clear of a quarterback in the draft, as they didn't see an answer to their issues and had plenty of other areas to address. So they move forward with
Blaine Gabbert
's big, and final, chance. The new offense is tailored to help Gabbert be better -- he will roll out and go on the move more. His weapons are better and more reliable, with the emerging
Cecil Shorts
paired with
Justin Blackmon
(once he's healthy and after a four-game suspension to start the season) along with
Ace Sanders
and
Mike Brown
, who has been quite good in camp. The protection is far better with No. 2 overall pick
Luke Joeckel
at right tackle. The initial depth chart has Gabbert as co-No. 1 with
Chad Henne
, and the team will pump up the competition for as long as it can. But those boosting Henne and suggesting he'll win the job haven't seen practices where Henne rarely seizes real command and is regularly worse than Gabbert.
2. Maurice Jones-Drew's foot.
He looked good during my visit, very much the same guy we've become accustomed to. He could easily be the centerpiece of the offense just as he was before he suffered a serious Lisfranc foot injury in the team's sixth game last season. We need to see him in games, over time show that the foot isn't an issue. We need to see how effective the rest of the team can be so that it's not overreliant on him. And we need to see how he takes on the final year of his contract when he desires a big new deal, but exists in a league where even effective running backs are devalued as they approach 30. While the team will run more zone plays, MJD said the rush offense won't look that different from what we saw in the last few years of Del Rio's regime.
3. The shape of a new scheme:
Bradley ran Seattle's defense under Pete Carroll, and the scheme put a heavy emphasis on big physical cornerbacks and pass-rushing Leos. Do the Jaguars have the guys to fit those roles? Third-round pick
Dwayne Gratz
looks like a good get. But Babin is the team's best rusher, and he was let go by the Eagles during the season last year, not a great sign. The second option at Leo, 2012 second-rounder
Andre Branch
, remains mostly invisible. Jacksonville had 20 sacks last season. The end pool hasn't really changed, though
Tyson Alualu
has shifted outside. The new interior guys --
Sen'Derrick Marks
,
Roy Miller
,
Kyle Love
and
Brandon Deaderick
-- will solidify the run defense. But will they penetrate and get quarterbacks to move off their spot?
REASON FOR OPTIMISM
[+] Enlarge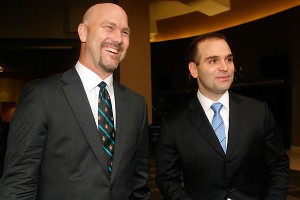 Phil Sears/USA TODAY Sports Coach Gus Bradley, left, and GM Dave Caldwell have made a positive impression as they rebuild the Jags.
David Caldwell and Bradley. The new GM and coach are both in their jobs for the first time. They are enthusiastic partners in building this team, not afraid to say there are things they don't know yet, as opposed to storming in and claiming they have all the answers. We won't be able to judge them for a few years as they need to assemble and deploy talent. And we don't know too much about Bradley's staff. But people who have worked with Caldwell and Bradley in the past, and people who are working with them now, have great reviews. I'm impressed with both, and they are the best thing the team has going for it right now.
REASON FOR PESSIMISM
The talent gap. How many Jaguars would start for the two-time defending AFC South champion Houston? Joeckel would be the right tackle.
Paul Posluszny
, if he fit into a 3-4, could be a two-down inside guy next to
Brian Cushing
. Shorts would be a top-three receiver. That's probably it. The Jaguars might be moving in a good direction, but the distance between their talent and the talent at the top of the division, conference and league is substantial. The more talented teams don't always win, but you'd rather not be the team that has to remind itself that all the time.
OBSERVATION DECK
July, 9, 2013
7/09/13
11:11
AM ET
We pick up our series in which ESPN.com's resident scout, Matt Williamson, ranks the AFC South position-by-position.
Today, we examine defensive lines.
Williamson's AFC South defensive line rankings:
1) Texans (J.J. Watt, Earl Mitchell, Antonio Smith, Jared Crick, Chris Jones)
2) Titans (Ropati Pitoitua, Sammie Hill, Jurrell Casey, Derrick Morgan, Kamerion Wimbley, Mike Martin, Lavar Edwards, Antonio Johnson)
3) Jaguars (Jason Babin, Sen'Derrick Marks, Roy Miller, Tyson Alualu, Kyle Love, Brandon Deaderick, Andre Branch, Jeremy Mincey)
4) Colts (Cory Redding, Josh Chapman, Ricky Jean-Francois, Drake Nevis, Fili Moala, Aubrayo Franklin, Montori Hughes, Brandon McKinney)
I struggled a bit as I sort through that and consider how my own list should look. Ultimately I co-sign what Williamson has done here, and will explain it a bit after we talk with him.

My questions for Williamson based off of his list:
Your overall assessment of the AFC South defensive lines:
"Overall, I wouldn't say this is a fantastic division for defensive line, but I think the Jags' defensive line is a little underrated since they produced so few sacks. With Watt in the picture, Houston is pretty strong with their 3-man front."
Does judging a couple 3-4s vs. a couple 4-3s complicate things here?
"Judging varying schemes isn't difficult, but it is hard to overlook that teams that run a 4-3 have more starting caliber linemen and of course the opposite is true when evaluating linebackers in a 3-4, but I just look at it as to how well these players do their respective jobs"
Can you rank them in order of depth?
"Just in terms of depth, I would go: Tennessee, Indianapolis, Jacksonville, Houston."
Can you name a potential breakout player?
"Morgan could break out, he pressured the quarterback well last year but didn't get home quite enough. I also think Babin is still a very good player and while he has already 'broken out,' he could be perfect in this new Jacksonville D."
How big a gap do you see between Houston and Tennessee?
"As I noted, I see Tennessee as deeper than Houston, but the Texans have the star power. Watt just might be the best defensive player in football and Smith is no slouch either. Like the entire Titans' D, their defensive line is solid, but they lack a true star or difference maker."
Are you not a believer in the Colts new additions and newfound health with Chapman and McKinney?
"It's hard to say on the Colts. They have a lot of bodies, but who will step up? Better health of course is important, but I have a tough time handicapping their defensive line overall right now."
As for me…
The Texans should get the biggest production and have the best player in Watt and a candidate for the second-best player in Smith. The Titans and Colts seem certain to be equipped to slow the run far better. With the change of scheme and personnel additions in Jacksonville things will improve against the run and pass.
It's difficult for me to put the Colts last as they've added a lot and get Chapman and McKinney back healthy. Their crop of defensive linemen are now all 3-4 guys.
I want to bump the Titans down as I like their depth but not their lack of proven sack guys, but look behind them and it's not as if the Jaguars or Colts do, either.
June, 5, 2013
6/05/13
9:03
AM ET
Matt Williamson has reviewed every player addition and every roster deletion in
a large-scale run thorough

of the AFC, grading all offseasons.
Here's a rundown of some of what he had to say about the AFC South.
Tennessee Titans -- B

Williamson
on
Delanie Walker
,
Justin Hunter
,
Blidi Wreh-Wilson
,
George Wilson
and
Bernard Pollard
: "New additions Walker and Justin Hunter have suspect hands, but both can really run for their respective positions and should give
Jake Locker
a plethora of downfield weapons to go along with very good protection. Can Locker take a step forward with this improved supporting cast and live up to his potential? That is the biggest question surrounding this organization.
"On the other side of the ball, Blidi Wreh-Wilson gives the Titans needed cornerback depth and Wilson and Pollard (although he struggles in coverage) should give Tennessee much more of a presence from the safety position. A little more could have been done on the defensive line, but the Titans were busy this offseason and really didn't lose very much."
To which I say:
The defensive line could be OK as is, considering linebacker
Akeem Ayers
will contribute to the pass rush.
Indianapolis Colts -- B-minus

Williamson
on
Gosder Cherilus
,
Donald Thomas
,
Hugh Thornton
,
Bjoern Werner
,
Erik Walden
and Ricky Jean-Francois: "The additions of Cherilus and Thomas should give Indianapolis four quality starting offensive linemen, with a possible hole still remaining at the guard spot opposite Thomas (Hugh Thornton could potentially fill that guard spot in his rookie season). Such an improvement up front should do wonders for
Andrew Luck
, who was hit far too often in his outstanding rookie season.
"I don't see Bjoern Werner or Walden making Colts fans forget about Freeney, but they are good scheme fits for this Ravens-like defensive system with Werner having much more pass-rushing ability than Walden. This scheme needs versatile defensive linemen, which Jean-Francois provides."
To which I say:
Who's on the offensive line and how they come together will be a big storyline through the preseason.
Houston Texans -- C

Williamson on departed
Glover Quin
,
Ed Reed
,
D.J. Swearinger
,
J.J. Watt
,
Sam Montgomery
,
Trevardo Williams
,
Andre Johnson
and
DeAndre Hopkins
"While I think Quin is currently a superior player to Reed, this is a franchise that needs the leadership that Reed will provide. Reed, a future Hall of Famer who is coming fresh off a Super Bowl victory, is an ideal leader and will be an excellent role model for the talented
D.J. Swearinger
. But health is a concern with Reed right now. Up front, Houston needs more pass rush than it got in 2012 outside of J.J. Watt. The drafting of Sam Montgomery and Trevardo Williams could help.
"On offense, Houston desperately needed a complement to Andre Johnson. DeAndre Hopkins might not be the biggest or fastest prospect, but he is NFL-ready and is exactly what Houston needs right now at the position. However, this will remain a run-first offense."
To which I say:
The Texans have usually given big opportunity and gotten big contributions from their top draft pick. Hopkins will have the same story.
Jacksonville Jaguars -- C

Williamson
on
Terrance Knighton
,
Roy Miller
,
Brandon Deaderick
,
Kyle Love
,
Paul Posluszny
,
Jeremy Mincey
,
Jason Babin
and
Andre Branch
:
"The defense got much more attention as the Jaguars more or less rebuilt their secondary from scratch, following Seattle's blueprint of sizable cornerbacks and physical safeties. There are sure to be growing pains on this back end, though. In the middle of their defense, Knighton is gone, but Miller and two former Patriots -- Deaderick and Love -- are all space-eating types that should control the middle well against the run and allow Paul Posluszny to better get to the ball carrier with more freedom, but none offers much in the pass-rushing department.
"Jacksonville's pass rush was one of the worst in the NFL in 2012 and the Jaguars did very little to address that problem. However, on paper, the threesome of Jeremy Mincey, Jason Babin and Andre Branch isn't a bad group. Those three could be much more productive in this new defensive system than they were one year ago and Mincey could be primed to make a difference as an interior rusher on throwing downs."
To which I say:
I am less confident than Williamson about how Mincey fits in and what he might do in this defense.
May, 17, 2013
5/17/13
9:30
AM ET
I asked Mike Rodak of ESPNBoston.com for an assessment of two defensive linemen the Jaguars recently claimed off waivers from New England:
Kyle Love
and
Brandon Deaderick
.
Deaderick
Love
Here are Rodak's insights:
"Both Love and Deaderick joined the Patriots in 2010, Deaderick as a seventh-round pick and Love as an undrafted free agent. With injuries creating opportunities for playing time, both players began to emerge as rookies within the Patriots' 3-4 system, Love as a nose tackle and Deaderick at defensive end.
"When the Patriots transitioned to a 4-3 system in 2011, Love eventually pushed Albert Haynesworth out of a starting job at tackle, while Deaderick spent the first half of the season on the PUP list. Both players started in Super Bowl XLVI, with Deaderick filling in at defensive end for
Andre Carter
following a season-ending injury.
Last season, the Patriots tweaked their defense again, moving
Rob Ninkovich
from linebacker to defensive end and shifting Deaderick back inside to tackle. Love began the season as a starter alongside
Vince Wilfork
, but saw his playing time cut after suffering a mid-season knee injury, opening the door for Deaderick to get more reps.
"While Love's release has been tied to his recent diagnosis of Type 2 diabetes, the circumstances surrounding Deaderick's termination remain unclear. As a rookie, he was briefly suspended prior to his first playoff game for reportedly missing a team meeting, but there were no known issues in his final two seasons in New England.
"With the Jaguars' defensive line in flux under first-year head coach Gus Bradley, both players project to have opportunities for playing time in Jacksonville. Given his versatility, Deaderick could compete with
Tyson Alualu
at defensive end (
Red Bryant
's position carried over from Bradley's defense in Seattle), or with offseason acquisitions
Roy Miller
and
Sen'Derrick Marks
on the inside. With his size (6-foot-1, 315 pounds), Love figures to have a role on first and second down as an interior run-stopper."
May, 15, 2013
5/15/13
9:22
AM ET
Reading the coverage…
Houston Texans

In a radio interview, defensive coordinator Wade Phillips offered a bit about
the health status
of linebackers Brooks Reed and Daryl Sharpton, says Tania Ganguli of the Houston Chronicle.
The Texans added Deji Karim to their roster, and he will
compete with
four undrafted rookies for the No. 3 running back job, says Ganguli.
A detailed, technical look at D.J. Swearinger's
coverage techniques
and capabilities that delves into shuffle vs. backpedal, from Brett Kollmann of Battle Red Blog.
Indianapolis Colts

An update on the Colts and
the salary cap
from Mike Chappell of the Indianapolis Star.
There is
no discernable disconnect
between Chuck Pagano and Pep Hamilton with regard to using Andrew Luck in read-option situations, says Kyle Rodriguez of Colts Authority. There is an old video of a Hamilton interview that was interpreted as new in one write-up, causing some confusion.
Projecting the impact
of draft picks with Tyler Brooke of Stampede Blue.
Jacksonville Jaguars

Veteran safety Dwight Lowery is already doing a lot to help his rookie partner, Johnathan Cyprien,
find his way
on the field, says Ryan O'Halloran of the Florida Times-Union.
Justin Blackmon is
responding
to Gus Bradley just the way Bradley hopes he will, says Vito Stellino of the Times-Union.
Undrafted quarterback Jordan Rodgers is out until training camp after having a
sports hernia
repaired, says Stellino.
Details on what unfolded for Jimmy Smith and
landed him in jail
, from Stellino.
The Jaguars
claimed
former Patriots defensive lineman Brandon Deaderick off waivers, says O'Halloran.
Tennessee Titans

Bernard Pollard brings
encouraging words
to a defense desperately in need of an edge, says David Climer of The Tennessean.
"The Titans
waived
tackle Matt Sewell, one of two undrafted free agents from Canada on the team's roster, The Tennessean reports. "The move came with a transaction wire notation that Sewell had left the team."
What's
the future hold
for Karl Klug at a more competitive defensive tackle spot? John Glennon of The Tennessean considers.
To which I say:
I don't see Klug getting a look outside. As Glennon points out, Klug's best characteristics make him best operating in tight quarters, not out in space.
Some thoughts on Lavelle Hawkins
signing with the Patriots
from Mike Rodak and Mike Reiss at ESPN Boston. I contributed.
November, 18, 2010
11/18/10
12:12
PM ET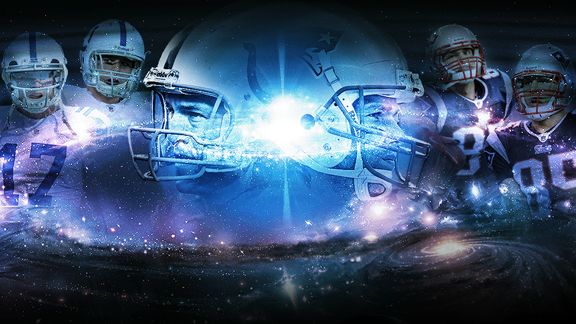 ESPN.com IllustrationPeyton Manning and Tom Brady have been at the center of arguably the best rivalry of the past decade. Who will carry it on when they step away from the game?
The annual AFC showdown is upon us, and with it come the recurring storylines.
That's right, the
Indianapolis Colts
will meet the
New England Patriots
on Sunday for an eighth straight season. The NFL's greatest ongoing interdivisional rivalry showcases two of the great organizations of this generation and renews the discussion about
Peyton Manning
's stats versus
Tom Brady
's championships.
We've decided to rekindle the debate, but before you throw your head back and groan in anticipation of the clichés, hold your horseshoes.
The purpose of this debate is to eliminate Manning and Brady and look into the future.
Which team has the better long-range outlook once Manning and Brady move on?
For the purpose of this discussion, we've set the target for 2015 -- one year beyond the length of Brady's latest contract extension -- to examine which team has the better infrastructure to cope with life minus its iconic quarterback.
Tim Graham:
Time to get after it, Paul. But no weapons this time, please. I've just recently completed the physical therapy from our last debate.
Paul Kuharsky:
Well, this back-and-forth will be less physically taxing, and since there is so much forecasting, you may actually be able to put your Jedi training to use.
Graham:
Get this debate started we shall, hmmm?
Kuharsky:
So what do the Colts and Patriots have now that's going to be a big factor for them in five years?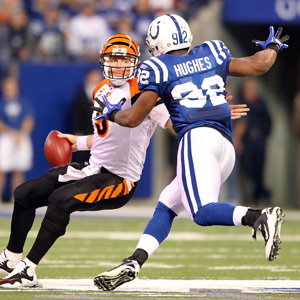 Andy Lyons/Getty ImagesWill 2010 first-round pick Jerry Hughes develop into a cornerstone on the Colts' defense?
I count eight guys who are in their first, second or third year with the franchise who I expect will still be prime contributors in 2015. But only three of the eight fit into the framework of the four most important positions on the field -- quarterback, left tackle, defensive end and cornerback. Those players would be corners
Jerraud Powers
and
Jacob Lacey
and defensive end
Jerry Hughes
.
Hughes is still unproven, but it's early and Colts president Bill Polian saw the potential for him to ultimately replace a
Dwight Freeney
or a
Robert Mathis
.
Others who may still be staples when Manning is gone: receiver
Austin Collie
, linebacker
Pat Angerer
, tight end
Jacob Tamme
, tight end
Brody Eldridge
and punter
Pat McAfee
. Can that group be the core of a team that continues to win? I wish I could offer a solid yes or no instead of a tepid maybe.
Beyond that, we've got five drafts to consider, right? And Polian regularly finds undrafted gems. I don't doubt the Colts will have talent. But they'll need new Freeney-,
Dallas Clark
- and
Reggie Wayne
-caliber stars, plus the replacement quarterback.
Graham:
Patriots overlord Bill Belichick has drawn deserved criticism for his draft failures. He has swung and missed at his share of Terrence Wheatleys and Kevin O'Connells and Chad Jacksons in the early rounds.
But when you accumulate as many picks as the Patriots have and have elite football minds evaluating the talent, those bad decisions are going to even out eventually. The Patriots appear to be warming up when it comes to successful drafting.
[+] Enlarge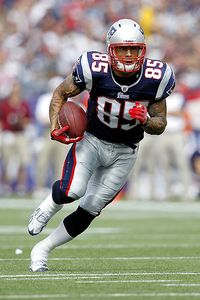 AP Photo/Paul Spinelli Rookie tight end Aaron Hernandez ranks second on the Patriots in catches and receiving yards.
The Patriots went into Heinz Field and manhandled the
Pittsburgh Steelers
with four rookies in their starting defensive lineup (defensive end
Brandon Deaderick
, outside linebacker
Jermaine Cunningham
, inside linebacker
Brandon Spikes
and left cornerback
Devin McCourty
) and a rookie tight end (
Rob Gronkowski
), who caught three touchdowns. Another rookie tight end (
Aaron Hernandez
) ranks second on the team in catches and receiving yards. Their punter is a rookie.
They don't have as many second- and third-year contributors, but inside linebacker
Jerod Mayo
was defensive rookie of the year in 2008. Among the sophomores are starting right tackle
Sebastian Vollmer
and receivers
Brandon Tate
and
Julian Edelman
, who also handle return duties.
Without question, there will be a drop-off at quarterback when Brady retires, but the Patriots are loaded with core youth.
Kuharsky:
The Colts may draft better, but they also draft less. Polian's not the draft pick wheeler-and-dealer Belichick is. Are those the guys who will be lining up the Manning and Brady successors?
It's a quarterback-driven league, and teams minus Manning and Brady will have major voids. We've got to talk about the replacements for the iconic quarterbacks, but it's hard to offer much conjecture on what kind of guy that will be without talking about who will be finding him.
Polian is 67 years old, and the last time I asked him about any sort of plan for retirement he gave me a head tilt and an uncomfortable expression.
Graham:
I've noticed a lot of people do that around you.
Kuharsky:
If things are neat and tidy, the suspicion is he and Manning -- the guy he hit the jackpot with when he picked him over
Ryan Leaf
-- will exit together. The next generation is waiting in the wings. Chris Polian is Indianapolis' vice president and general manager.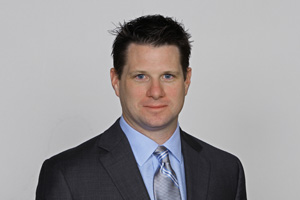 AP PhotoCurrent Colts VP Chris Polian is likely play a key role in finding Peyton Manning's successor.
I'd expect Bill Polian will have a strong hand in selecting the Colts' quarterback of the future. But it will ultimately be Chris Polian who's connected to that signal-caller the way Bill Polian is connected to Manning. The younger Polian has a good reputation and good football genes, but it's hard to know how much of his father's personnel judgment he's inherited and how much he's learned. And having to replace a guy many will argue is the greatest quarterback of all time will be an awfully difficult assignment.
Graham:
I don't know how long Belichick plans to coach, but even if he were to get tired of the week-to-week grind of getting his boys ready to play, it's fathomable he'll stick around to run the operation, handpicking his successor and overseeing football operations.
It would be silly to give Belichick more than a smidgen of credit for drafting Brady in the sixth round a decade ago. If Belichick truly knew what Brady was capable of, the Patriots wouldn't have passed on him until the 199th pick. So it's not like Belichick will simply wait until Brady's on the verge of retirement and automatically snag a replacement.
Kuharsky:
True. But they knew more than everybody else when they finally did take him.
Graham:
Belichick trusted his scout, and they unearthed a gem.
I believe Belichick's support staff is stronger than Polian's. Senior adviser Floyd Reese oversaw the Houston Oilers and
Tennessee Titans
' drafts when they picked
Steve McNair
and
Vince Young
. Player personnel director Nick Caserio, like a lot of Belichick's sidekicks over the years, will develop the tools to run his own show someday.
Kuharsky:
I don't know that Belichick's got better support. It's just more well known and visible support.
Graham:
And a high-profile owner who is willing to trust his front office, will spend money and doesn't dare meddle. That's another key component to New England's success over the past decade.
Kuharsky:
Moving onto the replacement quarterback himself,
Curtis Painter
is Manning's current backup. But based on his work in a couple of regular-season games the team didn't care about winning at the end of last season and some preseason work, most people aren't forecasting anything special from him. And that would amount to quite a lengthy apprenticeship anyway.
Graham:
You wouldn't think the Patriots have Brady's successor on the roster either.
Brian Hoyer
is an undrafted sophomore with virtually no experience so far. But you never can tell how these guys will develop while working alongside Brady for a few years. This is the team that identified
Matt Cassel
, a seventh-round draft choice who hadn't started a game since high school, as its top backup for 2008. He ended up going 11-5 when Brady blew out his knee.
Kuharsky:
The Colts will need a guy for a super-tough replacement job. It would be awfully difficult for them to land in a
Aaron Rodgers
for
Brett Favre
or
Michael Vick
for
Donovan McNabb
replacement situation.
After hitting a grand slam with the No. 1 pick in 1998, odds would suggest that it will be tough for them to line up with the right guy at the right pick at the right time. The way they build, odds are Manning's heir will be a guy who plays a full college career. So he's a college freshman or a high-school senior right now, depending on their plan for easing him in.
Graham:
The Colts and Patriots finish too high in the standings every year and don't get to pick until the 20s. That will make it nearly impossible to snag some golden-armed top prospect in their assigned draft positions. But the Patriots frequently go into drafts with other teams' picks -- and an abundance of them. They often have copious draft assets to move up if they want to. Or maybe the Patriots will obtain that big-ticket pick waaaaay in advance. A year ago, Belichick traded
Richard Seymour
to the
Oakland Raiders
for their 2011 first-round selection. That's the kind of creative investing that could pay off with a high-quality quarterback prospect down the road.
Kuharsky:
It will definitely be more difficult for the Colts to get to the top of a draft to get a premier guy. And there may need to be a post-Manning down-cycle for the team to get up there and find the guy. Scribes in Indianapolis often wonder aloud what happens to the Colts' crazed support if they turn into a 5-11 rebuilding project. The rest of the AFC South certainly hopes that's how it works, and that the division is a lot more wide open once Manning's not in it.
And while we're forecasting five years out, I have two questions: Will Manning still be a deadpanning TV commercial superstar? And will Brady have had a haircut?
Graham:
There's one unwavering prediction I can make about hair, Paul, but it's not about Brady's.