January, 13, 2013
1/13/13
7:56
PM ET
FOXBOROUGH, Mass. -- Thoughts on the
Houston Texans
' 41-28
divisional-round loss
to the
New England Patriots
at Gillette Stadium:
What it means:
The end of the road for the Texans, who finish 13-5. A season that once looked like it could end at the Super Bowl in New Orleans crumbled at the end, with two losses at New England in five weeks. This is a team that is still not complete enough to rank as a legitimate championship contender and that certainly doesn't measure up to the Patriots.


What I didn't like:
Matt Schaub
had his moments, but there is no way to come out of this game convinced he's a championship quarterback. On one panicked scramble, he simply dropped the ball. Later he threw a pass for
James Casey
that had no chance not to be intercepted by dropping end
Rob Ninkovich
. The Texans took too long to figure out how to get their run game going, while
Stevan Ridley
and
Shane Vereen
consistently hurt the defense. The Texans overestimated their ability to contain
Wes Welker
based on what they did in the first meeting and he ate them up with eight catches for 131 yards.
Tom Brady
topped 300 yards against a pass rush and defensive backfield that couldn't do much to slow him at crucial moments.
What I did like:
Arian Foster
carried 22 times for 90 yards and a touchdown and caught seven passes for 63 yards and another score.
Andre Johnson
caught eight passes for 95 yards and grabbed a 2-point conversion. The return games were a major highlight, but
Danieal Manning
lacks breakaway speed that could have turned big returns into touchdowns. The two scores for 10 points late in the first half to get it to 17-13 at intermission were impressive. But the Patriots came out of the break, drove to a touchdown on the opening possession of the third quarter and never looked back. Houston fought to within 38-28 in the fourth quarter, and they can talk about fighting to the end.
A lot of breaks:
Gary Kubiak won a fourth-quarter challenge that resulted in a 25-yard
DeVier Posey
touchdown reception. Bill Belichick lost a fourth-quarter challenge on a fourth-down spot that went in Houston's favor. The Texans also had a Foster touchdown run upheld.
Owen Daniels
got away with what looked like a fumble when officials made a quick call on forward progress being stopped. Patriots receiver
Brandon Lloyd
was flagged for unsportsmanlike conduct for throwing a ball at an official when he may have just been tossing it back to a zebra who wasn't looking. The Texans may have gotten away with a running into the kicker penalty after a
Zoltan Mesko
punt. Even with all those going in their favor, the Texans couldn't finish closer than 13.
What's next:
This team needs an honest assessment of where it stands, and that means some additions of note in the offseason beyond the return of
Brian Cushing
. The Texans platooned mediocre people at right tackle and right guard and need to get at least one big-time guy who fits their system to plug in there, not count on the development of the three youngsters involved to graduate into solid players. They need depth at the inside linebacker and the secondary needs an upgrade. Better mental toughness and play in the clutch from Schaub is a lot to ask, but is something else they need to have a chance in games like this. They could wind up in more of a fight with Indianapolis for the AFC South crown than battling teams like New England for AFC supremacy.
December, 23, 2012
12/23/12
6:42
PM ET
Thoughts on the Jaguars'
23-16 loss
to the Patriots at EverBank Field:
What it means:
The Jaguars, a bad team, can have a good day against a good team and still lose. The Patriots, a good team, can have a bad day against a bad team and still win. Jacksonville was up 10 points, but it was no surprise the Jaguars couldn't hold on. The Jaguars are now 2-13 and, mercifully, one week away from the offseason.


What it's impossible to like:
Field goals. The Jaguars got just one TD in four chances in the red zone. That's simply not going to beat a team like New England. Interceptions.
Chad Henne
threw three of them. Blown leads. The Jaguars were up 10-0 and 13-3 but couldn't hold on.
Nice job, except for the scoring part:
The Jaguars outgained the Patriots 436 yards to 349, including 343 yards through the air. The 436 yards were the second most this season (458 at Houston) and the second game with 400-plus yards this season.
Clutch moments:
Chris Prosinski
pounced to pick a deflected pass and
Derek Cox
intercepted a
Tom Brady
pass intended for
Brandon Lloyd
. Two picks of Brady in a game is a hard thing to do. But they have to turn into more than field goals.
Doing things:
Montell Owens
had a 53-yard catch-and-run. Cast predominantly as a special-teamer, he's been working as the team's lead back because of so many injuries at the position. And he's got a 5.0 yards per carry average and a 14.1 yards per catch average.
What's next:
A trip to Nashville for a rematch with the Titans. The Jaguars got one of their two wins against Tennessee 24-19 on Nov. 25 at EverBank Field.
December, 11, 2012
12/11/12
2:27
AM ET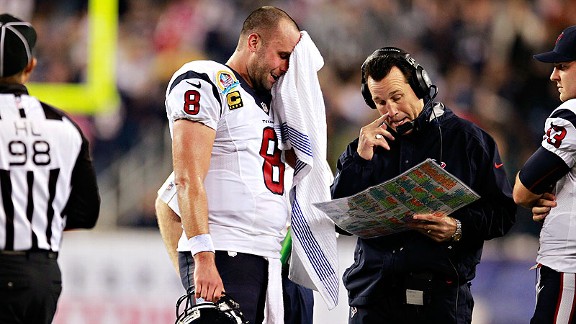 AP Photo/Steven SenneGary Kubiak and Matt Schaub couldn't solve the New England defense while the game was close.
FOXBOROUGH, Mass. -- Their critics punched holes in 11-1, citing a soft schedule, trouble against top quarterbacks and a quarterback of their own who still has not really been in high-stakes games.
The amplitude of all of that will skyrocket now, after the
Houston Texas
turned in an unqualified
42-14
dud at Gillette Stadium against the
New England Patriots
. It was so bad the Texans basically waved a white flag early in the fourth quarter, huddling on offense rather than hustling to maximize their time, and running the ball on four consecutive plays.
The Texans still have a one-game lead on the Patriots in the AFC standings, and bigger edges on the other division leaders, Denver and Baltimore, whom they've beaten.
This clunker hardly undoes a great season that has three games, plus playoffs, remaining. But it does tell us three things about the near future for the Texans:
They don't have sole control over the division anymore. Win next week and they own the AFC South. But the Colts can now say they control their own fate, too. If Indianapolis wins its final three, including two against the Texans, they'll wrest the division crown away
The Texans really need home-field advantage if they are going to get to the Super Bowl. Sure, anything can happen. But a return trip here would make for a very difficult path to New Orleans.
The Texans' two losses have come against Aaron Rodgers and Tom Brady. They gave up a lot to Peyton Manning in a victory, too. This team's odds of beating two Hall of Fame quarterbacks in the playoffs, even if both games are at Reliant Stadium, are low. The Texans would benefit greatly from an upset dished out by someone else in the wild-card round or by New England and Denver playing each other in a divisional-round game.
A sober locker room was filled with guys who weren't going to say their season has fallen apart.
But several veterans said this was akin to a school field trip.
"I think they showed us what it takes to be a champion," inside linebacker
Bradie James
said.
Defensive lineman
Antonio Smith
agreed.
"I sensed it from the coin toss. It was business, straight up, to them," he said.
"You can see just how serious they were. They've been here before. I'm a movie buff, you know. It reminded me of that movie, 'Troy,' when Achilles told Hector, 'Now you know what you're dealing with.' That's what it was like. No love. 'We're coming in here to show y'all who the big dogs are.'"
Earlier in the week, the Texans got letterman jackets, and they wore them to town in a harmless show of unity. Early Tuesday morning, hometown reporters in the press box jokingly debated who could write that New England took the Texans to school. I'd imagine some of the Patriots were making the same crack in private. For those seeking fresher material there was this: The team's equipment men struggled to get some stuff back to their truck because the cart they drove down a stadium tunnel had a flat tire.
The Texans pointed to early mistakes as a key to their downfall, though I'm not sure there was a formula for them to win against this team in this setting on this night.
They had the Patriots stopped on their first third down, and a needless defensive holding penalty against
Brandon Harris
on
Wes Welker
kept a drive alive.
[+] Enlarge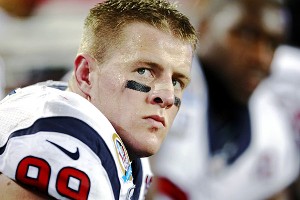 AP Photo/Steven SenneJ.J. Watt wore a grim look during the third quarter, but said hopeful things about the Texans' prospects.
They had them stopped again on a third-and-10 early in the second quarter, and safety
Danieal Manning
was called for pass interference on Welker as he impeded his path, bumping him without looking back.
New England took advantage of both mistakes and moved right along to touchdowns.
After the first one, the Texans were in great position to respond. They moved 59 yards to the Patriots' 21-yard line. But safety
Devin McCourty
broke beautifully on
Matt Schaub
's second-down pass for
Kevin Walter
in the middle of the end zone and took it away.
Houston didn't put points on the board until 6 minutes, 12 seconds remained in the third quarter, and the Patriots already had 28 and complete control.
Down four touchdowns at the start of the fourth quarter, coach Gary Kubiak surrendered. His offense didn't hurry, huddling at its regular pace. Schaub handed the ball off to third-string running back
Ben Tate
until it was time to punt.
Players stopped short of calling it a white flag, but receiver
Andre Johnson
and left tackle
Duane Brown
didn't love it. They shouldn't have. It sends a team a bad message to give up at that point. At least go down slinging it.
"I have no control over that," Johnson said.
"I just line up and do my job," Brown said.
Schaub pointed to the short week ahead and a crucial game against Indianapolis as a reason for letting up.
Brady, like Rodgers in a win and Manning in a loss before him, was the third MVP quarterback to shred the Texans this season. He hit 21 of 35 passes for 296 yards, four touchdowns and a 125.4 passer rating before stepping aside for
Ryan Mallett
.
"Obviously, I didn't do enough game-plan-wise against the guy," defensive coordinator Wade Phillips said. "It doesn't feel like you have more wins than New England right now."
The Patriots did well to keep the best players wearing the visitors' uniforms in check. Johnson caught eight passes, but for only 11.9 yards a clip.
Arian Foster
managed only 85 total yards.
J.J. Watt
had four tackles and three quarterback hits but no sacks and no passes batted down.
His biggest play didn't even benefit his team. Early in the fourth quarter, he tracked down
Danny Woodhead
and punched the ball loose after a 16-yard catch. But the ball shot forward into the end zone, where
Brandon Lloyd
corralled it for his second touchdown.
Watt looked furious as he made his way briskly to the bus, but he still managed to hit a hopeful chord.
"We still have everything we want in front of us," he said.
December, 10, 2012
12/10/12
11:38
PM ET
FOXBOROUGH, Mass. -- Thoughts on the
Houston Texans
' 42-14
loss
to the
New England Patriots
at Gillette Stadium:


What it means:
The Texans suffered their second loss of the season and now stand at 11-2. While they still control both the AFC South and home-field advantage in the AFC, they've also created a scenario where the Colts also have control over the outcome of the division. The Texans and Colts play each other twice in the next three weeks. If the Colts win their final three games, they, not the Texans, will win the AFC South.
What I didn't like:
It's a long list. With a chance to tie the game at 7-7,
Matt Schaub
threw a pick to
Devin McCourty
in the end zone early in the first quarter. The Texans allowed
Tom Brady
to drive the Patriots and throw touchdown passes on New England's first three possessions and never did anything from there to make it feel like they could come back. The offensive line allowed a bunch of hits on Schaub. The defensive line didn't do enough to disrupt Brady. The Texans forced two fumbles near their goal line but watched the Patriots recover both, one in the end zone. They didn't show any mental toughness and didn't look to have a plan to keep up. At all.
Coverage issues:
His hamstring and/or groin may still be a factor, but cornerback
Johnathan Joseph
again didn't play like a top defensive back. He was hardly alone.
Glover Quin
bit on a fake and allowed a 37-yard touchdown catch by
Brandon Lloyd
behind him. Young corner
Brandon Harris
got worked by Donte Stallworth on a 63-yard touchdown where he should have at least been able to tackle him after the catch. The front didn't rush well enough to help the secondary survive against Brady.
What I want to know:
What message does Gary Kubiak send his team by giving up in the fourth quarter? The Texans were huddling on offense and running it a bunch at that stage, acknowledging they couldn't mount any sort of surprise rally. Why not take a knee?
MVP talk:
I thought
J.J. Watt
would have a big chance to make an impression on award voters with a big game, enhancing his candidacy for NFL Defensive Player of the Year and even making a bid for MVP. He made some plays, including forcing a fumble, but didn't play to his usual standards. It was Brady who did the most to bolster an MVP bid.
What's next:
The Texans host the Colts in a giant AFC South game. If they win, they'll be division champs. If Indianapolis wins, the Colts will remain alive for the division crown.
September, 6, 2012
9/06/12
11:56
AM ET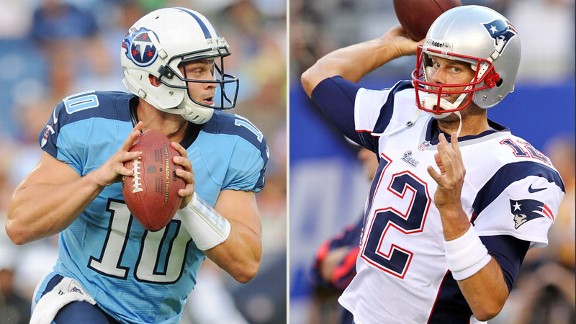 US PresswireIn his first start, Jake Locker, left, faces Tom Brady and the defending AFC champion Patriots.
They've got a lot of young talent, headlined by a young and unproven quarterback.
And on opening day at LP Field, the
Tennessee Titans
have the ultimate measuring stick: The
New England Patriots
are the defending AFC champions and the franchise that's been the model for consistently contending in the conference.
Titans general manager Ruston Webster and coach Mike Munchak are in their first and second years, respectively, in their posts. They seek to establish a pathway to finding and fielding talent and a team culture the way Bill Belichick has in New England.
A Titans upset Sunday would do a lot for the early stages of the process. It won't come easily, as the Patriots will bring an eight-game opening-day winning streak to Music City.
In advance of the game, I invited Mike Reiss of ESPNBoston.com to banter about it.
Paul Kuharsky:
The popular thinking during the Titans' quarterback battle was that veteran
Matt Hasselbeck
would be better able to handle a team like New England than
Jake Locker
would. But it's Locker who will be under center Sunday, making his first start against the defending AFC champs.
New England might not be a defensive football team, Mike, but I feel pretty confident that the Patriots will have a laundry list of things intended to overwhelm a young quarterback making his first NFL start.
Mike Reiss:
Part of me wonders if Belichick would have preferred seeing Hasselbeck in there, just because there is more NFL background on him to study. Belichick often talks about how the opening game of a season is so unpredictable, and this adds another layer to the preparation. The main thing Belichick has been stressing with Locker is how athletic he is, so keeping him in the pocket with good rush-lane integrity figures to be a focus for the revamped Patriots defensive front. Belichick figures to make limiting running back
Chris Johnson
a No. 1 priority, with the idea of putting the game in Locker's hands to see how he responds. It seems that's the place to start with the Titans' offense -- Johnson and Locker.
PK:
The interior run blocking and Johnson's effort were huge questions in Munchak's first season as head coach. Johnson has admitted his holdout affected his game more than he expected it would. Tennessee looked at a bunch of free-agent centers, including
Dan Koppen
, before sticking with the status quo. Then center
Eugene Amano
suffered a season-ending torn triceps early in camp. So
Fernando Velasco
is the guy now. While new left guard
Steve Hutchinson
will do all he can to help, I figure the Patriots will be hoping to get Velasco and the Titans' lesser guard,
Leroy Harris
, in bad spots against
Vince Wilfork
. As for Johnson, no less an authority than Eddie George said the speedster got into a bad habit last season when he stopped moving his feet upon initial contact. We'll be watching for that Sunday at LP Field. Does he make a quick lateral move and give himself a chance to keep going when the first guy gets to him? Or does he stall? If it's the second option, he'll be doomed.
How about running back the other way?
BenJarvus Green-Ellis
is gone now, so what's the Patriots' pecking order at the position? The Titans seem pretty solid up the middle if they are at full strength with
Sen'Derrick Marks
and
Jurrell Casey
. Isn't New England's group of backs mostly littler than you?
MR:
I see what you did there, Paul. Very clever. But as
Wes Welker
,
Danny Woodhead
,
Kevin Faulk
and others have shown us over the years, sometimes the smallest dog in the fight has the biggest bite. The Patriots have really turned over their running back position from just two years ago. What was once the oldest position on the roster is now defined by youth -- second-year backs
Stevan Ridley
(third round, LSU) and
Shane Vereen
(second round, Cal) top the depth chart, with the 5-foot-8, 200-pound Woodhead (fifth year) the change-of-pace back who plays a lot because of how much the offense is in the shotgun. Rookie
Brandon Bolden
, who took the same path as Green-Ellis to make the roster as an undrafted free agent out of Mississippi, is the fourth option. Ridley and Bolden are both 5-11 and 220 pounds. They run with power. Vereen (5-9, 205) brings more of a speed element, although it is unlikely we will see him after he hobbled off in the team's third preseason game and hasn't practiced since. There is more big-play potential with this group that they had last year with Green-Ellis leading all running backs by playing 34 percent of the snaps. Don't sleep on this group, although it's safe to say the Patriots are an attack that will lean more heavily toward the pass. So protection for
Tom Brady
figures to be key, and they had a shaky preseason in that area.
PK:
In my view, for the Titans to have a chance to pull an upset here, they'll need to really harass Brady. I think making New England use
Rob Gronkowski
and
Aaron Hernandez
as help in pass protection will wind up their best chance to defend those tight ends. Rookie linebacker
Zach Brown
was drafted because he can keep up with guys like that, but in his first game – while I expect him to have some sort of nickel role -- I think it'd be awfully hard to be a successful part of slowing them. Tennessee's pass rush looks to be operating inside out -- Casey may be their best defensive lineman -- so it will be interesting to see how effectively Brady can slide or step up, and if a second guy will arrive to get to him.
One matchup I think can be better than most think is
Alterraun Verner
against Welker. Certainly there are some plays where you cannot stop what Brady and Welker are doing. But Verner had a real knack for disrupting the quick stuff that gets fed to slot receivers. I look for him to make a couple plays.
MR:
Watching the Patriots this preseason, it's fair to say pass protection is a concern. Brady took some big hits, fumbling against the Saints and Buccaneers. This has been a successful formula for teams that can pull it off -- disrupt the passing game by getting to Brady early. The problem is that not all teams can do that. Here are a few things to keep in mind: 2011 first-round draft choice
Nate Solder
is now the team's permanent left tackle, stepping in for the retired Matt Light. There have been some growing pains, so if we're talking matchups to watch, how about Solder against
Kamerion Wimbley
? Also, there is some uncertainty as to who will start at center, as the team's longtime option there, Koppen, was released at the final cutdown. Add in that left guard
Logan Mankins
(coming back from a torn ACL) played just 11 snaps this preseason and right tackle
Sebastian Vollmer
(returning from a back injury) played just nine snaps in the preseason, and this is a unit that bears watching on Sunday. The Titans have a chance to control the line of scrimmage.
PK:
That's good work in terms of talking me out of feeling like we're going to watch a blowout unfold. (Yes, 2009 is ancient history, but it's hard to forget 59-0 at Gillette Stadium.) I remained convinced the Patriots will find their points. Heck, they scored 30 or more 12 times last season, topping 40 twice. Add
Brandon Lloyd
to the mix on offense, and I expect Brady to help them post a crooked number. To pull an upset, I think Locker will have to manage the same.
That's as close as I'll come to picking it -- I hate putting myself in position to root for a result to make myself look smart. You know what a challenge that is for me even without making a pick.
MR:
I think this is a game the Patriots should win. The Titans are a team that if you sleep on them, they will beat you, but that usually isn't a problem for the Patriots, because Belichick doesn't allow for complacency. The Titans probably hoped for higher temperatures than the predicted mid-70s. Still, look for Belichick to rotate a lot of his personnel as a way of keeping them fresh. The one position that won't be in play is quarterback, and I think it's fair to say that's the big difference in this game -- Brady. Big advantage there for the Patriots.
PK:
Impossible to argue that point, so this looks like our ending.
February, 14, 2012
2/14/12
3:49
PM ET
K.C. Joyner breaks down seven free-agents to-be in the coming
wide receiver pool

in this Insider piece.
I wish he also included two Colts,
Reggie Wayne
and
Pierre Garcon
.
The Jaguars had one of the NFL's two worst groups of receivers in the NFL last season and will definitely be considering free agents at the position. If the Colts don't keep one or both of their guys, they'll also have a need.
Here are Joyner's bottom lines on the seven guys he writes about:
Dwayne Bowe, Kansas City:
"Bowe may have stretch vertical limitations, but he should be able to upgrade the short and medium pass game of any team."
Marques Colston, New Orleans:
"Colston has the potential to be the best possession receiver in the NFL, but his productivity could drop off if he joins a team with less creative playcalling than he received with the Saints."
DeSean Jackson, Philadelphia:
"There is a reason the Eagles have shown some hesitation in paying him a big contract and why they may be considering either putting a franchise tag on or trading Jackson. He has more big-dollar bust potential than any other wide receiver in this year's field."
Vincent Jackson, San Diego:
"Jackson might be biggest risk-reward wideout in this year's free-agent class."
Steve Johnson, Buffalo:
"Johnson wants to be paid like a true No. 1 wideout but there are too many facets of his game that say he has a production ceiling that doesn't justify that type of expenditure."
Brandon Lloyd, St. Louis:
"Lloyd has the highest volume of notable negatives in this comparison."
Mario Manningham, NY Giants:
"Manningham's postseason performance, age and 2010 numbers show that he may have the most upside of any wideout in this group. Depending on how his postseason is viewed by teams in the free-agent market, he could end up as the best value acquisition wide receiver."
I asked Matt Williamson of Scouts Inc. about the field-stretching speed of those seven plus Wayne and Garcon and what he'd like to see Jacksonville do.
"The Jags might need two of those guys! In terms of field stretchers, which is clearly a need for Jacksonville, Vincent Jackson and DeSean Jackson are way ahead of the rest. And both are excellent in this capacity. I prefer Vincent Jackson overall-bigger. And Mike Mularkey is going to want his receivers to block, which isn't DeSean Jackson's game. Manningham should be the cheapest on the list and if they were able to get two, he would be an ideal WR2 -- also with field stretching ability. Although not a burner, Dwayne Bowe could be the best fit. Physical and plays tough. But I bet Bowe is franchised."
While we linked to a piece earlier today about how Jaguars' GM Gene Smith isn't completely determined to add only choir boys, I think Jackson's attitude might be a turnoff to Smith.
October, 19, 2011
10/19/11
8:38
AM ET
Reading the coverage ...
Houston Texans

Richard Justice of the Houston Chronicle: "To those people who say Gary Kubiak must be more like Mike Ditka or Jim Harbaugh or Bill Cowher, I would say this: The fastest way for a coach to lose a team is try to be something he is not. Players will
quit on a phony
in a heartbeat." I agree that Kubiak can't and shouldn't change. But if he's not coaching a playoff team this season, his replacement will have a different personality.
If the Texans win Sunday, it should be the start of
something big
. If they lose, it's time to push the panic button. John McClain of the Houston Chronicle assesses.
Tim Jamison
isn't satisfied
after a breakout game, says Jeffrey Martin of the Chronicle.
Indianapolis Colts

The Colts'
fortunes have changed
since the last time they played the Saints, writes Mike Chappell of The Star. "We've been to the mountaintop," defensive end Robert Mathis said. "We're at the valley low right now."
Pat McAfee looks at kickoffs and thinks,
no return, no risk
, writes Phil Richards of The Star.
Jacksonville Jaguars

Receiver Mike Sims-Walker is
rejoining the Jaguars
, writes Tania Ganguli of the Times-Union. The Jaguars told him before the lockout that they wouldn't re-sign him as a free agent, so it's hard to get too excited about his return. Still, he should add something to a bad group.
Injuries mean offensive tackle
remains a concern
, says Vito Stellino of the T-U.
Tennessee Titans

Things
went south
for the Titans after the bye last year and they need to avoid a repeat, says Jim Wyatt of The Tennessean.
The Titans took
a hard look
at receiver Brandon Lloyd, according to Mike Munchak. Now they intend to get Donnie Avery involved, says John Glennon of The Tennessean. Munchak also said the Titans would
take a look
at a healthy Terrell Owens. Please note that taking a look and signing are miles apart.
Hot topics
on Texans-Titans from Glennon.
September, 23, 2011
9/23/11
1:30
PM ET
»
NFC Final Word
:
East
|
West
|
North
|
South
»
AFC
:
East
|
West
|
North
|
South
Five nuggets of knowledge about Week 3:
Watch the Jaguars' defense:
It did not play badly in New York, it's just that the Jets were given so many chances by the Jacksonville offense.
Cam Newton
is due for a comedown, and a defense that loaded up on veterans this offseason needs to see a payoff Sunday in Carolina. Put the spotlight on
Paul Posluszny
,
Clint Session
,
Matt Roth
, probable new starting safety
Dwight Lowery
and
Drew Coleman
. They were brought in to make this a good defense now, and if they can't fare well against a rookie quarterback and a rebuilding team, it will be a major disappointment. The defense should play well enough to give
Blaine Gabbert
a chance to win his first start if he plays efficiently.
[+] Enlarge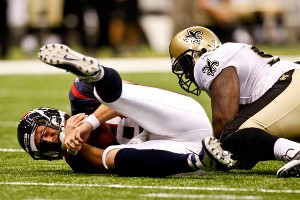 Derick E. Hingle/US PresswireThe Saints will look to bring pressure on Matt Schaub to slow down the Texans' air attack.
Blitz alert:
The Texans are probably sick of hearing about how challenging the blitz packages of Saints defensive coordinator Gregg Williams will be. But they'll also be reviewing the possibilities and reminding themselves of their schemes for handling blitzes.
Matt Schaub
is better when teams sit back and play coverages rather than coming after him. Still, although New Orleans wants to blitz and has the people to do it, the Saints are only 18th against the pass through two games. Although they collected eight sacks against the Packers and Bears, they've allowed an opponent passer rating of 95.6. There will be room for Schaub to succeed.
Quick and short:
I expect the Colts will try to combat the Steelers' high pressure 3-4 front with quick, short passes, hoping for yards after the catch.
Kerry Collins
can certainly connect with
Joseph Addai
in such circumstances. He has done OK with
Reggie Wayne
and
Dallas Clark
. The guy who needs to be a bigger part of things is
Austin Collie
, who was targeted 10 times a week ago but had only three receptions for 24 yards. To move it better, particularly in the red zone, where it was a struggle against the Browns, I think Collins-to-Collie has to become a bigger part of things.
Denver's health:
The Broncos were awfully banged up last week against Cincinnati when they managed to win without several key guys -- defensive end
Elvis Dumervil
, linebacker
D.J. Williams
, cornerback
Champ Bailey
, receiver
Brandon Lloyd
and running back
Knowshon Moreno
. At least some of those guys will return, and the Titans will face a better team than the one they have been watching on tape.
Kyle Orton
led Denver to a win at LP Field last season, so this is a trip the Broncos know they can make successful. Underrated Titans left tackle
Michael Roos
will be ready for Dumervil if the defensive end is back.
Making Newton uncomfortable:
Newton has been very comfortable in his first two NFL games, even as Carolina has dropped both. For the Jaguars, making Newton do things he has not been doing well is a major goal. What might that entail? According to ESPN Stats & Info, Newton has been the best quarterback in the NFL throwing outside the numbers, where he has a passer rating of 109.5 and a Total QBR of 91.6. Take away receivers on the perimeter and make him look inside the numbers and you'll find a much more average player: passer rating of 63, QBR of 39.2. The pressure is on
Rashean Mathis
and
Derek Cox
, particularly against
Steve Smith
, who is responsible for a good share of Newton's numbers to the outside.
July, 27, 2009
7/27/09
3:45
PM ET
Posted by ESPN.com's Paul Kuharsky
While chatting with Justin Gage following a Titans organized training activites session, I asked him about the best catch he had ever seen.
Here's what he said:
"I might have to go with Brandon Lloyd a few years ago, he made that one-handed diving catch when he played with San Francisco. I don't remember who it was against, but damn.

"I can see him laying out. He's probably laying out right around the 20-yard line going in. He lays out for it and catches it. It's like a middle post route or something, he beats his defender by a step but he lays out and catches the ball one-handed in mid-air and brings it in.

"That's focus. Pure focus. And strong hands."