AFC South:

Brandon Weeden
February, 3, 2014
Feb 3
2:10
PM ET
INDIANAPOLIS --
Russell Wilson
of the
Seattle Seahawks
wasn't as heralded as the rest of the quarterbacks taken in the 2012 draft.
He was a third-round pick who was considered too small to have much of an impact on an NFL team. He wasn't even supposed to start.
Matt Flynn
was supposed to be the Seahawks' starting quarterback.
But almost 22 months after that draft, Wilson is the first quarterback of his class to win a Super Bowl.
Did he dazzle or dominate the Super Bowl?
Not even close. Seattle's defense did those things. But Wilson still has a ring.
[+] Enlarge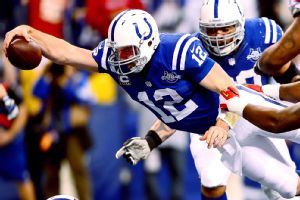 Andrew Weber/USA TODAY SportsAndrew Luck has won nearly as many games as Russell Wilson without as strong a supporting cast as Wilson enjoys in Seattle.
That brings into question: Is Wilson now the best quarterback of that group?
Andrew Luck
of the
Indianapolis Colts
has the complete package.
Robert Griffin III
of the
Washington Redskins
has the hype -- and the commercials.
Ryan Tannehill
of the
Miami Dolphins
came into his own in his second season. You also can't forget about
Nick Foles
of the
Philadelphia Eagles
,
Kirk Cousins
of the Washington Redskins and
Brandon Weeden
of the
Cleveland Browns
, who were also picked in 2012.
"I think Luck far and away is No. 1 in that class still," ESPN NFL Insider Matt Williamson said.
A lot of NFL players agree with Williamson. That's why Luck finished second to only Denver's
Peyton Manning
as the player they would want to start a team with.
This is no knock on Wilson because he's the second best quarterback in that group behind Luck. Wilson has already won 24 games and the all-important Super Bowl.
It should be noted, though, that Wilson doesn't have to shoulder the load the same way Luck does. He has a dominant defense and power running game supporting his arm and swift feet.
The Colts are aching to have both of those things to go with Luck.
"Wilson really hasn't played all that well over the last month and a half or so and they were still winning," Williamson said. "He has a great roster around him. And the Seahawks are smart, they don't ask him to do a ton. Even [Sunday], he played well, but he wasn't the best player on the field. For the Colts to win, Luck has to be the best player on the field, and he often is."
Take Luck off the Colts and there's no way -- and I sincerely mean no way -- that they would have won 22 regular-season games and a playoff game the past two seasons. Indianapolis would likely be preparing for another high draft pick because of the makeup of its roster and the injuries it dealt with this season.
That's a compliment to how good of a player Luck is and his value to the team.
"Look at the Colts' roster, they have a ton of flaws, not to mention somewhat questionable coaching this year," Williamson said. "They tried to shove [Trent] Richardson into a round-hole type of deal. Losing [Reggie] Wayne, losing [Dwayne] Allen and Luck has a lot more on his plate then Wilson and the rest of those young quarterbacks. And [Luck's] further along, too. He sees the field really well. All those things people said about him right out of school. He's just rare. He's not like everybody else."
December, 5, 2013
12/05/13
9:00
AM ET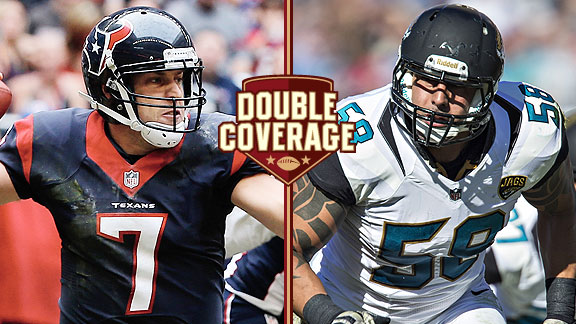 Getty ImagesAre Case Keenum's Texans and Jason Babin's Jaguars on different paths as they near season's end?
JACKSONVILLE, Fla. -- The streaks the Jaguars and Texans are on entering tonight's game are ones that would have been hard to believe after the first two weeks of the season.
The Jaguars started 0-2 and played so poorly it looked like they would go down as one of the worst teams in NFL history. The Texans started 2-0, and while those victories were shaky, it looked like they'd be able to right the ship and be one of the top playoff seeds in the AFC.
Three months later, the Jaguars (3-9) are 3-1 since their bye and have won back-to-back games for the first time since 2010. The Texans (2-10) have dropped a franchise-record 10 consecutive games, including a 13-6 loss to the Jaguars in Houston on Nov. 24.
Jaguars reporter Michael DiRocco and Texans reporter Tania Ganguli break down the matchup:
DiRocco
: Tania, the Texans felt like they were at rock bottom after losing to the Jaguars on Nov. 24. What's their state of mind heading into Thursday's game?
Ganguli
: They were up for Sunday's game against the Patriots. It was a big one for the Texans after the way the Patriots blew them out twice last season, and that was apparent in the game. The Texans' offense played what might have been its best game with
Case Keenum
at quarterback, moving the ball from start to finish. There were some positives in that game, but ultimately the loss officially knocked the Texans out of playoff contention. Now they're playing for pride. They can still avoid the league's cellar when the season ends. And while there's a section of fans that cares about the No. 1 overall pick above all else, a win would mean a lot to the team.
The last time the Texans played the Jaguars, the Texans fell to 2-9 and the Jaguars rose to 2-9, causing the Texans to join the Jaguars with the worst record in the NFL. Now the Texans are there alone and the Jaguars have won three out of their past four games. Is that indicative of a turnaround, or of poor play by their opponents?
DiRocco
: It's a little of both, but I'd say more that the Jaguars have improved. In the four games since the bye, they're much better against the run (68 yards per game allowed vs. 162), have recorded nine of their 20 sacks, and are plus-3 in turnover ratio. The offensive line has been more consistent and receiver
Ace Sanders
has begun to emerge as a reliable option. So they are playing much better than the first eight games, which they lost by double digits. But the Jaguars haven't exactly played against the league's elite: The four teams are a combined 18-30 and only one (Arizona) has a winning record. They haven't exactly had to deal with elite QBs, either:
Jake Locker
/
Ryan Fitzpatrick
,
Carson Palmer
, Keenum and
Brandon Weeden
. Still, that shouldn't take away from the fact that the Jaguars are a better team than they were a month ago and have played well enough to win three consecutive games on the road for the first time since 2007.
Ben Tate
looked pretty good against the Patriots, and it's probably not a coincidence that he rushes for 102 yards and the Texans nearly win. Is he back to 100 percent and is he the key for the Texans against the Jaguars? He really struggled in the previous meeting.
Ganguli:
The running game just didn't seem to get going in these teams' last meeting, but Tate rebounded in a big way against the Patriots last weekend. He was asked if it was the best game the offensive line had played, and he said it was definitely one of them. Tate won't talk about it, but he's playing for a contract, as this is his final year with the Texans. The Texans' offense needs him to be productive, and he was on Sunday.
It feels, from the outside, like a completely different season has sprouted for the Jaguars, whose nine losses all have been by double digits. Who has been the MVP of their three recent wins?
DiRocco:
It hasn't really been one player, which is indicative of the growth the team has made since the bye week. Against Tennessee it was linebacker
Paul Posluszny
, who set the tone for the defense on the game's first offensive snap when he knocked the ball loose from
Chris Johnson
and recovered the fumble at the Tennessee 19-yard line. Three plays later the Jaguars took a 7-0 lead and never trailed. Against Houston it was running back
Maurice Jones-Drew
, who ran for a season-high 84 yards and one touchdown and had a season-high 144 total yards. Against Cleveland it was
Cecil Shorts
, who fought through two drops and dealing with cornerback
Joe Haden
. Shorts beat Haden on a double-move to catch the game-winning touchdown pass with 40 seconds to play.
The last time the teams met, the Jaguars held
Andre Johnson
to just two catches. What kind of game do you expect out of him on Thursday?
Ganguli:
Johnson's production in that meeting had as much to do with the shakiness of the quarterback as it did with Johnson. Keenum had a rough day with both his decision-making and accuracy. He was gun-shy, and it hurt him and his receivers. It was no surprise then that a better day for Keenum coincided with a better day for Johnson against the Patriots. He caught eight passes for 121 yards, becoming the second-fastest player in league history to reach 900 career catches. I think you'll see something closer to that version of Johnson. I don't see Keenum regressing to what he was 11 days ago.
To wrap up, let's talk about Jones-Drew some more, a guy who is probably pretty happy with the events of the past week. His college team won its big rivalry game, his current team won again and he got to throw a touchdown pass. That followed a game against Houston with those 144 all-purpose yards. Do you expect similar production from him? And how thrilled was he to get to throw that touchdown pass?
DiRocco:
Jones-Drew is riding a pretty good wave, isn't he? He's probably the most proud of the touchdown pass, which makes him the first non-quarterback to throw a TD pass in franchise history. It also makes up for his only other career pass attempt, which got intercepted. Jones-Drew's production has increased the past several weeks because the offensive line has been more consistent and he's more involved in the passing game. He says catching passes doesn't result in as much pounding as running through the line of scrimmage, so he's fresher in the fourth quarter. I expect him to get 20 touches tonight.
December, 2, 2013
12/02/13
8:00
AM ET
A review of four hot issues from the
Jacksonville Jaguars
' 32-28 victory against Cleveland:
[+] Enlarge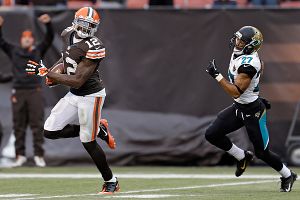 AP Photo/Tony DejakDwayne Gratz, right, and the Jacksonville secondary had its hands full with Cleveland's Josh Gordon.
Secondary issues:
One week after holding Houston receiver
Andre Johnson
to just two catches for 36 yards, the Jaguars' secondary was absolutely torched by Cleveland's
Josh Gordon
: 10 catches for 261 yards and two touchdowns, including a 95-yarder in the fourth quarter. Cornerbacks
Dwayne Gratz
and
Alan Ball
each had their troubles with Gordon, and they got little safety help from
Johnathan Cyprien
and
Winston Guy
. Both seemed to be late getting over to help, and the one time Guy did get there in time he was penalized for hitting Gordon in the head. Guy also was the main guy to blame for the 95-yard TD because he went for the interception -- coming from behind Gordon -- instead of trying to hit Gordon and knock the ball that way or just make the tackle. Cyprien did get his first career interception on a pass thrown behind tight end
Jordan Cameron
.
Help needed:
Rookie receiver
Ace Sanders
had his most productive day, and the Jaguars certainly needed it, with
Cecil Shorts
dealing with Browns cornerback
Joe Haden
(and two drops) and
Mike Brown
playing through a very sore shoulder. Sanders tied his season high with eight catches and set a season high with 67 yards receiving. He also carried the ball once for 4 yards on a misdirection pitch play. The biggest number, however, is six: Of his nine touches, six resulted in first downs. Shorts came up big late, but Brown had just one catch.
Improved pass rush:
All the attention since the bye week has been on how much the run defense has improved, but the Jaguars' pass rush also has been much more effective the past month. The Jaguars sacked quarterback
Brandon Weeden
three times on Sunday, including one by
Jason Babin
that resulted in a fumble that defensive tackle
Sen'Derrick Marks
recovered to set up a field goal. The Jaguars now have 20 sacks, which matches their 2012 total. They have recorded nine sacks in the four games since the bye and eight in the past three games. One thing they're doing differently is rushing middle linebacker
Paul Posluszny
more often. He had a half-sack (along with Babin) against Weeden.
A Marks man:
Marks had another big day: a sack, a forced fumble, a fumble recovery and a pass breakup. Marks' fumble recovery and 15-yard return set up
Josh Scobee
's 36-yard field goal at the end of the first half. Marks has three sacks this season after recording just three in his first four seasons in the NFL. Marks, who signed a one-year deal with the Jaguars in April, has been the team's best defensive lineman.
December, 1, 2013
12/01/13
4:26
PM ET
JACKSONVILLE, Fla. -- A few thoughts on the
Jacksonville Jaguars
' 32-28
victory
over the
Cleveland Browns
.

What it means:
It has been a while -- nearly three years, in fact -- but the Jaguars finally have a winning streak. Their victory over the Browns marks the first time they have won back-to-back games since Weeks 13-14 of the 2010 season. Jacksonville (3-9) has won three of its four games since the bye week. All of those victories have come on the road, which marks the first time since 2007 the Jaguars have won three consecutive road games.
Stock watch:
It had been a pretty miserable homecoming for Jaguars receiver
Cecil Shorts
, who grew up in Cleveland and played collegiately at Mount Union in Alliance, Ohio -- until the Jaguars' final drive. Browns cornerback
Joe Haden
had pretty much shut Shorts down and Shorts hurt himself with two drops. But he came up big when it mattered most, beating Haden for a 20-yard game-winning touchdown pass with 40 seconds remaining. On the other end of the spectrum, the secondary really struggled. The Jaguars had little trouble with Houston's
Andre Johnson
last week, holding the All-Pro to just two catches. But they appeared to be playing a man short because
Josh Gordon
absolutely shredded them for 261 yards and two touchdowns. Gordon's last touchdown was a 95-yard catch and run in which safety
Winston Guy
went for the interception instead of the tackle and rookie cornerback
Dwayne Gratz
chased Gordon for 20-plus yards and never dove for Gordon's legs.
Ace in the hole:
With Shorts a nonfactor for most of the game and
Mike Brown
playing with a very sore shoulder, the Jaguars needed somebody to step up at receiver, and
Ace Sanders
did, catching five passes for 38 yards and carrying it once for 4 yards in the first half. Those don't sound like big numbers, but Sanders converted four third downs. He finished with a team-high eight catches for 67 yards, including a 25-yarder on the Jaguars' game-winning touchdown drive.
Turnover binge:
The Jaguars went from trailing 14-7 to leading 20-14 in less than a two-minute span at the end of the first half thanks to three turnovers. Two were interceptions, which double the amount the Jaguars' secondary had entering the game. Rookie safety
Johnathan Cyprien
picked off the first pass of his career, which led to
Maurice Jones-Drew
's touchdown pass to
Marcedes Lewis
to tie the game with 1:24 remaining. Gratz intercepted
Brandon Weeden
's next pass, which led to
Josh Scobee
's 44-yard field goal and a 17-14 lead with 52 seconds remaining. The Browns tried to drive for a field goal but defensive end
Jason Babin
knocked the ball from Weeden's hand and defensive tackle
Sen'Derrick Marks
recovered the ball and returned it to the Cleveland 18-yard line with five seconds remaining. Scobee hit a 36-yard field goal to give the Jaguars a six-point lead.
What's next:
The Jaguars will play host to the
Houston Texans
on Thursday night.
November, 30, 2013
11/30/13
8:00
AM ET
Here are five things to watch in Sunday's
Jacksonville Jaguars
-
Cleveland Browns
game at FirstEnergy Stadium in Cleveland, Ohio:
[+] Enlarge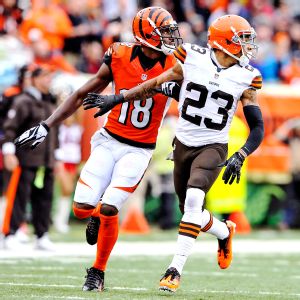 Kevin Jairaj/USA TODAY SportsBrowns cornerback Joe Haden has shut down some of the league's top receivers this season.
Shorts vs. Haden:
Browns cornerback
Joe Haden
will likely match up exclusively with Jaguars receiver
Cecil Shorts
. It's a matchup that clearly favors the Browns. Haden is playing at a Pro Bowl level and is tied for the NFL lead with 16 pass breakups. He neutralized
Calvin Johnson
(three catches, 25 yards) and
A.J. Green
(nine catches, 58 yards in two games). Shorts is the Jaguars' leading receiver (58 catches for 700 yards) but has struggled when defenses have made it a priority to take him out of the game.
Weeden returns:
Jason Campbell
is out with a concussion so
Brandon Weeden
will start at quarterback for the Browns. He has really struggled in his second season, throwing six touchdown passes and seven interceptions in four starts. The Jaguars' secondary has just two interceptions this season and only one in the last seven weeks.
Pressure:
Jacksonville's offensive line has struggled in pass protection all season (37 sacks allowed) and it could be another rough day on Sunday. The Browns have 31 sacks and the production is pretty spread out: 15 players have at least one sack, including rookie
Barkevious Mingo
, who has a team-high four. The Jaguars gave up four sacks last week and quarterback
Chad Henne
took a beating all day.
Better against the run:
The Jaguars' rush defense has been significantly better since the bye week. In the eight games before the bye, the Jaguars were allowing an average of 162 yards per game rushing. In the three games since the bye, the Jaguars are allowing only 58 yards per game. Cleveland has struggled to run the ball, even before the
Trent Richardson
trade. The Browns are averaging 81.0 yards per game on the ground and have rushed for only one touchdown.
Moving up:
Jaguars running back
Maurice Jones-Drew
needs 108 all-purpose yards (rushing, receiving, returns) to move past
Jimmy Smith
into second place on the franchise's all-time all-purpose yardage list. Jones-Drew has 12,768 yards in 110 games. Fred Taylor is the record holder with 13,632 yards, which he accomplished in 140 games.
October, 10, 2013
10/10/13
8:00
AM ET
INDIANAPOLIS -- Not that any further proof is necessary, but quarterback
Andrew Luck
continues to prove the
Indianapolis Colts
made the right decision in selecting him as the No. 1 overall pick.
The numbers back it up, too.
Luck has a quarterback rating of 77.1 this season. That's good enough for the fourth highest in the league and is more than an 18-percent increase from last season.
Need further proof that Luck is clearly ahead of his class? Check out the QBR and team record with second-year quarterbacks this season.
RG III's QBR has dropped from 73.2 to 29.1 since last season.
Here are a few more tidbits on why Luck is having a better overall season.
His 88.4 QBR in the fourth quarter is third behind only
Chicago Bears
quarterback
Jay Cutler
(98.6) and
Denver Broncos
quarterback
Peyton Manning
(93.0). Luck has led the Colts to two fourth quarter comebacks this season.
Luck's completion percentage has increased to 62.2 percent, up from 54.1 percent last season. He's been able to complete a higher percentage because the Colts aren't relying on him to beat teams with his arm. They're the fourth best rushing team in the league.
Luck still likes to fling the ball down field. Twenty-five percent of his attempts have been for 15 yards or longer, that's barely less than the 27.1 percent he attempted last season. Luck is doing a better job of completing passes within 15 yards of the line of scrimmage. He's gone from 58.9 percent as a rookie to completing 68.9 percent of his attempts within 15 yards of the line of scrimmage this season.
September, 12, 2013
9/12/13
12:01
PM ET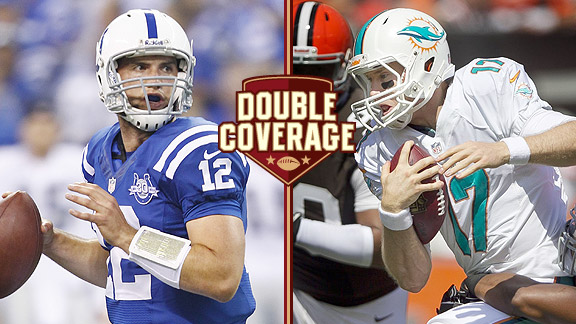 Getty ImagesSecond-year quarterbacks Andrew Luck and Ryan Tannehill face off in Indianapolis on Sunday.
The
Miami Dolphins
and
Indianapolis Colts
are two undefeated teams trying to establish themselves in the AFC. Both have young quarterbacks with promise and solid second-year head coaches.
Indianapolis beat Miami last year, 23-20, in an exciting matchup in which quarterbacks
Andrew Luck
and
Ryan Tannehill
both played well.
But who will win this season's matchup? ESPN.com Colts reporter Mike Wells and ESPN.com Dolphins reporter James Walker weigh in.
Wells:
Sunday will come down to which quarterback from the Class of 2012 -- Luck or Tannehill -- can limit his mistakes. And I'm sure we'll talk about them before we end this conversation, but before that, James, we have to address the
Mike Wallace
situation. It seems like Wallace was being selfish by making Sunday's win over Cleveland all about him because he only had one catch. For a Dolphins team that's had only one winning season since 2006, Sunday should have been about getting a nice road victory to open the season. Not about Wallace. I know Wallace cleared up his comments Monday, but it shouldn't have gotten to that point. Is that a sign of things to come out of Wallace, the $60-million man?
Walker:
The situation was not ideal, but I thought the Dolphins did a masterful job putting the Wallace issue to bed during the week. Miami's coaches supported Wallace's competitiveness and desire to make an impact. Wallace also clarified that he was more upset at himself, and I expect he will be extra motivated to have a big game. Speed kills in domes, and I don't think there will be a faster player in Sunday's game than Wallace. Look for Miami to find more creative ways to get him the football in the event the Colts consistently double Wallace, which was Cleveland's strategy. Speaking of strategy, I was surprised to see how much Indianapolis struggled last week with the
Oakland Raiders
. The Colts trailed Oakland at home with less than 6 minutes left in the game. Was this first-game jitters and what needs to be fixed?
Wells:
You weren't the only one surprised. I think most people were, especially when you look back at the Colts' first two offensive series. They scored with ease and all indications pointed to Luck having a special day after he started 11-of-11 with two touchdowns. But you have to give credit to Oakland quarterback
Terrelle Pryor
. He did an excellent job creating with his feet. He kept the Colts off balance and his team in the game until Luck became the hero. Tannehill is a more traditional quarterback. Luck,
Robert Griffin
III and
Russell Wilson
are the quarterbacks everybody talks about from 2012 -- and they should be talked about after they led their teams to the playoffs -- but do you get a sense down there in South Florida that Tannehill has the tools and work ethic to close gap on the three QBs I just mentioned?
Walker:
I really like Tannehill's tools, Mike. He can make all the throws, has good mobility and feet as a former college wide receiver, and he doesn't get rattled often. Those are all qualities you want in a quarterback. He looks the part, but I still need to see him win consistently. What was interesting about last week's win over Cleveland is Tannehill took over the game in the third and fourth quarters. Last year Tannehill played not to lose games. Last week Tannehill went out and won the game. That's probably the biggest thing that separates Tannehill from Luck and other members you mentioned from the 2012 quarterback draft class. Tannehill can certainly learn from Luck and his fourth-quarter comebacks. Mike, where is Luck in his development in Year 2?
Wells:
Everybody talks about sophomore slumps with players. You should go ahead and look elsewhere because that won't be the case with Luck. He refuses to settle. The only thing he wants to talk about is getting better. That's what you like to hear from your franchise player. Luck likely won't pass for as many as yards this season because the Colts are putting an emphasis on the running game with
Vick Ballard
and
Ahmad Bradshaw
. Those two players should take a significant load off Luck's shoulders. But it won't be easy for Luck this weekend. Miami's defense looked pretty good last week against the Browns. Six sacks and three interceptions. What makes the defense so dangerous?
Walker:
The Dolphins focused in the offseason and training camp on forcing turnovers and pressuring the quarterback. The work clearly paid off with the stats you mentioned. But perhaps the most impressive stat is Miami hit Browns quarterback
Brandon Weeden
16 times, which included the six sacks. The Dolphins' front seven is both fast and physical. They have a deep rotation on the defensive line. For example, No. 3 overall pick
Dion Jordan
is a backup who only gets limited snaps. Dolphins defensive coordinator Kevin Coyle has done a good job and really likes the group he has. I think the best way for Miami to beat the Colts is the rattle Luck, force turnovers and try to make it a low-scoring game.
August, 26, 2013
8/26/13
3:30
PM ET
Colts quarterback
Andrew Luck
joined "Mike & Mike" on Monday morning to talk about a wide range of topics.
Luck on surprising many around the league by winning 11 games last season: "Inside the locker room, inside our building, there wasn't too much surprise. Not to say we expected to win every game, but we worked hard and we prepared."
On being the leader: "I still defer to
Reggie Wayne
as sort of the leader of our offense."
Don't ever refer to Luck as Andy if you run into him on the street. He may not respond to you because he's rarely called that. "I probably get called Luck more than I get called Andrew, but not Andy."
Luck on the 2012 draft class that also featured
Robert Griffin
III,
Russell Wilson
,
Ryan Tannehill
and
Brandon Weeden
: "Wish all the best for them unless we have to play them."
Check out the rest of Luck's interview with "
Mike & Mike
."
April, 8, 2013
4/08/13
2:54
PM ET
The
Tennessee Titans
have serious crushes on the top quarterbacks in this draft.
They love
Geno Smith
; they don't see how a team can pass on him.
Matt Barkley
? He's tremendous. The Bills would be crazy not to draft
Ryan Nassib
, and the Titans aren't thinking second round, though that would be OK.
No, the Titans aren't in the market for themselves.
At No. 10, Tennessee could take a guard or a pass-rusher. Of course, the Titans can surprise us with something else entirely. To maximize what they have to choose from, they want stuff coming off the board ahead of them that they aren't interested in.
And they are completely behind
Jake Locker
as their starter -- whether you think that's a smart judgment or not.
So the Titans surely hope their division rival
Jacksonville Jaguars
find an alternative to
Blaine Gabbert
and
Chad Henne
, that Cleveland's new regime lacks confidence in
Brandon Weeden
, that Buffalo isn't so big on
Kevin Kolb
and that even with
Mark Sanchez
and
David Garrard
the Jets fall in love with another quarterback at No. 9.
I still feel like the most likely scenario is that only one quarterback goes in the top 10, maybe none. Tennessee prefers the over.
The Colts (at No. 24) and the Texans (at No. 27) don't need the top quarterbacks to disappear quite so soon, but as they aren't looking for signal-callers, they'd be happy with an early run on the position, too.
December, 15, 2012
12/15/12
2:55
PM ET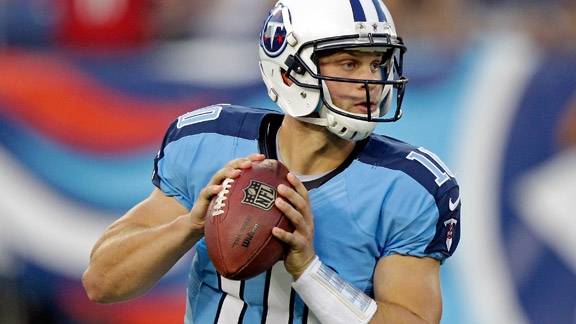 AP Photo/Wade PayneJake Locker has thrown nine TD passes and nine interceptions in his first season as a starter.
NASHVILLE, Tenn. -- The ticking clock for young quarterbacks is louder and louder.
If they allow for it, they can hear it at every turn.
Quick success for
Cam Newton
,
Andy Dalton
,
Andrew Luck
,
Robert Griffin III
and
Russell Wilson
means a large share of pundits, and even players, look at a guy like
Jake Locker
and wonder if he has "it."
It might not be fair to a quarterback with just eight starts, but as Locker prepares to lead the Titans against the Jets at LP Field on Monday night, it's a fact of life.
"Those guys, especially in their first year, are setting the bar, and I think it's normal to make those comparisons," Titans GM Ruston Webster said. "So Jake is having to live with that. That's OK. In my mind, playing quarterback is a long-term thing, and really when you look back on a player's career and how he improved and how he played, I think that's the most important thing.
"But it's amazing to me how well some of these guys are playing now early in their careers."
Locker is 2-6 in his starts. Luck, playing in the same division, is on the verge of taking the Colts to the playoffs at 9-4. Those team win-loss records are the most important thing, but quarterbacks are hardly entirely responsible for them. Locker's passer rating this season is almost two points better than Luck's.
Many of his contemporaries are faring well early, and plenty of great NFL quarterbacks had sterling first years as starters. (See chart.)
In last week's loss in Indianapolis, Locker threw a terrible interception out of his own end zone that turned into a Colts' touchdown. He also ran a quick sneak his coaches called for despite the fact that the play before had produced a first down. The two plays were part of an effort that left me questioning his
situational awareness
.
"He had an awesome first half," said
Matt Hasselbeck
, Locker's veteran backup. "And then throughout the game he had some other mistakes that he will learn from. Hopefully late in his career if those situations ever come up, he'll have something inside of his head that says, 'No, this has happened before. I'm not doing this.'"
I don't think Locker lacks confidence, but I do think that if he could find that one moment -- making a giant play at a crucial point in a game or leading a game-winning drive -- it might crystallize some things for him and the Titans.
When they drafted him eighth overall in 2011, the Titans said his accuracy issues at Washington were not going to be a problem. But he is connecting on 57.5 percent of his passes this season when most of the best quarterbacks who don't have an especially vertical offense (like Luck and the Colts) are at least at 60.
Locker's supporting cast has often failed him with drops, and he is playing behind a line that has one starter left from the presumed preseason lineup.
He has been better on third down than he is during other parts of the game -- a good indicator. But he has been worse in the fourth quarter -- a bad one.
On Monday night, Rex Ryan and the Jets will work hard to confuse him with unpredictable blitzing.
"There is a lot of thinking involved and a lot going on trying to, especially protection-wise, figure out where they are coming from," Locker said.
The 4-9 Titans finish with the Jets at home, a trip to Green Bay and a home game against Jacksonville. They certainly have a chance at 2-1, and a strong finish would go a long way toward assuring that Mike Munchak will be back for a third season as the team's head coach.
A spark from Locker would help the coach make his case. A regime change can slow a quarterback in development.
"The good thing is he's got the demeanor. I don't think that's going to be a problem for him," Munchak said. "I think he can handle the pressure of things not going as well as he'd like immediately. I've seen guys who couldn't handle that. He doesn't want to have to deal with it, but this is part of him growing as a quarterback. …
"He's not going to have a two-year career. He's got to look at it as he's going to be around for 15 years, God willing. I think he looks at things more long term. You mentioned the guy drafted ahead of him, Newton. Well, Newton hasn't won anything. How many wins do they have? And how many did they have last year, six? I mean he had the stats, but they haven't won anything. Dalton's the only guy in his class that had a nice first year."
The Titans believe Locker is mentally tough, and that could be more valuable than ever, considering that ticking clock.
Peyton Manning's rookie passing record stood for 13 years. It's now been passed twice in the last two seasons, by Newton and Luck.
Even so, everyone follows a different path.
While the first- and second-year guys with big numbers get the attention, Locker is not alone.
Blaine Gabbert
probably won't enter his third season as the starter in Jacksonville.
Christian Ponder
has been struggling in Minnesota. In Miami (
Ryan Tannehill
) and Cleveland (
Brandon Weeden
), they have rookie quarterbacks they think can be long-term answers who have played much like Locker.
Munchak and the Titans are too polite to come right out and say it, but their last first-round quarterback,
Vince Young
, won offensive rookie of the year with an impressive start and flamed out. They'd much prefer the opposite trajectory and are confident that's what they will get from Locker.
Locker, Ponder, Gabbert, Tannehill and Weeden have time. They can all aspire to do what the best of their contemporaries have done. They all know the success of other young quarterbacks makes it harder for people to be patient with them.
"Andrew Luck is having a great year, and what his team is doing is awesome," Hasselbeck said. "But even him, he's got like 18 interceptions. But he's making those big plays; he's making those critical plays to win the game at the end, or his team is. Someone is. As they're winning games, he's improving. As they're learning how to do things together, they're winning games. And that's really the key, winning games along the way.
"For sure the success that those teams are having with those young guys, it eliminates excuses for anybody the same age."
November, 15, 2012
11/15/12
4:00
PM ET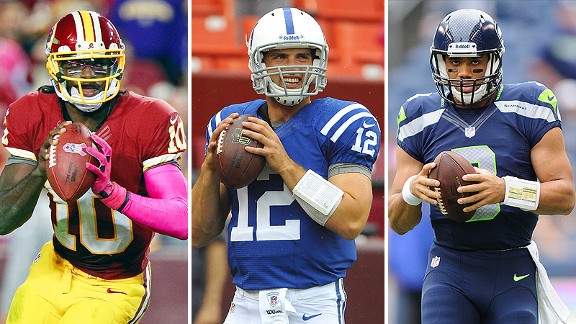 US PresswireHow does the QB class of 2012 stack up against 1983 and 2004?
Several
Seattle Seahawks
fans sent me a link to
Kerry Byrne's piece
promoting
Russell Wilson
as the NFL's best rookie quarterback this season.
"The biggest story in football is that a charismatic but undersized 5-foot-11, 205-pound, third-round draft pick who makes chump change by NFL standards is in the midst of perhaps the greatest streak of rookie performances in NFL history," Byrne writes.
In addition to promoting Wilson, the piece cites one sentence from AFC South blogger Paul Kuharsky as evidence ESPN and others are slighting the Seattle rookie by crediting the
Indianapolis Colts
'
Andrew Luck
for stellar play despite a mediocre NFL passer rating.
This was my favorite part of the piece -- a chance to rile up Paul, who never shies away from a good scrum. But instead of baiting Paul into an argument, the subject generated a discussion we wanted to share. Paul and I looped in NFC East blogger Dan Graziano, who covers
Robert Griffin
III, to broaden the discussion.
Here we go.
SANDO:
Wilson has gotten less attention as he's played better, it seems to me. There was quite a bit of buzz around him heading into the season simply because people following along from afar expected
Matt Flynn
to win the job. The idea that a head coach would willingly go with a 5-foot-10 rookie third-round draft choice over a $19 million free agent made waves. Wilson didn't play all that well early in the season, however. Part of that was because Pete Carroll pulled back the reins on the offense in an attempt to bring along Wilson slowly. That wasn't really anticipated given how effusive Carroll had been in his praise for Wilson's readiness to perform right now, not just in the future. Meanwhile, RG3 was sensational out of the gates. The Wilson buzz went away. I think that's going to change as Seattle continues to make a playoff push and Wilson continues to become a bigger part of the reason why.
KUHARSKY:
Critics who want to say Luck is over-hyped are, in my opinion, off their rocker. You look at his completion percentage, you look at his passer rating. I'll watch him play. He's remarkable for a rookie. Heck, he's remarkable for a third-year guy. He's got characteristics of both
Peyton Manning
(anticipation, smarts, understanding) and
Ben Roethlisberger
(ability to extend plays or to stand in and make throws while getting hit) as well as enough speed to be a constant threat to pull it down and run for a first down. I understand RG3 is more explosive. But I'm a pocket passer guy. And if I am choosing a young pocket passer to build a team around, I have no question about who it would be right now. It would be Luck. His team isn't very good, and he's got it positioned as a front-runner for a playoff berth. Don't just look at his stats, look at his play. He's worthy of all the talk/ hype/ praise/ applause/ etc.
GRAZIANO:
Nobody got attention like Griffin got it in September, when he was being talked about as an MVP candidate and not just Rookie of the Year. In truth, he's been dazzling, and has handled every situation, in-game and off-field, as well as you could ask a rookie to handle it. But if the bloom is coming off, it's understandable. The Redskins have lost three games in a row, and Griffin's two most recent games are the only ones this year in which his completion percentage has been under 60. I think the problem is more about the group around him than it is about the league figuring him out. The Redskins' offense simply may have reached the limit of what it can do in this particular season, given the injuries to top passing-game playmakers
Pierre Garcon
and
Fred Davis
. The plan for Griffin is not to run college-style option stuff his whole career, but at this point the Redskins' offense is reaching a point from which it can't evolve much further until it has its top receiving threats back. In the meantime, Griffin is stuck throwing to secondary receivers who drop too many passes, or scrambling so much that it puts his health at risk. We may have seen the best of Griffin for 2012, but things are likely to get better in 2013 and beyond once they improve the team around him.
KUHARSKY:
They are all great stories. And heck,
Ryan Tannehill
and even
Brandon Weeden
have done some good things, too. If we're not entering an era of quick impact quarterbacking from newcomers, then a lot of teams with high draft picks in the near future are going to be disappointed. I know Cold, Hard, Football Facts took me apart for my praise of Luck. But nowhere in that have I suggested anyone else unworthy of his fair share of respect. Luck's in a unique situation. The Colts were horrific last year, it's a new regime that cut a bunch of people and is eating a lot of dead money. It's a thin roster. It found a purpose in rallying to win for Chuck Pagano after his leukemia diagnosis, and while the Seahawks are a maybe and the Redskins are a no, the Colts are very much a probably for the playoffs. I'm far more interested in that than nitpicking completion percentage for a guy who hardly ever throws a checkdown pass.
GRAZIANO:
That's the thing, Paul. Are we analyzing what these guys are right now, as compared to the top QBs in the league? Or are we talking about what they've shown in terms of what they can be? All of these rookies have obvious areas in which they can improve, but at least in the case of the guys who were picked 1 and 2 in the draft, I think we're talking about rare talents with incredibly high ceilings. Whether Griffin has been asked/required to throw downfield as much this year as he'd eventually like to seems immaterial to me, especially with the Redskins not yet ready to contend. He's shown presence in the huddle. He's shown an ability to lead a game-winning drive. He's made good decisions. Much of what he's accomplished is tied to his remarkable all-around athleticism and speed, sure, but he hasn't relied exclusively on that the way, say, a young
Michael Vick
or
Jeff George
might have. Griffin's shown a desire and an ability to treat the quarterback position as a craft to be honed, and a willingness to work on the minuscule detail aspects of it. That speaks to where he's headed as much as anything he's done on the field does.
SANDO:
I'm with Paul in looking beyond passer rating with Luck in particular. He ranks among the NFL leaders in attempted passes. He's carrying that offense. The Colts are also asking him to make more difficult throws. His passes travel 10.3 yards past the line of scrimmage on average. That leads the league and it's not even close. We're not talking about a team dinking and dunking to protect its rookie passer. Luck is doing so much more than that. I think this is a perfect test case for our Total QBR metric. It's got Luck trailing only Peyton Manning,
Tom Brady
and
Matt Ryan
when it comes to doing the things quarterbacks must do to help their teams win. Those five rushing touchdowns he has aren't showing up in the passer rating stat, to cite just one example. It's why I've listed Luck in the last couple MVP Watch items. The Seahawks did not ask Wilson to do nearly as much early in the season. They've asked him to do more in recent weeks and Wilson has responded. He's improving quickly and ranks among the NFL's top seven in QBR and top five in passer rating since Week 6. Wilson has a real chance to finish this season as the best rookie quarterback in the league.
KUHARSKY:
And there we have the crux of the question, I believe -- what would make him the best? Passer rating? QBR? Team success? I love Wilson and his story. I hope he opens doors for others who don't look the part. But Luck looks the part and fits it too, and I'm not downgrading him for it. For what's left of this season, of the rookie quarterbacks, he's the one I'd take, without question. For what's left of their careers, he's the one I'd take, without question. And my picking him is all about what he has, not about anything the other guys don't. And he should be the choice. He was the top pick for a reason.
GRAZIANO:
I think you're right, Paul. I spoke with Mike Shanahan last week, and as much as he raves about his guy, he still insists he'd have been thrilled with Luck and that the whole point this year was to get one of the first two picks because you were looking at two transcendent talents. Stats? RG3 is ninth in passer rating, 10th in QBR, sixth in Pro Football Focus' rankings (eighth as a passer and second, behind only Luck, as a running QB). There's not a rating system that doesn't love him, and again, he's done this without the wide receiver they signed to be his top target and big-play guy. If Griffin has to "draft" Luck his whole career and be a close No. 2, I imagine he could do worse. But it appears he's got the stuff he needs to keep it a good debate for years to come. And while it may be a matter of taste, when this year ends, you're going to be able to make the case for Griffin as the top rookie quarterback.
SANDO:
Most never expected Wilson to be part of this discussion. Even the Seahawks weren't sure how much his lack of height would limit him. Wilson has demonstrated an ability to find and create throwing lanes.
Jared Allen
alluded to this before his
Minnesota Vikings
watched Wilson toss three first-half touchdown passes against them. If the height isn't going to be a negative, then Wilson can absolutely become an elite quarterback. He has the arm and the professional baseball pedigree to prove it. He has big hands, not just for his size, but overall (10 1/4 inches, fourth-biggest at the 2012 combine and bigger than Luck's or Griffin's hands). His work ethic led Carroll to joke about how Wilson decided to take some time off -- maybe three hours, he said -- during the bye week. The results have certainly been positive on the field. From everything I've seen, Wilson will be part of this conversation in the future.
October, 19, 2012
10/19/12
1:30
PM ET
»
NFC Final Word
:
East
|
West
|
North
|
South
»
AFC
:
East
|
West
|
North
|
South
Five nuggets of knowledge about Week 7:
Best versus best:
Houston and Baltimore are the only two AFC teams currently over .500. While those two teams are a combined 10-2, the rest of the AFC is only 31-49. According to Elias, this is the furthest into any season that either conference had as few as two teams with winning records. In fact, neither conference had ever made it past two weeks like that. Counting last season's playoff win, the Ravens are 6-0 all time against the Texans. Houston gave up six passing touchdowns in its first five games, then six more last week in a blowout loss to the Packers.
Better start:
As the Jaguars head to Oakland, they need a plan that will help them get out to a lead, or at least score more early. The Jaguars have scored only two first-quarter touchdowns in their past 16 games. Their record in those games is 5-11. Since Week 6 of last season, only the Cardinals (in 17 games) and the Colts (in 16 games) have scored as few offensive touchdowns in the first 15 minutes of games.
[+] Enlarge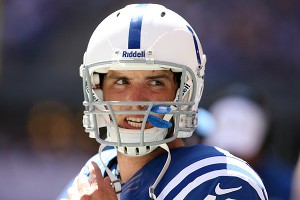 Brian Spurlock/US PresswireIt will be a rare battle of rookie quarterbacks when the Colts' Andrew Luck and Cleveland's Brandon Weeden meet on Sunday.
Young quarterbacks:
With
Andrew Luck
and
Brandon Weeden
set to square off, this is the first matchup between two of the five rookie quarterbacks to start a game this season. (Since 1950, no more than three rookie quarterbacks started in Week 1 in a season before this year.) Luck is fifth in the league in passing yards per game (297.6), and his 1,488 passing yards are the second-most ever by a rookie through his team's first five games (
Cam Newton
had 1,610 last season). Luck needs to be conscious and wary of Browns cornerback
Joe Haden
. Though a suspension kept him out of four games, he's gotten his hands on a bunch of passes already.
Roving threat:
Last week the Titans felt fortunate to avoid free-lancing Pittsburgh safety
Troy Polamalu
. This week they run into Buffalo's
Jairus Byrd
, who's similar in his freedom to judge passes and go make plays. He had two interceptions last week in the Bills' win over the Cardinals, including the takeaway from
John Skelton
in overtime that set up the game-winning field goal.
Matt Hasselbeck
needs to be aware of where Byrd is, and conscious of the safety's ability to close on a play.
Also:
Over the past five seasons, when Ravens linebacker
Ray Lewis
has been out, the team has actually allowed the same yards per rush (3.6), and its average yards per play and yards per pass play have been lower. … Look for Houston QB
Matt Schaub
to test the middle of the Ravens' defense. Among quarterbacks with significant snaps, only Hasselbeck (54.5) has thrown more of his passes within 10 yards of the line of scrimmage and inside the numbers than Schaub (48.6). … Texans WR
Andre Johnson
has dropped a pass once every five targets this season on throws more than 10 yards downfield. The previous three seasons Johnson dropped a pass once every 31 targets on such throws. … The Browns have lost 10 straight road games, one shy of the franchise record (from 1974-76). Cleveland's 10-game road losing streak is tied with the Colts' for the longest active streak in the NFL. The Colts, meanwhile, have won four of their past five at home. … Weeden leads the NFL with 10 interceptions, but the Colts have only two picks this season. … Since Week 8 of the 2010 season, the Titans have 12 road losses, tied for the second-most among AFC teams.

AFC SOUTH SCOREBOARD
Friday, 8/22
Saturday, 8/23