AFC South:

Brett Hartmann
August, 27, 2012
8/27/12
3:33
PM ET
May, 23, 2012
5/23/12
9:10
AM ET
First off, here is my unsolicited idea on the NFL's desire to provide reliable Wi-Fi for fans at all NFL stadiums: Turn goal posts and pylons into antennas.
Moving along and reading the coverage ...
Houston Texans

Punter Brett Hartmann now has
league permission
to take Ritalin, says Mark Berman of Fox Houston. His suspension was reduced from four games to three. I'm curious about why this case warranted a reduction, when suspensions related to violations of the league's policies on such matters are usually cut and dried.
Rookie offensive lineman Brandon Brooks is the
heaviest Texans player ever
, says Dale Robertson of the Houston Chronicle. They're asking him to drop 15 of his 346 pounds, and heat he's not used to may help.
Linebackers coach Reggie Herring says the Texans
gained back
what they lost with the trade of DeMeco Ryans by adding Bradie James, according to Gregg Rosenthal.
Arian Foster says he can get
better at everything
and knows things are different for the Texans now that they've had success, says Robertson.
Indianapolis Colts
Tight end Dallas Clark
signed with Tampa Bay
after the Bucs got rid of Kellen Winslow.
Jacksonville Jaguars
Aaron Kampman and Rashean Mathis are enduring solitary
roads to recovery
from knee injuries, says Tania Ganguli of the Florida Times-Union.
Montell Owens isn't against the idea of
leg pads
, says Ganguli.
Martellus Bennett thinks Laurent Robinson proved himself as
a No. 1 receiver
last year in Dallas, says Ganguli.
Tennessee Titans
The Titans have signed all of
their draft picks
except for first-rounder Kendall Wright, says John Glennon of The Tennessean.
March, 10, 2012
3/10/12
9:58
AM ET
A punter?
Upon learning that Houston's
Brett Hartmann
has been suspended for four games for violating the NFL's policy against performance enhancers, that was my primary reaction.
What does a punter need performance enhancers for?
Both John McClain of the Houston Chronicle and
Mark Berman of Fox 26
in Houston have the report.
Hartmann was injured reserve at the end of the season, and the penalty came down during the Texans playoff push. He technically served the first game of his four-game suspension for the playoff loss in Baltimore.
Said the league in a statement, via Berman:
"Brett Hartmann of the Houston Texans has been suspended without pay for four games for violating the NFL policy on performance enhancing substances. Hartmann, whose suspension started with the team's Divisional Playoff game, will be eligible to return to the Texans' active roster on the day after the team's third regular-season game of the 2012 season.

"Hartmann is eligible to participate in all offseason and preseason practices and games."
Hartmann has a pretty good leg, so I wouldn't imagine he was trying to bulk up. More likely, he did something in an effort to speed up his recovery.
January, 1, 2012
1/01/12
8:28
PM ET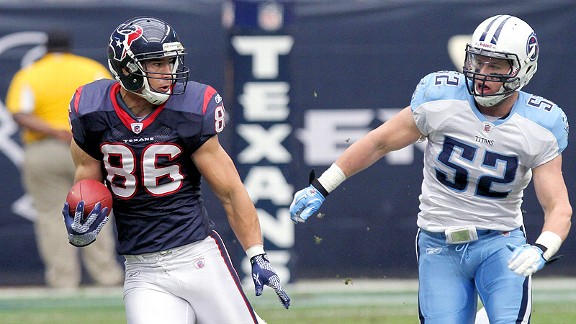 Thomas B. Shea/Getty ImagesVersatile James Casey, left, and the Texans showed off their depth Sunday against the Titans.
HOUSTON -- The Texans sought to restore order and momentum in their season finale, while avoiding any more of the injury misfortune that's beset them all season long.
Despite suffering a
23-22
loss to the
Tennessee Titans
at Reliant Stadium, the team seemed to achieve those goals and is now ready to turn to its first postseason. As the No. 3 seed, the Texans will host the
Cincinnati Bengals
.
"Nobody's disappointed," said receiver
Andre Johnson
, who estimated he played 15 snaps as he worked back from a hamstring injury. "Of course we wanted to win the game. We didn't come out on top, but there is next week. Some teams don't have next week. We have next week."
"Those first couple drives, we kind of had that swagger back a little bit," said quarterback
T.J. Yates,
who
left the game
with a bruise of his non-throwing shoulder in the first quarter. "Everybody was aggressive, flying around, very talkative on the sideline. It felt like we were back to normal out there."
A postseason appearance is definitely not normal for the Texans. Houston has an NFL playoff game for the first time since 1993.
Here are some things we learned along the way on Week 17's game between the division's two best teams:
Texans fullback James Casey remains a weapon:
He's not your standard fullback. The converted tight end started the Texans' first five games, then missed a couple with a chest injury and never got back ahead of the more traditional
Lawrence Vickers
.
But Casey's really more of a pass-catcher than a blocker by nature, and the Titans did poorly in figuring out how to stop him from getting free for seven receptions on seven targets for a team-high 91 yards.
Casey helped get the Texans in range for one of Neil Rackers' field goals with a brilliant catch, keeping the ball in the air with a left-handed tip before diving to collect it.
"We were lining up in different formations with different personnel, and as a defense it's kind of hard to understand exactly what we're going to do," Casey said. "Because we're not just doing base things. We're motioning all over the place. They don't know if I'm fullback or tight end. It's tough sometimes for them to set their blitzes or their coverage. Hopefully you can get guys out of spots, out of gaps in the run game and out of their zones in the pass game and try to take advantage of that."
Next week, with Johnson playing full time and
Owen Daniels
and
Arian Foster
back in the lineup, odds are Casey qualifies as only the fourth- or fifth-best receiving option when he's on the field.
"James has some crazy hands," Johnson said. "He's probably the guy I've seen make the most one-handed catches. His hands are very, very good, I think he has the best hands on this team. I don't know who has the best in the league, but I think he's right up there."
The Texans are quite deep:
Typically a team that scratches key starters like Foster, Daniels and cornerback
Johnathan Joseph
for a game that doesn't have great meaning, is willing to yield some. Especially if it doesn't jump out to a lead.
And the Texans have proven all season they have quality depth, as they've replaced defensive end
Mario Williams
, quarterbacks
Matt Schaub
and
Matt Leinart
, punter
Brett Hartmann
and linebacker Daryl Sharpton, and played stretches without Johnson, safety
Danieal Manning
and guard
Mike Brisiel
.
Sunday as they rested some guys and pulled others early, they called on even more depth.
Beyond Casey, the Texans got solid contributions from a lot of role players like receiver
Bryant Johnson
, running back
Derrick Ward
and linebackers
Tim Dobbins
and
Bryan Braman,
along with quarterback
Jake Delhomme
.
"It says we have quality players all across this locker room," Foster said. "We have guys that can play."
Said Titans receiver
Nate Washington
: "This is a new Texans team that they take pride in. Even their backups come in there and they are playing hard. They're going to make plays. We have to find a better way to close out those games."
One piece of depth they were missing: a center behind
Chris Myers
who could make a quality shotgun snap in the clutch. The Texans could have won it with a 2-point conversion at the end, but guard
Thomas Austin
put the shotgun snap over Delhomme's head at the end of the game. Kubiak said Austin had snapped enough that it shouldn't have been an issue.
Kubiak understands a "meaningless" game:
He's never been a playoff head coach before, but he's been part of a lot of good teams. That's why he didn't hesitate after Bryant Johnson's 5-yard touchdown reception with 14 second left to keep his offense on the field for a 2-point try.
Even after Joel Dreessen's false start, Kubiak stuck with it.
He wanted a win, sure, but he wanted overtime even less.
It was a smart call and the right call, even if Tennessee defensive end
Derrick Morgan
didn't agree.
"I understand they want to get the game over with, but after they false started and they still went for 2, I was like, 'Wow,'" he said. "That's a slap in the face. But they botched the snap, so whatever."
December, 4, 2011
12/04/11
4:17
PM ET
HOUSTON -- Thoughts on the
Texans' 17-10 win over the Falcons
at Reliant Stadium:


What it means:
The 9-3 Texans matched the best win total in franchise history with their sixth consecutive victory. Houston maintained its two-game lead over the Titans in the AFC South and also has a head-to-head win over Tennessee. The Texans' defense and run game were big, but rookie quarterback
T.J. Yates
certainly did his part. A 19-play, 85-yard, fourth-quarter touchdown drive featured a risky fourth-down attempt. But the Texans converted and got seven points instead of three, then held twice as Atlanta threatened the end zone to preserve the lead.
What I liked:
A confident team didn't flinch with its third-string quarterback under center. A swarming defense put great pressure on
Matt Ryan
and wasn't bothered by Atlanta's no-huddle offense. Ryan connected on only 20 of 46 pass attempts for 267 yards, a touchdown and two interceptions.
What they fear:
Could
Andre Johnson
be in line to miss more time? He left the game in the fourth quarter after pulling up lame while chasing a deep ball. It didn't look good, and a team that survived well without him for a five-game stretch earlier this season could face the challenge again. Punter
Brett Hartmann
suffered what looked to be a bad leg injury as well.
What I wonder:
They made it, so we don't need to debate much. But what was Gary Kubiak thinking going for it on fourth-and-1 at Atlanta's 9-yard line when he could have kicked a field goal to take a lead? If
Arian Foster
failed to convert there and Atlanta took over with the score knotted at 10-10, Kubiak would have had to answer for a lot.
What's next:
A trip to Cincinnati where the Bengals aren't looking quite as formidable as they did earlier in the season. A victory would mean Houston's first 10-win season.
September, 15, 2011
9/15/11
12:17
PM ET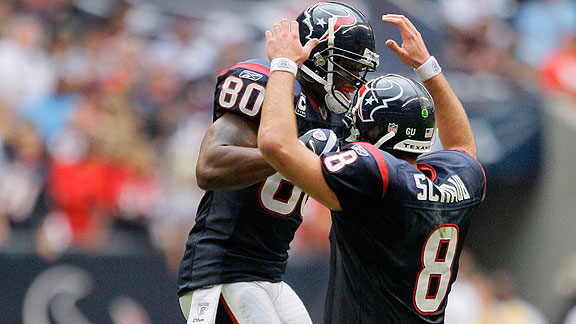 Bob Levey/Icon SMIAndre Johnson and Matt Schaub help lead a Texans team that has a clear path to the division title.
It's a bit easy to say the AFC South should belong to the
Houston Texans
this season.
But I'm joining the chorus and saying it anyway: If this team can't win this division, it'll be time for owner Bob McNair to crumple up the plan and aim it for the closest trash can.
The Texans have a championship-caliber quarterback, receiver, tight end and running back (maybe two or three of those) all working with a smart and skilled offensive line that understands how it needs to work.
Mindset is the only question mark on offense, starting with
Matt Schaub
's ability to rise to big moments. Even if he's only average in that category, with
Peyton Manning
out for at least the bulk of the season, Schaub is the best signal-caller in the division by a wide margin.
The Schaub-
Andre Johnson
-
Arian Foster
combination is among the league's best. Who has a better trio?
Philadelphia perhaps, with
Michael Vick
-
LeSean McCoy
-
DeSean Jackson
. Maybe
Matt Ryan
-
Roddy White
-
Michael Turner
in Atlanta. If we sub tight ends for running backs, San Diego with
Philip Rivers
,
Antonio Gates
and
Vincent Jackson
is in the conversation as is Green Bay with
Aaron Rodgers
,
Greg Jennings
and
Jermichael Finley
.
[+] Enlarge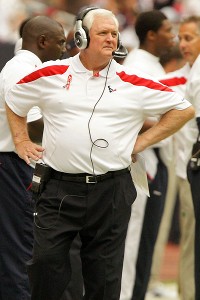 Troy Taormina/US PresswireThe Texans' defense had an outstanding performance in its first game under coordinator Wade Phillips.
The revamped Houston defense was outstanding in the opener. Sure, much of that had to do with the Colts' offense in its first game with
Kerry Collins
playing in place of Manning. But we saw all the elements of a defense that can win games -- stout run defense, consistent pressure on the quarterback, quality coverage, the ability to cope with sudden-change situations.
One can see swagger and confidence in the body language of guys thrilled to be working under defensive coordinator Wade Phillips. I think he's too low key, but it can clearly work for him as a coordinator. He has a way of keeping things simple and keeping the mood light, and players have bought in. I never sensed a similar feeling when Richard Smith or Frank Bush manned the post, though they obviously didn't have the same quality of personnel Phillips will enjoy.
On special teams,
Neil Rackers
has a big leg that will make a lot of touchbacks and long field goals.
Jacoby Jones
and
Danieal Manning
can provide a jolt in the return game. Rookie punter
Brett Hartmann
isn't proven yet but has a big leg.
The schedule is hardly a breeze, but look at the quarterbacks they could face: Collins twice,
Chad Henne
,
Matt Hasselbeck
twice (or maybe rookie
Jake Locker
),
Luke McCown
twice (or maybe rookie
Blaine Gabbert
),
Colt McCoy
,
Andy Dalton
and
Cam Newton
.
Houston's been called a soft team, a finesse franchise. Not too many soft teams produce the NFL rushing champion the way this team produced Foster last season.
If the Texans' offensive blocking scheme amounts to a finesse one, so be it. The Colts have won the division eight times in nine seasons with a lot of finesse. They're fine with you insulting them over it while admiring their success.
The Texans can show their toughness this season in how they stand up to Pittsburgh on Oct. 2 and at Baltimore on Oct. 16 and in how they fare in their games with the Jaguars.
The Colts' issues should be a huge assist for the Texans, as will the fact that the Titans and Jaguars are trying to stay afloat with temporary quarterbacks while developing top-10 draft picks in Locker and Gabbert. Although both teams may be ascending, their talent doesn't match Houston's.
If the Texans can make it through the first three-fourths of the season with a good record and in good health, they should be golden with a home stretch against Cincinnati (away), Carolina, Indianapolis (away) and Tennessee.
It sets up for success.
If this team folds under the expectations, if it cannot go get what's so attainable, it's going to have to be dismantled. It will require no more Mr. Nice Guy from McNair, who will have to part ways with a lot of nice guys he truly admires, starting with GM Rick Smith and coach Gary Kubiak. McNair will have no choice but to look for a different tone after a house cleaning.
I don't think that's how things will play out. I think Manning's injury is a big break that opens the door, a door the Jaguars and Titans are not ready to approach. The Texans are more than talented enough to storm through it if they don't complicate things. Run the ball. Work the play-action and bootleg game off of it. Rush the passer. Build from there as the season goes on and finish strong.
Watch pundits pick you to be a team that can do damage in the playoffs, and respond to it.
It sounds simple.
It just might be.
September, 5, 2011
9/05/11
4:27
PM ET
The Texans have added guard
Thomas Austin
and punter Brett Hartmann to their 53-man roster, cutting outside linebacker
Jesse Nading
.
They've also put together their initial practice squad.
September, 3, 2011
9/03/11
9:36
PM ET
Click
here
for a complete list of the Houston Texans' roster moves.

Surprise moves:
After cutting rookie punter Brett Hartmann last week, the team cut veteran
Brad Maynard
. The Texans do not have a punter. One fan quickly joked that a high-powered offense doesn't intend to punt. But the Texans clearly have their eye on someone and will be adding a punter in the next couple of days. They've left a roster spot open for him. Fifth-round safety
Shiloh Keo
, a Wade Phillips favorite who was supposed to be a special-teams demon, didn't make it. Raw, undrafted outside linebacker
Bryan Braman
did make it.
No-brainers:
Deciding
Steve Slaton
was one of their best 53 players and keeping four running backs seemed prudent to me. Deciding
Trindon Holliday
wasn't going to help as a return man or receiver makes sense, too.
What's next:
The team has only
Andre Johnson
,
Kevin Walter
,
Jacoby Jones
and newcomer
Bryant Johnson
at receiver and could be looking for a fifth option, though their pass-catching tight ends ease the concern. Houston is thin on the offensive line, too.
August, 26, 2011
8/26/11
4:15
PM ET
Scouts Inc. finishes out its position-by-position lists with quarterbacks, receivers, tight ends, kickers and punters.
Again, we'll find some huge fodder for debate.
The AFC South representation:
Quarterbacks
2) Peyton Manning

13) Matt Schaub

20) David Garrard

31) Matt Hasselbeck

40) Kerry Collins

42) Matt Leinart

52) Dan Orlovsky

75) Todd Bouman

79) Rusty Smith

82) Luke McCown

I think: I understand not being high on Hasselbeck, but to rank him behind Matt Moore, Tim Tebow, Jon Kitna, Shaun Hill and Alex Smith is ridiculous. And how can Todd Bouman outrank Luke McCown?
Wide receivers
1) Andre Johnson

2) Reggie Wayne

21) Austin Collie

33) Kenny Britt

36) Mike Thomas

38) Pierre Garcon

55) Kevin Walter

63) Anthony Gonzalez

76) Nate Washington

86) Jacoby Jones

103) Jason Hill

111) Justin Gage

I think: Collie is that good, Thomas is probably undervalued and this is yet another source of wondering about Gage.
Tight ends
3) Dallas Clark

6) Owen Daniels

9) Marcedes Lewis

28) Jared Cook

39) Jacob Tamme

42) Daniel Graham

51) Craig Stevens

58) Joel Dreessen

59) Zach Miller

68) Zach Potter

76 ) James Casey (now a fullback)

I think: Cook, Miller and Casey will all be risers this season.
Kickers
2) Rob Bironas

11) Neil Rackers

22) Adam Vinatieri

26) Josh Scobee

I think: Vinatieri's probably low based on his reliability.
Punters
13) Brad Maynard

16) Brett Kern

30) Pat McAfee

31) Matt Turk

I think: Maynard is way high considering he could lose out to undrafted rookie Brett Hartmann. McAfee is far too low.
August, 16, 2011
8/16/11
10:56
AM ET
HOUSTON -- Yes, they brought in a top-flight defensive coordinator, drafted well and signed some good-looking free agents.
Still, the Texans have been the breakout pick so often in recent years and have come up short that it's completely fair to ask, even with those changes: Why should people believe? Why should they buy this team?

"I couldn't sell it to anybody," said
Chris Myers
, the team's underrated center. "We're doing what we do here in camp. If you're a Texans fan, you're a Texans fan. Our offense is the same offense that we've had and we're going to try to make it better. Our defense has brought in who we think can change it, take it in the right direction and make us that complete team.
"That's the pitch. If you're going to buy it, you're going to buy it. If not, we're still rolling."
To find their way to the playoffs for the first time since the franchise began play in 2002, the Texans need to find the consistency they've lacked on many levels -- start to finish in a game, week to week over the course of the season.
That new defensive coordinator, Wade Phillips, has a great record of turning defenses around. Gary Kubiak carries questions as a head coach, but not as an offensive mind.
It's a now or never deal for Kubiak, and he's got a lot of talent on his roster that knows it.
Receiver
Andre Johnson
, one of the league's top players, says the team's spent the past few preseasons talking about breaking through. This time he wants less talk and more action.
THREE HOT ISSUES
1) How quickly can Phillips shape the defense?
He's coming off a poor term as head coach in Dallas, but his track record as a coordinator is excellent.
[+] Enlarge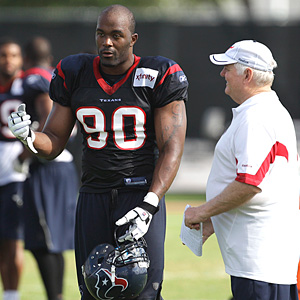 AP Photo/David J. PhillipMario Williams is adjusting to life as a stand-up linebacker in Wade Phillips' scheme.
Players on the Texans' defense say he's funny, yet pointed. He's already infused the group with confidence, and he quickly identified things that amounted to easy fixes.
Mario Williams
' false step should disappear, for example, and
Kareem Jackson
is unlikely to be seen in press coverages.
"Wade Phillips and [linebackers coach Reggie Herring] have brought a credibility and a confidence to the system that they run," said end-turned-outside-linebacker
Connor Barwin
. "I feel like it carries over to us. You know if you do what you're coached up to do that it's going to work."
The change from a 4-3 to a 3-4 isn't as extreme as some imagine, because Phillips' 3-4 doesn't demand a gigantic space-eating nose tackle, and it doesn't ask linemen to be responsible for two gaps. The linemen are really playing roles akin to what they did in the previous system, with Williams now standing up as an on-the-line 'backer on the weak side.
Creating that matchup as often as possible is key, and Williams should be the centerpiece of the retooling.
Though Williams didn't look comfortable in the preseason opener, end
Antonio Smith
thinks offenses will really struggle with Williams and his bull rush.
"It has not been stopped in camp yet," Smith said. "Since he decided to do it, I ain't seem him lose. You know what you need to do to beat a person. I think that throughout this camp, he's figuring out how to use that. He's added it into his bag of tricks and he's going to figure out how to use it along with his other moves."
Matt Schaub
and Johnson have both talked about how many more balls are contested and broken up in a typical practice. That difference suggests the new philosophy's growing on a unit that's needed not just players like
Johnathan Joseph
and
Danieal Manning
but also the sort of direction Phillips is providing.
2) Will Arian Foster be able to have another big season on the ground?
It wasn't long ago that
Steve Slaton
ran for 1,282 yards. He's disappeared since the 2008 season, however.
Foster said that what he did over 16 games last season proved him capable and that the notion of a fluke is ridiculous. But for the Texans' offense to get better, he'll have to follow up his 1,616-yard season and rushing title with another big showing.
"When you come out and have a season like that, then everybody wants to see what you're going to do the next season," Johnson said. "I think that is important for him, to come out and show people that he is the guy that he was last year.
"I think he'll do it, there is no doubt in my mind. Because he works hard and he plays with a chip on his shoulder."
Houston's play-action can be spectacular with Foster running as he did in 2010. His style is perfectly suited for the team's blocking scheme, which encourages him to cut once and take all he can get.
Another big year will go a long way toward setting the Texans' course.
3) Do enough guys have killer instinct?
The Texans' slow starts and inability to finish were major issues last season. Better personnel and coaching will need to be accompanied by a killer instinct this franchise has too frequently lacked.
[+] Enlarge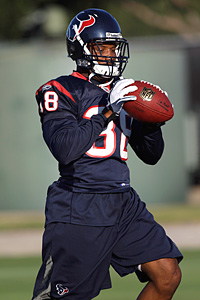 AP Photo/David J. PhillipThe Texans are counting on Danieal Manning to bring some veteran leadership to the defense.
"You could put it that way," tight end
Owen Daniels
said. "There's definitely never been a lack of effort. I think it's been missed opportunities at finishing games. ... We need to find something different this year in order to close out those games."
A guy like Johnson, soft-spoken but intense, certainly has a personality you can win with. But are the Texans, in total, too low-key? I think it's a fair question.
"You've got to have that [killer instinct]," said Manning, one of the key newcomers. "... If you believe, all this other stuff is going to come into play: working together, supporting your man, pushing him, making him work hard, holding him accountable. All that stuff goes hand in hand. I've never seen a championship team that didn't believe, that didn't finish."
BIGGEST SURPRISE
When they grabbed him during the 2010 season, I don't think the Texans expected much from veteran cornerback
Jason Allen
. But the secondary was better with him than it was without him. Now, with a fresh start, he's mounting a serious challenge to Jackson, the 2010 first-round draft pick. The team would be well served to go with Allen if things come out roughly even. Jackson's seasoning would be better for now as a role player.
BIGGEST DISAPPOINTMENT
Antwaun Molden
looks the part as a 6-foot-1, 200-pound corner. But the team has finally stopped talking up the fourth-year man from Eastern Kentucky. He's not sturdy enough and doesn't show enough gumption to be a factor in a group where he's had a chance to add some depth. He had an interception in the preseason opener, but only after he committed a penalty that washed it away.
OBSERVATION DECK
Joel Dreessen is consistently underrated. Dreessen can block and, while not as dynamic as Daniels, has a knack for finding open spaces and presenting himself to Schaub. The Texans have a lot of quality tight ends. Look for the team to put three tight ends on the field at times, when they can operate as a heavy package or shift Daniels, Dreessen, James Casey or Garrett Graham into space, depending on the defensive personnel. Anthony Hill is the blocker of the bunch.

After facing questions about durability, Schaub's played two full seasons. Now the questions are about play in the clutch. He needs to eliminate moments like the one when he threw an overtime pick-six against Baltimore last season.

I expect the Texans to look closely at receivers when the league cuts down rosters. Dorin Dickerson currently looks to be fourth in line, but I saw him fighting some passes in practices and he's still relatively new to the position. Jeff Maehl heads the undrafted group but didn't look great, either. Receiver depth is an issue.

Inside linebacker Darryl Sharpton could be the best non-starter on the roster come opening day. He's in a tough spot behind DeMeco Ryans and Brian Cushing, though injuries are often in play with Cushing.

Myers is a key cog in making the Texans' offensive line work, and he could be taking his place right alongside Jeff Saturday as an indispensable center in the division.

The team could be an injury away from trouble at end and safety.

Trindon Holliday's speed is not enough for him to overcome his size as even a situational receiver. Plus, he seems easily hurt. The return jobs are open if the team wants to avoid using Jacoby Jones as the punt returner and Manning as the kick returner.

Undrafted rookie Brett Hartmann beating out veteran punter Brad Maynard is a definite possibility.

Count me among those not convinced that Matt Leinart can't play. If this team needs a few spots starts, I bet he can do OK. One of the NFL's quarterback-needy teams was foolish not to add Leinart to the mix. He's better than a lot of guys with a chance to start some games this season.

Lawrence Vickers is better equipped to work as the fullback than Casey, and he should get far more frequent opportunities to lead the way for Foster.
August, 9, 2011
8/09/11
1:07
PM ET
A first look at the Texans' unofficial depth chart gives us these nuggets to consider: