December, 19, 2013
Dec 19
10:00
AM ET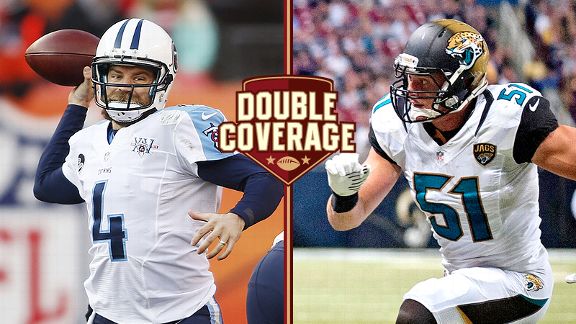 USA Today SportsPaul Posluszny and the Jags are aiming for a season sweep of Ryan Fitzpatrick and Tennessee.
JACKSONVILLE, Fla. -- Maybe
Delanie Walker
shouldn't feel so bad now.
The Titans tight end said he was embarrassed after the Jaguars won 29-27 in Nashville on Nov. 10 to pick up their first victory. Since then, the Jaguars are 3-2 with victories over Houston (twice) and Cleveland. The Titans are 1-4 with a victory over Oakland.
There seems to be much more stability in Jacksonville, too, because of the uncertain status surrounding Tennessee coach Mike Munchak.
Jaguars reporter Michael DiRocco and Titans reporter Paul Kuharsky break down Sunday's matchup at EverBank Field.
DiRocco
: Some Titans players were pretty vocal about being embarrassed due to becoming the first team to lose to the Jaguars. Is that something that still stings, and how have they rebounded from that loss?
Kuharsky
: It definitely left a mark. They are only 1-4 since then. It kind of set a bar for how bad they can be and re-established their propensity to lose to teams that are really struggling. The Jaguars are on an upswing since that game, and the Titans are on a downward spiral. If Tennessee losses to the Jaguars again, the Titans will be in line to finish in third place in an awful division, which is well short of their goals and expectations. The Titans are a better team than they were last year. But losing closer isn't a really big difference in the really big picture.
Let's turn that around. How has life changed for the Jaguars since that Nov. 10 breakthrough?
DiRocco
: I could go into a lot of stats that show how much better the Jaguars are playing, but that's not what's really important. The past six games have been more about the validation of the process, establishing the foundation of the franchise's rebuild, and confidence in the new regime. Coach Gus Bradley never wavered from the plan that he and general manager David Caldwell established. His message stayed the same throughout the eight-game losing streak to start the season: trust in the process, work hard, and focus on improving and not victories, and the victories will eventually come. Because that has happened, the players appear to have completely bought into what Bradley and Caldwell want to do, and there's a confidence in the locker room that the franchise is headed in the right direction.
We talked about
Jake Locker
the last time these teams met, but that was before he suffered a season-ending injury to his foot. How does that change the Titans' outlook on him and are they in the market for a quarterback in the offseason, too?
Kuharsky
: Locker is certain to be on the 2014 Titans. His fourth year isn't that costly and it's guaranteed. But they can't execute a spring option for his fifth year that would line him up for over $13 million. A lot of his fate depends on whether Munchak is back as the head coach. It's possible they go forward with Locker,
Ryan Fitzpatrick
and just-signed
Tyler Wilson
as their quarterbacks. It's also possible they'd draft a new guy, and depending on how high of a pick he could land in competition to start. I think it's less likely they chase a free agent like
Jay Cutler
if he comes free, but they have to assess all the possibilities. How can they completely commit to Locker based on his injury history?
One side effect of the Jaguars' surge is they aren't going to be in position to draft the first quarterback taken. What's your sense of what Bradley and Caldwell want in a quarterback and do you expect one to arrive in the first round?
DiRocco
: Offensive coordinator Jedd Fisch said something interesting last week. He said he wants his QB to scramble around, take off running to get yards and take some chances throwing the football. To me, that sounds like a pretty accurate description of Johnny Manziel. I'm not sure how that reconciles with the ideas of his bosses. Bradley comes from Seattle, which has the mobile
Russell Wilson
. Caldwell comes from Atlanta, which has the considerably less mobile
Matt Ryan
. My sense is that Bradley and Caldwell probably lean more toward the Wilson end of the spectrum. People think that eliminates Teddy Bridgewater, but that's not the case. He's not a runner but he can run if needed. If he's around, I'd expect them to take him. If not, then I would still expect them to go quarterback. It's their most glaring need.
You mentioned Munchak's job status. What's your take on whether he will be back next season -- and should he be?
Kuharsky
: He's shepherded improvement, but his team lacks an ability to finish. He's 0-4 in the worst division in football, 1-9 in the past two years. His teams have lost to the previously winless Jags in 2013 and the previously winless Colts in 2011. He's 4-18 against teams with winning records when the Titans played them and 2-19 against teams that finished the season with a winning record. To me, three years is a sufficient sample size to know what you've got and those numbers are the most telling thing on his resume. Keep him and they deal with all the limitations connected to a lame duck coach. I don't know what Tommy Smith, the head of the new ownership, will do. But the fan base overwhelmingly wants change, if that's worth anything. People still pay for tickets because they've got investments in personal seat licenses they do not want to throw away. But a lot of people are staying home on Sundays now.
Cecil Shorts
is done and
Maurice Jones-Drew
is uncertain. How can the Jaguars threaten on offense without their two best weapons?
DiRocco
: They were able to put up 20 points and post their second-highest yardage total of the season, including a season-high 159 rushing, in last Sunday's loss to Buffalo. Running back
Jordan Todman
stepped up big time and ran for 109 yards (Jones-Drew cracked 100 only once in the first 13 games) and tight end
Marcedes Lewis
was more involved in the passing game than in previous weeks (four catches for 54 yards and a touchdown). But I'm not sure that is sustainable. Teams will certainly concentrate on stopping Lewis and make quarterback
Chad Henne
move the ball with three receivers who have a combined 75 career catches. Todman doesn't scare anyone, either. The Jaguars will have to be creative on offense (they've run gadget plays the past three weeks) and capitalize on every opportunity they get.
August, 4, 2011
8/04/11
10:22
PM ET
NASHVILLE, Tenn. -- The
Tennessee Titans
got what they were looking for at
Matt Hasselbeck
's first practice and said what you'd expect they'd say afterwards.
The tempo picked up, and while there were plenty of bumps, everyone was upbeat about what unfolded. At the same time,
Jake Locker
, working at the second quarterback, continued to show improvement and had a very nice night.
"I think I reverted back to some of my old stuff, but Geno [center
Eugene Amano
] and those guys up front did a great job of just hanging in there with me, snapping the ball," Hasselbeck said. "I think I only went the wrong way once, that anybody noticed anyway.
"I have to learn it and I have to unlearn this stuff. What was once 'green' is now 'red' and what was 'red' is now 'blue.' In a competitive situation where everything is going real fast, everything just reverts."
He said he's getting way more from Locker,
Rusty Smith
and
Brett Ratliff
then they are getting from him so far and that quarterbacks coach Dowell Loggains has been a great resource for scouting reports on his new teammates.
Coach Mike Munchak said the increased tempo allowed him to add an extra red zone period at the end of practice.
Said receiver
Justin Gage
: "In a day or two Matt will be right there with the rest of us. You can tell just from today, he's a fast learner, he learns from his mistakes."
A few other notes out of the Titans' evening session on Thursday:
Munchak indicated second-round pick Akeem Ayers is in line to play the strongside and Barrett Ruud was the first team middle linebacker out of the gate as you'd expect. That leaves the Titans with a battle between Will Witherspoon and Gerald McRath for the starting weakside job.
The Titans are blurring the line between free and string safety and Munchak declined to say Chris Hope is solidly in place as a starter before the new free agent acquisition, Jordan Babineaux, even walks in the door. He'll get a chance to compete.
Titans' union rep Jake Scott said he believes because there is only one company claiming it can accurately test for HGH, that he is skeptical of the accuracy of the testing. He's for it in principle. "But their motives are questionable. Their incentive is to catch people," he said. "If they don't catch anybody, nobody thinks their test works."
July, 25, 2011
7/25/11
2:00
PM ET
»
NFC
:
East
|
West
|
North
|
South
»
AFC
:
East
|
West
|
North
|
South
»
Unrestricted FAs

Readiness factor:
As poor as any team in the league, simply because of bad timing. New coach Mike Munchak and his staff have not had any time with their guys and are relying completely on tape for their assessments of veterans. The team does not yet have a quarterback who is the probable starter on opening day. Although
Cortland Finnegan
and
Jake Scott
did admirable work with group workouts and a two-day minicamp, having rookie
Jake Locker
along with
Rusty Smith
and
Brett Ratliff
as the signal-callers didn't cut it.
Biggest challenge:
Sorting out the quarterback issue. Even if the Titans wanted to go sink-or-swim with Locker from the start -- and the chances are very slim that's where they'll end up -- they have no veteran qualified to help him out. They could take a big swing at free agent
Matt Hasselbeck
, who would be determined to start as long as possible but also would mentor Locker, who's already a friend. If they don't land him, with
Kerry Collins
retired, the position will be a major concern.
Beyond quarterback:
How actively will the Titans shop in free agency? They said they were not done at defensive tackle after the draft. They could use help at linebacker, especially if
Stephen Tulloch
moves on.
Chris Hope
is aging and expensive, and they could look to upgrade at strong safety. What goes unaddressed (like interior offensive line, likely) will tell us about their initial confidence level in multiple incumbents.
Key players without contracts for 2011:
Defensive ends
Jason Babin
,
Dave Ball
and
Jacob Ford
, Tulloch, guard
Leroy Harris
, fullback
Ahmard Hall
, receiver
Randy Moss
.
June, 8, 2011
6/08/11
4:10
PM ET
NASHVILLE, Tenn. -- The Titans certainly got some good out of a two-hour, player organized practice session that included more than 50 participants on Wednesday morning at Father Ryan High School.
Cornerback
Cortland Finnegan
and guard
Jake Scott
deserve credit for getting so many players out.
Of note:
Paul Kuharsky/ESPN.comOffensive linemen Eugene Amano, left, and Jake Scott work against each other.

Running back Chris Johnson was part of things. He said his contract isn't on his mind right now and declared that he expects rookie quarterback Jake Locker to start right out of the gate. Here's the news story.

Locker had some nice moments and some that were not so good. About what you'd expect. He certainly threw the ball better than Brett Ratliff. And he didn't go the Joe Cool route like Ratliff and Rusty Smith, who practiced in sunglasses.

The host school's football staff ran the individual position drills, which had to be a cool thing for most of them. From the stretch through some team work, players seemed to strike just the right measure of laughs with work.

Safety Michael Griffin said the defense just worked through basic coverages. Players expect the new defense, coordinated by Jerry Gray will touch on them all. They thought running through basics rather than trying to learn and execute anything new was the smart approach.

Among the notables under contract who were missing -- and let's be clear they didn't have to be there and could have had very legitimate reasons for not making it -- were Michael Roos, David Stewart, Kenny Britt, Nate Washington, Damian Williams, Lavelle Hawkins, Alterraun Verner, William Hayes and Brett Kern. Justin Gage was a late arrival and just watched.

Without their own receivers, the Titans benefited from the presence of three quality outsiders: Derrick Mason of the Ravens, Golden Tate of the Seahawks and Patrick Turner of the Jets. Mason started his career with Tennessee and still has an area home while Tate and Turner are both from Nashville. Tate went to Father Ryan arch rival Pope John Paul II, and wore his purple Ryan shirt inside out.

Paul Kuharsky/ESPN.comLinebacker Gerald McRath coaches up second-round pick Akeem Ayers.

Several players who are not under contract for 2011 participated: defensive end Dave Ball, guard Leroy Harris, linebacker Tim Shaw and safety Donnie Nickey. Nickey had a big, early collision in seven-on-seven work with Marc Mariani as both went up for a pass from Ratliff that put the receiver at risk. It was the only obvious injury scare of the day. Both bounced up.

Plays of note: Mariani dropped a well-thrown deep ball from Locker after slipping behind multiple defenders. Corner Jason McCourty dropped a pick of a pass that bounced off Jared Cook; Ratliff threw an incredibly bad, incomplete pass down the deep middle, a duck that wobbled more than a lot of punts do.

Among the guys I saw doing a great deal of leading of young guys were Scott, Ball, defensive back Vincent Fuller and linebacker Gerald McRath.

The Titans will have another session Thursday.