December, 26, 2010
12/26/10
8:37
PM ET
Thoughts on the Texans'
loss
to the Broncos in Denver.


What it means:
The Texans are 5-10 and have lost eight of their past nine games.
Hard to believe, but true:
The Texans, a team known for making big comebacks only to lose, jumped to a 17-0 halftime lead only to allow the Broncos to mount the comeback.
Matt Schaub
threw for 310 yards with a TD and a pick on a tipped ball, but Houston's defense allowed rookie
Tim Tebow
to match him. Tebow threw for 308 yards with a TD and a pick, and he ran for the game-winning score.
What I liked:
Filling in for
Andre Johnson
, out with his ankle injury,
Jacoby Jones
caught five passes for 115 yards.
Eugene Wilson
was listed in the official game book as not having played despite being in uniform.
Troy Nolan
probably isn't the answer at free safety, but neither is Wilson.
What I didn't like:
The Broncos fumbled four times, but the Texans didn't manage to take one away. Houston's offense, the unit that needs to carry this team, converted only one of eight third downs. The chance at a late score to win it disappeared when
Brian Dawkins
tipped Schuab's pass and SyQuan Thompson gathered it up.
What's next:
The Texans conclude their season by hosting Jacksonville. The Jaguars still have a shot at the AFC South crown, if they beat the Texans while the Titans win at Indianapolis.
September, 24, 2010
9/24/10
12:36
PM ET
Reading the coverage…
Houston Texans
When the Texans need
a big play
, they're going to turn to Andre Johnson, says Jeffrey Martin.
Jerome Solomon
looks back
at the best Dallas-Houston game.
A
400-yard day
by Tony Romo would put the Texans in the record book, says John McClain.
The Texans are working to
beat the blitz
, says McClain.
Houston is
just better
than the Cowboys, says Richard Justice.
This
battle of Texans
actually matters, says Mike Silver.
Indianapolis Colts
Jeff Saturday
loves
protecting Peyton Manning, says Mike Chappell.
Bob Kravitz dreams of a son who's
a long snapper
, and gets words of wisdom from Justin Snow.
Phillip B. Wilson
talks matchups
.
Dwight Freeney
has an issue
with Sports Illustrated, writes Wilson.
Brian Dawkins
plays young
, says Curt Cavin.
Kavell Conner did
good work
filling in for Clint Session and could be needed again, says Phil Richards.
Banged up
Broncos' cover guys
are hoping to play.
Adjusted line yards
correlate to success, says Nate Dunlevy.
A look at all sorts of
Colts' numbers
from Jacob Crocker.
Jacksonville Jaguars
Derek Cox may be
thinking too much
, says Vito Stellino.
Stellino and Tania Ganguli analyze
Eagles-Jaguars
. (Video.)
Maurice Jones-Drew was limited but
is OK
, says Ganguli.
The defensive backfield is in
a hard transition
, says Vice Ketchman.
Tennessee Titans
The Titans are getting
big production
out of inexpensive additions Jason Babin and Will Witherspoon, says John Glennon.
Cortland Finnegan
will appeal
a $5,000 fine for his role in a fight in the Steelers game, says Jim Wyatt.
Jeff Fisher's looking to extend his
recent mastery
over Tom Coughlin, says David Boclair.
Mike Heimerdinger had a big hand in
the stuff
that got Vince Young benched, says Mike Tanier.
Phil Simms says playing the Titans is
a slamfest
, writes Glennon.
Rate
the Titans.
September, 22, 2010
9/22/10
4:17
PM ET
Peyton Manning
likes to rely on studying and breaking down what he's seen.
Going against teams with new coordinators early in the season gives him less to study. Last season all three of his AFC South rivals had new defensive coordinators, and he saw one on opening day. The Colts edged Jacksonville and Mel Tucker, 14-12.
Sunday in Denver, the Colts will see a Broncos defense run by Don Martindale, who replaced Mike Nolan after just one season. (Editorial aside: Denver should have given Nolan, now in Miami, a raise, not sent him packing.)
Last week they also saw a new coordinator, and Perry Fewell's plan for the Giants against Manning was questionable at best.
"[The Broncos] have a new defensive coordinator, so it will be the second week in a row of playing somewhat of an unfamiliar defense because it's a new scheme," Manning said in his Wednesday session with the media. "[They have] a lot of the same players from last year, but a new scheme. You never quite know how a team is going to play against you this early in the season, so there is a lot of unknown there."
I'd argue that new coordinators facing Manning for the first time are the ones at a disadvantage due to unfamiliarity. If you don't have much experience trying to adjust to Manning and the Colts' offense, doing so on the fly can be quite difficult, particularly with the Colts' pace.
Pregame checkmark to Manning here, no matter how little information he has on Martindale.
Manning also pointed out that a veteran secondary will pose a challenge to his receivers and require him to be especially accurate.
"I think [Champ] Bailey and [André] Goodman are as solid a corner tandem as you can find and there's nothing Bailey hasn't seen," Manning said. "Goodman, I think, is in his ninth year; he's a veteran. [Brian] Dawkins has been around for a long time. There's a lot he has seen, and [Renaldo] Hill is a 10-year veteran at safety.
"A lot of experience there, you're not going to confuse them or trick them. They all still move real well. It's going to be a tough challenge getting open versus that secondary."
December, 15, 2009
12/15/09
7:27
PM ET
The suggestion, from Dave in Baltimore, MD:
About 9:30 left in the Colts/Broncos game, Colts on their own 20 facing 3rd and 10. Manning hits
Austin Collie
on a curl for a 23-yard completion, moving the chains, keeping the drive alive, and eventually putting seven points on the board to salt the game away. [Nilay Baxi in Ocean, NJ and unionjackwh joined Dave's suggestion.]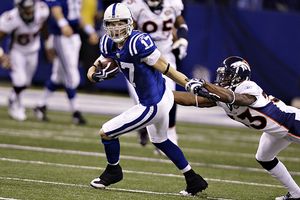 AP Photo/Michael ConroyAustin Collie's 23-yard reception in the fourth quarter against Denver was a key play in the Colts win.
The situation:
Denver's just cut Indianapolis' lead to 21-16 and with 8:57 left in the fourth quarter the Colts face a third-and-10 from their own 20-yard line. Peyton Manning's been cold -- completing just one of his first 11 second-half throws with two picks.
Manning lines up in the shotgun, flanked by
Dallas Clark
on his left and
Joseph Addai
on his right.
Pierre Garcon
is lined up right, Austin Collie is in the slot left and
Reggie Wayne
is wide left.
The Broncos are in nickel, with
Champ Bailey
on Wayne, Andre Goodman on Garcon and
Alphonso Smith
on Collie.
What I saw unfold after the snap:
Manning takes the shotgun snap, drops back two steps and bounces three times, with plenty of time to assess and release.
Lined up as left end,
Elvis Dumervil
hesitates and waits to see if he needs to cover anyone out of the backfield, drawing no real attention. Once right tackle
Ryan Diem
sees Dumervil is staying, he shifts inside to help
Kyle DeVan
and they cancel out right defensive tackle
Vonnie Holliday
.
D.J. Williams
blitzes from right linebacker and is handled by center
Jeff Saturday
.
Lined up as left linebacker,
Wesley Woodyard
crosses the path Williams took and tries to get to Manning by squeezing between Saturday and left guard
Ryan Lilja
. Addai picks him up and Clark is nearby in case he's needed, which he isn't because the ball is out by the time Ayers recovers from Addai's initial stop.
Right end
Robert Ayers
comes out of his stance, waits for Clark or Addai to emerge from the backfield. When neither comes he waits and then tries to chase the play. Left tackle
Charlie Johnson
realizes he doesn't need to get Ayers, so he looks to help Lilja who's already doing just fine against right defensive tackle
Darrell Reid
.
Collie is looking inside as the snaps comes, gestures inside with his shoulders and hands, then beats Smith off the line to the outside. As he gets downfield, he leans inside selling a curl and buying himself the space he wants before breaking off his route at about the 34 and turning back outside to face Manning's pass while standing on the "3" of the "30" on the Lucas Oil Stadium turf. Smith slips off him and is face down as Collie cuts outside where Wayne is blocking Bailey. Safety
Brian Dawkins
arrives to make the tackle after a 23-yard gain.
Result:
The Colts eat 7:19 on the drive, ending it with Clark's third touchdown catch that puts them ahead 28-16 with only 2:25 remaining for Denver.
Ultimate outcome:
Denver moves just eight yards in four plays, giving the ball back with 1:51 remaining in the game. Manning kneels three times to run out the clock and seal up the Colts' 13th win.
December, 13, 2009
12/13/09
2:48
PM ET


INDIANAPOLIS -- Some halftime thoughts from Lucas Oil Stadium where the Colts are delivering a methodic beatdown to Denver and lead 21-7.
Nervous moments in the first half when Melvin Bullitt and Dallas Clark got hurt. Maybe those still turn out to be significant, but each returned to action in relative short order. Looks as if they'll be in line for some rest, if needed, soon.
Brandon Marshall's strength and vision make him very good at going side to side in order to gain additional yards. Most of the time when I see a receiver going east-west I am skeptical. With him, not so much. The Colts have played a lot of nickel and even some dime to try to contain Kyle Orton's options.
Charlie Johnson did some effective work early against Elvis Dumervil. I intend to pay more attention to that matchup in the second half.
Reggie Wayne is relatively quiet, again, with three catches, nothing longer than 10. It's not hurting the Colts that they can't get it to him, again.
With a pick of a tipped pass, Brian Dawkins bailed Josh McDaniels out of a poor call to go for it on a fourth-and-one near midfield. The Colts could have squeezed out a field goal there very easily once Denver failed to convert. Indy collects points like that all the time.
The Colts have been cleaner, and benefited from a couple of penalties including two 15-yard unsportsmanlike conduct calls against the Broncos.