August, 25, 2012
8/25/12
7:58
PM ET
Some brief thoughts out of the Colts'
30-17 loss
to the Redskins in Washington on Saturday afternoon.
We've long been asking if this collection of offensive linemen will be good enough to offer rookie quarterback Andrew Luck sufficient protection. Through two games it had been pretty good. Phillip B. Wilson of the Indianapolis Star wrote their praises yesterday. They were without injured left guard Mike McGlynn again and Seth Olsen filled in. He was not good, especially early, and overall the protection was the type cynics feared as this group was pieced together. Luck showed poise and calm and had a good feel for what was going on around him. And he did well to get rid of the ball. But he absorbed shots on several occasions just as he let the ball go. A couple blitzes up the middle, like one in the third quarter by linebacker London Fletcher, proved a good tactic for supplementing the defensive line. Washington's entire defensive front was quite disruptive -- and this was without Brian Orakpo. The offensive line remains a giant concern.
The run blocking didn't do anything to offset the protection issues. Donald Brown really failed to get anything going, with eight whole yards on his seven carries. The Colts are going to need to have some success running the ball to take pressure off of Luck in a game like this, and what we saw was a scenario where the ground game offered no help, the pass game had to carry the offense and the line wasn't up to the task.
While Brown was ineffective, the Redskins got fine work out of the back that got most of their early carries. Sixth-round draft pick Alfred Morris looked quite good as he turned 14 carries into 107 yards, and the Colts were far too sloppy in terms of hemming him in and bringing him down.
Jerraud Powers went out of the game with a sprained knee. The Colts have several indispensible players. Their top cornerback is absolutely a can't-lose guy, considering the drop-off in talent at the position after him. Hopefully he can recover quickly, but injuries have been the one thing that have slowed him down.
The Colts' lone first-team touchdown was a pretty one -- as Luck reacted to pressure and threw a strike to T.Y. Hilton from 31 yards out over mismatched safety Madieu Williams.
Receiver Jeremy Ross had a nice 59-yard catch-and-run from Chandler Harnish in the fourth quarter. He made it difficult for safety Reed Doughty to bring him down as he made three different cuts. But one of them should have turned around the defender enough for the receiver to have broken free and gone farther, I thought.
Jerry Hughes started for Robert Mathis, and Jerry Hughes served as the referee for the crew of replacement issues. Yup, the Colts outside linebacker and the ref were both Jerry Hughes. The one in the striped shirt was far more visible in this game.
April, 21, 2011
4/21/11
9:42
AM ET
Be wary of big-time players out of the University of Texas.
That's the lesson I've taken from watching
Vince Young
and
Michael Griffin
at close range, and guys such as
Ricky Williams
,
Cedric Benson
and
Michael Huff
from afar. It seems they get babied in Austin, and that such star treatment don't help them get ready for the stresses of the NFL. (
Derrick Johnson
was slow to come around.
Brian Orakpo
has been an exception.)
I loved Huff as a Longhorn. He has not turned into the NFL player I expected him to be.
Still, in a league in which the safety position is generally weak and the draft offers little in the form of immediate impact solutions, news that Huff is going to be
on the open market
when there is an open market is significant. The Raiders may well have been finished with him anyway, but contract complications will set him free.
You might have heard in this space (a few dozen times) that the Texans and Jaguars are in dire need at safety. And even if Huff is not a target of wither team, an additional available veteran can only help them.
If we see four-year players without contracts become free agents, I think both teams should chase
Eric Weddle
from San Diego or
Melvin Bullitt
from Indianapolis. (Jacksonville will shop; we're not sure about Houston.)
Both teams should investigate Huff, too. He could be a cheaper option and a change of scenery might help him become the player some of us expected when he was drafted.
At the very least, the Jaguars and Texans should hope other teams hunting for a safety look at Huff and like the combination of price and potential, perhaps taking one of them out of contention for Weddle or Bullitt.
Heading into 2010, here's what Scouts Inc. said about Huff:
"Huff is an athletic safety with above average speed and good acceleration, but he has struggled to establish himself in the secondary. Huff has started and played at both safety positions but just can't seem to take either one and run with it. Huff can be a heavy hitter when lined up inside the box and he recognizes the play as it develops. Unfortunately, he also will look like he overanalyzes or freezes up at times and can be slow to pull the trigger. Huff needs a lot of work on route recognition and reading the quarterback's eyes when in off coverage."
Matt Williamson of Scouts said Huff helped himself in 2010.
"I like Huff quite a bit," he said. "He struggled early in his career, but really came into his own last year. He can do a lot of things well, but I think he is at his best away from the line of scrimmage in more of a deep patrol role. Huge upgrade for either Houston or Jacksonville."
December, 24, 2009
12/24/09
9:03
AM ET
Award season is almost upon us.
I thought I'd give you a run through of where I believe AFC South candidates should fit in the voting. Please note I don't have a ballot, and could be missing good candidates here from outside the division. I'm also two games early.
As always, I invite a conversation in the comments.
MVP:
Peyton Manning
should win it and I believe he will. I'm not big on the "without-him" criteria, where you say how bad the Colts would be without him. I'm not big on the "so dependent" criteria, where you say the team's run game is poor and they are so dependent on Manning it increases his value.
Here's what I am big on: I believe he's the best football player in the league right now. Seven fourth-quarter comebacks, a 14-0 record and early clinching of the big trifecta -- the division, a bye and homefield advantage. What else could you ask him to lead his team to?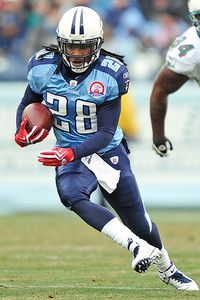 Don McPeak-US PRESSWIRETennessee running back Chris Johnson's stats are worthy of heavy consideration for offensive POY.
Offensive Player of the Year:
Chris Johnson
should win it. I understand that some voters will feel compelled to put
Drew Brees
here if they go with Peyton Manning for MVP or vice versa, but that would be a mistake and here is why:
Johnson is miles ahead of the next most-productive running back, while Manning and
Andre Johnson
, the NFL's leading receiver in yardage, have no such distance between them and their competitors.
Chris Johnson has run for 1,730 yards.
Steven Jackson
is second with 1,353. That 377 yard difference amounts to 22 percent more for CJ. Johnson is 17 percent ahead of
Ray Rice
on scrimmage yards.
Manning is one of six quarterbacks with a passer rating over 100. He leads a group of eight signal-callers who've already eclipsed 4,000 yards or are all but certain to.
Andre Johnson has 1,433 receiving yards. How many guys are within 22 percent of that total? Six.
Are running backs down? Sure. Is it more and more a passing league? Absolutely. Are people still handing the ball off? Yup.
Chris Johnson's rushing performance this season is the single best offensive performance of the season. He should win this award by as large a voting margin as any postseason award is won.
Defensive Player of the Year:
A case can be made for
Dwight Freeney
, who's got 11.5 sacks in a very consistent rushing season. But the Colts defense has been good at all three levels and his push doesn't stand out.
Charles Woodson
and
Darrelle Revis
are the buzz guys now and I think Woodson is a worthy winner. I'd lean to
Darren Sharper
.
Offensive Rookie of the Year:
Percy Harvin
looks to be in line to win it, and he's been an explosive addition to the Vikings. But just be sure you're not putting him here as a receiver alone, because it's his additional work as a kickoff return man (his 28.3-yard average is third in the NFL) that puts him over the top.
Austin Collie
's receiving numbers (53 catches for 567 yards and seven touchdowns) aren't too far off Harvin's (49, 691, six).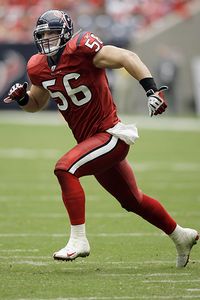 Brett Davis/US PresswireTexans rookie linebacker Brian Cushing has received praise from coaches around the league.
Defensive Rookie of the Year:
Brian Cushing
's been a huge addition to the Texans and I've listened to opposing coaches, on and off the record, rave about him all season. He's played like a veteran despite missing camp with a knee injury and sitting out a lot of practices during the season with a foot injury. He should win this because of how much impact he's had for the Houston defense. I've been asked about
Jerraud Powers
, who's been quite good for what the Colts ask of a corner, but he's not on par with Cushing. Buffalo's
Jairus Byrd
will get votes for an excellent season with an NFL-high nine interceptions and
Brian Orakpo
is a strong candidate.
Coach of the Year:
Jim Caldwell deserves serious consideration. Broad national thinking is he inherited a great situation and didn't screw it up. But he made two significant staff changes. The defense, under coordinator Larry Coyer, has been excellent, and the special teams' coverage, under Ray Rychleski has been better. The Colts didn't plan on life without
Bob Sanders
or
Anthony Gonzalez
, yet they've not missed a beat with those guys missing.
But voters traditionally lean heavily on turnarounds or surprises. I figure that means Sean Payton and maybe Marvin Lewis get the most attention here. If the Jaguars find a way into the playoffs, so should Jack Del Rio.
Comeback Player of the Year:
I've heard some
Vince Young
talk. I think this requires coming back from more than a self-inflicted benching, and more than a 10-game season. I don't think he's in the same class here as
Cedric Benson
, who had been dismissed as a bust. And I know a lot of folks will look to
Tom Brady
.
December, 18, 2009
12/18/09
10:54
AM ET
Houston Texans
Gary Kubiak continues to
praise Matt Schaub
, says Dale Robertson.
Jerome Solomon
visited Andre Johnson
as he did some Christmas work.
The Rams took a day off because of
the threat of swine flu
, says John McClain.
Alan Burge is wondering about
the Texans' focus
.
Indianapolis Colts
That was the Colts'
seventh fourth-quarter comeback
, says Phil Richards.
It's imperative the Colts
take a shot
at going undefeated, writes Bob Kravitz.
The Colts defense gave up plays and points, but
delivered at the end
, says Phillip B. Wilson.
Much maligned returner Chad Simpson scored on
a big kickoff return
, writes Tom Brew.
It was
impressive and improbable
, says John Oehser.
If they are playing,
they aren't saying
, says Pete Prisco.
The Colts
decided to work
, says Karen Crouse.
What Vinnie Iyer
learned
.
Yet another come from behind win put the Colts in
unfamiliar territory
, says Sam Farmer.
The Colts should
keep up the chase
, says Jim Trotter.
Peyton Manning took a page from
Dan Marino's book
, says Jason Cole.
Demond Sanders
tracked the game
as it played out.
No change meant
similar results
, says Larry Hawley.
Stampede Blue polls you about who gets
the game ball
.
Jacksonville Jaguars
David Garrard
kept pace
with Manning, until the very end, says Vito Stellino.
Maurice Jones-Drew found
room and rhythm
, says Michael DiRocco.
Garrard blinked
in the shootout with the Colts, writes Gene Frenette.
Reggie Wayne
woke up
in time to sink the Jaguars again, says Garry Smits.
The Colts big kickoff return
really hurt
, says Stellino.
The man who shot Richard Collier got
a life sentence
.
Tennessee Titans
Jeff Fisher rated Vince Young's practice participation "
a huge step
," says Jim Wyatt.
Brian Orakpo
is threatening
Jevon Kearse's rookie record for sacks, say Wyatt and Estwick.
David Thornton has
an uncertain future
, says Jim Wyatt.
Ricky Williams is
powering the Dolphins
, says Gary Estwick.
A couple Titans
remember Chris Henry
, says Terry McCormick.
April, 22, 2009
4/22/09
12:09
PM ET
Posted by ESPN.com's Paul Kuharsky
The Sporting News looks at the top three needs of each team in the division.
Houston Texans
Indianapolis Colts
Jacksonville Jaguars
Tennessee Titans
April, 17, 2009
4/17/09
1:22
PM ET
Posted by ESPN.com's Paul Kuharsky
I don't want to overwhelm you with constant looks at mock drafts.
But no newspaper person in America is more draft savvy than Rick Gosselin in Dallas. His new mock focuses more on team needs, and comes with a big change at the top -- He gives Detroit former Wake Forest linebacker Aaron Curry.
Here's his AFC South first round:
No. 8: Jacksonville Jaguars -- Alabama offensive tackle Andre Smith
My thoughts: Goose calls him the best blocker in the draft, and the Jaguars certainly could use that. But does Smith's poor preparation for the draft speak to issues they would have to deal with throughout his career?
No. 15: Houston Texans --Texas defensive end Brian Orakpo
My thoughts: With Orakpo and Antonio Smith added to the defensive line, the Texans would be a lot better up front. And that means they'd be better all around on defense.
No. 27: Indianapolis Colts -- Missouri defensive tackle Evander Hood
My thoughts: This would break with how the team has addressed the position for years. But perhaps it's time for just that.
No. 30: Tennessee Titans -- Ohio State middle linebacker James Laurinaitis
My thoughts: I mentioned him as a possibility Thursday. Gosselin must project Laurinaitis as a guy who can play outside, because the Titans don't put a premium on the guy in the middle, which is a part-time job in their defense.
April, 9, 2009
4/09/09
12:39
PM ET
Posted by ESPN.com's Paul Kuharsky
Ready to go four rounds deep? Here's what Mel Kiper is saying in a new four-round mock draft posted Thursday.
I think a Texans' fan would have to be very happy if the first two picks went like this.
Jacksonville Jaguars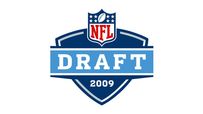 No. 8: Defensive end Brian Orakpo, Texas
No. 39: Wide receiver Brian Robiskie, Ohio State
No. 72: Cornerback Bradley Fletcher, Iowa
No. 107: Quarterback Rhett Bomar, San Houston State
Houston Texans
No. 15: Linebacker Brian Cushing, USC
No. 46: Defensive tackle Evander Hood, Missouri
No. 77: Cornerback Keenan Lewis, Oregon State
No. 112: Defensive end David Veikune, Hawaii
No. 122: Receiver Mike Thomas, Arizona
Indianapolis Colts
No. 27: Defensive tackle Peria Jerry, Mississippi
No. 61: Receiver Derrick Williams, Penn State
No. 92: Linebacker Jason Phillips, TCU
No. 127: Running back Javon Ringer, Michigan State
No. 136: Linebacker Jonathan Casillas, Wisconsin
Tennessee Titans
No. 30: Receiver Percy Harvin, Florida
No. 62: Cornerback D.J. Moore, Vanderbilt
No. 94: Linebacker Marcus Freeman, Ohio State
No. 130: Guard Louis Vasquez, Texas Tech
No. 135: Defensive tackle Terrance Taylor, Michigan
February, 28, 2009
2/28/09
10:15
AM ET
Posted by ESPN.com's Paul Kuharsky
New mock drafts are in from Todd McShay, Rob Rang, CollegeFootballNews.com and Steve Silverman.
A brief break from free agency for a scan of the selections:
Jacksonville Jaguars, No. 8
McShay: Receiver Jeremy Maclin, Missouri
Rang: Tackle Michael Oher, Mississippi
CFN: Oher
Silverman: Oher
Houston Texans, No. 15
McShay: Quarterback Matt Sanchez, USC
Rang: Defensive end Brian Orakpo, Texas
CFN: Defensive end Tyson Jackson, LSU
Silverman: Cornerback Vontae Davis, Illinois
Indianapolis Colts, No. 27
McShay: Receiver Hakeem Nicks, North Carolina
Rang: Defensive tackle Evander Hood, Missouri
CFN: Nicks
Silverman: Cornerback D.J. Moore, Vanderbilt
Tennessee Titans, No. 30
McShay: Defensive end Robert Ayers, Tennessee
Rang: Defensive end Michael Johnson, Georgia Tech
CFN: Davis
Silverman: Defensive tackle Peria Jerry, Mississippi
February, 23, 2009
2/23/09
11:41
AM ET
Posted by ESPN.com's Paul Kuharsky
Three of our four teams are receiver needy, so I took note of Mark Maske's blog entry on receiver speed.
Houston Texans
A look at a local: Texans defensive end Brian Orakpo.
Indianapolis Colts
Jeff Saturday is disappointed in the Colts offer and thinks he will do better elsewhere. Mike Chappell talked to him.
The Indy Star sorts through several reports, the gist of which are that Marvin Harrison won't take a pay cut and wants to be released.
Notes out of Bill Polian's chat at the combine from Mike Chappell.
Jacksonville Jaguars
The Jaguars and Maurice Jones-Drew are working on a deal that would pay him along the lines of Steven Jackson.
At look at a local: Tennessee State offensive lineman Cornelius Lewis.
Tennessee Titans
Another day, another Titans free agent who says he plans to explore the market. This time it's Chris Carr, with details from Jim Wyatt.
A look at a local: Vanderbilt corner D.J. Moore.
A look at a local: Tennessee defensive end Robert Ayers.

February, 21, 2009
2/21/09
5:40
PM ET
Posted by ESPN.com's Paul Kuharsky
INDIANAPOLIS -- Texas defensive end Brian Orakpo is viewed by some as the best defensive end in the draft.
If he's viewed that way by NFL decision-makers with the first 14 picks, then the Houston Texans won't even have a shot at him. But he's got to be intriguing to them considering that their primary offseason mission is to find pass-rush help to take some attention away from Mario Williams.
Williams accounted for 12 of his team's 25 sacks last season.
Orakpo's official measurements were 6-foot-3, and 263 pounds -- that's pretty impressive for a guy who was 210 in high school and now says he's eating all the time.
Here are some quick highlights from his podium session Saturday:
What is your best position?
Any position. Right end, left end, Sam, Will, Mike, anything, 3-4, 4-3, it doesn't matter. That's the thing about being that athletic and as versatile as I am, you can put a guy in anything.
Are you serious about the Mike?
No, I just threw that out there.
Are you a top-five player?
I think I can be. I think I have the potential, the athleticism and also the learning curve to be. It's not about the best player available. It's about the best player that's needed. So we'll see.
What's your favorite position in a perfect world?
In a perfect world, I just want to rush the passer, first through fourth down if it was a perfect world. Any position where I can be effective doing what I naturally do best and that's getting after the passer and affecting him. It's not all about the sacks, it's all about pressure.
February, 5, 2009
2/05/09
9:30
AM ET
Posted by ESPN.com's Paul Kuharsky
I asked Rob Rang, NFLDraftScout.com's senior analyst, to share his thoughts on the Houston Texans in the first round given these parameters -- their primary needs are safety, defensive end and cornerback.
Here's what Rang had to say in our e-mail exchange:
Safety: Unfortunately, there simply is not a safety worthy of this high of a selection. In fact, at this point, there isn't a safety likely to be taken in the first round, though a sparkling workout from Louis Delmas or Patrick Chung could change things by April.

Defensive end: The Texans would be wise to look for a pass-rusher opposite Mario Williams. Local product Brian Orakpo makes sense, as he -- while not explosive off the edge -- is a high-effort player with excellent strength and technique. He may never be a superstar, but he's solid and opposite Williams, that may be all they need. The Texans may be hesitant to invest yet another first-round pick in the position, however, meaning that the club might look toward an outside linebacker like Brian Cushing might make sense.

Cornerback: If Vontae Davis is available, his athleticism makes him an obvious candidate. The underrated D.J. Moore also makes sense due to his size and athleticism.