AFC South:

Brian Schottenheimer
January, 15, 2013
1/15/13
5:53
PM ET
David Caldwell
should hire the best guy he can find as the next head coach of the
Jacksonville Jaguars
.

I'm sure he's most interested in the ideas of his candidates, in his sense of their ability to teach and instruct, in the quality of the staffs they could hire and in the relationship he can build with them as co-builders.
But let's say two of the pool were about equal in those regards.
Would it be better if the ultimate winner comes from the offensive or defensive side of the ball? (Or how about special teams, we should say, since Falcons special teams coach Keith Armstrong is reportedly in the field.)

I ask this today because the Jaguars are expected to interview Seattle defensive coordinator Gus Bradley Wednesday and have received permission to interview Seattle's offensive coordinator Darrell Bevell as well.
Here's Mike Sando of the NFC West blog on why the
Philadelphia Eagles
like Bradley
. And here's Kevin Seifert of the NFC North blog from back in his days at the Minneapolis Star-Tribune
on Bevell
. (He was terrified of dogs, but says nothing about Jaguars.)
The two will compete with Jaguars incumbent defensive coordinator Mel Tucker; two guys the Jaguars liked a year ago in St. Louis offensive coordinator Brian Schottenheimer and Cincinnati offensive coordinator Jay Gruden; San Francisco offensive coordinator Greg Roman; and Armstrong.
Roman could rate as a favorite as he has a long-time friendship with Caldwell.
That's three offensive guys, two defensive guys and one special teams guy.
It's a quarterback league, and it's easy to say a guy who can develop a quarterback should get the nod. But a defensive guy can come in more able to stop the league's quality quarterbacks, so long as he can hire quality coaches to work with his own.
January, 15, 2013
1/15/13
11:05
AM ET
Reading the coverage…
Houston Texans

The Houston Chronicle columnists take opposing viewpoints on the Texans' future. Randy Harvey says they have
too many question marks
to be a true contender. Jerome Solomon says it's
too soon
to write the Texans off.
For all those bashing Matt Schaub, John McClain of the Chronicle points out that Schaub has taken the Texans
as far
in the playoffs as Warren Moon ever took the Oilers.
Reviewing
the highs and lows
of the Texans' season with Tania Ganguli of the Chronicle.
The Texans were
disappointed but hopeful
as they cleaned out their lockers, says Sara Eckert of CSN Houston.
Should they stay or should they go
? Battle Red Blog looks and the Texans heading towards free agency.
Indianapolis Colts

Offensive coordinator Bruce Arians
is a finalist
for the Bears head coaching job, says Sean Jensen of the Chicago Sun-Times.
To which I say:
Arians has said he expects his situation to be settled by the end of the week. Chuck Pagano would have giant shoes to fill if Arians gets a head job. But remember, Andrew Luck did just fine at Stanford when Jim Harbaugh left for the NFL and the quarterback had to adjust to different coaching with the Cardinal.
Tight end Dwayne Allen transitioned from college to the NFL as well as
any rookie in Colts history
, says Craig Kelley of the team's web site.
Jacksonville Jaguars

Mel Tucker interviewed Monday and Jay Gruden and Brian Schottenheimer are expected to meet with David Caldwell about the Jaguars
open head coaching position
today, says Ryan O'Halloran of the Florida Times-Union.
"Tony Khan is the Jaguars' VP of football technology & analytics, and his father owns the team," writes Chet Fussman of the T-U. "Presumably, a failed fourth-down risk, or the release of a player whose production isn't what it seems, will mean answering to the media, and
not anybody else
."
John Oehser of Jaguars.com doesn't think Maurice Jones-Drew will get traded because the value of an aging back coming off an injury
won't merit it
.
Tight end coach Bobby Johnson went to Detroit, says O'Halloran.
Charley Casserly talked with Gene Frenette of the T-U about
the Jaguars' coaching search
.
Tennessee Titans

A look at Titans offensive coordinator Dowell Loggains from John Glennon of The Tennessean. It appears Loggains, promoted to the post with five games left in the 2012 season,
will retain the position
going forward.
To which I say:
Loggains can do a ton to revamp and revise the offense to suit it to Jake Locker and the personnel the Titans have.
Kenny Britt is
still wanted for questioning
by New Jersey police who believe he knows about a stabbing and a fired gunshot, says Jim Wyatt of The Tennessean. The NFL will
look into what's unfolded
.
To which I say:
Britt needs to step forward and say what he knows. They aren't going to lose interest in him the more time passes, and all he is doing is drawing increased attention.
January, 10, 2013
1/10/13
8:12
PM ET
The first three names to emerge as candidates to replace Mike Mularkey as head coach in Jacksonville are St. Louis offensive coordinator Brian Schottenheimer, San Francisco offensive coordinator Greg Roman and Atlanta special-teams coach Keith Armstrong.
We knew Roman would be
in the mix
for new general manager David Caldwell, because the two went to college together at John Carroll University in Ohio and worked together early in their careers with the Carolina Panthers.
Schottenheimer interviewed for the Jaguars' head-coaching job last season and lost out to Mularkey. Armstrong works for the franchise where Caldwell spent the previous five years.
[+] Enlarge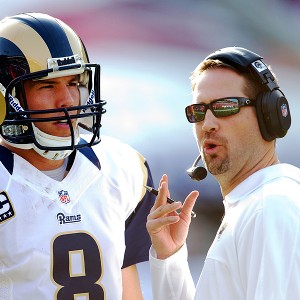 AP Photo/Michael YoungThe Jaguars have asked permission to speak with Rams offensive coordinator Brian Schottenheimer.
"Me coming in here as a first-time general manager and I'm looking for a co-builder of our team," Caldwell said at his introductory news conference. "When I talked to [owner] Shad [Khan] in terms of a culture change along the football side, I felt like it was more of that. I felt like it was an atmosphere of change. I felt like that to do that, you've got to have a fresh start [across] the board."
Prior work as a head coach is not a prerequisite for Mularkey's replacement.
"You guys are all familiar with Mike Smith, who is our current head coach in Atlanta, did not have head-coaching experience and is the all-time leading winner in Atlanta," Caldwell said. "I'm looking for the right person, he obviously has to have certain qualifications. In terms of previous … head-coaching experience, not necessary."
Khan wasn't going to be able to get his man without giving him power to pick his head coach.
Khan cited the team's record getting progressively worse over the past three seasons as a reason for large-scale change.
Mularkey was a victim of bad timing, injuries, a thin roster and a bad year.
Khan bought the franchise toward the end of the 2011 season, and the team fired Jack Del Rio as coach and gave general manager Gene Smith a contract extension.
Khan and Smith hired Mularkey, whose overmatched team went 2-14. Jacksonville hardly had its best offensive player, running back
Maurice Jones-Drew
, and got one game combined out of two projected starting linebackers,
Daryl Smith
and
Clint Session
.
Smith's four-year record as the personnel chief didn't cut it, and Khan parted ways with him the day after the season ended.
He then left Mularkey's fate in the hands of a yet-unnamed GM and ultimately allowed assistants to seek other work. They are still under contract, however, and will require Caldwell's permission to leave.
Caldwell had long terms working in the front offices of two winning teams, Indianapolis and Atlanta.
"The common thread is the relationship between the head coach and the general manager and obviously the quarterback," he said. "The type of people we bring in as players. They have to be good football players but they have to be positive, passionate, physical and I think you see that."
He needs a coach first, and then they'll assess what they will do offensively. Quarterbacks
Blaine Gabbert
and
Chad Henne
are under contract and will be part of things.
Tim Tebow
won't be
, even if he is released by the Jets.
"I have others in mind and I'm comfortable with what's here," Caldwell said.
Adam Schefter reports that the Jaguars have already asked for permission to talk with Schottenheimer.
Because the 49ers and Falcons are still in the playoffs, Caldwell will have to wait to talk to Roman or Armstrong. If their teams lose, he will be allowed to interview them if they are interested. If they win this weekend, they are off-limits until after the NFC title game. If one goes to the Super Bowl, there is an interview window in the week leading up to the weekend off before the Super Bowl.
With a lot of turnover around the league, Mularkey could resurface as a coordinator. He did good work with
Matt Ryan
in Atlanta, though after he helped the quarterback reach a certain level in his first four years, the team was ready to go in a different direction when he got hired in Jacksonville.
Several teams in need a solid teacher for a young quarterback could benefit from adding Mularkey.
January, 7, 2012
1/07/12
11:32
AM ET
Reading the coverage …
Houston Texans

Owner Bob McNair is
relishing the time
as his team prepares to face Cincinnati in a playoff game, says John McClain of the Houston Chronicle.
A win would do a lot for the Texans'
national profile
, says Steve Campbell of the Chronicle.
Patience has paid off for Gary Kubiak and Rick Smith and they
deserve to take a bow
, writes Jerome Solomon of the Chronicle.
Kubiak wants his team playing with
a lot of emotion
, says McClain.
Wade Phillips has made things
simple and effective
for the thriving Texans defense, says McClain.
Indianapolis Colts
Jim Irsay will have interviewed
seven general manager candidates
by the end of Monday according to his Twitter account, says this Star report. He revealed a dark horse: Jim Popp, general manager of the Montreal Alouettes of the Canadian Football League.
Jacksonville Jaguars
Tania Ganguli of the Florida Times-Union pieces together the latest in
the Jaguars' coaching search
as the team interviewed Brian Schottenheimer of the Jets and Rob Chudzinski of the Panthers.
Tennessee Titans
Chris Hope is heading for free agency, but the safety says he's going to
help some team
in 2012, writes Jim Wyatt of The Tennessean.
The Rams have
received permission
to talk to Ruston Webster and Lake Dawson about their open GM job, says Wyatt.
January, 3, 2012
1/03/12
11:22
AM ET
Reading the coverage…
Houston Texans

Bengals-Texans will the first time in NFL history in which rookie quarterbacks
square off as starters
, says John McClain of the Houston Chronicle. Provided T.J. Yates is healthy, he'll go against Andy Dalton.
Twelve reasons
the Texans will beat the Bengals, from Jerome Solomon of the Chronicle.
Indianapolis Colts

Peyton Manning was "
surprised, shocked, disappointed
" upon learning that Jim Irsay dismissed Bill Polian, says Mike Chappell of the Indianapolis Star.
Manning recalls enjoying
playing as a rookie
, which Chappell looks at from the perspective of the same possibility for Andrew Luck.
Jacksonville Jaguars

The Jaguars requested and received permission to interview
five NFL offensive coordinators
on Monday -- Atlanta's Mike Mularkey, the New York Jets' Brian Schottenheimer, Carolina's Rob Chudzinski, sources confirmed. ESPN also reported the Jaguars will interview Denver's Mike McCoy and New England's Bill O'Brien, says Tania Ganguli of the Florida Times-Union.
When can assistants on playoff teams
be interviewed
? Ganguli has the answer.
Tennessee Titans

Mike Munchak defended Chris Johnson's drop off, says Jim Wyatt of The Tennessean. Johnson may have lost a step as a result of wear and tear, but it's
not why the Titans ran poorly
, the coach said.
The Titans are hardly ready to declare
their quarterback for 2012
and Munchak said roles for Matt Hasselbeck and Jake Locker will sort itself out in time, writes Wyatt.
Big changes are ahead
for the Titans, who've got a load of free agents, says David Climer.
June, 21, 2011
6/21/11
1:05
PM ET
Power Rankings turn to an important, relatively unknown bunch this week: assistant coaches.
But we're not ranking the top 10 assistant coaches, we're ranking the top 10 up-and-coming assistant coaches. Who are guys who have not been head coaches before (interim stints didn't disqualify anyone) who we expect will ultimately be patrolling the sideline in the primary headset?
It's an interesting list that has a lot of debatable votes. For example, I didn't vote for Giants defensive coordinator Perry Fewell, who wound up No. 1.
I explain why in
Kevin Seifert's piece
unveiling the overall rankings (and here's
the column
relating to it all). I also make the case for Jacksonville offensive coordinator Dirk Koetter, who got my third-place vote and finished fifth overall.
Considering that I am on record selecting Koetter as my head coach if I assembled a staff from the AFC South pool of coaches, including the four head coaches, my vote should be no surprise. Indications were he was great in his interview with Denver, and only John Fox's prior experience got him the job ahead of Koetter.
He was the No. 1 selection for agent Bob Lattinville, who represents a lot of coaches and put together
a top 10 list for me
.
Here's my ballot, which I remind you counted just one-eighth of the overall result:
Rob Ryan
Winston Moss
Dirk Koetter
Greg Olson
Bill O'Brien
Darren Perry
Brian Schottenheimer
Rich Bisaccia
Mike Zimmer
Mike Waufle
January, 22, 2010
1/22/10
11:41
AM ET
I asked Ken Moll, Doug Kretz and Matt Williamson of Scouts Inc. to give me one, non-obvious, key matchup in the AFC Championship Game and to tell me how they envision things panning out in that area. (You can find biographical in fo on these three fine men
here
.)
Here's what they said:
Moll:
"Here is something that I thought was very subtle in last week's game that the Jet were trying to do. Get the old man
Tony Richardson
more involved only early downs. Not so much in the running game (though he did average over 6 yards per carry this year/ regular season, only seven attempts) but as a receiver out of the backfield. Obviously the Colts will stack the line of scrimmage (eight in the box, etc. especially on early downs) and slipping Tony out of the backfield off of play action will likely put him WIDE OPEN in the flat where he can turn up field. They (Brian Schottenheimer) tried to get him the ball versus the Chargers (two catches and he dropped at least one) where he only had three catches all of the regular season."
"I don't think this will be a BIG part of the game but I do think he could play a part in giving the Jets young quarterback some easy throws on early downs in a hostile environment."
"Tony only has four catches in the two seasons but he does have good hands and usually is reliable as a receiver out of the backfield (career catches 205-- and nine TDs). "
"Again not a big part of the game (though he will blocking a bunch) but this matchup between the oldest man on the field (Tony Richardson) and the Colts linebackers (both in the running game as well as defending him off of play action) could be a factor in keeping the Colts defense off balance."
Kretz:
"I'd look at the play of the two interior lines. A lot of attention is being focused (and rightly so) on New York's two offensive tackles being able to contain
Robert Mathis
and
Dwight Freeney
and their ferocious pass rush. New York NEEDs to establish a strong ground game, especially up the middle. Center
Nick Mangold
and guards
Alan Faneca
and
Brandon Moore
allow the Jets to do a lot of running between the two tackles an area that has traditionally been a weakness for the Colts' defensive front."
"The play of DTs
Daniel Muir
and
Antonio Johnson
has been a huge lift to Indianapolis' defense. If the Colts can't contain New York on the ground and force them into a lot of obvious passing situations (third and long) all that speed on Indianapolis' defense will be negated. In years past the Colts were extremely undersized up the middle, on defense, but both Muir and Johnson are legitimate 300 pounders and have done a lot to improve the Colts' run defense."
"Look for the Colts to focus a lot of their attention to stopping
Thomas Jones
and
Shonn Greene
before they can get to the second level and produce explosive run plays or simply keep moving the chains. I'd expect the Jets to struggle with their ground game."
[Side note: Stay tuned for a column by yours truly on those defensive tackles in just a bit.]
Williamson:
"I fully expect
Darrelle Revis
to matchup with
Reggie Wayne
for the majority of this game. It should be noted that Revis did usually line up over
Antonio Gates
last week when
Vincent Jackson
went to the slot and Indy might try similar tactics to free up Wayne. But all in all, the Colts do what they do and they do it extremely well."
"They will not differ much from their norm -- nor should they. So, that will often leave
Pierre Garcon
on
Lito Sheppard
. Sheppard has more big-game experience and is probably the bigger named player, but I tend to give this advantage to Garcon -- if
Peyton Manning
isn't under too much duress.
"Also, the further that Indy goes into their wide receiver corps, namely
Austin Collie
, the harder and harder time New York will have matching up with their cover men. Many thought this was the case last week. But while
Malcolm Floyd
is extremely talented, he is also inconsistent and often just misses on big plays. I expect Garcon to convert."