AFC South:

Broncos-Colts 121309
December, 15, 2009
12/15/09
7:27
PM ET
The suggestion, from Dave in Baltimore, MD:
About 9:30 left in the Colts/Broncos game, Colts on their own 20 facing 3rd and 10. Manning hits
Austin Collie
on a curl for a 23-yard completion, moving the chains, keeping the drive alive, and eventually putting seven points on the board to salt the game away. [Nilay Baxi in Ocean, NJ and unionjackwh joined Dave's suggestion.]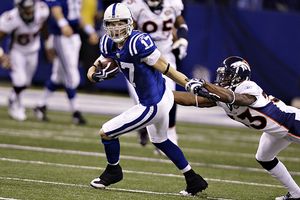 AP Photo/Michael ConroyAustin Collie's 23-yard reception in the fourth quarter against Denver was a key play in the Colts win.
The situation:
Denver's just cut Indianapolis' lead to 21-16 and with 8:57 left in the fourth quarter the Colts face a third-and-10 from their own 20-yard line. Peyton Manning's been cold -- completing just one of his first 11 second-half throws with two picks.
Manning lines up in the shotgun, flanked by
Dallas Clark
on his left and
Joseph Addai
on his right.
Pierre Garcon
is lined up right, Austin Collie is in the slot left and
Reggie Wayne
is wide left.
The Broncos are in nickel, with
Champ Bailey
on Wayne, Andre Goodman on Garcon and
Alphonso Smith
on Collie.
What I saw unfold after the snap:
Manning takes the shotgun snap, drops back two steps and bounces three times, with plenty of time to assess and release.
Lined up as left end,
Elvis Dumervil
hesitates and waits to see if he needs to cover anyone out of the backfield, drawing no real attention. Once right tackle
Ryan Diem
sees Dumervil is staying, he shifts inside to help
Kyle DeVan
and they cancel out right defensive tackle
Vonnie Holliday
.
D.J. Williams
blitzes from right linebacker and is handled by center
Jeff Saturday
.
Lined up as left linebacker,
Wesley Woodyard
crosses the path Williams took and tries to get to Manning by squeezing between Saturday and left guard
Ryan Lilja
. Addai picks him up and Clark is nearby in case he's needed, which he isn't because the ball is out by the time Ayers recovers from Addai's initial stop.
Right end
Robert Ayers
comes out of his stance, waits for Clark or Addai to emerge from the backfield. When neither comes he waits and then tries to chase the play. Left tackle
Charlie Johnson
realizes he doesn't need to get Ayers, so he looks to help Lilja who's already doing just fine against right defensive tackle
Darrell Reid
.
Collie is looking inside as the snaps comes, gestures inside with his shoulders and hands, then beats Smith off the line to the outside. As he gets downfield, he leans inside selling a curl and buying himself the space he wants before breaking off his route at about the 34 and turning back outside to face Manning's pass while standing on the "3" of the "30" on the Lucas Oil Stadium turf. Smith slips off him and is face down as Collie cuts outside where Wayne is blocking Bailey. Safety
Brian Dawkins
arrives to make the tackle after a 23-yard gain.
Result:
The Colts eat 7:19 on the drive, ending it with Clark's third touchdown catch that puts them ahead 28-16 with only 2:25 remaining for Denver.
Ultimate outcome:
Denver moves just eight yards in four plays, giving the ball back with 1:51 remaining in the game. Manning kneels three times to run out the clock and seal up the Colts' 13th win.
December, 13, 2009
12/13/09
9:43
PM ET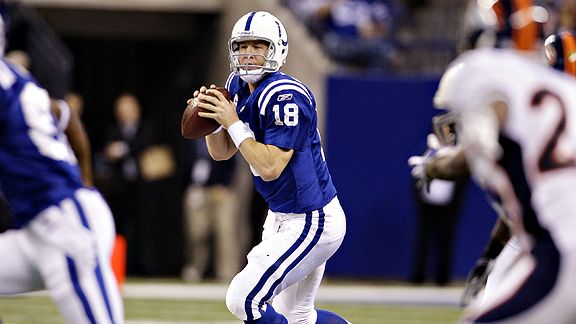 AP Photo/Darron CummingsWill Peyton Manning's chances at a fourth MVP title suffer if the Colts rest him?
INDIANAPOLIS -- His biggest accomplishment is leading his team to a place where he doesn't need to make a major contribution over the next three weeks.
For that distinction,
Drew Brees
,
Brett Favre
,
Chris Johnson
and
Philip Rivers
surely would trade situations with
Peyton Manning
.
But after the
Indianapolis Colts
' 28-16
victory
over the
Denver Broncos
at Lucas Oil Stadium Sunday, we might have seen the last full game of the regular season from Manning.
And if the regular-season final image of Manning depicts him with a dangling earpiece and under a poncho in Buffalo in Week 17 -- helping substitute quarterback
Curtis Painter
cope with the Bills -- how will that affect MVP voters?
Will they reflect upon Manning's accomplishments leading the Colts to a 13-0 start? Will that three-week-old memory have any impact while they're watching, say, Brees cap an undefeated regular season, or Favre carry the Vikings into the playoffs, or Johnson crack 2,000 rushing yards?
When that Associated Press panel submits its MVP votes Jan. 4, could Manning fall victim to omnipresent what-have-you-done-for-me-lately thinking?
"I would say you can't count it against him if he's not out there,"
Dwight Freeney
said. "It's about the team first, nothing else matters. …If it came down to that, it would be a shame."
"The effect that he's had on a team, I don't know how you could match that," said Colts kicker
Matt Stover
, who's played with
Phil Simms
,
Jeff Hostetler
,
Bernie Kosar
,
Vinny Testaverde
and a slew of other quarterbacks in 20 NFL seasons. "What he does in practice, what he's replicated on the field, warrants an MVP to me.
"I have never seen anything like it in my 20 years and that's playing with a lotta, lotta, lotta quarterbacks. To me it's 'What has he done to give his team the best opportunity to win, to get his team to the playoffs?'"
With his play, Manning's helped put the Colts in position to ease up. They are expected to stay true to a long-standing philosophy of resting key starters once playoff position has been secured, a stance honed by former head coach Tony Dungy and expected to be adopted by his successor Jim Caldwell.
No other quarterback has put his team in such a spot so early, so to penalize him for it in any way wouldn't seem fair to me.
Colts executive Bill Polian made his traditional sour face when I asked him if MVP is important. He cares little for things voted on by media members and things he and his team cannot control, at least conversationally. Still, asked to make the case for his quarterback, it came easily.
"If you ask me is it comparable to the seasons that he's won, the answer is yes it is," he said. "Certainly beyond, because of the circumstances, because of the offensive line transition, the offensive line difficulties and the receiver transitions."
Manning has excelled even as the team's projected starters at left tackle and right guard (
Tony Ugoh
and
Mike Pollak
, respectively) were outplayed and replaced by understudies (
Charlie Johnson
and
Kyle DeVan
, respectively). And with Hall of Fame receiver
Marvin Harrison
gone and No. 2 target
Anthony Gonzalez
hurt, Manning's thrown to rookie
Austin Collie
and second-year man
Pierre Garcon
unhesitatingly, helping both become major contributors.
I skipped Manning's news conference after the Broncos game because I knew an MVP question would be fruitless and I'd fare better on this subject in the locker room.
But make no mistake, a fourth MVP would mean a great deal to Manning just as late yards in a blowout win at Tennessee on Oct. 11 meant something to him. Those yards got him over 300 yards for the fifth straight game at the start of the season. The milestone kept him on track to match or surpass the shared record of six, held by
Kurt Warner
and
Steve Young
. (He came up well shy of 300 a week later at St. Louis.)
That doesn't mean Manning is at all selfish or has any priorities out of whack.
I just believe he's acutely aware of the numbers and the history. He takes a great deal of personal pride in getting the first and making the other when he has the chance. None of that makes a second Super Bowl win any less important to him or the team he leads.
A year ago, en route to his third MVP, Manning and the Colts played at Jacksonville in a late-season Thursday night game. The Dec. 18 contest marked the Colts' 15th game. In a 31-24 victory, Manning was a pitcher with no-hitter control -- zipping balls through small windows, lofting them just over defenders' fingertips, throwing them with just the perfect touch.
That 29-for-34 passing for 364 yards and three touchdowns, broadcast nationally on NFL Network, clinched the award for him, I thought.
A week later in a meaningless game against Tennessee he threw early and often, and topped 4,000 yards. He helped get Harrison past Cris Carter into second place for career receptions, and then Manning left the game.
Certainly the Colts have many banged-up guys who need to heal. Some others can get the work they need to stay sharp during practice weeks. But the team's first playoff game isn't until Jan. 16 or 17, more than a month away. A month is too long to expect the engine to idle.

Nobody asked me but… I humbly propose the Colts set Manning loose on the Jaguars again in four days. Kelvin Hayden said even if the team takes its foot off the gas, it doesn't want to drop a game to a loathsome division rival.

Manning will do what he's asked to do. Still, he said he hasn't liked playing a bit and then taking a seat when he's been required to do it in the past. So don't ask him to do it three consecutive weeks while risking the honor that would come with being the league's first four-time MVP.

Let Manning be Manning in North Florida Thursday, with his stable of healthy weapons helping him stake his claim.

If Brees or Favre or Johnson or someone passes him from there as he plays only a couple series against the New York Jets (Week 16) and at Buffalo, so be it. At least the voters will have less time to forget what they should be sure to remember.

December, 13, 2009

12/13/09

4:10

PM ET

INDIANAPOLIS -- Home-field advantage throughout the AFC playoffs? Check.

New NFL record for consecutive regular-season victories (22)? Check.

Room to rest until Jan. 16 or 17? Check.


On a day when the Colts hardly played their best, they moved to 13-0 and earned three things that mean a lot with a
28-16 win
over Denver at Lucas Oil Stadium.
Peyton Manning
threw three picks and seemed off rhythm for much of the day after he did a great deal to get the Colts ahead 21-0. The pass defense allowed
Brandon Marshall
to break
Terrell Owens
' NFL record of 20 receptions in a game with 21.
But yet again, stumbles or shortcomings just didn't matter.
It's hard to imagine as the Colts get themselves healthy and stick to their rest-for-the-playoffs philosophy that they won't lose at least one of their final three games -- at Jacksonville Thursday night, against the Jets or at the Bills.
But losing a regular-season game is such a distant memory for this group, perhaps it's forgotten how.