December, 28, 2012
12/28/12
2:57
PM ET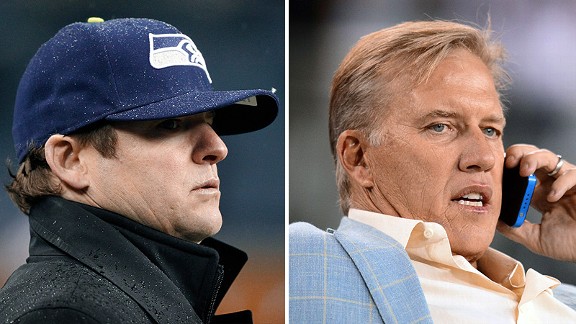 USA TODAY SportsShrewd moves by John Schneider (Seattle), left, and John Elway (Denver) produced playoff teams.
The Colts have legitimate candidates for two of the big awards handed out by the Associated Press: Chuck Pagano/Bruce Arians for coach of the year and
Andrew Luck
for offensive rookie of the year.
AP doesn't name an executive of the year. The Sporting News does, and that's regarded as the primary award in that category. The Colts have a strong candidate there, too, in general manager Ryan Grigson.
Indianapolis is having a wonderful and surprising season. But there are other teams doing good things, too.
At the end of the year, my view tends to broaden.
During the regular season, I focused primarily on the AFC South, of course. But now two teams will see their seasons end. I don't have an AP vote, but I still feel compelled to present the cases for guys in my division who should be considered. I've written about Pagano/Arians and about Luck.
Now it's time to ponder Grigson.
In all, 37 of the Colts' 53 players were not on the team he inherited. Drafting Luck wasn't a tough move. But he hit home runs, too, with third-rounders
Dwayne Allen
and
T.Y. Hilton
, a tight end and receiver, respectively. Fifth-round running back
Vick Ballard
is a solid contributor. Grigson found inside linebacker
Jerrell Freeman
in Canada. As he jettisoned numerous veterans to reboot the franchise, he re-signed
Reggie Wayne
, who's been fantastic, and
Robert Mathis
, who's going to his fifth consecutive Pro Bowl. He got production out of reclamation project
Donnie Avery
, a receiver who was an absolute zero a year ago for division rival Tennessee.
It's a very good résumé.
I surveyed the other seven NFL bloggers at ESPN as well as Bill Polian, Trent Dilfer, Eric Mangini, Jon Gruden, Mike Tirico, Herm Edwards, Trey Wingo, Suzy Kolber, Chris Mortensen, Adam Schefter, John Clayton, Sal Paolantonio, Bill Barnwell, Matt Williamson and Mike Reiss.
Mangini, Wingo, Paolantonio and Schefter were big backers of Grigson.
"He totally overhauled that team in the most difficult of circumstances," Wingo said. "Cut the right players, kept the right players. And look at all the rookies with major contributions."
"Thirty-seven new players, a rookie QB and interim head coach," Mangini said. "I would go with Grigson."
But Grigson finishes a distant third in our poll, with Seattle's John Schneider edging Denver's John Elway for the award.
Schneider had a great draft. His first-round pick was widely panned, but
Bruce Irvin
has eight sacks. Second-rounder
Bobby Wagner
is a legit candidate for defensive rookie of the year as the every-down middle linebacker for the top defense. Third-rounder
Russell Wilson
has been a revelation and could upset Luck and
Robert Griffin III
for offensive rookie of the year. The rest of the draft is filled with contributors.
Schneider has made unconventional and even unpopular moves throughout his three-year tenure.
"He has repeatedly made fools of draft-day critics, however, and that is happening in a big way this year," NFC West blogger Mike Sando wrote in
his division wrap-up
.
Elway found a graceful way to part with the immensely popular
Tim Tebow
while luring
Peyton Manning
to Denver.
Wrote Clayton recently
: "Elway made the single biggest acquisition of the year. The fact that it has worked means he deserves the award."
No offense to Clayton, but that's way too simple a formula for me.
Says AFC West blogger Bill Williamson: "Elway, in his second season in his role, has been more than just a beneficiary of Manning's decision. Nearly every move Elway has made has worked. In two years, Elway has taken the No. 32 defense and added the pieces to make it the No. 3 defense. This team was a mess when the Duke took over. Now, it may be weeks away from Elway's sixth Super Bowl appearance in Denver."
I'd put Elway third. Schneider and Grigson each did a lot more from my vantage point.
I've had a close view of the Colts' transformation from a 2-14 disaster to a 10-5 team heading to the playoffs.
As I broadened that view, however, I leaned on something Sando said as we discussed this: Take away the obvious moves, the moves your mom would know to make -- signing Manning, drafting Luck -- and find out who's the choice.
I voted Schneider, and so did seven others, enough for him to edge Elway.
The total in straight name-your-guy balloting:
Schneider: 8
Elway: 7
Grigson: 4
Thomas Dimitroff, Atlanta: 2
Trent Baalke, San Francisco: 1
Bruce Allen, Washingon: 1
It's been a great deal of fun the last couple days rounding up votes. As I came to my deadline, I felt like an election official waiting on results to come in from the final precincts.
Since we're AFC South HQ, I'll leave Wingo with the final word. I told him he was part of non-winning support for Grigson, who was behind Elway and Schneider.
"I get both of those, truly I do," Wingo said. "But can anyone honestly say they did more with less? Elway was really about one move, a pivotal move for sure, but how hard is it to go after arguably the greatest regular-season QB the league has ever seen?
"Grigson had to be the guy to get
rid
of him, replace him with the right choice, and gut the roster. His decisions to me by
far
are the most significant."
April, 13, 2010
4/13/10
8:04
AM ET
Vacation was great, thanks for asking.
Please give me some time to catch up on
Facebook
messages and conversations. It was nice to see some many friend requests and
Twitter
followers are now over 7,000. Please join them.
While I did disconnect, I didn't leave the country and inevitably found myself glancing at my UberTwitter feed.
Upside: Fodder for this quick-hitting post:
Pollard:
Bravo to the Texans for locking up strong safety
Bernard Pollard
in short order after they got
DeMeco Ryans
' long-term deal done. When Texans fans were getting anxious over the status of Ryans,
Owen Daniels
and Pollard, I said they had plenty of time but that I thought they'd be well-served to have two of three locked up long term before training camp. They beat my deadline by a long way, and if Daniels is healthy and recovered from the ACL reconstruction that sidetracked him last year, they could go 3-for-3.
Simms:
The Titans brought back
Chris Simms
as their No. 3 quarterback and certainly hope that helps their push to reduce
Kerry Collins
' scheduled $5.5 million salary this season. Still, given a choice of who you'd want in the game if
Vince Young
is down, it'd be hard to go with Simms over Collins. It's time for Simms to show he can play if needed, or he's going to qualify only as a No. 3 retread. I haven't seen the money, but I can't imagine he got much up front and would cost the Titans much if they don't keep him this season.
Rackers:
I like Houston's
Neil Rackers
signing a lot, and selling it as a straight camp competition between Rackers and incumbent
Kris Brown
isn't simply spin from the team. If Brown outperforms Rackers, the Texans can stick with Brown for just the extra $350,000 they guaranteed Rackers.
Haynesworth:
Talk of the Redskins trying to deal
Albert Haynesworth
seemed to die down pretty quickly after the
Donovan McNabb
trade info came to light. But if Washington, a team with a small pool of draft picks in the first year of the Mike Shanahan-Bruce Allen era is hell bent on 1) ditching last year's free-agent prize and 2) adding a pick even after shelling out a secondary bonus of $21 million recently, well, the Titans aren't the only team that should be calling and calling again during the draft offering at least a third-rounder. The Jaguars and Texans should be push, too. I'm not paid for Redskins insight, but making such a move with Haynesworth a year after falling in love with him would be imbecilic. Never mind moving him. The team's determination to have defensive coordinator Jim Haslett change to a 3-4 a year after the franchise opened the vault for a premier 4-3 tackle smacks of control-freak disease, wouldn't you agree?
Seems like things have been pretty quiet on the Jaguars' and Colts' fronts. I'll see if that's truly the case as I catch up.