November, 1, 2013
11/01/13
3:43
PM ET
HOUSTON -- Asked about the tribute planned for his late father during Sunday night's game, Texans defensive coordinator Wade Phillips was overcome with emotion.

W. Phillips
He didn't know that was happening.
"Don't get me going there," Phillips said. "It goes in waves. I appreciate that if they are doing that."
The tribute will occur after the first quarter against the
Indianapolis Colts
. In honor of Bum Phillips, the Texans will have former Oilers Mike Barber and Dan Pastorini come out of the tunnel pre-game as honorary captains.
Houston's Lakewood Church, headed by Joel Osteen, held a memorial service Tuesday evening for Bum Phillips. The memorial and the fact that several players attended meant a lot to his son.
"It really helped our family and everybody," Wade Phillips said. "It's not something that you get over quickly. It's a club you don't want to be in but a lot of people have. We had a tribute the other night and that was really special for us. This game will be special for me too."
He also expects the game to be a lot of fun. It is the family business, after all.
Said Wade: "We're going to have fire coming out of our backsides."
October, 30, 2013
10/30/13
5:58
PM ET
A few of
Houston Texans
defensive coordinator Wade Phillips' players attended his father's memorial service Tuesday night at Lakewood Church.
For
J.J. Watt
, celebrating Bum Phillips' life was an invigorating experience.
Watt
"For a memorial, this might be weird to say, but it was actually really cool," Watt said. "You realize how many people's lives Bum affected. It kind of reinvigorates you and gives you a renewed sense of excitement about the game of football, about life, about the people that you surround yourself with. It was really special. I'm very happy that I had the chance to have Bum as even a tiny part of my life."
The conversations he had with Bum Phillips, the kind words and the time Bum sent Watt a signed copy of his book -- all of it meant something to Watt.
"Some of the things he said to me mean a lot to me because as many people as he's seen play this game, as many players as he's coached, I always took what he said a little bit more to heart than what other people said," Watt said. "Same way I take Wade's words a little bit more to heart."
Watt was inspired by the way Bum Phillips' "Luv Ya Blue" Oilers captured the city of Houston. When the Texans first drafted him, Watt learned about that part of the city's pro football history.
"That's what every athlete wants between their team and city," Watt said. "You want that relationship where it's love between the fans and the players. I'm working extremely hard to make this city proud, and I think this team is working extremely hard to make this city proud. That's the way you create something like that. Obviously you have to win."
October, 19, 2013
10/19/13
10:06
AM ET
Bum Phillips was one of those people who transcended his job and came to symbolize and characterize a time and a place.
"Luv Ya Blue" in Houston with the Oilers was, in many ways, loving Phillips -- his drawl, his style, his hat and the team he coached.
Now the city mourns his passing.
His son,
Houston Texans
defensive coordinator Wade Phillips tweeted: "Bum is gone to Heaven-loved and will be missed by all -great Dad,Coach, and Christian."
As famous sports quotations go, I rank his comment on Don Shula as one of the all-time greats: "He can take his'n and beat your'n and take your'n and beat his'n."
The Oilers lost consecutive AFC Championship games to Pittsburgh to close out the 1970s. In 1980, after a first-round playoff loss, Oilers owner Bud Adams fired Phillips in what he later called one of his most regrettable moves.
This is from
David Barron's obituary
of Phillips in the Houston Chronicle:
Former KHOU (Channel 11) sports director Gifford Nielsen, who played quarterback for Phillips in the late 1970s, then worked with him on Oilers radio broadcasts in the 1990s, said Phillips built winning teams by knocking down barriers between players.

"He could take a conservative kid out of Utah, put him with a kid who grew up in the projects in Pittsburgh, a guy from Southern California and a guy from the Deep South, and it didn't matter what color was their skin, how big they were and what their talent level was," Nielsen said. "He would bring them together as a team.

"The reason people liked Bum so much is because he was real. He always said, 'Trust me, and we'll do things my way and great things will happen.' When we did trust him, we were successful, and it carried over not only to the team but the fans.

"Whenever we went on the road, people wanted to see Bum Phillips, and it was because of the genuine person he is. That is his legacy."
Update:
The Titans sent out this statement today on Phillips' passing:
We are very sad to hear of the passing of Bum Phillips. He meant a great deal to this franchise, the NFL and the city of Houston, and he was instrumental to the Oilers during the 'Luv Ya Blue' era. Growing up in Texas and working his way up through the Texas football ranks, he was a natural match for our team. Those were such magical years, and his leadership and personality helped our team rise to the top. He became an iconic figure on our sideline. Our thoughts are with his family, and we know he will be missed.
September, 12, 2013
9/12/13
5:52
PM ET
NASHVILLE, Tenn. -- Tennessee Titans owner Bud Adams is a Hall of Fame candidate who has a case and some support.
But the crowd in front of the 90-year old Adams and voters' understandable propensity to elect players ahead of contributors is likely to keep him out despite the case several voters make for him.
[+] Enlarge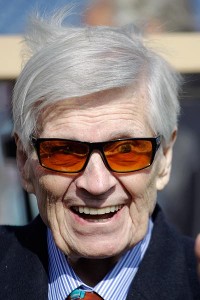 Wade Payne/AP PhotoTitans owner Bud Adams believes he belongs in the Hall of Fame.
Adams
told Jim Wyatt
of The Tennessean:
"Besides the playoffs, one thing I would like to accomplish is to be considered in the Pro Football Hall of Fame. I realize there may be some hard feelings about me moving the team to Nashville, but I truly feel my body of work …

"I don't like tooting my own horn. But at my age, and now being the senior NFL owner, there is no one from back in those days than can really speak up for me now. I really feel this year could be a year I get serious consideration after 53 years. I'm sure hoping that's the case."
No, you can't write the history of Pro Football without him. His part in the creation of the AFL and its ultimate combination with the NFL was crucial.
But history didn't stop then, and his contributions to NFL in the 43 years since the merger didn't do anything to build on those big contributions and don't warrant a bronze bust in my eyes.
A good argument on Adams' behalf is that if Ralph Wilson is in the Hall, Adams should be. The logical counter argument is that Wilson doesn't necessarily belong there, and you can't put the next guy in because the last guy got in.
Here are some nuts-and-bolts of a case against Adams:
He couldn't build or maintain a relationship or partnership with Houston mayor Bob Lanier. That created a scenario where he had to break the hearts of a very good AFL/NFL market and move. (That move, I point out in the interest of full disclosure, was very good for my career.) Houston ultimately got an expansion franchise and the stadium Adams so desired. Had he been better at political relationships, the Oilers might still exist and perhaps Nashville would have been an expansion market.

In exchange for the league paving his way to Nashville, Adams basically agreed to be a "yes man" for commissioner Paul Tagliabue, and now Roger Goodell, in perpetuity. That means Adams has been a follower since 1996, not any sort of leader during a crucial era in league growth.

His best football moves also amount to ancient history. His most recent fingerprints on the franchise were the drafting of Vince Young (a major setback for a team that's not fully recovered, still) and the foolish firing of beloved Oilers coach Bum Phillips.
Another event shouldn't leave much of a mark. But in the Internet, cable TV age, it showed the degree of his disconnect that an inability to control himself left an indelible, negative imagine behind. On Nov. 15, 2009, after a regular-season win against the
Buffalo Bills
, he celebrated from his box by extended two middle fingers toward the visiting team. That was without purpose, cost him a $250,000 fine, and is the first thing that comes to mind for some when his name comes up.
Is that stuff bad enough to offset the strong part of his resume and his strong role in the early history of the AFL, and the AFL and NFL combining forces?
Four of five Hall of Fame voters who Wyatt talked to make a compelling case for Adams, despite it all.
I'm glad it's colleagues and not me deciding.
But I'll have no beef if they put a player in ahead of him, again.
June, 11, 2013
6/11/13
8:28
AM ET
I cannot do anything better with this than what Stephanie Stradley did
here
at her Houston Chronicle Texans blog:
[+] Enlarge

Jamie Squire/Getty ImagesCould an opera about Bum Phillips really make it to New York?

Last April, online fan support helped create the Bum Phillips Opera. Now we need to kick the door down with some more money to get it produced.

The world premiere of the opera is scheduled for March 2014 in New York City. The people putting it together are from Texas, and want to find a partner in Houston to get it here as well. (Let me know if you are someone who can make this happen).

But first things first.

To produce this show, they need to raise $20,000 by the end of the month. With this seed money, it makes them eligible for additional grants. They've raised $950 so far.

Here's the link to donate money to the Bum Phillips Opera. The way that the USA Projects website works is you don't pay unless it is funded by the deadline. All the proceeds go to the production with no fees taken out. And the donation is tax deductible. Very easy site to use.
Yes, Bum Phillips as the subject of an opera that could see the stage. How many Texans would make a trip to New York to see that? How many New Yorkers who remember the Love Ya Blue Houston Oilers would see it? How many fans of opera versus fans of football? How many people rank as fans of both?
If it doesn't get the financing it needs, these and other crucial questions -- like how a Wade Phillips character will sing, and about what -- could go unanswered.
September, 27, 2012
9/27/12
12:23
PM ET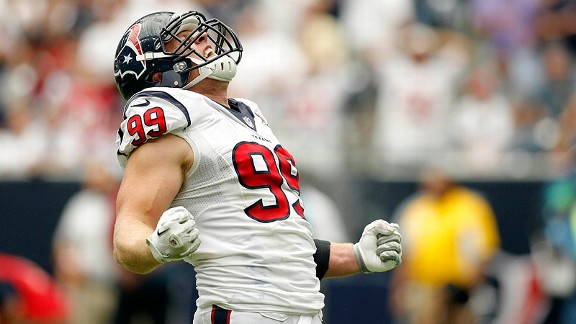 Brett Davis/US PresswireHouston's J.J. Watt leads the AFC with 5.5 sacks, and sees room for improvement.
J.J. Watt
isn't pretending he's not been productive.
But when the
Houston Texans
defensive end looks at film of his performance through three games -- three games that include an AFC-best 5.5 sacks, seven tackles for a loss, five passes defensed and a fumble recovery -- he sees what hasn't happened more than what has.
"I'm confident in my game and the best part about it. And the most exciting thing for me right now is watching the film, I still have so many things, so much more that I can do to get better," he said. "I can't wait to improve ...
"Obviously the sacks are nice, and the batted balls and the TFLs [tackles for loss], but I am still leaving a few plays on the field. That's what excites me, and those are the plays that I focus on."
Sunday, he'll bounce from one side to the other against the
Tennessee Titans
at Reliant Stadium, typically going to the formation's strong side and working with outside linebacker
Brooks Reed
behind him.
Tennessee has been poor in terms of run-blocking but has protected the passer well. However, the Titans have not faced anyone playing as well as Watt.
"He fits that system perfectly," Titans coach Mike Munchak said. "I was upset when they got him, because I knew we were going to face him twice a year. The guy makes plays. He fits that scheme perfectly, probably better than most do …
"We're going to have our hands full with him this week, and when we play them in the future. He reminds me of [San Francisco's
Justin Smith
]. He's one of the guys that stands out as being a stud in that system, which is a very similar system."
Such production from a 3-4 end is an attention-grabber, though Watt and defensive coordinator Wade Phillips say it shouldn't be.
Perhaps it's because we tend to think of a 3-4 end as a two-gapper, responsible primarily for taking up blockers and freeing linebackers to make plays.
Aaron Smith, the former
Pittsburgh Steelers
end, for example.
"Houston is not the normal 3-4," Matt Williamson of Scouts Inc. said. "They are an attacking defense, and they don't ask their DEs to two-gap like, say, Aaron Smith in his prime. Really, Houston is an attacking 5-2 more than a traditional 3-4. But ends in just about any 3-4 should be able to bump inside on throwing downs and pressure the QB."
What Smith did for the Steelers is not Watt's role, or the role of
Antonio Smith
, Houston's weakside end, in its base package.
"I'm trying to break the mold," Watt said. "A lot of people keep telling me that, that we're not allowed to make plays or we're not supposed to make plays. One of the things is that Coach Phillips puts me in great position to have success, he gives me great opportunities. And I think another thing is just having the belief, and not buying into this thing where you can't make plays.
"I mean, I don't know why people say that you can't make plays. If you bust your tail and you're rushing the passer, you're going to get a sack. If you're chasing down a runner from the back side and you beat your blocker, you're going to get a TFL. I don't see why you have to be a block-eater."
Watt doesn't like hearing that what Houston's running isn't really a 3-4. We sometimes paint it as a 5-2 or some wild twist on a conventional 3-4. But as the league evolves, maybe we are too quick to label something conventional. If defenses like Houston's and San Francisco's are so strong, maybe they redefine convention.
"I play the 5-technique [shaded outside the tackle] and the 3-technique [shaded outside a guard] just like all the other 3-4 ends," Watt said. "We're a 3-4, and I play the same position as those guys."
Phillips jumped in when I started to ask about uncommon production from a 3-4 end.
What about Oilers Hall of Fame Elvin Bethea, who Bum Phillips deployed in a similar fashion? What about Bruce Smith, who Wade Phillips
coached in Buffalo
?
"That's why we don't play a conventional 3-4," Phillips said. "In the Phillips' 3-4, my dad's 3-4, he said, 'Elvin Bethea isn't going to play two-gap, he can stunt, he can move, let's get him on the move where he can make plays, because he's a great player.' You do what your players can do, you can utilize that kind of personnel in our defense."
The Houston front is such a strong group that blocking schemes have difficult choices to make.
Inside linebacker
Brian Cushing
will rush a lot on third down. So offenses tend to move their center toward him. That helps Watt wind up with one-on-ones with a guard, since the tackle has to deal with another very good rusher in Reed.
"I don't know what they are going to do," Phillips said of the attention Watt can draw.
Watt gets moved around based on what Phillips calls and the matchups the Texans are looking to exploit. But the default is the strong side, which Watt estimates puts him against right tackles and guards 70 percent of the time.
In Watt, the Texans have a largely egoless guy. He's easygoing when he chats with a reporter, relentless when he's on the field. He's not too far removed from working as
a pizza delivery guy
, so he cherishes the job he's got and the chances that come with it.
"He's a perfect guy," Phillips said. "He's a perfect player for you, he works hard, he studies hard, he plays hard, he's first in everything he does, all the drills and all that stuff. He's what you want. Plus, he's a great athlete, too."
Early in training camp, I asked Watt about how he could get better at after a great rookie season that included a point-blank interception of
Andy Dalton
and a 29-yard touchdown return in a playoff win against Cincinnati. After the great three games so far, I asked how he had improved.
He said it's all been about calculated risks he's now willing to take.
"It's confidence, first of all," he said. "I have more of an array of moves. But I have the confidence in maybe taking a risk in order to make a play. They are extremely calculated. I'm not going to put the team in harm's way or give up a big play. I do them at just the right time where, hopefully, if everything goes according to plan, I have a very small chance of failure.
"Sometimes if I'm going to knife underneath a block or I am going to swim over a blocker, those are things where you can get caught with your arm over a blocker, he can hit you right in the chest and you're in some deep trouble there. But if you play it right and you do it at the right time and you set him up long enough, you can make it where your chance of failure is pretty small."
Watt is appreciative of the comparisons to Justin Smith, who he respects and regards as a great player.
"Watt is on a defensive MVP type of pace," Williamson said. "To me, Justin Smith was the clear No. 1 3-4 defensive end heading into this season, but Watt was great as a rookie and is even better in Year 2. He is pushing for that crown. The ends in Arizona have been fantastic as well in their more traditional 3-4."
Growing up in Pewaukee, Wis., Watt admired Howie Long and Reggie White. But the young Texan isn't real big on comparisons.
Please don't call him the next anybody.
"I think the mark of a truly great player is the guy who wants to have the most success, a guy who wants to do things that have never been done before," he said. "So that's my goal. I want to come out here and hopefully work my tail of for my career and do things that have never been done before."
January, 7, 2012
1/07/12
11:15
PM ET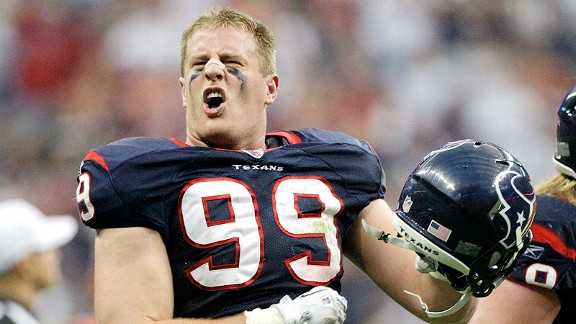 AP Photo/Tony Gutierrez"That's kind of what I do, that's my thing," J.J. Watt said of his game-turning first half interception.
HOUSTON -- The stadium rocked. A struggling team rebounded. Another rematch was set in motion.
A tie to the old era of Houston's NFL football beamed.
"It's just a great feeling to know that Houston's back," said Bum Phillips, coach of the Luv Ya Blue Oilers and father of Texans defensive coordinator Wade Phillips.
The Texans' best players played best Saturday at Reliant Stadium in
a 31-10 thrashing
of the Bengals that propelled Houston forward in the NFL playoffs to a Jan. 15 game in Baltimore. Houston lost 29-14 to the Ravens at M&T Bank Stadium on Oct. 16.
After clinching the AFC South with a Dec. 11 victory at Cincinnati, the Texans sputtered, dropping their final three regular-season games, although the finale meant nothing to their playoff standing.
"We kind of got back to what we were doing during that seven-week stretch [Oct. 23 through Dec. 11, when we were 7-0]," coach Gary Kubiak said. "We played great defense, we found a way to run the ball, we never really hurt ourselves as a team. That was the key."
The game had plenty of heroes, including efficient rookie quarterback
T.J. Yates
and cornerback
Johnathan Joseph
. Three of the team's other top players, though, produced first-rate efforts worth a deeper look.
Running back Arian Foster:
After Foster popped an 8-yard touchdown run in the first quarter to tie the score at 7-all, he changed sports as he celebrated.
A Lakers fan who apologizes to Houstonians for his NBA affection, he was talking with fans via Twitter during a recent Lakers-Rockets game. If the Rockets won, he pledged, he'd do a touchdown celebration paying homage to them.
The Lakers won and got him off the hook. But Foster decided to follow through with the idea anyway. He celebrated with Hakeem Olajuwon's "
Dream Shake
" -- a hard stop with a ball fake, followed by a reversal and fadeaway jumper he tossed over the crossbar.
Foster finished with 24 carries for 153 yards and two scores. He was only the third undrafted running back in league history to eclipse 100 yards in his first playoff game, joining
Ryan Grant
(2007) and Paul Lowe (1960).
The Texans' blocking was tremendous. According to ESPN Stats & Information, 102 of Foster's rushing yards came prior to initial contact. That's two-thirds of his total.
The second touchdown, a 42-yard ramble, was his most impressive run of the day. He got to the right sideline and looked to have no chance to stay in bounds. But he followed one good block, and surprised strong safety
Chris Crocker
with his balance and ability to navigate the sideline as he slowed down, then hit the jets.
"I guess he thought I was going out of bounds," Foster said.
Defensive end J.J. Watt:
Shortly after
Jake Delhomme
signed with the Texans on Nov. 30, the veteran quarterback was running the offense at a walk-through. Watt batted down several of his passes at the slow-paced practice and felt guilty for doing so.
"He was kind of mad at me," Watt said. "And I was like, 'That's kind of what I do, that's my thing.'"
He did his thing to Bengals quarterback
Andy Dalton
with 52 seconds left in the first half, but rather than knocking down the ball thrown from point-blank range, he caught it. And before many people on the field realized where it was, he was carrying it to a 29-yard touchdown that put Houston ahead 17-10.
Coaches and teammates said that while reporters and fans don't see it, Watt snares balls like that all the time at practice.
And while several pass-catchers wouldn't go so far as to say they'd struggle to make the same play, the guy with the best hands on the team wasn't too proud to say otherwise.
"It's almost impossible," fullback
James Casey
said. "You're so close to the ball, and obviously the guy is throwing it hard to have it on that trajectory. To be able to catch it like that is remarkable; that's why you never see it happen.
"Guys bat balls down but they don't actually catch it. I'd catch zero out of 10. Maybe out of 100, I'd catch one every now and then just getting lucky."
Watt followed up that giant play by tracking Dalton as he fled the pocket and sacking him on the final play of the first half.
It was Watt's first touchdown since high school. He didn't score one as a tight end at Central Michigan or as a defensive end at Wisconsin.
Denver's
Von Miller
or San Francisco's
Aldon Smith
will win defensive rookie of the year, but Watt didn't trail them by much in terms of overall initial impact. Miller will have a chance to match Watt's postseason pace in a game Sunday.
[+] Enlarge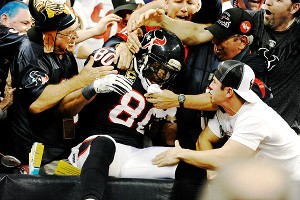 AP Photo/Dave EinselReceiver Andre Johnson's post-score jump into the stands sent Reliant Stadium wild.
Receiver Andre Johnson:
He missed nine games this season with two different hamstring injuries. The Texans gave him a chance to knock some rust off last week. But he and Yates were out of sync for a good portion of this game.
The always-calm Johnson has been waiting for a playoff game since 2003, when he was the Texans' top pick in the franchise's second season. He admitted to being antsy and overly anxious to make a play. After one failed pass attempt, he returned to the bench and slammed his helmet to the turf.
Late in the third quarter, though, he and Yates made a connection that sealed the game. Lined up on the left, Johnson put a double move on
Adam Jones
, who bit, slipped and moved laterally instead of back as he recovered.
Johnson was wide open, and Yates delivered a ball that hit him in stride for a 40-yard touchdown that gave the Texans a 24-10 lead.
In the end zone, he stopped and looked to be enjoying a contemplative moment to take it all in and consider all that had come in his career before the big moment.
But that wasn't it at all.
"I've jumped in the stands a few times here, and I've been grabbed by the face mask and everything," he said. "So I was kind of thinking about jumping, that's what the pause was for."
He jumped.
The play had about put Reliant Stadium into orbit, but Johnson made it safely back to earth.
May, 20, 2011
5/20/11
1:02
PM ET
Examining the most crucial event in the history of every team in the division.
Peyton Manning
melded a team and a town, resurrected the once-proud horseshoe and will finish up as a contender for the greatest of all time on the quarterback list.
There is no minimizing his impact.
Said DaveatIU: "Without drafting Peyton Manning... they would be the Los Angeles Colts right now. 'Nuff said."
The Blog Network offered four choices per team, plus the option to vote "other." And out of 160 total options, the drafting of Manning got a higher percentage of votes on his team's ballot than anyone or anything else.
As of Thursday afternoon, Manning had a whopping 87 percent of the Colts' vote. He didn't win by a little. He outpointed the next three biggest Flash Points in your eyes by 18 percent: Joe Namath's guarantee for the Jets, the Broncos trade for
John Elway
and the Packers' hiring of Vince Lombardi were all at 69 percent.
In general, AFC South voters went modern. With the Jaguars and Texans, there is no other choice. With the Colts and Titans, you chose not to hearken back to Baltimore and Houston, respectively.
I understand many of you don't regard Baltimore/Indianapolis and Houston/Nashville as single histories. But we don't get to decide. The Irsay and Adams families did.
As edutil21 wrote: "The question is asking about the colts FRANCHISE, not the cities of Indianapolis or Baltimore, and with that in mind it is perfectly plausible to include anything that occurred during the Franchise's time in Baltimore."
And so, as big a moment as drafting Manning was in setting his franchise's course, I think my vote has to go to The Greatest Game Ever Played, the 23-17 overtime win over the Giants in the NFL Championship Game at Yankee Stadium in 1958.
Without that game, are we certain the league turns into an entity where Manning has the chance to make the impact he has?
j_sleik83 was disgusted with the balloting: "And the idiots voting reign supreme. It's the 58 title game. In NFL history it's number 1, much less Colts history. And btw, Johnny Unitas is still the greatest QB in Colts history."
Added CPCaesar: "Do Colts fans have zero sense of history?! I can understand a strong showing for Peyton, but to have him blowing out the game that made the NFL into a televised sport is ridiculous! This team has a legacy that includes Don Shula and Johnny Unitas, but it seems as if their impact on the game is lost on a modern fan base…"
There was also a pretty good other mentioned by a few, including krankor: "The actual Colts Flash Point didn't even involve the team. It was in 1955 when the
Pittsburgh Steelers
brilliantly decided that it would be a shrewd move to cut Johnny Unitas."

TITANS: Epic playoff collapse set stage for relocation
With the Titans, modern also ruled. I understand why 52 percent of voters clicked the button for The Music City Miracle.
For Nashville sports fans to get a play like that in the team's first year as the Titans, in the city's first playoff game, was absolutely remarkable. It put the team's claws into everyone with any sort of interest that day for the long haul. Quite frankly, it spoiled them, too.
With apologies to greenlawler and the majority of voters, I've got to go a different direction again.
The Oilers/Titans are, historically, average at best. Since the AFL-NFL merger, the team has had 18 winning seasons, 17 losing seasons and six .500 seasons. It's 14-19 all-time in the playoffs even counting the AFL days when it won a couple of titles. Since the Music City Miracle season, the team is 2-5 in the playoffs. What was transformed?
Put the MCM aside, and the biggest historical moments for the franchise are generally not wins: A yard short of overtime in its one Super Bowl appearance; back-to-back AFC Championship Game losses in Pittsburgh to end the 1978 and 1979 seasons; and the firing of Bum Phillips after an 11-5 year in 1980.
And the mother of bad playoff moments, that epic playoff collapse in Buffalo on Jan. 3, 1993, when the Oilers blew a 35-3 lead to lose 41-38 in overtime.
That's the Flash Point to me.
What if that team or the 12-4 team a year later (that was scarred by that disaster), went to a Super Bowl? What if it won a Super Bowl?
Surely Bud Adams would have maintained a better standing in the city, which would have been more willing to build a new stadium. Take away that loss, and there still could be a team in Houston wearing powder blue and an oil derrick. (And a guy like me, who got his big break in sports writing because Nashville got an NFL franchise, might be an admissions director at some private high school.)
So I align with mag5011ad: "If they don't blow that 32 point lead, I think they represent the AFC in the Super Bowl, not the Bills. With that excitement in the city, they get the support to build a new stadium, which keeps the team in Houston. Most defining moment. . ."
JAGUARS: Quick Final Four appearance boosted city
A trip to the AFC Championship Game in the Jaguars' second season of play had quite an impact on the market in 1996. It got 52 percent of your votes as the Jaguars' Flash Point, and I am in agreement.
But your comments were mostly about the 1999 season, when the Jaguars hosted the AFC Championship Game. They lost to the Titans for the third time that year, in a season which they lost to no one else.
Said markpark64: "I would say the 1999 AFC Championship Game. It was the last home playoff game and ended a run of four straight playoff appearances. The Jags' history can really be divided into pre-1999 (2 AFC Championship Game appearances in 4 years) and post-1999 (only 3 playoff games and 1 playoff win in over 10 years). The team has not been the same since the 1999 loss."
You also wanted to spin forward, which isn't the game we're playing but was understandable.
Said SeattleJaguar: "It may be too soon to say, but I think the promotion of Gene Smith to GM will be looked at as the most significant turning point for this franchise. The fan base is starting to become more mature and a unique football culture is beginning to establish itself. We are seeing a young, die-hard, fan base emerge from the 'Jaguars babies' of the 90s. If you go to any games, its remarkable how young the fans are and they will stay loyal to the Jags, unlike the old farts that abandoned the team after the 90s. Go Jags!"

TEXANS: Controversial draft choice proved correct
Texans fans voted, narrowly, for the drafting of
Mario Williams
in 2006 over the awarding of the franchise in 1999.
The Texans got crushed for the selection, but history shows they knew exactly what they were doing. He's a superior player to
Reggie Bush
or
Vince Young
.
The decision to draft Williams did not transform the team, but there is nothing that's boosted a nine-season-old team in such a dramatic fashion.
Said vonstev1668 "Though I voted for the win against the Cowboys [in the franchise's first game], the truth is the Texans haven't had their defining moment yet."
Said EMajorwitz: "Trick question, hasn't happened yet. [Dom] Capers and [Charley] Casserly essentially ruined this team with their horrible drafting and free-agent signings. Other than
Andre Johnson
, I don't like a single first-round pick. Nearly a decade into the franchise's history and we still haven't made the playoffs while recent expansion teams like Carolina and Jacksonville have been deep into the playoffs."
May, 11, 2011
5/11/11
1:04
PM ET
What key event significantly changed the fortunes of the Titans -- for better or worse? Give us your take and we'll give you our definitive moment on May 20.
Do you lean happy or sad, positive or negative?
The Houston Oilers/
Tennessee Titans
have extreme moments on both sides of the ledger. So as we look to select only one as decisive, do we turn to the good or the bad?
The Luv Ya Blue Oilers were a wonder, and in 1978 and 1979 they may well have been the second-best team in the NFL. Unfortunately for them, they resided in the same division as the best team, the
Pittsburgh Steelers
. When they fell short of a third consecutive trip to the AFC Championship Game in 1980, owner Bud Adams regrettably fired coach Bum Phillips.
But if you're looking for a tough turning point -- one that might now even outscore the other Houston option -- there's the famous playoff collapse in Buffalo in January 1993, when the Oilers blew a 35-3 lead. Rare is a significant collapse in an NFL game, or a playoff game in any sport, where the Bills' comeback on the Oilers isn't referenced.
Perhaps for Houston, even that was topped by the Oilers' departure, but of course in Nashville that qualified as a happy occasion.
And while the appearance in Super Bowl XXXIV was the franchise's football high point, it became possible thanks largely to the Music City Miracle, an improbable, last-second trick kickoff return that beat Buffalo in the 1999 playoffs.
You're invited to do better than I've done here.
If you vote Other, give us your suggestion in the comments area below.
December, 30, 2010
12/30/10
9:45
AM ET
Reading the coverage ...
Houston Texans
Bum Phillips and Dan Pastorini visited the Texans and
voiced support
for Gary Kubiak, says Dale Robertson. Is this what it's come to?
Daryl Sharpton is
on IR
, says John McClain.
Richard Justice
shreds the idea
of sticking with the status quo.
Wade Phillips could be the
new defensive coordinator
for Gary Kubiak if he survives, says Jason LaCanfora.
Indianapolis Colts
The
revived running game
makes Peyton Manning more dangerous, says Mike Chappell.
Jeff Fisher thinks Antoine Bethea is
Pro Bowl-worthy
, says Phil Richards. Side note: We know that Michael Griffin is the first alternate safety.
Bill Polian belittles any attempt where people outside the game try to understand
how the NFL works
, says Aaron Schatz. That post was set off by comments Nate Dunlevy broke down
here
.
Jacksonville Jaguars
David Garrard is having
finger surgery
and Trent Edwards is starting in Houston on Sunday, writes Tania Ganguli.
A casino
is defying the NFL's demand that it remove a Garrard photo from an ad, says David Bauerlein.
Fisher is
a Jaguars friend
, not a foe, this week, says Vito Stellino.
Surgery is
a possibility
for Maurice Jones-Drew after the season's over, says Ganguli.
Tennessee Titans
Chris Johnson believes his value
remains high
, writes Jim Wyatt.
Griffin
supports Fisher
, say Wyatt and John Glennon.
Why is Fisher so
well-regarded
, wonders Mike Freeman.
September, 23, 2010
9/23/10
10:29
AM ET
Reading the coverage…
Houston Texans
Bum Phillips
is torn
between the Cowboys and Texans, says Dale Robertson.
Neil Rackers' shoe
ripped apart
just before his game-winning field goal in Washington, says Richard Justice.
His
sprained ankle
won't keep Andre Johnson out for the Dallas game, says John McClain.
Mario Williams is off to
a blistering start
, says Jeffrey Martin.
Gary Kubiak talks about Duane Brown's
suspension
.
Houston is
for real
, says Alex Marvez.
Rick Gosselin
scouts the Cowboys
heading into the Texans game.
Indianapolis Colts
Make opponents pass and Dwight Freeney and Robert Mathis
feast
, says Mike Chappell.
The Colts got the Giants into
third-and-long
, says Phil Richards.
Jim Caldwell reflected on Kenny McKinley's
death
as the Colts ready for the Broncos, says Richards.
John Oehser's weekly
seven-pack
of Colts' thoughts.
A nice breakdown of a
key drive
in the Giants-Colts drive from 18to88.
Examining the role of the Colts'
defensive tackles
with Brett Mock.
Jacksonville Jaguars
Michael Vick knows he still has a bull's-eye
on his back
, says Tania Ganguli.
Todd Bouman is
happy
to be back, says Vito Stellino.
Luke McCown talks about
his ACL tear
, says Ganguli.
Scotty McGee is
out for the season
.
Help is
not on the way
for the secondary, says Vic Ketchman.
Tennessee Titans
What's going on
in Vince Young's head, asks Jim Wyatt.
Keith Bulluck called out the Titans for
not calling
, says John Glennon.
Jared Cook
was close
with McKinley, says Wyatt.
James Harrison was
fined $5,000
for his body slam of Young, says Wyatt.
Chris Johnson says he
didn't give up
, writes Wyatt.