August, 8, 2014
Aug 8
12:16
PM ET
His family surrounded him when
Houston Texans
owner Bob McNair arrived for his news conference Thursday to discuss the good news about his health. His wife Janice, herself a breast cancer survivor, his son Cal, the Texans' chief operating officer, and his daughter-in-law Hannah, whose immediate family has also been touched by the disease.
When Dr. Michael Keating spoke on the podium about the promise of eradicating cancer, Janice smiled widely, and shook her fists triumphantly above her lap.
[+] Enlarge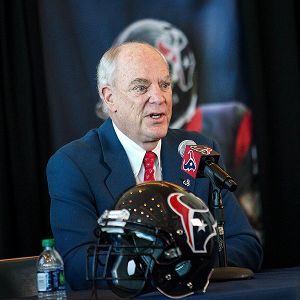 Troy Taormina/USA TODAY SportsBob McNair battled an aggressive form of skin cancer earlier this year.
Afterward, Cal took some time to share his experience through his father's illness with a few reporters. Bob McNair battled an aggressive form of skin cancer for the first part of this year, one fed by a chronic condition called chronic lymphocytic leukemia.
This week, he was given a clean bill of health
.
What was it like to find out your father had cancer?
Cal McNair:
Cancer is a bad word. It's a frightening word. And to have that related to your dad, it's frightening. He got through it . He's such an optimistic person, you saw him today, and he was able to make it. ... Thank goodness really he was here in Houston where the best care is. He was able to conquer cancer, it was just fantastic.
How did your family handle this?
McNair:
I guess it was just one day at a time. You handle life one day at a time. We all have a lot of faith and at the same time, life goes on. You show up to work. We were in the middle of a draft prep. ... Talking to dad for hours, after our meetings, bringing him up to date, keeping him involved. Then I was also lucky enough to take him to a couple of treatments, which was really nice to be a part of. Really my mom went to all of the treatments except a couple. She really deserves a gold star for doing that because I think it was six weeks of treatments that he had and she got up early, stayed all, some of them were all day. She did that for the duration.
How did his optimistic outlook help your family?
McNair:
He's the leader of our family. He's our leader, he's our captain. He just showed that optimism that you saw today. That's how it is. He's an optimistic guy. ... When you first find out, I think, has got to be a shock. You think, 'Oh my God, I have cancer.' He was like, 'Oh my gosh, I've got cancer, let's treat it.' He's very optimistic. Let's be very pro active and go get em.
Was it difficult to tell your kids?
McNair:
Dad wanted to keep it real private so we did that. My older girls are in Fort Worth, so they were kind of isolated from it a little bit. We still talked about it but always in very optimistic terms, because that was the prognosis. My boys are all three and under, so they were fine. We would take them up to see dad and it really cheered him up to see the boys. So we did that and the boys just, they loved being with him no matter what he's going through.
[+] Enlarge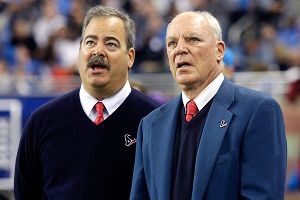 AP Photo/Duane BurlesonCal McNair (left) says his father doesn't plan to slow down.
Was football a welcome distraction?
McNair:
I guess football's been part of our life for 10 or 12 years. It's that because he loves it. I'm sure it was. I hope it was. I called him and spent, like I said, an hour every day. I hope it wasn't a burden, I hope it was uplifting. That was my hope. He was always asking questions, always involved. Wanting to know more. Always challenging me like he does. I could tell he was still very interested and very in tune with all of it.
Has it been hard for him to scale back?
McNair:
I think one of the great things about him is he loves to work. He loves to work. He loves to work on football. I just think he's gonna be doing that for a long, long time. Which is fantastic. His dad lived to 102. Dad will be 105 and probably still working. He just loves it. I encourage him. I want him to do what he wants to do. I try to get him to play more golf. Even then, we're still talking every day. He's up to date. He's involved. Any of the big things that are coming up, he's totally involved.
He said you've taken a bigger role. What new responsibilities do you have?
McNair:
Yeah, I don't know. I know he said that so I guess I would have to let him tell you. Sort of business as usual for me. Sort of in his shadows, not in the hallway quite as much. But his presence is definitely there. And will be for the next 30 years.
September, 9, 2012
9/09/12
9:03
AM ET
Reading the coverage ...
Jake Locker, Eugene Monroe and Dwight Freeney are involved in
matchups to watch
today, according to Pete Prisco of CBSSports.com.

Houston Texans
Trindon Holliday's speed got him noticed, but his toughness and lack of fear turned him into
a football player
, writes Tania Ganguli of the Houston Chronicle. She visited Holliday's family in Baton Rouge, La.
Cal McNair has always wanted to work with his dad, the Texans owner. Now Cal is the team's chief operating officer and
lining up
to eventually own the team, though he's in no hurry, writes Ganguli.
Houston's native son, Gary Kubiak, has
reason to smile
entering a season of hope, says Jerome Solomon of the Chronicle.
Ninety-nine
things you need to know
about the Texans, from Dale Robertson of the Chron.

Indianapolis Colts
Time as a child in Europe
helped shape
Andrew Luck, says Phil Richards of the Indianapolis Star. "I wish I could compare it to a life where I've never spent any time overseas," Luck said. "But I think I do appreciate different cultures a little more. It opened my eyes to different cultures, different ways of going about things that are OK, that aren't taboo."
For Reggie Wayne, the Bears game will be a
146th consecutive start
, says Mike Chappell.
The Star spoke with owner Jim Irsay on the eve of the season. "
I could not be happier
in all aspects and the way things have moved forward. We had major salary-cap problems and we worked to fill some of the holes we had through poor drafting in the last three or four years and injuries and those sort of things. That's gone very well."

Jacksonville Jaguars
"The NFL is
League Turnaround
and the Jaguars want to join the list. They think it's possible," writes Ryan O'Halloran of the Florida Times-Union.
"[T]he good thing about the Jaguars finally opening their 2012 season at Minnesota is we get a hint if the promise of a different era under new coach Mike Mularkey actually
has merit
," writes Gene Frenette of the Times-Union. "One game doesn't provide a definitive answer, but it provides a better clue than anything we've tried to glean from a preseason of mixed-bag results and Maurice Jones-Drew's lengthy holdout."
Statistical projections
on Jaguars-Vikings from O'Halloran.

Tennessee Titans
Matchups
, predictions, a heat index and five questions with Akeem Ayers from Jim Wyatt and the Tennessean NFL writers.
Three keys
to a Titans win, from John Glennon of The Tennessean.
The Patriots need left guard Logan Mankins
more than ever
.
NFL Network's
playbook feature
on Patriots-Titans, from the team's website.
April, 19, 2012
4/19/12
8:59
AM ET
Reading the coverage…

Houston Texans
John McClain of the Houston Chronicle sees the Texans going
11-5
this season, but you've got to scroll through a slideshow to see.
Bob McNair
promoted two
in the front office, including one of his sons, Cal McNair, says McClain.
A look at the
defensive linemen
in the draft from Sam Khan of the Chronicle.

Indianapolis Colts
"Come next Thursday night, the Colts will have their centerpiece in place. But what happens the following few days, in rounds two through seven, will go a long way toward establishing
how quickly
the rebuilding process will proceed," says Bob Kravitz of the Indianapolis Star.
Many players feel like they are
starting over
with the new coaching staff, says Mike Chappell of the Star. Fili Moala is now a 3-4 end.

Jacksonville Jaguars
D'Anthony Smith is healthy and
hopes to contribute
as the two defensive tackles ahead of him recover from injury, says Tania Ganguli of the Florida Times-Union. It's time for him to show something, but we have no idea what he can do yet.
Aaron Ross will get a few days off from training camp to
watch his wife
compete in the London Olympics, says Vito Stellino of the T-U. That doesn't seem unreasonable to me.
Lee Evans'
one-year contract
includes a $1.05 million base salary, reports Ganguli. But if he doesn't make the team out of camp, they can avoid that and a roster bonus of nearly $200,000 and get off the hook having paid just his $250,000 guarantee.
Receiver Taylor Price will
miss the rest of the offseason
with a stress fracture in his left foot, says Ganguli.

Tennessee Titans
As expected, Chris Johnson
intends to participate
in the offseason program which kicks off Monday. He'll be there Tuesday, says Jim Wyatt of The Tennessean. If Johnson makes 30 of 36 workouts, he won't sacrifice $250,000.
The McCourty brothers, Jason and Devin, are ready for
their Week 1 matchup
in the Patriots-Titans game, says Wyatt.
The Titans have raked in
SEC players
over the years, says Wyatt.
January, 13, 2009
1/13/09
2:32
PM ET
Posted by ESPN.com's Paul Kuharsky
In NFL coaching ranks and front offices, people in the family business can often end up working with, or for, dad.
In light of Houston Chronicle reporter John McClain's report that the Texans are looking at David Gibbs, son of assistant head coach Alex Gibbs, for defensive backs coach, I thought it would be interesting to look at family connections in the AFC South.
Here's what I came up with. I am sure you'll let me know if I missed anybody.
Houston Texans
Vice chairman Cal McNair is owner Bob McNair's son and vice president of security Ryan Reichert is McNair's son-in-law.
Indianapolis Colts
Vice president Casey Coyle Irsay is owner Jim Irsay's daughter.
Vice president of football operations Chris Polian is son of president Bill Polian.
Defensive assistant Bill Teerlinck is the son of defensive line coach John Teerlinck.
Jacksonville Jaguars
Regional scout Chris Prescott is the son of senior vice president/CFO Bill Prescott.
Tennessee Titans
Kenneth Adams, the administrative assistant to the senior executive president and general counsel, is the grandson of owner Bud Adams.
AFC SOUTH SCOREBOARD
Thursday, 12/18
Sunday, 12/21