November, 3, 2013
11/03/13
9:58
PM ET
EAST RUTHERFORD, N.J. – The NFL lives by the principle, "On any given Sunday." Not the
New York Jets
. For them, it's, "Every other Sunday."
Every other Sunday, the Jets are an elite football team. They're 5-0 in odd weeks, having defeated a couple of the best teams in the league. They did it Sunday, beating up the
New Orleans Saints
, 26-20, at MetLife Stadium.
Everybody knows how the Jets play in even-numbered weeks -- they stink -- but it's time to recognize the reality of the situation: They're a legitimate playoff contender.
The standings say so. The calendar says so. And their schedule says so. At 5-4, the Jets have a ... good ... chance .. to .. make ... the ... playoffs.
You have to say it slowly to believe it, but there's no denying it anymore. The Jets are starting to think it, too.
"Most definitely," rookie defensive tackle
Sheldon Richardson
said. "If we stay consistent like this, we'll be a tough team to deal with. We have spurts where we show we're a playoff team."
A few lockers away from Richardson stood linebacker
Calvin Pace
, the oldest player on the team not named
David Garrard
. Pace, 32, isn't one for hyperbole, so his words carry more weight than Richardson's. Pace, too, believes this team has a realistic chance to do what no one thought possible in the preseason, when the Jets were 32nd in the Week 1 ESPN.com Power Rankings.
"We're a little inconsistent, but obviously we can beat anybody," Pace said. "We just have to put today's effort into the rest of the season and carry us into playing in the postseason. If we bring our A-game, we're hard to beat."
The brought their A-game only seven days after an F performance in Cincinnati. The revived defense, shredded by
Andy Dalton
the previous week, limited the high-powered Saints to only two field goals in the second half.
Drew Brees
got his yards (382) and threw a couple of touchdowns, but he was rattled at times, throwing two interceptions and taking two sacks and several hits.
[+] Enlarge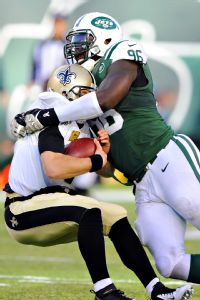 Robert Deutsch/USA TODAY SportsThe Jets' Muhammad Wilkerson is looking to build off of his 10 1/2-sack season in 2013.
The Jets played superb defense and amassed 198 yards on the ground, led by
Chris Ivory
's season-high 139. It's the formula that worked in 2009, and it can work again for the Jets, who turned
Geno Smith
into a Sanchez-ian game manager. Smith completed only eight passes, eight stinking passes. It was
Mark Sanchez
, circa 2009.
The defense is capable of carrying the team over the final seven games -- because it's good, and because the Jets don't face any top-15 offenses the rest of the way. They're done with the Drew Brees/Tom Brady portion of the schedule, meaning they should be able to camouflage the holes in their secondary.
"We think we're an elite team. That's how we're thinking," Richardson said. "We just have to stay consistent on both sides of the ball."
That has eluded them, as they've yet to compile a winning streak. They're on the Geno-coaster -- up and down, up and down. If the Jets ever win two straight, they'll be calling themselves a dynasty. But you know what? In the watered-down AFC, where five teams appear playoff locks, the Jets are ahead of the pack for the sixth slot, the second wild-card berth.
Almost every team deals with inconsistency. If the Jets can manage theirs better than the other teams, they can slide into the playoffs. Any team that can beat the
New England Patriots
and the Saints in back-to-back home games can't be dismissed.
"Yeah, but that's up to us," Pace said of the playoff possibility. "If we go out and play 60-minute ballgames, yeah, we can go to the playoffs. If we come out like the Bad Jets, obviously we won't make it."
There's something about this team you have to admire: It's resilient. On Sunday, the Jets' four top receivers were players who arrived after opening day --
Greg Salas
,
Zach Sudfeld
,
Josh Cribbs
and
David Nelson
. How many fantasy teams do you think
they're
on?
"We know we're not going to be the
Kansas City Chiefs
to the public, meaning we might not have a lot of well-known guys," tackle
Austin Howard
said. "But we have guys who can make plays. We have depth."
On Sunday, they turned to Ivory, whom Rex Ryan aptly described as a "punch-you-in-the-face type of back." The Saints (6-2) left with a few black eyes. Because he's relatively fresh, only 92 carries, Ivory will be a big factor down the stretch. His downhill running style will prove beneficial as the weather gets colder. He could be the '09 version of
Shonn Greene
, a late-season spark.
Ryan didn't want to be drawn into any playoff talk, noting, "Clearly, we have to fix a lot of things. But, hey, I know one thing: We've got a group that's willing."
And a group that's maddening. A week ago, the team's erratic personality wanted to make Ryan scream. On Sunday, he joked about it as he enters the Week 10 bye. Referring to the win-one, lose-one track record, Ryan cracked, "We're going to lose to the bye week, there's no question in my mind."
November, 19, 2008
11/19/08
1:25
PM ET
Posted by ESPN.com's Paul Kuharsky
The Titans did it gradually. The Jets had a big swoop.
But the two teams that square off Sunday in Nashville share a quality that has helped set them apart from a lot of teams in the NFL: They have hit on veteran free agents who have been productive and helped shape their team's culture.
The Jets are getting good production out of guard Alan Faneca as well as linebacker Calvin Pace. Right tackle Damien Woody has been OK. (Trades for Brett Favre and Kris Jenkins have obviously been big too, but we're sticking to free agents here.) The Titans are better on the offensive line with Jake Scott at right guard, and made solid additions in the last few years with cornerback Nick Harper and linebacker David Thornton.
Other hits so far from the 2008 free agent class include running back Michael Turner in Atlanta, defensive end Travis LaBoy in Arizona, defensive end Justin Smith in San Francisco, linebacker Kawika Mitchell in Buffalo and center Jeff Faine in Tampa Bay.
But plenty of other teams have swung and missed with significant deals for players they hoped would be cures -- Jacksonville with receiver Jerry Porter and cornerback Drayton Florence, Cleveland with Donte' Stallworth, Miami with defensive tackle Randy Starks and receiver Ernest Wilford and Oakland with receiver Javon Walker.
When a team brings in a guy with a big contract and high hopes and he fails to pan out early on, it hurts a team in multiple ways. A club misses the production, obviously, but can also be deflated by having failed in an attempt to get an immediate upgrade. It's a whiffed tackle or dropped pass that can haunt a team.
Both the Titans and the Jets have put a premium on personalities as they've brought guys in.
"When you bring in free agents it's also a function of how well they fit into the group that's already there," Jets coach Eric Mangini said. "How quickly they can stop being free agents and start being Jets? One of the things that has always been important to us is core characteristics with the people that we bring in and that's smart, tough, hard-working guys, guys that are competitive and selfless, and guys that football is important to."
"That's the draft, that's free agency and those are characteristics that we target before we even talk about their ability to play football."
That could have just as easily been Jeff Fisher talking about what the Titans have managed to do as they've shopped for veteran help.
Do it well as these two teams have and you might end up in one of the best games of Week 12, pitting a 10-0 team against a 7-3 division leader.
AFC SOUTH SCOREBOARD
Thursday, 12/18
Sunday, 12/21