AFC South:

Camp Confidential
August, 6, 2014
8/06/14
11:00
AM ET
NASHVILLE, Tenn. -- Every team in every training camp talks optimistically. Every team with a new coaching staff talks about how things are different for the better.
The
Tennessee Titans
are lowly regarded by plenty of fans and media nationally. But they have a lot going on that they feel those people have not paid attention to.
With Ken Whisenhunt and his staff at the helm, new schemes on both sides of the ball, a schedule that doesn't include some of the powers they faced a year ago and a division with two other rebuilding franchises, they might have a chance to surprise.
.
"You say each and every year, 'Feels different, feels different, feels different,'" safety
Michael Griffin
said. "Just, you can see every day, people out there talking, we always have guys picking people up. Each and every day there is competition. There are little side bets here and there -- who's going to win this period and things of that nature. The whole time we're all trying to get each other better.
"Again, it just feels so much different in this locker room, and everybody has the same goals in mind, and that's a positive around here."
THREE REASONS FOR OPTIMISM
[+] Enlarge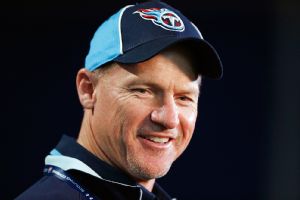 Brian Spurlock/USA TODAY SportsNew coach Ken Whisenhunt brings a solid résumé and a strong coaching staff to the Titans.
1.
Whisenhunt isn't Vince Lombardi or Don Shula, but the Titans' new coach is a significant upgrade from Mike Munchak, who was unsteady in his first three years as an NFL head coach. Whisenhunt had success in the role during his six seasons in Arizona, and he is a well-regarded offensive mind who will do more with what the Titans have than his predecessors.
Whisenhunt had the connections and the interviewing skills to hire a staff that appears to be filled with strong teachers, including a few quality holdovers. Defensive coordinator Ray Horton is turning the Titans into a less predictable 3-4 and comfortably works his way into different sections of practice when position work is unfolding. I've watched these coaches teach and I've seen them connect with players.
Whisenhunt may field a complex offense that's hard to defend, but he's good at keeping things simple. I don't see any changes in how the Titans function that aren't for the better at this point.
2.
The Titans don't have players the fans are going to pick to captain their fantasy squads, but Tennessee should have a good array of quality weapons on offense.
Kendall Wright
topped 1,000 yards in his second season, and now the team's best receiver will be sent on a wider variety of routes, not just inside slot stuff. He's been excellent so far in camp.
Justin Hunter
is doing better getting his legs under him and is catching the ball more comfortably. He got behind Atlanta's defense a few times in the recent joint practice and should be a constant deep threat.
Nate Washington
is showing he remains a versatile, productive guy.
Beyond the receivers, tight end
Delanie Walker
and running backs
Dexter McCluster
and
Bishop Sankey
will be good pass-catching options. When the Falcons gave the Titans a lot of room underneath,
Jake Locker
hit McCluster with a pass over the middle, and he had a ton of space to take. The Titans have invested a great deal in their offensive line over the past two seasons. They have one more tackle than they need after signing
Michael Oher
and drafting
Taylor Lewan
. There should be better protection for the quarterback and better holes for the running backs.
3.
The 4-3 defense in recent years lacked a star pass-rusher on the edge who an offense had to fear every snap. The Titans still don't seem to have that guy. They have to find him, but even if he doesn't emerge from this group, the overall production out of the pass rush should be better. Who is rushing and who is dropping into coverage? In the 4-3, opponents pretty much knew. In this 3-4, it won't be nearly as clear on a regular basis.
Jurrell Casey
, who notched 10.5 sacks as a tackle last season, will work as an end now. He's worked on speed rushes off the edge as well as his bread-and-butter quick power stuff in camp.
Sure, some good quarterbacks can diagnose who is rushing and who isn't, no matter the front. But outside of
Ben Roethlisberger
and
Andrew Luck
(twice), the Titans don't face any A-list quarterbacks coming off big 2013 seasons this time around. They don't see Seattle and San Francisco this season either.
THREE REASONS FOR PESSIMISM
1.
Locker is a really likable guy who works hard, says the right things and desperately wants to prove he is the long-term answer for the Titans at quarterback. But in two seasons as the starter, he's missed 14 games while dealing with shoulder, hip, knee and foot injuries. He's practiced pretty well, but there are plays splashed in that can be killers on a Sunday afternoon.
Getting 16 games out of him is hardly a certainty for the Titans. Even if they do and he fits well with what Whisenhunt is asking him to do, he has not been accurate or poised enough when he has played. He sometimes tries to do too much and isn't poised under pressure. Though he moves well and is very fast, putting him on the move puts him at more risk of another injury. Behind him are more question marks.
Charlie Whitehurst
has had no real success in just 13 games in eight seasons and often fails to step into his throws. Rookie
Zach Mettenberger
has a great arm but slipped to the sixth round for several reasons and is rotating with
Tyler Wilson
as the third-team QB. (Update: Wilson was released Wednesday.)
2.
The offensive weaponry looks good, but for those five pass-catchers to give the Titans the nice smorgasbord of options, they need to stay healthy. Also, guys like Hunter (second year), Sankey (a rookie) and McCluster (first year with the Titans and Whisenhunt) need to show that their potential and practice play translate into NFL Sundays in a Tennessee uniform. Wright was the best player on offense last season and should grow more. Can the others become known quantities?
Who is the star of the defense? DT-turned-DE Casey is a strong, quick rusher who was healthy and productive in 2013. He is going to land a big-money contract -- either soon from Tennessee or on the market next spring. There are some nice pieces around him, but the Titans need veterans to have their best seasons and youngsters to emerge, all simultaneously. In Georgia, no defender stood out and regularly gave the Falcons more than they could handle.
3.
Forty-seven percent of the current 90-man roster has been in the league for two years or less. Youth is generally good, but it needs to be quality youth and it needs to be surrounded by quality veterans. The Titans lack experience in a lot of spots. There aren't kids in camp who weren't high picks but have forced their way up the depth chart to this point.
Maybe it's a great mix of players and a good share of the inexperienced people can blossom together. But with new coaches and new schemes, it could be asking a lot for all that to happen in the first season.
OBSERVATION DECK
[+] Enlarge

Don McPeak/USA TODAY SportsJake Locker needs a healthy season if he hopes to become the long-term answer at QB for the Titans.

Locker said he feels more comfortable speaking up and being vocal, and he has shown himself to be more confident in how he carries himself. After one throw that looked to be too long for an undrafted rookie, Locker pointed to tell Julian Horton where he should have gone. He still has bad moments in practice, but the preseason has not started, and he is progressing.

The Titans have moved running back Jackie Battle to fullback, where he can offer some needed versatility. He appears to have a sizable lead on incumbent Collin Mooney, who has had, at most, a handful of first-team snaps.

Among long-shot late additions, veteran receiver Derek Hagan has been consistently good and Brian Robiskie is also gaining notice. He's competing for the fourth and fifth wide receiver spots with Marc Mariani and Michael Preston. Maybe they'll keep six.

Sankey is learning quickly how to be a pro, and he has shown a bit of everything the Titans said they expected when they made him the first running back selected in the draft. His first day in pads he looked like an experienced NFL-caliber pass protector. He has good vision and makes good decisions on when to go and when to cut. He also catches the ball well, can run inside and outside.

Weakside outside linebacker Shaun Phillips has not worked at all with the first team when Kamerion Wimbley has been practicing.

Tommie Campbell was politely mentioned with Coty Sensabaugh and Blidi Wreh-Wilson as a contender for the starting right cornerback spot that opened when Alterraun Verner signed with Tampa Bay. But it's a two-man competition, and Campbell has struggled horribly.
August, 10, 2013
8/10/13
1:00
PM ET
NASHVILLE, Tenn. -- Look at the
Tennessee Titans
from any angle and the focus winds up on the same spot: starting quarterback
Jake Locker
.

The Titans did a lot of overhauling after a miserable 6-10 season. All of it puts the third-year quarterback in a better position to succeed.
"I think throwing with confidence makes a big difference, and that's what I feel like I am doing this year," Locker said.
The Titans parted with
Matt Hasselbeck
and brought in
Ryan Fitzpatrick
as the No. 2. They are confidant Fitzpatrick can step in and win games if needed, but they have no leash on Locker. The entire organization is committed to him and believes he's the right guy to quarterback the team to a turnaround.
"He's really taken ownership," Fitzpatrick said. "You can see he's a confident guy, and that's one thing that you really need as a quarterback. He's really worked at his game mentally. We're progression-based now, and he's really trying to take it to the next level in terms of his footwork and accuracy. This whole offseason I've definitely seen improvement."
Locker will be running an easier, more straightforward system. He's got a "move" tight end in
Delanie Walker
(not currently healthy) who adds a dynamic the Titans haven't had since Locker was drafted with the eighth overall pick in 2011. The receivers are deep and talented. The offensive line could be a dominant group, which should mean a
Chris Johnson
/
Shonn Greene
run game will provide great balance. And the defense should get Locker the ball back more often and with better field position.
I've seen steady progress and more consistent play in recent practices. But he needs to carry that over into games, and he needs to address two things that might qualify as habits: a tendency to start slow, and a propensity to throw more comfortably and more accurately to his left than to his right.
THREE HOT ISSUES
[+] Enlarge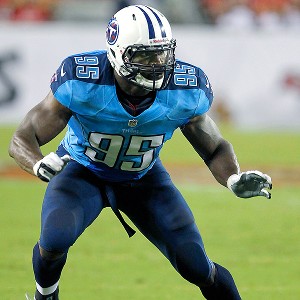 AP Photo/Tom DiPaceThe Titans hope to give pass-rusher Kamerion Wimbley a lighter workload this season.
1. The pass rush.
The Titans generated a reasonable total of 39 sacks last season, with 6.5 from
Derrick Morgan
and six apiece from
Kamerion Wimbley
and
Akeem Ayers
. The Super Bowl Champion
Baltimore Ravens
ran the same number of defensive plays (1,086), and they had 37 sacks.
But no single player on the Titans' defensive front ranked as a scheme-changer that offenses had to account for before every play. And the committee work in conjunction with coverage that was far too soft, far too frequently, played a big role in allowing a league-worst 471 points.
They didn't change a lot at end. They added size in end
Ropati Pitoitua
, who figures to play a lot of run downs, and depth in fifth-rounder
Lavar Edwards
. Ayers will be a much more regular presence as a pass-rusher, and both Morgan and Wimbley will play much less than 80 percent of the snaps, which wore them down a year ago. Does all that and a more aggressive scheme influenced by Gregg Williams turn the Titans into a more threatening pass-rushing team? I can't say yes yet.
2. Two important coaches.
Dowell Loggains took over as offensive coordinator with five games left last season, but it's not like he could revamp everything Chris Palmer was doing. Given an offseason, he has. These Titans will be less reactive and try to dictate more, and the options routes that complicated things and counted on receivers and the quarterback to read things the same way are gone. Things are tailored to Locker now, and Loggains has more talent at his disposal than Palmer did in 2011 or 2012.
On defense, Williams returns from his year in Bountygate exile with a simple promise he expected would help him win players over: That he can make them better. He's not the same guy he was back when he was the Titans' defensive coordinator from 1997-2000, but the season suspension certainly made him reflect and he comes back a different guy from the one who was coordinator for the Saints. I suspect he will positively impact key guys on this defense like Ayers, cornerback
Tommie Campbell
, safety
Michael Griffin
and defensive tackle
Jurrell Casey
.
3. The offensive line.
Last season was a disaster, as the Titans had to call on more depth than any team can have. But the franchise counted on coach Mike Munchak and another offensive line Hall of Famer, line coach Bruce Matthews, to develop guys. A couple they counted on who never reached the expected level are gone now, and the Titans have much better players in place of
Leroy Harris
and
Eugene Amano
.
With a line of
Michael Roos
,
Andy Levitre
,
Fernando Velasco
/
Robert Turner
/
Brian Schwenke
,
Chance Warmack
and
David Stewart
, Tennessee feels like it has re-identified
its identity
.
"If we're going to win, it's going to be because our offensive line is a lot better than it was last year, and we're physical, and we're relentless, and we're going to move people around on both sides of the ball," Munchak said at the start of camp.
REASON FOR OPTIMISM
They identified last season's issues and have addressed them all in some fashion. That's with coaching staff alterations, changes in thinking and scheme, major player additions in free agency and a draft that looks solid. This isn't a team that sat back and assumed that given another year of seasoning, its 6-10 record could turn into 10-6. It took action. Now we have to find out if the moves and changes total up and produce a big difference in overall outcome.
[+] Enlarge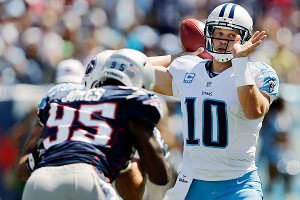 AP Photo/Joe HowelThe Titans need QB Jake Locker to make big strides quickly if they are to survive a tough early schedule.
REASON FOR PESSIMISM
The unproven quarterback and the schedule. The Titans open at Pittsburgh and at Houston, and also play San Diego, a team Tennessee always struggles with, at Seattle and San Francisco before the Oct. 27 bye. It's impossible to predict how the competition will be. But through the first seven games, 4-3 might qualify as pretty good but might still leave them having to chase to get into playoff contention.
OBSERVATION DECK
August, 6, 2013
8/06/13
12:55
PM ET
JACKSONVILLE, Fla. -- Through the late years of Jack Del Rio's nine-season tenure and Mike Mularkey's one awful year, plenty of
Jacksonville Jaguars
lacked faith in the coaches above them.

New coach Gus Bradley believes trust is as important as any ingredient in his team, and in the early stages of a big rebuild he has earned a great degree of it from his players.
"It's been really refreshing, his whole approach from day one," said
Jason Babin
, the team's most proven pass-rusher. "The way he's laid out how we're going to do things, the way we'll go about our business, the way things are going to be here is genuine. As you know coaches often say one thing, and it's not always entirely true."
"To have a coach like that with the genuine sincerity is special. You believe him when he talks to you, and he's done a great job developing relationships."
Belief is big for a team that is coming off a disastrous 2-14 season, lacks a proven quarterback and has some areas of questionable talent. Bradley has preached a simple, core theme from the very start. He's not talking playoffs, he's
not talking wins
, he's not talking success. He's constantly talking improvement.
Bradley is high energy, and while he's not trying to stamp his personality on his players, the enthusiasm can't help but be contagious.
"He's like a breath of fresh air, it's like night and day," tight end
Marcedes Lewis
said. "I've always said you can have good coaches but bad people. He's actually a great coach and a good person who actually cares about you. You can tell when you come into work. It's just a better working environment.
"When he first came in and we met him, I thought his enthusiasm was fake. Like it wouldn't last. But that's who he is, every single day. You can't do anything but appreciate it."
While Bradley would like his team to start fast, his bigger emphasis is on finishing strong. For a team that might not have a lot of success in the standings, it seems a smart approach. Because if you talk all about starting fast and you don't, then what?
THREE HOT ISSUES
[+] Enlarge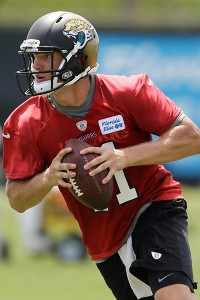 AP Photo/John RaouxThis season could be Blaine Gabbert's last chance to assert himself as Jacksonville's QB.
1. The quarterback.
The Jaguars steered clear of a quarterback in the draft, as they didn't see an answer to their issues and had plenty of other areas to address. So they move forward with
Blaine Gabbert
's big, and final, chance. The new offense is tailored to help Gabbert be better -- he will roll out and go on the move more. His weapons are better and more reliable, with the emerging
Cecil Shorts
paired with
Justin Blackmon
(once he's healthy and after a four-game suspension to start the season) along with
Ace Sanders
and
Mike Brown
, who has been quite good in camp. The protection is far better with No. 2 overall pick
Luke Joeckel
at right tackle. The initial depth chart has Gabbert as co-No. 1 with
Chad Henne
, and the team will pump up the competition for as long as it can. But those boosting Henne and suggesting he'll win the job haven't seen practices where Henne rarely seizes real command and is regularly worse than Gabbert.
2. Maurice Jones-Drew's foot.
He looked good during my visit, very much the same guy we've become accustomed to. He could easily be the centerpiece of the offense just as he was before he suffered a serious Lisfranc foot injury in the team's sixth game last season. We need to see him in games, over time show that the foot isn't an issue. We need to see how effective the rest of the team can be so that it's not overreliant on him. And we need to see how he takes on the final year of his contract when he desires a big new deal, but exists in a league where even effective running backs are devalued as they approach 30. While the team will run more zone plays, MJD said the rush offense won't look that different from what we saw in the last few years of Del Rio's regime.
3. The shape of a new scheme:
Bradley ran Seattle's defense under Pete Carroll, and the scheme put a heavy emphasis on big physical cornerbacks and pass-rushing Leos. Do the Jaguars have the guys to fit those roles? Third-round pick
Dwayne Gratz
looks like a good get. But Babin is the team's best rusher, and he was let go by the Eagles during the season last year, not a great sign. The second option at Leo, 2012 second-rounder
Andre Branch
, remains mostly invisible. Jacksonville had 20 sacks last season. The end pool hasn't really changed, though
Tyson Alualu
has shifted outside. The new interior guys --
Sen'Derrick Marks
,
Roy Miller
,
Kyle Love
and
Brandon Deaderick
-- will solidify the run defense. But will they penetrate and get quarterbacks to move off their spot?
REASON FOR OPTIMISM
[+] Enlarge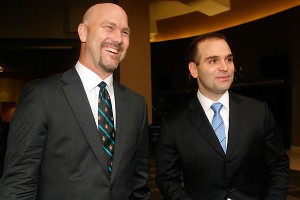 Phil Sears/USA TODAY Sports Coach Gus Bradley, left, and GM Dave Caldwell have made a positive impression as they rebuild the Jags.
David Caldwell and Bradley. The new GM and coach are both in their jobs for the first time. They are enthusiastic partners in building this team, not afraid to say there are things they don't know yet, as opposed to storming in and claiming they have all the answers. We won't be able to judge them for a few years as they need to assemble and deploy talent. And we don't know too much about Bradley's staff. But people who have worked with Caldwell and Bradley in the past, and people who are working with them now, have great reviews. I'm impressed with both, and they are the best thing the team has going for it right now.
REASON FOR PESSIMISM
The talent gap. How many Jaguars would start for the two-time defending AFC South champion Houston? Joeckel would be the right tackle.
Paul Posluszny
, if he fit into a 3-4, could be a two-down inside guy next to
Brian Cushing
. Shorts would be a top-three receiver. That's probably it. The Jaguars might be moving in a good direction, but the distance between their talent and the talent at the top of the division, conference and league is substantial. The more talented teams don't always win, but you'd rather not be the team that has to remind itself that all the time.
OBSERVATION DECK
August, 16, 2012
8/16/12
12:30
PM ET
HOUSTON -- For a long time, the Texans were a popular pick to break through.
Coming off the season in which they finally did, they rank as the favorite to repeat as AFC South champs.

But the tone in Houston hasn't changed a bit. Steady coach Gary Kubiak has talked about starting from zero again, and although salary-cap issues and free agency dented them a bit, this confident team knows it needs to show some grit to build off last year's experience.
"The window is open," said quarterback
Matt Schaub
, who missed the team's final six games and the playoffs after suffering a serious foot injury. "We have the talent, we have the people, we've got to go out and do it. It's the next link in the chain. ...
"We've got the right mindset to keep everyone focused. If we see someone not focusing on the next job, we make sure he gets it right."
Camp carried a confident vibe, and the team was fortunate to dodge long-term issues when receiver
Andre Johnson
(groin) and defensive end
J.J. Watt
(elbow) suffered injuries.
There's been some Super Bowl-or-bust talk, and this season will present the Texans with a chance to measure themselves against the teams they could see in the AFC playoff bracket: New England, Baltimore and Denver.
If the right side of the offensive line were not being replaced and if Schaub were a bit more of a sure thing, they'd be a popular pick to represent the AFC in New Orleans.
Even with those issues, it doesn't take much imagination to see them there.
THREE HOT ISSUES
The offensive line:
The zone-blocking scheme is really what the whole franchise is built on, and last year's offensive line was among the league's very best, producing the NFL's No. 2-rated rush offense.
Right tackle
Eric Winston
was let go to save some serious salary-cap money, and right guard
Mike Brisiel
left for Oakland when the Raiders offered an above-market deal. The favorites to replace them,
Antoine Caldwell
and
Rashad Butler
, have significant time in the system, and everyone seems to think it can be a seamless transition.
Rookie
Brandon Brooks
, a third-round pick, brings uncommon size and could challenge Caldwell.
Derek Newton
, a seventh-rounder from a year ago, is on Butler's heels. They won't both win, but one could.
The Texans did allow 33 sacks, ranking 20th in the NFL in sacks per pass play. There is room for improvement in that area no matter who's playing.
The receivers:
Johnson dealt with separate injuries to each hamstring last season, then needed offseason knee surgery, then lost camp time to a groin strain. If he's on the field, the team has enough at receiver to supplement him. If he's not, then it's a question.
[+] Enlarge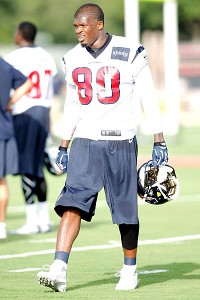 Brett Davis/US PRESSWIREThe Texans need Andre Johnson on the field for the rest of their receiving corps to be effective.
Kevin Walter
is a fine No. 2 if Johnson is on the other side of the field, which allows Walter to run precise, shorter routes and throw quality blocks. If Johnson's out, Walter isn't as dynamic, and the three youngsters vying for the third spot become more important.
Keshawn Martin
has had the best camp to this point, but
DeVier Posey
and
Lestar Jean
are in the mix.
Johnson missed nine games in 2011. The Texans couldn't really rely on
Jacoby Jones
week-to-week (and released him in the offseason). With tight end
Owen Daniels
and running back
Arian Foster
playing big pass-catching roles, the team still did fine.
Coverage:
Johnathan Joseph
is an excellent corner who will be asked to track the top wideouts on the other teams. The list likely will include
Demaryius Thomas
,
Kenny Britt
,
Greg Jennings
or
Jordy Nelson
,
Anquan Boldin
or
Torrey Smith
,
Brandon Marshall
,
Calvin Johnson
,
Wes Welker
,
Reggie Wayne
and
Percy Harvin
.
The combination of the Texans' quality pass rush, Joseph's good work and some help may often get the job done.
But on the other side,
Kareem Jackson
has been more comfortable in zone coverage than man, and had a security blanket platoon system in place with
Jason Allen
. Allen is now in Cincinnati, and early indications suggested the new veteran,
Alan Ball
, won't be as much of a help.
There is good depth in the secondary.
Brice McCain
is a solid nickel and
Brandon Harris
is an improving backup for him.
Troy Nolan
is a capable third safety after
Glover Quin
and
Danieal Manning
.
REASON FOR OPTIMISM
This team has firepower and star power, which make it tough for plan for, tough to stop and difficult to move against.
Johnson and Foster rank in the top three in the NFL at their positions, and Daniels remains a very effective weapon. The defense is loaded with stars who've produced:
Brian Cushing
,
Connor Barwin
, Joseph,
Brooks Reed
and Watt. The third outside linebacker,
Whitney Mercilus
, is a first-round pick.
There isn't a bad egg or an out-of-control ego on the list.
REASON FOR PESSIMISM
Outside of the division, the Texans' road games are at Denver, at the Jets, at Chicago, at Detroit, at New England. I don't think the Jets will rate as one of the league's best teams, but those other four may well be in the top 10.
I don't think expectations will be a problem, but a year ago they played 13 of 16 games at noon CT and just once outside of Sunday. This time they've got four night games and a Thanksgiving Day game, and four of those five are away from home. That's a different deal that could prove a test.
[+] Enlarge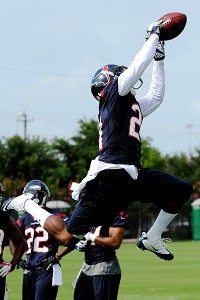 AP Photo/Pat SullivanJohnathan Joseph is getting more comfortable with the Texans.
OBSERVATION DECK
Joseph is far more outspoken on the field than he was last year. It's a testament to his comfort level and confidence. That people on both sides of the ball listen shows how respected he is.

Defenses and nickelbacks won't be able to come into a game against the Texans anticipating one particular receiver in the slot. Different plays, different motions and different matchups will mean Walter, Johnson and Martin all get looks there.

Something will really have to go wrong for Justin Forsett not to be the third running back behind Foster and Ben Tate. He's really shifty and could easily be part of a committee elsewhere. In a red zone period I watched him catch a short pass in the flat, slam on the brakes and allow Reed to fly past, then accelerate to the end zone.

Brooks, a rookie guard, impressed me. He can really hold his ground, and although speed gave him problems a few times, he's mature beyond his years. I think he's got a real shot at nudging Caldwell out of the right guard spot.

I'd like to see the Texans throw to James Casey more. He's not really a fullback, although he is capable of doing what they ask and need. He's got great hands and can make more plays that he gets called for him.

It's hard to envision Trindon Holliday holding up based on his history and size. If he can, and he can master ball security, he'll be a nice weapon as a returner. If being able to contribute as a receiver in a pinch is a requirement of the job, I can't see it. Defensive backs will relish a chance to muscle a 5-foot-5 player at the line, rendering his speed largely irrelevant on any route that involves timing -- and don't they all?

Houston gets enough out of the Shaun Cody and Earl Mitchell defensive tackle combination. But it still seems like one of maybe only two spots in the base defense where the Texans could actually benefit from an upgrade.

There are not a lot of depth questions on this roster, which saw the value of quality depth last season, over and over. Inside linebacker is an issue with Darryl Sharpton (hip) out. Cushing is close to indispensable. Left tackle Duane Brown is a guy the team might struggle without. But the Texans have won minus Schaub and without Johnson and can win without Foster. The defensive line wouldn't be the same minus Watt (out for the preseason with an elbow injury) or Antonio Smith. That said, what would the reaction have been last year at this time if we hypothesized Mario Williams would miss all but five games?

Jean dropped too many passes during the three-and-a-half days I watched practices. That made me think he might do more to remind people of Jacoby Jones than the help them forget him.

Rookie kicker Randy Bullock has plenty of leg. Considering they picked him in the fifth round, he'd have to fall flat on his face the rest of the way for the team to choose Shayne Graham over him, right?
August, 5, 2012
8/05/12
10:11
AM ET
JACKSONVILLE, Fla. -- If you care to think the Jaguars are a mess and going to be in the running for the No. 1 pick in the 2013 draft, they're fine with that.

As they worked through the early days of Mike Mularkey's first training camp, they repeated the new coach's mantras (like, "we just want to get a little bit better every day"), fell in line with his policies (like potential $10,000 fines for answering media inquiries about injuries) and gave team-first answers to questions about the absence of their two biggest names --
Maurice Jones-Drew
(holding out for a new contract) and
Justin Blackmon
(unable to strike a rookie deal).
Sure, they don't have much choice but to buy in, but there is an undertone that suggests they have a secret to spring on the league in a couple of weeks.
Every team at this stage of camp thinks it can be good. In Jacksonville, a significant improvement from 5-11 is certainly possible, no matter what the popular storylines are. Honest.
Theirs is a defense loaded with quality, front-line talent. Beyond middle linebacker
Paul Posluszny
, most of it remains largely unknown. But if you don't know linebacker
Daryl Smith
or cornerback
Derek Cox
or defensive tackle
Terrance Knighton
, that's not the Jaguars' concern.
"If anyone feels we are not in a proper place or we have problems, that's OK," Posluszny said. "We feel like inside these walls we're doing everything that we can to be a very successful team.
"Mularkey's done a great job for us. He's a former player who's been through it. To me, that all means a ton, because he knows exactly what we are going through and what it takes to be successful."
While the offense is being revamped, and Mularkey and his assistants are trying to reformat quarterback
Blaine Gabbert
after a horrific rookie season, the defensive system and bulk of the staff have been in place for a while now.
Gabbert has nice moments, but his overall inconsistency at practice halts any proclamations that he made a significant offseason jump.
No matter how much players and coaches talk about his gains in leadership, no matter how much faith the organization has in him, no matter how patient they are, it comes down to making throws under pressure.
The early snapshot says the defense can be really good, but that a limited offense could be the obstacle to the surprise the Jaguars would so like to produce. There is a lot of time to work on what's been installed, to find what works and to run it better than it's been run so far.
THREE HOT ISSUES
[+] Enlarge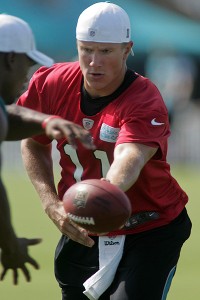 Phil Sears/US PresswireBlaine Gabbert finished his first season with 12 TD passes, 11 interceptions and a 50.8 completion percentage.
1. Is Gabbert good enough?
He folded under pressure too often last season, but the rush wasn't all he was facing. The team drafted him 10th overall intending for him to sit and learn for a season, but that plan didn't pan out and Gabbert was hurried into the starting role for 14 games during which he had poor pass protection and very limited receivers.
There were big distractions off the field, too: Jack Del Rio got fired and the team was sold.
Mularkey was hired in large part because he's developed quarterbacks, and he, coordinator Bob Bratkowski and quarterbacks coach Greg Olson have to get steadier play from Gabbert and get his arrow pointing up. His good moments look very nice, but there are still too many bad ones that leave you shaking your head. A kneel-down would seem less disheartening in many of those instances.
It's a slow process, installing a new offense and rebuilding a quarterback's confidence. Exactly how slow is the question we need answered.
Mentions of mechanical or technical adjustments by his coaches have been well-received, and he acts on them quickly. That's great, but when the rush turns live and the pocket starts collapsing, will he have open people he can stand in and find? We simply can't know yet.
2. The missing pieces.
Jones-Drew is demanding a new contract. The Jaguars have said they won't give him one with two years left on the old one. Boom -- a stalemate. I can't see the team altering its stance unless he holds out into the season and it struggles horribly without him. He's got an ego that will make it hard for him to return without any contract alteration, so this could drag on.
Blackmon is a rangy target who can go get the ball, and missing early camp is helping no one. He got a DUI after being drafted fifth overall, and the team wants insurance against any further troubles. Blackmon's unwilling to give the Jaguars what they are looking for, though.
So we're seeing second-year man
Cecil Shorts
work in the Z spot where Blackmon will eventually be, with veteran addition
Laurent Robinson
at the X.
Rashad Jennings
is the lead back without Jones-Drew in camp, and is a bigger guy who also ranks as a power runner. I liked what I saw and heard from him.
3. Will there be enough of a pass rush?
The Jaguars had 31 sacks last season, and to reach their potential on defense they need more in 2012. More consistent pressure and more sacks will come with improved coordination from the defensive linemen.
Their line coach, Joe Cullen, said they just missed on a bunch of chances last season, and another season together and the work they are doing now will result in better communication. The Jags face
Tom Brady
,
Aaron Rodgers
,
Matthew Stafford
,
Jay Cutler
and
Andy Dalton
in addition to two games against
Matt Schaub
and two against hotshot rookie
Andrew Luck
this season, and they won't win many of those without consistent pressure.
The relentless
Jeremy Mincey
promises the production will increase.
Andre Branch
was drafted in the second round to help, and looks like a quality player. Depth off the edge remains a concern.
Austen Lane
suffered yet another injury while I watched practices, during which
John Chick
walked the width of a practice field dragging heavy weight as he rehabilitated his knee.
REASON FOR OPTIMISM
[+] Enlarge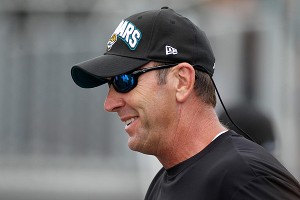 AP Photo/John RaouxNew head coach Mike Mularkey and his staff have made a positive impression on the players.
Mularkey and his staff. There is planning and logic to everything going on here, and the new staff has genuine concern for players on and off the field. Players are being told what the plan is and the right way to execute it. They felt that was lacking with the previous regime, and welcome it.
Position coaches like Olson, receivers coach Jerry Sullivan and one of the key holdovers, linebackers coach Mark Duffner, are true teachers, and they have guys under them who want to learn. That leadership and teaching faltered in many areas at the end of Del Rio's tenure. It's present in full force now. If guys follow and doing so produces results, it'll snowball.
REASON FOR PESSIMISM
A lot more is in place for Gabbert, and everyone has a stake in his performance: the GM who traded up to draft him needs him to succeed; the new coach who was hired to polish him needs him to succeed; the high-priced free-agent receiver and first-round draft pick receiver need him to succeed; the talented defense needs him to succeed.
Gabbert's saying the right things and working hard, and you can see improvement on some drop backs. But there are still enough dud plays sprinkled into practices to make you wonder if he can succeed. The team wants him to avoid turning the ball over -- staying away from the worst-case scenarios -- and it's a smart goal, but will it make Gabbert too cautious?
Can you ask him to be careful and function as a game-manager type when the best attribute he has is a big arm that can get the ball into tight windows? It might turn out to be complicated.
Also, there is not great roster depth. I have particular concerns about the offensive line, defensive end and safety if someone goes down.
OBSERVATION DECK
The team appears to be high on undrafted rookie linebacker Julian Stanford out of Wagner. With Clint Session's future in doubt because of post-concussion issues, Russell Allen is likely to start opposite Daryl Smith outside. Stanford could make the team as a special-teamer who can provide depth. Brandon Marshall, a fifth-round pick, also has what looks to be an NFL-ready linebacker frame.

Mike Thomas needs Blackmon signed, in camp and taking the bulk of the snaps at one of the two outside receiver spots. I'm convinced that to get his head right, Thomas needs to be given the slot role and allowed to focus on it exclusively. His snaps were cut down during my visit, with Shorts working at the front of the line in Blackmon's Z spot. The slot is what Thomas is best suited for, and his performance has slipped when he's been expected to do more. He had a lot of drops early in camp, and Mularkey agrees with the potential for less to be more with Thomas.

Josh Scobee has the leg to get a lot of touchbacks and Bryan Anger has the leg to force a lot of fair catches. The Jaguars obviously still have to work on covering kicks and punts, but how often will they actually be covering kicks and punts? If the offense can produce some first downs, we should see more scoring, and more scoring will mean more kickoffs from Scobee and less work for Anger.

The depth at tight end is interesting after No. 1 Marcedes Lewis. Colin Cloherty got a lot of work as the No. 2 early on, and Zach Miller is another move guy who's very intriguing, though Miller is rarely healthy. Zach Potter is giant, but hasn't earned a lot of time, and undrafted rookie Matt Veldman is also extra large.

Posluszny is the centerpiece of this defense. He covers a ton of ground and makes big hits. He's a model for doing things the right way, which is a major point of emphasis for Mularkey and his staff. Posluszny was a solid signing last season, and continues to deliver just what the team hoped for. That helps offset the fact Session, who also came to Jacksonville for a big contract in 2011, might not be on the field any time soon, or ever again.

The cornerbacks look good. Cox is really solid, and Aaron Ross and Rashean Mathis will be effective as the Nos. 2 and 3. The depth grew with last season's injury onslaught, and William Middleton and Kevin Rutland can play, too.

Branch, the rookie pass-rusher, came into the league facing questions from many teams about his ability to stand up against the run. The Jaguars have no such concern at this point. He's got to be an effective part of a four-man group at end with Mincey, Lane and Chick. Branch certainly looks the part, but so did former Jaguars bust Derrick Harvey, so we can't put much on the early eyeball test.

Along with Stanford, running back Jalen Parmele caught my eye. He's spent time with Miami and Baltimore.
August, 3, 2011
8/03/11
1:02
PM ET
JACKSONVILLE, Fla. -- The Jaguars aren't looking for parades or pinwheels as congratulations. But in the two years since Gene Smith took over as general manager, they've basically gutted the roster. And while setting about a major rebuilding project, they remained competitive with a 7-9 season and an 8-8 campaign.

After another draft and an active free-agency period, they now feel the rebuild is complete.
"There is an expectation level in this league to win, and I think having some horses makes us all smile in this building," Jaguars coach Jack Del Rio said. "I think we went out and acquired some guys for the second and third level of our defense where we talked about needing some help. ... It's going to help us be a whole lot better.
"The pressure, the demands, that's part of what we do, and I love that part of it. It becomes a little more enjoyable when you know you're getting closer to being on equal footing."
Del Rio's not buying that the Colts are slipping, and he's not waiting for them to. The in-house expectation is that this team is capable of competing for the AFC South crown no matter what any other team in the division has going for it.
Bolstered by four upgrades among the top 12 players on defense, Jacksonville is a team that should be much improved. The Jaguars won't be a popular pick, but they could be a surprise, emergent team.
THREE HOT ISSUES
[+] Enlarge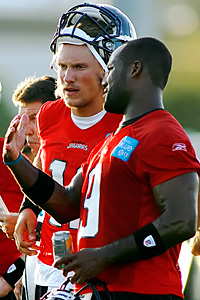 Phil Sears/US PresswireThe Jaguars say they will develop Blaine Gabbert (left) slowly and have David Garrard take the snaps as the team's starter.
1. Will there be a quarterback controversy?
The team stands firmly with
David Garrard
and intends to bring first-round pick
Blaine Gabbert
along slowly. But Gabbert has looked great early, while Garrard tends to be inconsistent. There are bound to be times during the season when there is some pressure to make a change from inside team headquarters, not just from media and fans.
"If we ever get to the point where we think Blaine is better than Dave, that's good for the Jaguars," offensive coordinator Dirk Koetter said. "Because I think Dave is good enough to win with; I think we can win our division with Dave Garrard at quarterback. If Blaine is better than Dave, shoot, that's good for us."
Del Rio and Koetter could have a complicated job managing how and when to play Gabbert if they feel he's forcing his way into the lineup.
"I've got a healthy appreciation for the desire out there to make it a story," Del Rio said. "For us, we're about maximizing our opportunities as a football team, playing the guys who give us the best chance to win games and working on the preparation. ...
"Through the course of competition and exposure and based on health, those factors kind of take care of themselves. I don't think we have to get ahead of the story. I think we can just let it play out, and at least we are doing so from a position of strength. There is no reason to make it dysfunctional, make it unhealthy. What purpose does that serve? It's not going to help us win more games."
It sounds good, but it can get complicated. Garrard's the guy right now, and the team and the quarterback need to do a better job of making sure he gets hit far less so he can make consistently good decisions with the ball.
Factor tight ends
Marcedes Lewis
and
Zach Miller
and running backs
Maurice Jones-Drew
and
Rashad Jennings
into the mix with the receivers, and the Jaguars have sufficient weapons to complement a run-based offense.
Mike Thomas
,
Jason Hill
and
Cecil Shorts
could be a better three-pack of receivers than many people think.
2. How much better can the revamped defense be?
If this defense doesn't improve from 32nd against the pass, 28th overall and 27th in points allowed, Del Rio will lose his job.
The team shelled out $37 million guaranteed to three prime free agents: linebackers
Paul Posluszny
and
Clint Session
and safety
Dawan Landry
. The Jags also added nickelback
Drew Coleman
.
That group, plus rookie defensive backs
Chris Prosinski
and
Rod Issac
, should vastly improve the defensive production and depth.
Smith wanted to build foundations early and spent his first two drafts working on the lines. Defensive tackles
Tyson Alualu
and
Terrance Knighton
should take up all kinds of blockers and create space for the two new linebackers and the underrated
Daryl Smith
to make a lot of impact plays.
"Jacksonville's interior D-line really stood out," Posluszny said about his research as a free agent. "They've got two studs in the middle that are very active, get to the ball a lot and certainly are going to take up a lot of blockers."
Safety play last season was horrific, and Landry will be a significant upgrade even though he didn't bring
Ed Reed
with him from Baltimore.
"I'm not looking for any grace period to assemble this defense," Del Rio said. "Guys we're assembling and counting on for the most part are veterans. ... We're going to expect to play coming out of the gate as a winning football team, and defensively we've got a lot of work to do."
3. Can they play well late in the season?
December is a debacle for this team.
In the past three seasons in games played in December and beyond, the Jaguars are 4-11. They need to learn to finish games and seasons better. What can change it?
"I think in Week 13 or something, we had a better record than the Packers did last year," Daryl Smith said. "They got hot, and who would have thought they would go on to win? That could be us. Why not? We have to try to stay off of that roller coaster, try to be consistent, just get better each week. Steady, steady, steady, then come late November or December, get hot."
"I've been in the playoffs twice since I've been here and that's been the formula. … We can't feel like we arrived when we have a good game or played well and won a couple games."
Del Rio says that with a more talented roster, he has to guide it to better work in the last quarter of the season.
BIGGEST SURPRISE
[+] Enlarge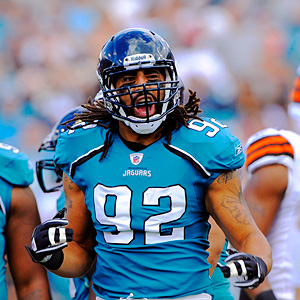 Scott A. Miller/US PresswireJacksonville could look to Austen Lane to help solidify their defensive line.
Beat writers and fans call
Austen Lane
"The Bringer of Pain." It's funny. But he looks like a guy who will make it hard for the team to look anywhere else for its second starting defensive end. He can be a ball of fury, and that will fit right in with the tone and tempo of the rest of the defensive front.
BIGGEST DISAPPOINTMENT
Right tackle
Eben Britton
came in with a reputation as a nasty player, and the team missed him last season when he was lost with a shoulder injury. I've picked him as a breakout-caliber guy this season. But word is he has not been great so far. Perhaps he's still being cautious and easing his way back, but he needs to take things up a big notch soon.
OBSERVATION DECK
Two years ago, people were writing off center Brad Meester. But defenses were taking advantage of weak guard play to get to him. He rebounded well last season and is a guy whom coaches love as a reliable offensive line leader.

Knighton's weight always will be an issue. The defensive tackle is a great player and superlikable guy. The team cannot hold his fork for him. The more he can control it, the more impact and money he will make.

Prosinski could well be in the opening day lineup as the free safety. He worked with the first team early in camp and might be up to a pairing with Landry in the middle of the secondary. Rashean Mathis and Derek Cox need to play better at corner, but the Jaguars will improve from the safety upgrades and from the presence of veteran nickelback Drew Coleman.

Looking for an underdog to root for? How about undrafted free agent Marc Schiechl? He set a Football Championship Subdivision record for sacks at the Colorado School of Mines.

Scotty McGee isn't working with defensive backs regularly anymore. Can he stick as strictly a punt-return specialist? He caught 185 punts on one day of camp. And the team should move away from using Thomas in the role, although McGee is hardly the only alternative.

I like Miller, and the team raves about his potential. But he's been inconsistent early in camp with too many drops. He's got great hands, so it seems to be a focus issue.

Larry Hart may be in the doghouse for coming back from the lockout overweight. At defensive end, he currently ranks behind Aaron Kampman, Lane, Jeremy Mincey and Aaron Morgan.

Fourth-round receiver Cecil Shorts was great in camp early, and I bet the undrafted crop of wideouts has at least one NFL-caliber guy. Keep your eyes on Armon Binns, Jamar Newsome and Dontrelle Inman.

Third-year receiver Jarett Dillard is running well after a couple of injuries cost him the bulk of his first two seasons.

Watch how much better punter Matt Turk gets now that he will be a beneficiary of the Jaguars' topflight cover guys, Montell Owens and Kassim Osgood.

The Jaguars may be content to use Jones-Drew, coming off a knee operation, very minimally in camp and preseason games.

Veteran Jason Spitz has not been on the field yet, but I think the team would like for third-round pick Will Rackley to win the open left guard spot.
August, 4, 2010
8/04/10
10:02
AM ET
ESPN.com NFL Power Ranking
(pre-camp): 26
JACKSONVILLE, Fla. -- The 2009
Jacksonville Jaguars
were a fourth-place team that lost its final four games.
Seems to me the logical goal would be trying to move out of the basement and establish some upward mobility in a tough division. But
Jack Del Rio
and his troops aren't thinking that way, and who does, really?
They are thinking bigger.
Jack Del Rio has talked to them about contending for a championship.
"I kind of cut my teeth in Baltimore on the same staff with Rex Ryan [under] Brian Billick," Del Rio said. "You can't tiptoe in and hope you don't wake the guy up and you're going to sneak up on somebody and, 'Oh, shh, here we come and be quiet.' In many respects in the NFL, you've got to take what you want. You've got to set some goals and then go after them. And I don't think there is anything wrong with having a goal of being champs."
"Now the reality is, we've got to cover a lot of ground. I'm not unrealistic with that. But I'm not going to concede anything. We're going to work our tails off to maximize our potential. We can say this is our goal, this is our mission to do these things, but our focus has to be on squeezing what we can out of every day."
Or as
Maurice Jones-Drew
said, you never run a race you once lost aiming to finish second-to-last.
THREE HOT ISSUES
[+] Enlarge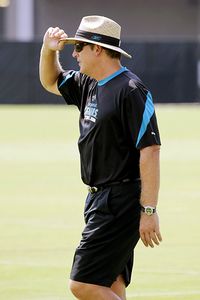 AP Photo/John RaouxJack Del Rio will need to keep his eyes on the safety position this season.
1. Are the safeties enough?
They have faith in
Gerald Alexander
at strong safety, though he's not a guarantee to lock down a spot all season. But free safety is a huge issue.
Reggie Nelson
struggled badly last season with botched coverages and missed tackles and
Anthony Smith
didn't do a lot to displace Nelson last year. Word is Nelson has been better, but neither guy has made a big impression in practices I've seen so far.
They need the free safety to consistently play a reliable center field. And if he can't make a tackle, he at least has to hold the ball carrier up long enough for help to arrive.
With two games against
Peyton Manning
and two against
Matt Schaub
, if one of those guys can't provide help to corners
Rashean Mathis
and
Derek Cox
-- even if there is a vastly better pass rush -- the Jaguars could have some long AFC South afternoons.
They could look for an additional option on waivers.
2. Is there enough weaponry to go with Jones-Drew and Mike Sims-Walker?
Jones-Drew is a top-flight weapon taking handoffs or running under short passes and Sims-Walker did well establishing himself as a go-to guy for
David Garrard
. But beyond them, do the Jaguars have the playmakers to take the next step?
They certainly have a large pool of candidates.
Marcedes Lewis
averaged 16.2 yards per catch last season, the best number in the league for a tight end, and another tight end,
Zach Miller
, is a potential big-play option.
Troy Williamson
hasn't created buzz yet as he did last camp, but I still think they'd like him to secure the starting role opposite Sims-Walker because of his field-stretching speed. The three receivers from the 2009 draft --
Mike Thomas
,
Jarett Dillard
and
Tiquan Underwood
-- are an intriguing pool. I anticipate Thomas can really grow into a nifty slot option.
They also like sixth-round pick
Deji Karim
from Southern Illinois, a quick back who could earn some touches and can win the kick return job. He'll probably have to get past
Rashad Jennings
to be a factor on offense, and I feel like they still like Jennings plenty too.
[+] Enlarge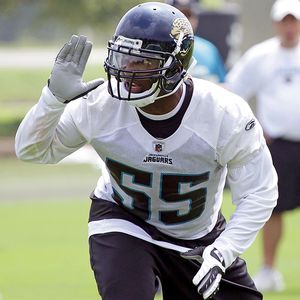 AP Photo/John RaouxThe Jaguars will need linebacker Kirk Morrison to lead.
3. Do they have sufficient leadership?
While they are relying on a load of young talent, particularly on defense, the two significant veteran imports -- free-agent defensive end
Aaron Kampman
and trade-acquisition middle linebacker
Kirk Morrison
-- need to lead the way.
"You want to give the young guys everything that you've seen in the league," Morrison said. "I've been in the league five years already. I've seen what losing can do, how it can separate a team. I'm saying this is what needs to be done, if you want to go out and win games, you've got to work like this. Losing was not fun. There are things I can bring over here like my toughness. I've never missed a game in the National Football League."
The best way to lead is to produce. Morrison can be a tackling machine, and if Kampman returns healthy to a 4-3 defense a year after major knee surgery, he's a constant threat to the quarterback.
BIGGEST SURPRISE
Defensive end
Jeremy Mincey
has been productive on a daily basis so far. With a crowd at defensive end including Kampman,
Derrick Harvey
and rookies
Austen Lane
and
Larry Hart
, can Mincey stay healthy and wedge himself onto the roster? The line overall is a young bunch, but its new position coach, Joe Cullen, has the group absolutely flying around and setting a tone the entire team would be wise to follow.
[+] Enlarge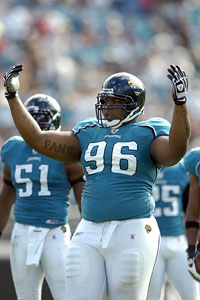 AP Photo/Stephen MortonThere have been concerns about defensive tackle Terrance Knighton's weight.
BIGGEST DISAPPOINTMENT
Defensive tackle
Terrance Knighton
's got a good head on his shoulders and has time to get where he needs to be. But he was 346 pounds on Monday, and the team would like him close to 330. If his play drops off, they could be in trouble in the middle no matter how good first-round pick
Tyson Alualu
is, and he's been real good from what I've seen of him at OTAs and in his debut camp practice. The team can't move into Knighton's house and feed him, but how did his weight get so out of hand?
OBSERVATION DECK
Vince Manuwai's flipped from left to right guard and the Jaguars will make that their power side for the run game. But if he doesn't bounce back from a poor 2009, when he was coming off reconstructive right knee surgery, the team could look to Kynan Forney as the next best interior run blocker.

Undrafted running back Chad Kackert catches everything and can turn and go… Are there too many guys on this team who can play good to great special teams but not contribute on offense or defense?

I like the way Ted Monken teaches receivers on the field -- with pointed-but-encouraging detail. I watched him spell out to Roren Thomas how and why he needed to be patient and allow a play to develop for his quarterback after he'd run a short route way too quickly.

Harvey and Hart have created some buzz. Are they off to really good starts, or is a slow start by right tackle Eben Britton contributing?

The Jaguars really like second-year corner Don Carey, and it would seem he'd make sense to be the nickel. But Del Rio left the door open that Carey could even earn a starting spot. Left unsaid is whether Del Rio thinks that would impact veteran Mathis or second-year man Cox, whom they loved as a rookie. Or perhaps he's just looking to light fires.

I hope offensive coordinator Dirk Koetter runs some option with tight end Zach Miller taking snaps. It'd create excitement and a wrinkle for a team that can be limited on offense and wouldn't suffer for taking some snaps from Garrard.

An early Achilles injury to third-round defensive tackle D'Anthony Smith already puts a dent in the depth there. Walter Curry will be a beneficiary.
July, 31, 2008
7/31/08
4:14
PM ET
Posted by ESPN.com's Paul Kuharsky
The Houston Texans are oozing optimism.

Are they setting themselves up for success or a let-down?
It's a good thing to aim at the top, and you can't really say you're doing anything else. But I think a team that's spent that last three years at the bottom of the AFC South needs to shoot first for last year's third place team: Tennessee.
Since Indianapolis is the five-time defending AFC South champs, Houston's 1-11 overall record against the Colts is somewhat understandable. At 7-5 against Jacksonville, the Texans have shown they can figure out a division rival.
But 2-10 against Tennessee? If the Texans can't manage at least a split there, how can they climb?
I explore that and more in the Texans' installment of Camp Confidential.