January, 18, 2011
1/18/11
10:22
PM ET
Jeff Fisher critics have called for staff shuffling.

They'd have been foolish to want defensive line coach Jim Washburn to go. But Washburn, a free agent like every coach on Fisher's 2010 staff except for Mike Heimerdinger, may be
on the verge
of jumping to Philadelphia, reports Jim Wyatt.
Fisher acknowledging the possibility may be an early attempt to start softening the blow.
It would be a terrible development for the organization, which has consistently seen Washburn turn draft picks and free agents, problem children and reclamation projects into productive pass rushers.
The list of guys Washburn got the best out of includes
Jevon Kearse
, who joined the Titans in 1999, the same year as Washburn as well as
Kenny Holmes
,
Josh Evans
,
Henry Ford
,
Carlos Hall
,
Robaire Smith
,
Antwan Odom
,
Travis LaBoy
,
Albert Haynesworth
,
Kyle Vanden Bosch
,
Tony Brown
,
Jason Jones
,
Dave Ball
and
Jason Babin
.
In six seasons with four teams, Babin had 17. 5 career sacks before the Titans signed him for $1 million last offseason. Under Washburn's tutelage, Babin posted 12.5 sacks -- the sixth-best total in the NFL.
(Here's a column on Babin and Ball from early in the 2010 season.)
A screamer, Washburn knows how to find and push buttons for his players, and he's helped them make them a ton of money. By Wyatt's count, 11 defensive linemen left the Titans over the past 12 years to sign big free-agent contracts elsewhere at a total value of more than $355 million.
I can think of only two guys who were better after they left. Juqua Thomas, who's now
Juqua Parker
of the Eagles and could soon have Washburn as a position coach again, is not part of that big-money departure list.
Randy Starks
of the Dolphins is.
Virtually everyone who's played for Washburn has good things to say about what he did for them.
Replacing him would be a huge undertaking for Fisher.
A lame-duck coach
, he won't be able to offer his next defensive line coach any more than the one-year deal he was able to offer Washburn.
April, 15, 2010
4/15/10
1:12
PM ET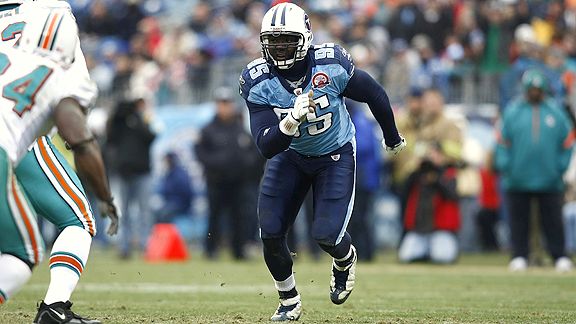 Joe Robbins/Getty ImagesTitans defensive end William Hayes was drafted in 2008 in part because defensive line coach Jim Washburn wanted him.
When players want to steer clear of trouble with the bosses, they are fond of saying "players play, coaches coach."
As the draft approaches, I wonder how often scouts mumble the variation: "Scouts scout, coaches coach."
Not long ago, the
Tennessee Titans
had a somewhat distinct division of power along those lines.
Former GM Floyd Reese respected Jeff Fisher's staff. But Reese believed it was his job to assess the talent and to provide it to be coached up.
There were exceptions, of course. Offensive line coach Mike Munchak was the primary force behind the selection of left tackle
Michael Roos
in 2005, for example.
The scouts I know respect the opinion of a position coach like Munchak.
How could they not appreciate the track record of a Hall of Fame player in developing quality linemen? Still, in a general scout-assistant matchup where the credentials are more even, scouts should hold the trump card, don't you agree?
One scout I spoke to this week pointed to nine months of work including all those live visits against four to six weeks of study done primarily with tape.
If a GM needs to lean one way or the other, this scout said he should lean with the scout. And on his team, he said that's usually the way it goes.
Most often, Reese was making the call with the support of his scouting staff. Position coach input was a relatively small ingredient.
And so, when some of Reese's players didn't match expectations, a semi-traditional tug of war commenced: Position coaches might gripe about the talent they were -- or were not -- given; the personnel department could grumble about how coaches were not bringing out a player's best.
Now the man who replaced Reese in 2007, Mike Reinfeldt, strives for harmony and consent and has drafted several players in part because of large endorsements from assistant coaches with mixed degrees of success.
Reinfeldt's counterparts in the AFC South seek to be consensus builders too, though Colts president Bill Polian and Jaguars general manager Gene Smith are more powerful than Reinfeldt and Texans GM Rick Smith when it comes to final decisions.
[+] Enlarge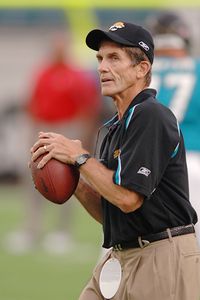 Jacksonville Jaguars for ESPN.comSteve Walters said he has coached on teams where assistants played a role in scouting.
Retired coach Steve Walters, who worked in New England and New Orleans before wrapping up his career with stops in Tennessee and Jacksonville overseeing receivers, said he agreed with that. Under Reese he rarely did much hands-on work with prospects. Assistants just weren't used that way much. Under James "Shack" Harris with the Jaguars, dumped after the 2008 season, Walters said he and the assistants played a bigger role in scouting.
I can see some value in a more old-school approach to how things should work. It was often unhealthy to have "Reese guys" and "Fisher guys" on the Oilers and Titans. But a position coach didn't have any more stake in Player A than he did in Player B and it felt like a system of checks and balances was in place.
Washburn helped turn late-round picks by Reese like
Robaire Smith
(sixth round, 2000) and
Carlos Hall
(seventh, 2002) into productive players. More recently, he's given his blessing to the team's choice of Jones and Hayes under Reinfeldt .
Might the hard-nosed Washburn, even subconsciously, be inclined to give Jones and Hayes a bit more leeway than a guy previously forced on him despite his protests? Might he, even subconsciously, be rooting for them a bit more, because he stuck his neck out for them?
My initial answer to those questions was that I expected he would, and that such things be detrimental. But in hashing it out with a scout and a former coach, I am no longer as staunch in my opinion.
I do still think it's an interesting question to consider.
My scout told me the additional accountability that comes with a position coach endorsement is a good thing. Maybe a coach would want to stick with such a player a snap, a series, a game or a season too long, but the cross-checking and co-sign from a GM and his scouts provides the necessary context and cover for such scenarios.
You can take the accountability idea in many different directions, though.
If there is a scouting-coaching split, it's easier to trace an evaluation mistake back to where it happened. On the consensus side, the saying goes that it's amazing how much can be accomplished if no one cares about who gets the credit. What about the blame?
Ultimately, an owner should want to know who is nailing assessments and who is botching them.
Walters said when an assistant feels he got what he asked for, he is conscious of having endorsed a guy.
"If you stand on the table for a guy and say, 'I really think this is the guy and these are the reasons why' and you can build a case for the guy, your opinion may push it over the top for a guy that you want," he said. "And if you get that guy you're certainly a little bit on the line for him because they're going to remember what you said.
"If they just say 'Here are your guys, like them or not,' whether you had any input into them or not…"
His voice trailed off and he left that one hanging.
I'd be inclined to finish it: "Well that's a different deal."
January, 27, 2009
1/27/09
6:35
PM ET
Posted by ESPN.com's Paul Kuharsky
Jeff Fisher, the league's longest-tenured head coach, can count staff stability among his biggest benefits. Whether you believe in Fisher or not, he appears to be a good boss. If you do good work under him, you get to enjoy stability on par with his.

Titans fans, I'm looking for your answer on this question:
Who's the team's best assistant coach?
Linebackers coach Dave McGinnis has head-coaching experience and the sort of passion that's hard not to notice while serving as a veteran sounding board for Fisher. But it looks like defensive backs coach Chuck Cecil will become the new defensive coordinator.
I'm pretty sure this debate will boil down to the team's two line coaches.
Offensive line coach Mike Munchak is in the Hall of Fame for his career as a guard, and he's repeatedly gotten players ready for their roles. His current group, among the league's best, includes two very good tackles -- All-Pro Michael Roos and David Stewart -- who he told the team he liked in the 2005 draft and he has helped develop them into premier talents.
Defensive line coach Jim Washburn has sometimes been the victim of his own success. Because he has developed cheap free agents such as Kyle Vanden Bosch and Tony Brown and lower draft picks such as Carlos Hall and Robaire Smith, the Titans haven't always provided him with top-shelf talent.
I'm curious what you think and hope you'll be heard with a comment here or in a note to my mailbag. Stay tuned for a follow-up post later in the week that sorts through what you say.