AFC South:

Carlton Mitchell
September, 2, 2011
9/02/11
11:00
AM ET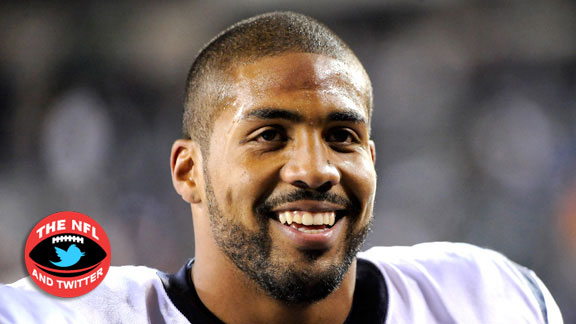 Howard Smith/US PresswireThe Texans' Arian Foster leads the way in this week's Twindex ranking.
OK, the Twindex has been retooled a bit as we set sail on the 2011 NFL season.
While I sift through hundreds of players' tweets, only five will make our weekly list, though there will be quirky honorable mention categories for stuff that grabs my attention.
As always, I ask for your assistance. If there is a tweet that needs to be considered, call it to my attention at
@ESPN_AFCSouth
or
@PaulKuharsky
.
You can see the "finalists" by looking at favorites at the ESPN account.
An announcement to our fine player pool: It's time to crank it up fellas. Camps are over, you're back home and getting to your in-season schedule. It demands a lot of time to rest. During said rest, why not cleverly tweet us insight into football and life and football life?
We'll be watching.
August, 19, 2011
8/19/11
10:58
AM ET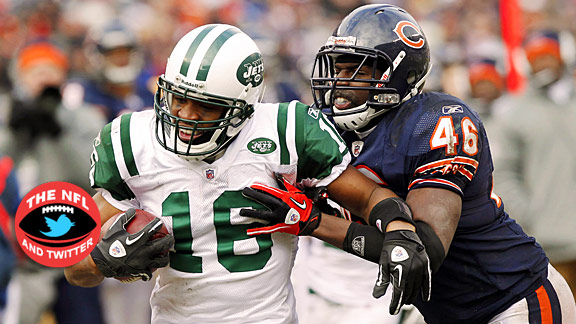 Mike DiNovo/US PresswireBears safety Chris Harris, right, rose to the top spot in the latest version of the NFL Twindex.
More football please.
When we started the NFL Twindex during the NFL lockout, many guys who earned top 10 spots did so on the strength of their comedy.
Now, it takes more. We need more. You, fare NFL player, have taken to Twitter to connect with your people. And to earn a top rating from this follower, you should have a reasonable share of football insight in the mix.
To stand your ground or gain some or to emerge as a member of the club, show us some of everything and be sure it includes some of what brought us to you in the first place.
I thought Arizona quarterback Kevin Kolb (
@KevinKolb_4
) had the best recent football tweet: "Our Z receiver,
@ARob12_Cards
, has been tearing it up in practice. Get to know him this year."
Unfortunately, Kolb's busy learning a new team and hasn't been tweeting much. Understandable, but he doesn't even earn an honorable mention here for lack of volume.
With no further ado, our new list…
See a tweet I need to be aware of for the Twindex? Make me aware. I am
@ESPN_AFCSouth
and
@Paul Kuharsky
.
July, 8, 2011
7/08/11
10:56
AM ET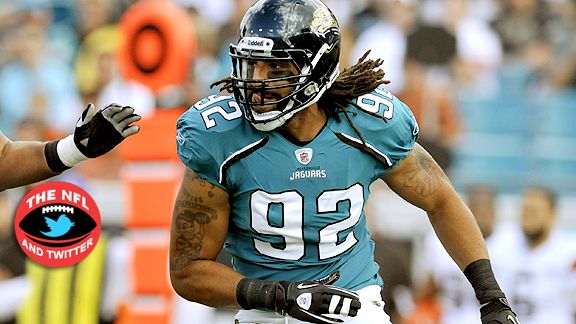 AP Photo/Stephen MortonAusten Lane has now been in the top-10 rankings of all four of the NFL Twindexes so far.
Show, don't tell. We're making it an NFL Twindex commandment.
"I usually hate when athletes tweet about how good their workout was," Matt Hasselbeck (
@Hasselbeck
) tweeted Thursday in a good start, "but we had a great one today!"
Bad finish.
Plenty of NFL fans starved for morsels and insight into football and beyond would love to know what made it good.
J.J. Watt (
@JJWatt
) did very well with show-don't-tell when he tweeted
this picture
. Yowza.
Alas, Hasselbeck and Watt are snapshot examples for us here at Twindex HQ, where we'd like to host Cleveland receiver Carlton Mitchell and Green Bay tight end Tom Crabtree. They hold the top two spots in our new poll, flip-flopping their standing from two weeks ago.
We could have a 10-event competition for the two including feats of strength and intellect and concluding with a tweet-off or a tweet-up or a tweet-meet.
They were neck and neck, and it came down to my gut feeling -- Mitchell was more consistently amusing.
Scroll through
my favorites
to see what was considered as we made the final cuts -- we are now trying to track 493 guys.
And hit me at
@ESPN_AFCSouth
and
@PaulKuharsky
with tweets I need to see and people I need to follow.
June, 24, 2011
6/24/11
10:31
AM ET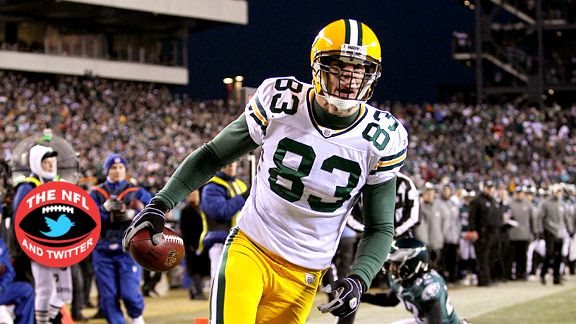 Michael Heiman/Getty ImagesCreative tweeting earns Packers tight end Tom Crabtree the top spot on the latest Twindex.
Want to rise and grind? Want to know how long a flight is delayed out of Atlanta? Want motivational quotes and bible passages?
Me neither.
That's not what I am looking for on Twitter. But I am curious what NFL players are saying and I have made a commitment to sort through it all to give you the highlights from NFL players since the last edition of the NFL Twindex.
Comedy is key during the lockout, but once things are settled we expect far more football talk to be involved here.
It's not all about laughs on Twitter, and Amy Nelson illustrated so well in
this piece
about Brandon Phillips of the Cincinnati Reds.
Check out
tweets I made favorites
. That's the list I then worked with to craft our new poll.
Seeing quality tweets you want to make sure are considered? Point me to them. I'm
@ESPN_AFCSouth
and
@Paul Kuharsky
.