AFC South:

Chad Ochocinco
September, 2, 2011
9/02/11
11:00
AM ET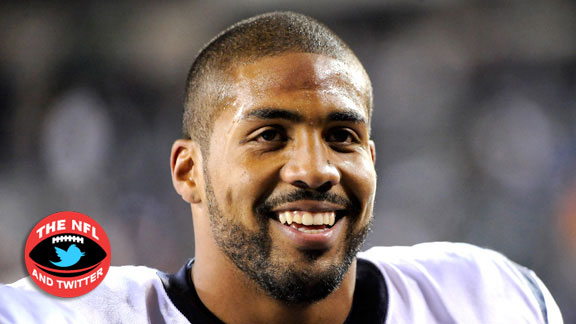 Howard Smith/US PresswireThe Texans' Arian Foster leads the way in this week's Twindex ranking.
OK, the Twindex has been retooled a bit as we set sail on the 2011 NFL season.
While I sift through hundreds of players' tweets, only five will make our weekly list, though there will be quirky honorable mention categories for stuff that grabs my attention.
As always, I ask for your assistance. If there is a tweet that needs to be considered, call it to my attention at
@ESPN_AFCSouth
or
@PaulKuharsky
.
You can see the "finalists" by looking at favorites at the ESPN account.
An announcement to our fine player pool: It's time to crank it up fellas. Camps are over, you're back home and getting to your in-season schedule. It demands a lot of time to rest. During said rest, why not cleverly tweet us insight into football and life and football life?
We'll be watching.
August, 19, 2011
8/19/11
10:58
AM ET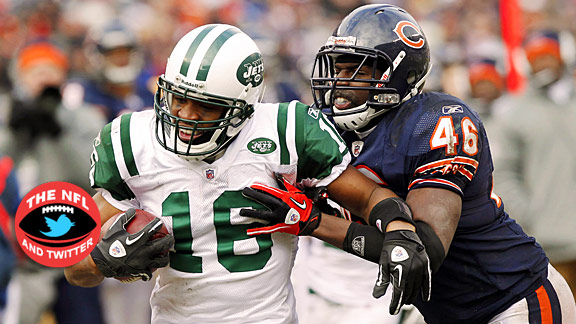 Mike DiNovo/US PresswireBears safety Chris Harris, right, rose to the top spot in the latest version of the NFL Twindex.
More football please.
When we started the NFL Twindex during the NFL lockout, many guys who earned top 10 spots did so on the strength of their comedy.
Now, it takes more. We need more. You, fare NFL player, have taken to Twitter to connect with your people. And to earn a top rating from this follower, you should have a reasonable share of football insight in the mix.
To stand your ground or gain some or to emerge as a member of the club, show us some of everything and be sure it includes some of what brought us to you in the first place.
I thought Arizona quarterback Kevin Kolb (
@KevinKolb_4
) had the best recent football tweet: "Our Z receiver,
@ARob12_Cards
, has been tearing it up in practice. Get to know him this year."
Unfortunately, Kolb's busy learning a new team and hasn't been tweeting much. Understandable, but he doesn't even earn an honorable mention here for lack of volume.
With no further ado, our new list…
See a tweet I need to be aware of for the Twindex? Make me aware. I am
@ESPN_AFCSouth
and
@Paul Kuharsky
.
June, 10, 2011
6/10/11
10:52
AM ET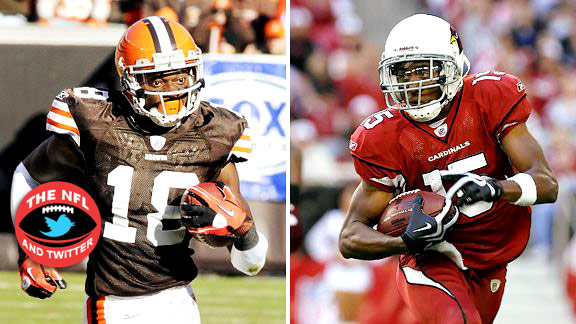 Getty ImagesCarlton Mitchell and Steve Breaston were the cream of the NFL tweeting crop in the latest Twindex.
My eyes glazed over as would-be analysts offered little worthy of attention on Twitter regarding the NBA Finals, starting with too many of these: "Who ya got tonight, Mavs or Heat?"
Yawn-inducing, akin to, "What up [insert city here]?"
Over the last two weeks, we heard who came close to missing a flight and who was delayed and what they thought of the airports they were delayed in.
But even in such a desolate landscape, wonderful things popped up.
Little-known
Carlton Mitchell
, a second-year Browns wide receiver, was consistently hilarious and emerged from nowhere to take the top spot -- not by a nose, but in a landslide.
Laughs are aplenty among the rest of the field in the second edition of the NFL Twindex, one man's subjective rankings of the best NFL tweeters out there over the last two weeks.
Big names who did well in the feature's debut disappeared, with only three players retaining a spot in the top 10.
Without further ado, the new list:
Have a tweet I need to see? A Tweeter who needs more consideration? Find me at
@ESPN_AFCSouth
and
@PaulKuharsky
.
May, 26, 2011
5/26/11
11:01
AM ET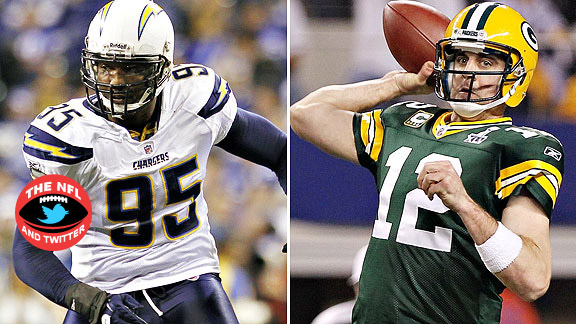 Getty ImagesShaun Phillips, left, and Aaron Rodgers hold the top two spots in the debut of our NFL Twindex.
Welcome to the ESPN.com NFL Twindex. Or Twitterdex. Or Twitter Index. (Shall we vote?) No, we're going Twindex.
This is our periodic look -- I'm thinking twice a month for now, weekly once we're in a season -- at what players and others who work for NFL teams are saying via Twitter. Because I love being subjective and we all love lists, it's a subjective list.
I'm following everyone I can find -- 328 people and growing -- and I hope they'll follow me back. It's difficult to read every tweet every day, so if you see a great one, forward it to me. I'm
@ESPN_AFCSouth
and
@PaulKuharsky
. The Twindex will be built from the best sampling I am able to do while still also fulfilling the obligations of a full-time job.
Each guy who makes the list each week will get a tweet notifying him of his status. We're fluid. If a guy is interesting this week, he may find himself in the top five. Be boring next week and he may disappear, depending on what his competition is doing. Former players, coaches, owners, equipment guys and mascots are eligible, too. Bring it.
What gets you here? Tweets beyond the ordinary.
You're scored down for morning greetings (sorry
@MikeSimsWalker
), birthday wishes, constant song lyrics (sorry
@JimIrsay
), weather updates and dinner reviews (unless, maybe, you are
@PotRoast96
).
You are rewarded for witty observations, clever lines and exchanges, smart life advice, amusing family stories, a great re-tweet or picture and, certainly, high-quality football information or commentary. A good week of tweeting can get you a spot. One outstanding tweet can, too.
As I am a positive guy, this is a positive list. Generally, we want to be a place players want to be. Like in our MVP Watch or the best restaurant in town or in unrestricted free agency after a great season. It's an evolving concept, and whether you're a candidate or a reader, I welcome your input.
Titans cornerback Jason McCourty and his twin brother, Patriots Pro Bowl cornerback Devin McCourty, combined Twitter accounts and have made a big push to let fans see them.
When I told him about this during their recent ESPN car wash, Jason wasn't ashamed to say he wanted
@McCourtyTwins
to get a spot on the initial Index.
"I think guys are so competitive, anything like that with a list and a top spot, guys will get some enjoyment out of it," he said. "Somebody may post, 'Hey, check out so-and-so, he's No. 1 this week on the Twitter poll.' I think it'll probably be a cool idea. I'll check it out.
"Hopefully that gets us to No. 1."
Maybe next week, Jason.
Here's the debut list.
Need to point me to a tweet? Have ideas for the NFL Twindex? Find me
@ESPN_AFCSouth
and
@PaulKuharsky
.
February, 2, 2010
2/02/10
7:27
AM ET
Must reads
Chad Ochocinco will be covering Super Bowl week with his
Ochocinco News Network
.
Here's what you need to know about
labor pains ahead
, courtesy of Tim Graham.
More players have pledged
their brains
to a concussion study.
The combine
invite list
from the National Football Post.
Houston Texans
The Texans are working on
an extension
for Gary Kubiak, says John McClain. I think you can tie your hands long term by making such a move and that a contract year for a coach can be a good thing like a contract year for a player can be.
Richard Justice thinks it's
the right way
to go.
Super Bowl/ Indianapolis Colts
The Colts are preparing for
the worst
with Dwight Freeney, says Mike Chappell.
Freeney's value
cannot be overstated
, says Bob Kravitz.
These are
familiar surroundings
for the Colts, says Phil Richards.
Bill Polian says Freeney is
50-50
, writes John Oehser.
Ryan Diem
anchors
the offensive line, says Stacy Clardie.
Jim Mora's
unwavering faith
was a big piece of Peyton Manning's development, says Clark Judge.
Jim Irsay's best move was
getting Polian
in place, says Judge.
The Colts are built like
a family
, says Thomas George.
Joseph Addai
embraces his role
running in Manning's shadow, says Nancy Gay.
Nothing's going to stop
Freeney from playing, says Robert Mathis. Jason La Canfora's story.
The Colts and Saints
must avoid temptations
, says Alex Marvez.
These guys rank as
hidden gems no more
, says Clifton Brown.
Who'd have the edge if the
starting quarterbacks went down
, asks Don Banks.
Pierre Garcon is hitting the big time
at the right time
, says A.J. Perez.
Players will get the headlines but
it's coaches
who lay the groundwork, says Pat Kirwan.
The Kyle DeVan story
from Shutdown Corner.
Jacksonville Jaguars
The Jags are in
not so Super
company, says Vito Stellino.
Tennessee Titans
Chris Johnson talks contract again, saying he should be the NFL's
highest-paid
running back, says Jim Wyatt.
An uncapped year will
restrict six Titans
, says Terry McCormick.
January, 27, 2010
1/27/10
3:09
PM ET
Courtesy of Sportsradiointerviews.com, two prominent NFLers are singing the praises of Colts quarterback
Peyton Manning
.
First is Colts kicker
Matt Stover
,
who compares Manning
to former teammate
Ray Lewis
. An excerpt:
Ray Lewis of defense is Peyton Manning of the offense. Ray knows how to turn a team around, he leads the team. He creates an environment that brings everybody's level around him to something, I mean you can't see it. It's like seeing the four star general going into all the troops and all of a sudden it just changes the whole attitude of the team. I have seen Ray do that and also I have seen Peyton Manning do it.
Cincinnati wide receiver
Chad Ochocinco
, meanwhile,
likens Manning to "a surgeon"
:
Yeah at this point in his career, I think he is already ahead of everybody else. He is two steps ahead of the defensive coordinators. I think he might know the defensive scheme better than the people playing defense.
December, 21, 2009
12/21/09
1:34
PM ET
A couple notes of interest from our friends at ESPN Stats & Information on the Texans after their
16-13 win over the Rams
.
Matt Schaub threw for 367 yards and a touchdown for his fifth game of at least 350 passing yards this season, which leads the NFL.
Andre Johnson had nine catches for 196 yards. He became just the second player this decade to have at least 195 receiving yards without a receiving touchdown. Sidney Rice did it for Minnesota earlier this season.
And this from Elias:
Johnson came up short of the second 200-yard receiving game of his career. But by gaining 193 yards against the Seahawks last week and 196 Sunday win, Johnson became only the second receiver in NFL history to reach the 190-yard yard mark in consecutive games. The first was Chad Ochocinco in November 2006.
And two more from the Texans:
With 488 receiving yards this month, Johnson has 121 more than the next most productive receiver in that span, Denver's Brandon Marshall. That 488 is more than six teams have over the same period.
Johnson needs 200 yards in the Texans' final two games to get to 1,633 for the season, a total that would break him into the top 10 all-time receiving seasons.
October, 30, 2009
10/30/09
1:50
PM ET
Posted by ESPN.com's Paul Kuharsky
ESPN Stats & Information spends hours and hours reviewing NFL games, in part so I can pass on their stuff and look smart.
Here are some updated receiver numbers that touch on the division.
Andre Johnson is tied with Randy Moss as the most targeted receiver in the NFL. They've each been thrown to 67 times in seven games. Reggie Wayne is seventh at 57, and the Colts have played only six games.
Rookie Mike Thomas is third in overall catch percentage, with 14 catches in 17 chances (82 percent). He trails only Greg Camarillo of Miami (90) and Danny Amendola of St. Louis (88). Houston's Kevin Walter is tied for fifth at 78 percent.
In the red zone, Larry Fitzgerald (11), Chad Ochocinco (nine) and Moss (nine) are the most targeted receivers in the league. Nate Washington and Austin Collie have been thrown to eight times each. Washington has the best catch percentage of the eight top guys, at 88.
Washington's 80 percent catch rate on third down is third best in the league.
Torry Holt's 60 percent catch rate for passes over 20 yards (minimum five targets) is tied for second best in the league.
Six receivers in the NFL have been targeted five times or more with passes of 20 yards or more and failed to catch any of them. Two of them are Titans -- Justin Gage (0-for-6) and Washington (0-for-6).